If you are a regular reader of the financial news, it might look as though the sky is falling for many of the key players in the banking sector. Long-established names like Wells Fargo & Co. (WFC) have been mired in scandal, and banks like Goldman Sachs (GS) have posted unimpressive earnings performances with lower trading volatility on a broad scale. But not all members of the US financial sector have disappointed markets, and there is growing reason to believe that Morgan Stanley (NYSE:MS) might just be the diamond in the rough.
These days, it is relatively rare to see a banking stock that has been able to emerge from the rubble unscathed. But Morgan Stanley's second-quarter earnings surpassed market expectations, and the strength of the numbers has been confirmed by the bank's ability to outperform its peers in trading revenues. It is true that MS has surged to elevated areas that could be vulnerable to pullbacks on potential profit-taking. But any downside moves should be viewed as new opportunities to position long in the stock. The first buy zone to watch comes in at $46.80, and investors that are patient enough to wait for these levels will be able to reduce some of the downside risk that is visible at the market's current valuation.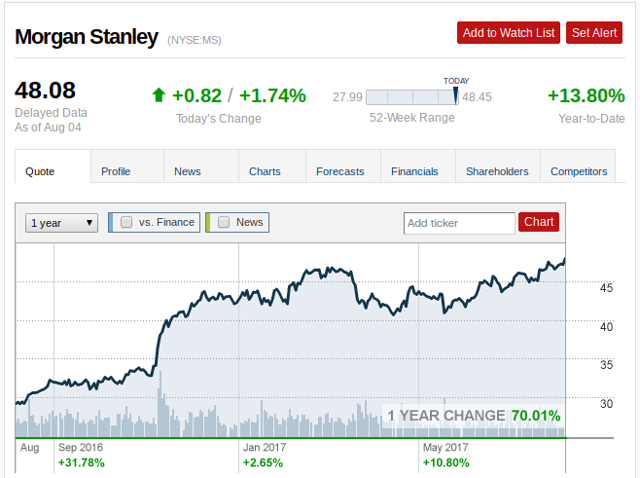 When we look at price activity in Morgan Stanley over the last year, the results are jaw-dropping. MS has surged more than 70% during this period, and we are still seeing YTD gains of nearly 14%. For dividend investors that are focused on value and the potential for growth, these types of moves might be somewhat off-putting. But if we are able to exercise patience and wait for the inevitable retracements, better valuations are likely to be seen. Recent rallies have been propelled by the bank's latest earnings release, which showed earnings per share gains of 87 cents (against expectations of 76 cents per share). These numbers came alongside revenues of $9.50 billion (against expectations of $9.09 billion), and so it is clear that profits from Morgan Stanley's wealth management business and strong stock trading revenues continue to support the bullish outlook on a comparative basis.


(Earnings Comparison: Nasdaq)
With all of this in mind, it is somewhat surprising that there has not been more discussion of Morgan Stanley's P/E valuation, which is far below what is seen throughout much of the industry. The 13.78 P/E at Morgan Stanley is well below the 25.73 seen at CME Group, Inc. (CME), the 20.47 seen at BlackRock, Inc. (BLK) and the 28.93 seen at Charles Schwab Corp. (SCHW). Goldman Sachs is the only notable name with a lower P/E at 12.06, but there are very well-documented reasons to explain this low P/E at GS - and this is not something that should be viewed as supportive for Goldman as an alternative possibility.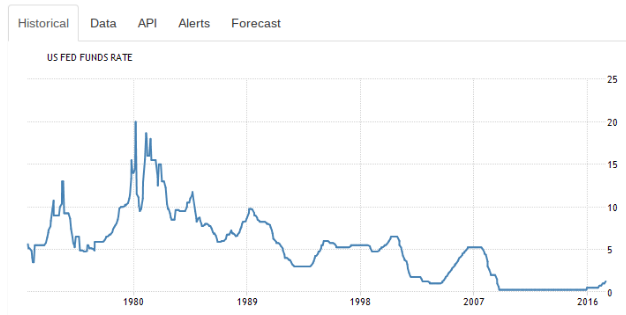 Of course, the industry as a whole is not without its potential problems as the banking sector could be vulnerable to weakness if the Federal Reserve signals an increased likelihood of an extended low interest rate environment. This, ultimately, is a strong unknown that could create problems for Morgan Stanley, but any damage here would be widespread against the sector as a whole, and the comparative strength of the company is something that should help limit the potential downside in market valuations.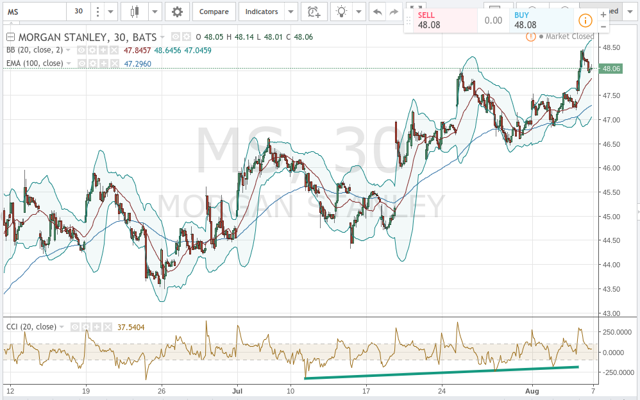 (Morgan Stanley Stock Analysis: Dividend Investments.com)
The recently bullish market reactions to new headlines in MS should not be surprising. But these moves suggest that some degree of patience must be exercised before jumping into the stock. Readings in the Commodity Channel Index remain positive, but we have just crossed back into the mid-ranges, which suggests that we could see some additional profit-taking into the $46.80 level while the indicator readjusts toward the averages. Readers should remember that in addition to the substantial list of comparative positives for the stock, long investors are able to capitalize on the 2.12% dividend yield that comes with buy positions in MS. This is almost 3x the dividend yield offered to those holding long positions in SCHW, and it far surpasses the 1.34% dividend yield that comes with buy positions in Goldman Sachs. This brightens the outlook if external bodies like the Federal Reserve stall banking sector gains into the final months of this year.