A.H. Belo (AHC) seems to have been caught up in a general sell-off of newspaper stocks so far this year: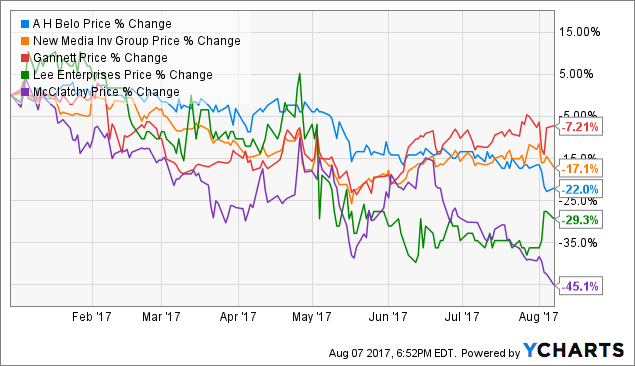 AHC data by YCharts
From here, that creates an opportunity. AHC might be considered a newspaper stock, by virtue of its ownership of the Dallas Morning News, but at this point, it really isn't. The DMN most likely is the least valuable of AHC's assets, behind its cash ($64 million and no debt), real estate, and digital businesses. While larger peers are trying to avoid a restructuring through expense management and a 'pivot' to digital, AHC basically has to avoid letting its newspaper business blow up the rest of its bull case.
And, AHC's history suggests that should be the case. The company has invested in digital businesses of its own and bought out minority partners earlier this year. But it's used the proceeds from prior asset sales, including the Providence Review-Journal, not to "invest in growth" or try to salvage the declining print business, but to fund special dividends. And, with real estate assets both on and coming to the market, and a fortress balance sheet already, more payouts seem likely to be on the way.
Meanwhile, the drift below $5 makes AHC look downright cheap on a sum-of-the-parts basis - again, assuming management does a reasonably solid job of capital allocation. Given A.H. Belo's history and solidly-incentivized management, that's a decent assumption to make, and it makes AHC a buy below $5.
Cash and Real Estate = $5 Per Share
I made a detailed SOTP analysis of AHC back in April, when I estimated the total assets here to be worth about $7.10 per share. There haven't been a ton of changes since then, but there are some updates coming out of Q2 results last week:
Cash
AHC's cash pile has come down about $15 million since the end of 2016, closing Q2 at $64.9 million. Free cash flow YTD has been a loss of about $2.3 million, the company spent $9.2 million on acquisitions (more on that in a moment), and another $3.5 million in dividends.
The concern here, as we shall see, is that the business may be burning cash going forward - and not just the print segment. But, again, management has been reasonably judicious with cash to this point. There is the possibility of another acquisition in the digital business: CFO Grant Moise on the Q4 conference call talked of a potential need to fill in the "gaps" in the company's services. But any such deal likely would take only a portion of existing cash; the largest business, DMV Holdings, is valued at $35 million based on AHC's March purchase of the remaining 20% it didn't own.
For now, I'm comfortable valuing the cash at 100% - with an eye toward the fact that burn or allocation could impact the balance going forward.
Real Estate
Where the case for AHC gets interesting below $5 is that its current market cap of $110.6 million (fully diluted, including anti-dilutive numbers from the 10-Q in the interest of conservatism) is getting near the point where it's roughly equivalent to cash plus potential real estate proceeds.
AHC owns three lots in downtown Dallas, including two parking lots. All three are now up for sale, per the Q2 conference call, with a past valuation of $15-20 million cited most recently on the Q4 call. At the same time, the DMN staff is moving out of an existing headquarters in downtown Dallas, a move that should be completed by year-end. CEO Jim Moroney said early estimates were that the legacy building was worth $25-$30 million, if not more, and in the past, I've cited real estate transactions that seem to support that range (even assuming the building needs some work, as appears to be the case).
There's then a pretty good argument here that shareholders are getting the operating businesses for free, assuming $65 million in cash and $45 million in real estate. Moroney did say on the Q2 call that the company wouldn't make any decisions about the headquarters until the move was complete (in other words, next year), but even if that's the case the real estate could be fully monetized 12-18 months from now.
And, the real estate being sold is excess. This is a materially different case from, say, Dillard's (DDS), where the realization of value rests on a) management changing its strategy and b) a potentially complex series of transactions. Add to that the fact that A.H. Belo has distributed proceeds in the past as special dividends and that Moroney owns almost a million shares (Class A and Class B combined). In fact, Moroney and former chairman Robert Decherd (his second cousin) combined own over 10% of the company, and control 50% of the voting power. They are incentivized to create value in a way too many management teams aren't, adding to the confidence in something close to a 'floor' here.
If management does what it says it is going to do (and what it should do relative to the HQ), then pro forma cash right now is about $5 per share. And the operating business is, in that case, available (roughly) for free.
Do You Want The Business?
The obvious question is whether an investor necessarily wants a newspaper, even for free. And there is $53 million in pension liability carried on the balance sheet as well.
As far as the pension liability goes, management has said repeatedly (most recently on the Q2 call) that a quarter-point increase in the discount rate would lower that liability by about $10-$12 million, all else equal. Obviously, there is some nuance involved in calculating the 'true' value of that liability - but at the same time, simply writing $53 million off an SOTP value seems far too pessimistic at this point. (A.H. Belo also has no more required contributions until 2019 at the earliest.)
There's some liability there, and given the size of the company I'd include a $9 million cost for 2H capex, much of it related to the headquarters move. It would appear that those funds won't be covered by operating cash flow, and will pull down year-end cash.
So is there enough value in the operating business to offset that $9 million and the cash cost of pension liabilities? The answer almost certainly is 'yes' - though I will admit that first-half performance does raise some concerns, even as the 'effective' price the market is putting on the operating businesses has come down.
The digital services businesses, in particular, have real value - and they stand pretty much completely apart from the legacy newspaper operation at this point. DMV is comprised of three businesses in local marketing, SEO, and direct mail & promotional products. Revenue grew 98% in 2016, and another 59% in the first half. The buyout of the 20% minority stake in March gave an implied valuation of $35.5 million, and figures from recent filings suggest trailing twelve-month revenue of about $17 million.
Speakeasy focuses on social media and online marketing, mostly on a regional basis. Given changes in segment reporting, it's tougher to suss out its exact sales figures, but the February minority buyout in that business was at a valuation over $9 million, and first half revenue does appear to have grown at least high-single-digits year-over-year. The Digital Services businesses aren't particularly profitable yet, with first-half EBITDA about $1.8 million (and perhaps concerningly, down year-over-year). Nor I am quite ready to value them at $45 million, the implied valuation based on the Q1 buyouts. But there is real value there, and consistent and impressive growth of late, at least on the top line.
That leaves the Dallas Morning News. And in Q2, in particular, the legacy print business appears to have taken a step down:
Advertising Growth Rates, A.H. Belo Publishing Segment
| | | | |
| --- | --- | --- | --- |
| Category | FY 2016 | Q1 2017 | Q2 2017 |
| Display Advertising | -27.3% | -8.5% | -17.4% |
| Classified Advertising | -7.1% | -0.2% | -14.7% |
| Preprint Advertising | -2.6% | -7.0% | -12.6% |
| Digital Advertising | -6.4% | +0.1% | -7.0% |
| Total | -12.5% | -5.0% | -14.7% |
The argument from AHC relative to the DMN - and similarly from the space as a whole - is that the declining print business would be offset by digital advertising growth, digital circulation growth (via a paywall and subscription sales), and local ad agencies like AHC's Marketing Services businesses DMV and Speakeasy. It's an argument I've never really bought - in fact, it's why I'm short New Media (NEWM), the company who bought the Providence Review-Journal from A.H. Belo - and it's a case that here, quite obviously, isn't working.
The concern out of Q2 is the acceleration in preprint (grocery store circulars and the like) and classified declines. Both categories have held up reasonably well (on a relative basis) the last few years. But once they go, the print model is pretty much dead here. Circulation revenues haven't been terrible (-1.6% 2015, -4.7% 2016, -4.8% 1H 2017) but pricing has offset volume declines, and that can't last forever. Opex cuts almost certainly are running out of room, with adjusted opex basically flat YOY in the first half despite higher spending in the digital businesses.
Even with strength in those businesses - DMV revenue rose 59% year-over-year in the first half - profits have plunged. Adjusted operating income, as reported in the Q2 release (and which actually is what pretty much everyone else calls Adjusted EBITDA), fell 74% year-over-year in the first half to under $2 million. Admittedly, the comparison was very tough (the figure actually has doubled over the past two years), but profitability here is getting very narrow. And the Publishing segment, adding back severance expense to figures from the 10-Q, appears to have generated $136K in EBITDA through the first half. (To reiterate, that includes the print business and the digital businesses directly associated with it, including online subscriptions and digital advertising on DMN properties. AHC also owns the Denton Record-Chronicle, but its results are folded into those of DMN.)
The biggest risk at the moment is throwing more good after bad as far as the flagship business goes. It's finished, to be blunt. Online subscriptions are rising, to over 20K at the end of Q2, per the conference call. At the published rate of $2.99 per week, that's $800K per quarter in revenue. Print circulation revenue losses are more than doubling that of late. There just can't be much, if anything, left to cut on the cost side. Print advertising revenue isn't going to stabilize, and digital advertising revenues declined in 2015 and 2016 as well, not just this year.
At this point, AHC simply has to get the DMN off the books somehow. That might be easier said than done. Gannett (GCI) was a rumored acquirer last year, but that report was unconfirmed. (Gannett, of course, bought Belo Corporation, which split AHC off to get the newspaper business off its books so it could sell itself.) AHC did get decent value for properties in Providence ($46 million) and Riverside, California ($27 million), and I'd point out that Emmis Communications (OTCPK:EMMS) sold Texas Monthly for $25 million.
The bull case for AHC works if the company can simply get the pensions and (ideally) the capex off the books, even if it gets $1 for the actual paper. And that might be doable, given past transactions. D Magazine columnist Eric Celeste, who's followed the paper for years, argued last year that AHC eventually would sell DMN. Moroney and fellow major shareholder Robert Decherd will protect their investment. And whether it's to a buyer with deep pockets and a desire to keep the paper running (think a smaller version of Jeff Bezos and the Washington Post) or whether Gannett, Hearst, or New Media would be enticed at the right price, AHC should be able to get rid of the paper. And the one concern out of Q2 might be that the clock is ticking on that move perhaps much faster than management and shareholders realized.
Valuation
In the 'deep value' micro-cap space, the numbers here might not seem particularly impressive. If you run the numbers a certain way, there are often businesses available 'for free' from a fundamental standpoint. But that often ignores the impact of corporate costs, or the risk that management is going to blow the cash instead of returning it to shareholders, or the problem that a declining business might not be worth much more than zero (if that).
Here, those risks are mitigated by the CEO's ownership and by the fact that the real estate (at least ~40% of it, in terms of value) is being sold. Again, this isn't a theoretical case that argues that even if the newspaper goes to garbage, they can then sell the real estate. AHC, assuming a $5 share price, is most likely going to be a 'net/net' by the end of 2018. (NCAV at the end of Q2 is $77 million; if the headquarters sells, that figure almost certainly would surpass $110 million, even accounting for 2H 2017 capex and potential cash burn next year.) And given that there's a business with real value here - Digital Services conservatively looks like $25-$30 million assuming 1.2x-1.5x revenue - that represents an opportunity. I'd break out an SOTP like this at the moment:
Pension expense: -$15 million, assuming interest rates normalize 100 bps by 2019;
2017/2018 cash burn: -$10 million
DMN: $25 million, assuming the company makes a move soon. I still believe that AHC could sell DMN for $1 tomorrow (netting out pension and 2017/2018 spend) to someone. McClatchy (MNI) has pension problems of its own, what's another $52 million on the books?
Cash: $64 million
Real estate: $45 million
DMV + Speakeasy: $30 million
That gets to about $139 million, or about $6.21 per share. It's lower than I calculated after Q4, in large part because I haircut the valuation on the digital businesses. But the decline in AHC's share price also means that figure represents about 25% upside - and I truthfully don't think this model is all that aggressive. (An auction process could drive upside for DMN; I think pension expense probably is conservative; and advertising seasonality generally helps free cash flow in the back half.)
It does hinge on management making moves toward shareholder value, and accepting reality relative to the newspaper business reasonably soon. But - again - leadership here is incentivized to do so. And, the situation here isn't like McClatchy or Gannett, where the company basically has no other choice than try to wring whatever it can out of the newspaper business.
In the meantime, there is a 6.5% yield here (though remember that cash is coming out of the $64 million, not free cash flow) and I'd expect at least one special dividend in 2018, with those returns further de-risking a long position. All told, I think there's very much a "heads I win, tails I don't lose much" outcome here, as long as management doesn't do something terribly destructive with the paper or with trying to enter a 'new' business. And, between Moroney and Decherd, there are about 12.5 million reasons to believe they won't.
This article is part of Seeking Alpha PRO. PRO members receive exclusive access to Seeking Alpha's best ideas and professional tools to fully leverage the platform.