What did I think last time?
I last wrote about Simon Property Group (NYSE:SPG) back on March 7. I liked the price and the dividends that the price bought me. At the time lots of people were very concerned about how malls would perform. There was a lot of talk about retail brick and mortar being dead. I didn't believe that then and presented data in the article to back up the claim that high quality malls were far from dead. Since that article, the price of SPG has declined. In fact today's market price is about $12 below the price when I wrote the article. I still think SPG is a good investment partner and an even better value today.
What new information do we have now?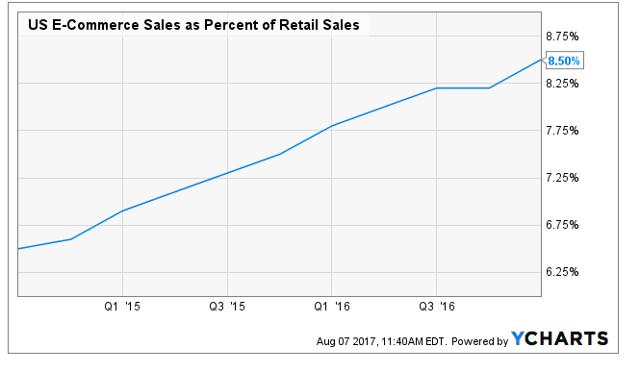 This YChart helps present a realistic picture of how dominant e-commerce is in the market today. In my original article, e-commerce sales were about 8.3% of total retail sales in the US. Today that has grown to a whopping 8.5%! Now, I will point out that it is not yet the holiday season, so growth of e-commerce might be slower when stores are less crowded. And there are several retail chains that are in trouble and they will likely be smaller by the holidays if they remain. But this number is still less than 10%. Sure, this is more than enough that retailers who are poorly positioned and already having financial difficulties could be pushed over the edge. But clearly the death of brick and mortar retail has been and still is greatly exaggerated. To paraphrase a tag line from a late night comedy show from the late 70s (although a pale version is still around today), brick and mortar retail is valiantly fighting to remain not dead.
Since I wrote about it SPG has issued 2 quarterly reports. The earlier one, Q1, is here. The report came in pretty much at expected values, with FFO being 11 cents higher than a year ago. My big takeaways were that occupancy was 95.6% and full year FFO guidance was $11.45 to $11.55. The dividend was $1.75 a quarter.
The Q2 report came out on August 1. At first blush the FFO which came it at $2.47 seems to be below last years $2.63. However, that $2.47 figure includes a charge of 36 cents for early extinguishment of debt. From the press release, it looks to me like they paid off some $1.85 billion of bonds and paid for it by issuing $1.35 billion of new bonds with a lower coupon and $573 million of mortgages at an interest rate better than the bonds they paid off. So despite the charge, that looks to me like management bettered the financial position of the company by putting a big dent in the interest expense. I like that full year FFO guidance was improved 4 cents if you ignore the refinance charge. I also like the word "extinguishment" and while I won't actually pay more for the stock because management gave me a reason to use it, it's still cool.
The best thing, of a lot of good things, in the Q2 report was that the dividend was boosted another 5 cents to $1.80. That means for the 2017 year (provided the next two dividend payments are $1.80) the dividend will be $7.10. Last year the total dividend payments were $6.50 for a total year over year increase of ~9%. Much more than the 6% I used in calculating a value for SPG.
What's a good price?
To figure out a good price, I do a DDM calculation using my Excel® based DDM calculator (pictured below, you can see the web-based calculator I based it on here and read a discussion on how the formulas were developed here). I also found this discussion of DDM, and note that in the article the author uses a discount rate of 5%.
Looking at the David Fish's CCC List (which contains a data on companies that have raised their dividend each year for 5 or more years) I see that SPG's current dividend increase streak is 8 years. One thing to note and like is that SPG has a habit of raising the dividend at the start of the year, and then again at the middle of the year. I want to be pretty conservative in finding a value for SPG, so I will use the dividend payment to be expected in 2017 rather than annualizing the current payment. Last time I used a dividend growth rate of 6.06%, but I will just round that to 6%. Since analysts are expecting earnings to grow by more than 9% a year for the next 5 years, I continue to think that is reasonably conservative. Using that rate, next year the dividend raises would be 7 cents at the start and 3 cents more for the second increase.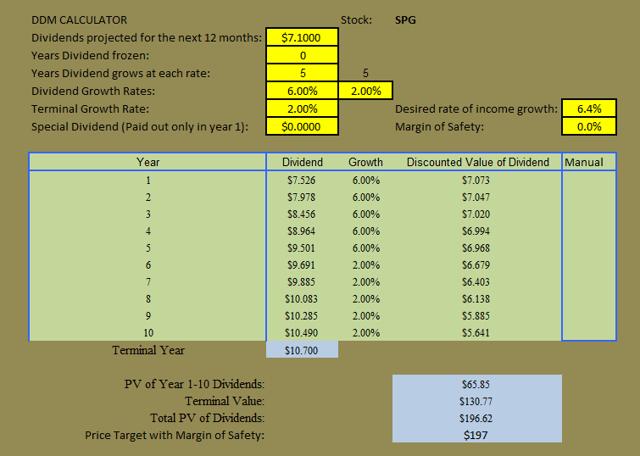 So because of the increase in dividend, DDM shows the NPV of the future dividend payments being $196.62 for a buy price of anything under $197. If one looks at the 4 year average of the yield, and uses that to compute a price, it comes out to $227. So my DDM number looks pretty low comparatively. I think however that it is about right, because I think for a lot of that time period SPG was over-valued because of its high dividend payment.
Can options help?
One thing to keep in mind is that if you use option contracts, you are risking that you won't get the shares and you are trading away much of the upside of the stock to get a premium payment. With my calculation of the NPV of the dividends being so much higher than the current market price, it might not be worth the extra cash or better potential price to use options. Keeping that in mind, the August monthly expiration date offers some possibilities. Keep in mind that this happens 3 days after the ex-dividend date for the stock and that this event has already been priced into the options.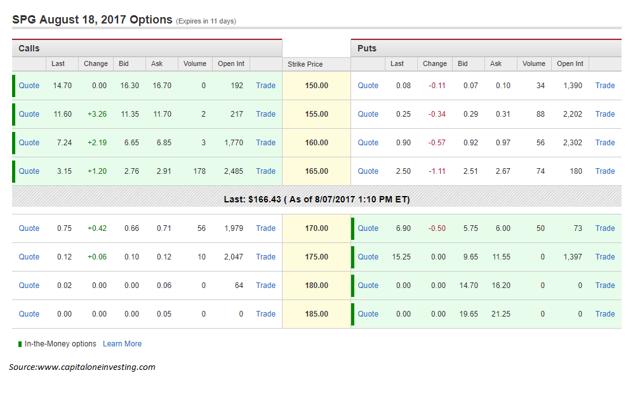 I think the premium on the $165 strike price put is very good compensation for keeping $16.5K idle in your account for 11 days. If you get the shares you'll miss the next dividend payment of $1.80 but the premium (use a limit order given the size of the bid/ask spread) should more than make up for it.
None of the calls have much of a premium near my buy price (that is to be expected when the buy price is 15%, or more, higher than the current market price). However, if you have a cost basis of less than $170, the call with the $170 strike price has a Delta of only 0.26, so it might be worth the risk of the shares being called away to write that call and collect the premium.
What to watch for going forward?
SPG just took a big charge to because they paid off a bunch of bonds by issuing lower cost debt. Going forward I want to see how that effects FFO. I expect lower interest expenses to increase FFO, so I will look for that. For the rest, management has given guidance on 2017, so I want to see them hit those numbers (or even do a bit better).
Conclusion
SPG has declined in price, but not because the company isn't performing. In fact it's doing quite well. And management is able to do things like swap out debt for lower cost debt. With a second dividend increase this year, I think the dividend is worth quite a bit more than the share price at this time.
Note: I hope you all got something out of this article. I do appreciate the time you took reading it. If you are one of those who follow me here, I appreciate it; if you'd like to include yourself amongst those individuals, please hit the "Follow" button next to my name as well as following other contributors whose work you enjoy. As always, please leave any feedback and questions you may have in the comments below.
Disclaimer: This article is intended to provide information to interested parties. As I have no knowledge of individual investor circumstances, goals, and/or portfolio concentration or diversification, readers are expected to complete their own due diligence before purchasing any stocks mentioned or recommended. The price I call fair valued is not a prediction of future price but only the price at which I consider the stock to be of value for its dividends.