Tesla's New Bond Issue
As I prepare to submit this article, the news hits that Tesla (NASDAQ:TSLA) proposes issuing $1.5 billion in bonds. I'm still reviewing the Sixth Amendment to the (secured) Asset-Based Lending Agreement (just published with the latest 10-Q), and so playing catch-up.
I'll do my best to write soon about that bond issuance and the ABL Sixth Amendment. But they are not today's topic. Today, we preview the Q3 financial results.
They will set records. And not in a good way.
CoverDrive's Q3 "Earnings" Forecast
In the wake of the Q2 financial results, Paulo Santos wrote a superb piece explaining why Tesla's Q2 results are worse than they appear, and why we can expect analysts to continue reducing their Q3 forecasts until they approach a loss of about $500 million.
Seeking Alpha member CoverDrive, who has made his own forecast, believes the analysts would be wise to keep slashing even once they hit negative $500 million.
CoverDrive's forecast is straightforward and simple, with its assumptions clearly stated. He leaves unchanged the line items in the Q3's income statement with only three exceptions:
A 3% decrease in average sales price (ASP), and hence a 3% decrease in revenues from auto sales;
No Q3 ZEV credit revenue; and
A 5% increase in operating expenses.
The decrease in ASP results from Tesla's announced price decreases. The elimination of ZEV credit revenue is in consequence of Tesla's pattern of banking such credits for several quarters before converting them to revenue all at once.
And although Tesla has guided for flat operating expenses, CoverDrive expects Tesla will spend considerably more on SG&A to support the rollout of the Model 3.
The first two changes reduce the revenue from auto sales to $1.852 billion compared with a bit over $2 billion in Q2. This brings total revenues from operations to $2.124 billion, compared with $2.286 in Q2.
The result? A net loss of $543 million. That translates to a per-share loss of $3.29 GAAP and $2.15 non-GAAP.
The Silver Lining - Goldman Sachs Shows How It's Done
If CoverDrive is close to correct, then, as usual, the analysts covering Tesla will be playing catch-up ball as they continually lower their forecasts to keep up with the poor operating results.
There is a silver lining, though, for Tesla momentum stock traders. Even if the analysts are forever slashing their earnings forecasts (or, more accurately, amplifying the losses they expect), they continue to maintain, or even increase, their price targets.
Goldman Sachs provides the latest charming example. After Tesla's latest earnings release, Goldman revised its 2017 EPS estimate from ($3.52) to ($5.68). That's a swing to the bad of more than $350 million for the balance of this year.
Goldman also slashed its 2018 EPS forecast, from $0.30 to ($3.67). That's a downward dive of more than $650 million.
So, with $1 billion in losses added to its forecast for the next 18 months, what did Goldman do with its share price target? Why, raise it, of course. From $180 to $200. Not for nothing is Goldman said to be the underwriter on the forthcoming $1.5 billion bond issuance.
Look, in comparison with some other "analysts" and "journalists," I regard Goldman Sachs as relatively sane. Do you want to see what unabashed pumpsterism looks like? Watch Gene Munster on CNBC.
Munster's firm, Loup Ventures, forecasts non-GAAP EPS of ($7.06) for Tesla in 2017 (based on 167 million shares) and ($5.93) in 2018 (based on 179 million shares), and ($2.17) in 2019 (based on 186 million shares.
In other words, $1.18 billion in 2017 losses, $1.06 billion in 2018 losses, and $403 million in 2019 losses. (Non-GAAP; GAAP would be far worse.) No explanation is provided of how Tesla will incur those levels of losses, pay back the $3 billion in debt that matures before year end 2019, and restrict dilutive growth in shares outstanding to little more than that generated by directors, officers and employees redeeming their stock-based compensation awards. And their model allows for no additional debt.
I have full confidence the Loup/Munster estimates will prove as realistic as their expectation that Model S deliveries will increase in this quarter by 40% (from 12,000 in Q2 to 16,849 in Q3).
And yet, Munster appears frequently on financial cable channels pumping Tesla as hard as ever he can.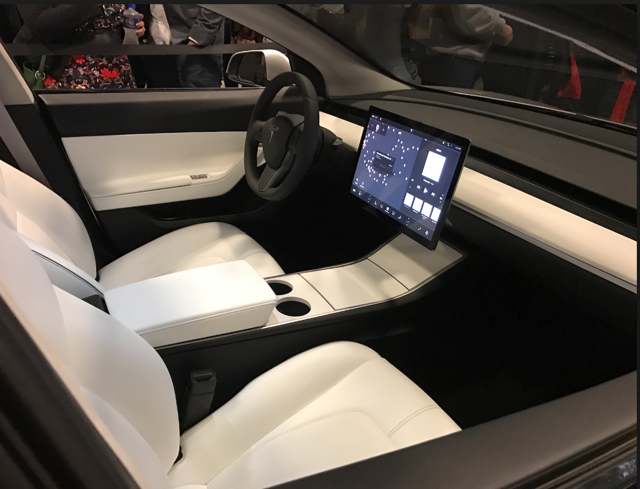 (Andreas Hopf asks an excellent question: How do the ergonomics of this arrangement work out for right-handed drivers of RHD vehicles?)
Some Q3 Wild Cards
OK, back to CoverDrive.
He acknowledges, of course, that his forecast is simply a forecast, destined to be wrong. But, a little wrong, or a lot wrong? Well, there are certainly some wild cards.
For instance, it's not clear Tesla has another "non-controlling interests" rabbit to pull from the hat in Q3. That bit of arcane SolarCity accounting pushed $65 million of loss off the income statement. So, if Tesla can't come up with another rabbit in Q3, the GAAP loss will exceed $600 million.
On the other hand, regulatory credits are a black hole - Tesla's reporting gives investors virtually no visibility into what may be coming. But just because Tesla generated $100 million in ZEV credit revenue in Q2 does not mean Tesla can't generate millions more in regulatory credits during Q3.
In 2016, the ZEV credits totaled $215 million and the GHG/CAFE credits (you know, the ones Elon Musk called "mouse nuts") totaled another $87 million. That adds up to $302 million for the year, or about $76 million per quarter.
How Tesla Hides the Mouse Nuts
Tesla has discontinued its quarterly disclosures of the revenues from CAFE and GHG credit sales. Instead, as in its latest 10-Q, it has opted for the Delphic approach:
Automotive sales revenue increased ... in the three months ended June 30, 2017 as compared to the three months ended June 30, 2016 ...Additionally, there was an increase of $104.3 million in sales of regulatory credits...


Automotive sales revenue increased ... in the six months ended June 30, 2017 as compared to the six months ended June 30, 2016. ...(other explanations omitted)... Additionally, there were increases from recognition of...$48.2 million in sales of regulatory credits as compared to the six months ended June 30, 2016."
Those who examine the entrails tell me they believe Tesla included $40 million in GHG/CAFE "mouse nuts" during the first two quarters of 2017, in addition to the $100 million of ZEV credit sales in the second quarter.
We Pause for a Quick Montana Skeptic Stump Speech
By the way, every penny of Tesla's $302 million of 2016 regulatory credit revenues represents a silent, hidden subsidy paid mostly by middle-class Americans buying generally less expensive cars. That silent subsidy benefited mostly exceptionally wealthy Americans buying exceptionally expensive Teslas.
Last year, the average silent subsidy amounted to about $6,500 per Tesla. That silent subsidy is, of course, on top of the $7,500 per car federal income tax credit and the hundreds of millions more in tax abatements, state tax credits and rebates, and other Tesla subsidies.
So, yeah, given that Elon Musk has announced his commitment to fighting income inequality, there might be a more immediate place for him to start than advocating a massive, government-administered guaranteed income plan.
OK, back to the Main Theme
The point is, with $76 million of regulatory credit revenue in the average 2016 quarter, and with the relative portion of Tesla's U.S. sales this year trending upward (55% in Q2 versus 47% in Q1), Tesla may well have the ability to generate another $50 million to $100 million in regulatory credit in Q3.
So, with those caveats about SolarCity loss-shifting and regulatory credits, I find CoverDrive's analysis compelling, and, in my typically lazy fashion, hereby adopt it as my own Q3 forecast.
Let's now explore the implications of a $543 million Q3 GAAP loss.
The Delivery Growth Story Will Be Over
CoverDrive assumes Tesla will achieve 22,000 deliveries in Q3, which is identical to the Q2 number.
CoverDrive is not alone in seeing flattening demand. Bonaire and Andreas Hopf also collect and analyze Tesla demand data from all over. Right now, they see pronounced demand weakness in Q3. Their observations are borne out by the July numbers from Europe.
I'm not sure whether CoverDrive has included Model 3 deliveries in his 22,000 number. Elon Musk tweeted he expects "above 1,630" Model 3 deliveries in Q3. Even if that happens, though, many of those deliveries will be to employees at low cost or no cost.
Regardless of whether those low volumes to beta testers are provided at full price, a discount, or at no cost at all, Model 3 gross margins in Q3 will be extremely low if not negative. The true test will be when deliveries in volume to third-party customers begin.
Can Tesla juice Q3 demand with additional price cutting? Sure. It's done it before and it can do it again. Indeed, CoverDrive acknowledges that if Tesla piles on even more price cuts and incentives, then Q3 could see record deliveries, perhaps exceeding 25,000.
Right now, though, sales appear weak and the cannibalization of Model S sales by the Model 3 is a real phenomenon. The demand weakness highlights the danger of announcing that Model 3's have begun rolling off the production line when, in fact, the final production line is not in place and the car is still undergoing testing.
If CoverDrive's 22,000 forecast is close to correct, then Tesla's growth story in deliveries will be over, at least until the Model 3 ramp is well along (Q1 2018?).
That means, in Q3, no quarter-over-quarter delivery growth. And, given the 24,821 pie-in-the-face delivery number from Q3 2016, no year-over-year delivery growth, either.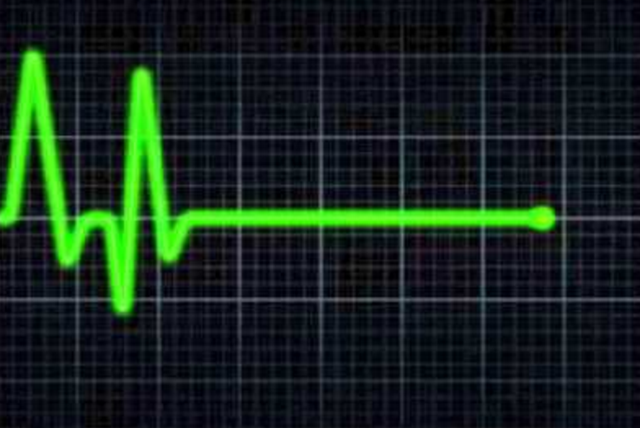 (CoverDrive's graph of deliveries and revenues in Q3. In the medical profession, this is not called a growth patient.)
The Revenue Growth Story Will Also Be Over…
CoverDrive's numbers show total revenues declining this quarter. As noted earlier, he arrived at that conclusion by keeping all revenue categories at the same level as Q1 except for (1) revenues from auto sales, which he reduced by 3%, and (2) regulatory credits, which he zeroed out.
If CoverDrive's forecast is vindicated, then Q3 revenues will be lower than those of both Q2 (by about $160 million) and Q1 (by about $70 million).
...Unless Tesla Can Boost CPO Sales
Declining revenues, of course, are not part of a typical growth narrative. So, what might Tesla do to boost revenues in Q3?
Perhaps Tesla can make some revenue improvement in the energy storage category. But, any improvement there will be marginal at best.
The real chance for revenue enhancement comes in the category of "Services and other." Not from service center revenues, but rather from the sales of used ("certified pre-owned," or CPO) Tesla cars.
Does Tesla have lots of CPOs? Yes, indeed, it does. It has more than ever. The growth in the number of CPOs during the past three quarters has been dramatic.
How do we know that? Not from anything Tesla tells us directly (because it neither divulges the number of CPOs in its inventory nor otherwise lists all of the CPOs on its web site (and, by extension, on the EV-CPO Consolidator site).
Finished Goods and Cars in Transit Furnish the Clues
To know what we know, we have to do a bit of detective work. The growth in CPOs emerges from studying the balance sheet value for "finished goods" inventory in conjunction with the quarter-end number of cars in transit.
Included among finished goods are both new cars (including those still in transit but not yet delivered) and used cars.
Finished goods also includes Tesla Energy products. Here, I'll assume any changes in the inventory value of energy storage products is immaterial. (Feel free to change that assumption, and any others here, and come up with your own estimate.)
Nine months ago, at the end of Q3 2016, finished goods stood at $792 million. If we assume an average value for each car of $85,000, that translates to about 9,300 cars.
However, a large number of cars were in transit at the end of Q3 2016. In its original announcement on October 2, 2016, Tesla said the number was "about 5,500." A month later, Tesla reported the number as 5,065 (with no explanation about the discrepancy). Assuming the later number is the accurate one, Tesla had about 4,200 unsold cars at the end of Q3 2016.
As of the end of the most recently ended quarter, the finished goods value had ballooned to $1.47 billion, which works out to about 17,300 cars. Subtracting the 3,500 cars in transmit at the end of Q2 gives us about 13,800 cars included in finished goods. In other words, an increase of about 9,600 unsold cars (from 4,200 to 13,800) during that nine-month period.
While floor models and service loaners are surely a good chunk of the total, they are not nearly numerous enough to account for the entire 9,600 car increase. Let's recall that our "Produced But Not Sold" number rose by about 6,800 cars over that same nine-month period.
How to account for the other 2,800 (plus or minus) cars? The most likely explanation is that they are CPO cars.
So, Why Not Sell More CPO Cars To Boost Q3 Revenues?
An obvious way for Tesla to boost its Q3 revenues would be to sell down its growing stock of CPO cars.
That would present a problem, though. While selling more CPOs will increase Tesla's revenue, it will probably also increase Tesla's losses, which are already going to be a record.
Wait, you say. Why would increasing CPO sales result in increased losses? OK, it's just my (educated) guess, but I believe Tesla's balance sheet value for the CPO cars is higher than their market value.
No sooner do I tap out this draft than I see that Alberto Zaragoza Comendador has up a splendid article about the negative margins in Tesla's "Services and other" category.
Zaragoza asks an excellent question: Why does Tesla have a CPO business at all? There is no R&D involved in selling used cars. There are no "network effects" to justify the loss.
"The only explanation," writes Zaragoza, is that Tesla considers the CPO sector "an integral part of its business, and thus is willing to lose money in order to keep the rest of company going."
Yes, the CPOs are an integral part of the business. It appears to me that, in order to boost new car sales, Tesla has accepted trade-ins for appreciably more than the value of the used cars.
What does this mean? It means, as Zaragoza writes, that Tesla is artificially inflating its gross margins by using a money-losing CPO business to pump up margins on new car sales. (Indeed, I should say "further artificially inflating" because unlike every other automaker, Tesla already excludes R&D expenses from its gross costs.)
Tesla's latest 10-Q offers powerful confirmation of this thesis: it reveals that through the first half of 2017, Tesla wrote down the value of its inventory by $66.8 million, most of that in Q2.
My hunch is that the reckoning is not over. There will be more write-downs to come.
Moreover, accepting trade-ins at inflated values is not Tesla's only CPO problem. Another problem, one which is very likely larger, looms.
The Residual Value Guarantees Come Back To Bite
Historically, to entice third-party financiers to become its "leasing partners," Tesla has had to offer a residual value guarantee (RVG) – a promise that, at the end of the lease term, Tesla will buy each leased car back from the finance company for a specified percentage of the car's original value.
The finance companies, of course, have no desire to be in the business of refurbishing and re-marketing used cars. It's almost automatic that at the end of the lease term, they return the cars to Tesla and demand payment of the residual value.
The returned cars then become part of Tesla's certified pre-owned (CPO) inventory.
Tesla began offering the RVGs in 2013. Last year, the three-year leases made with RVGs began to expire, and finance companies began returning the cars to Tesla. Each month, the volume of RVG returns ticks up. The uptick will continue for the next several years.
Paulo Santos wrote an especially perceptive piece in late 2014, demonstrating that Tesla very likely pumped up its residual guarantee in order to attract US Bank as a "leasing partner." Those leases, with their higher residual guarantees, will begin terminating in the fourth quarter of this year. The trickle of returning used cars will become a flood.
Additionally, when it was flush with cash after the 2014 convertible bond offerings, Tesla accelerated its direct leasing program. Those leases, too, are now beginning to expire, and the used cars coming back to Tesla.
On top of that, Tesla also accepts "resale value guarantee" cars each month from cash buyers who made their purchases with the benefit of that now-discontinued offer.
Between the need to make favorable trade-in deals, and the obligation to accept cars coming off residual guarantee leases, direct leases, and resale guarantee sales, Tesla's flow of CPOs is ever-increasing.
So, yes, Tesla can generate more revenues by selling more CPOs. But that will likely result in only more loss recognition. And, the more CPOs it offers for sale, the worse the losses become.
The Vicious Cycle
Increasingly, Tesla finds itself in a real bind. The anticipated imminence of the Model 3 is pressuring Tesla's new car prices as would-be Model S buyers instead await the Model 3. Tesla has responded by cutting prices on new cars, but that also depresses the value of its CPOs.
Meanwhile, the weak macro auto market, for both new and used cars, adds more toxin to the witch's brew.
The results are evident from the "Services and Other" gross margin, which as Zaragoza details is now about -30%. In the rest of the auto industry, providing repairs and maintenance and selling used cars is a huge profit center. For Tesla, it is a terrible drain, and the drain is likely to get worse before it gets better.
Yes, Yes, the Model 3
Please, spare me comments about how, once the Model 3 arrives, Tesla will again see growth in both deliveries and revenues.
I agree. The problem is, it will also set new records for losses. That's my opinion, and I've explained it repeatedly, most recently here, and you're welcome, of course, to your own.
Coming Soon: Another Way Tesla Inflates Gross Margin
Here, I've shown why Tesla retains its CPO program despite the fact it bleeds cash: because it is a clever means of inflating the gross margin on new car sales.
In an article soon, I'll show another, and more subtle way, in which Tesla artificially inflates that gross margin. Like the CPO gambit, this second means of inflating gross margin actually deepens the losses on the bottom line.
You will conclude, as I have, that any analyst impressed by Tesla's gross margins is indeed a braying ass.
Disclosure: I am/we are short TSLA. I wrote this article myself, and it expresses my own opinions. I am not receiving compensation for it (other than from Seeking Alpha). I have no business relationship with any company whose stock is mentioned in this article.
Additional disclosure: I am short TSLA via long-dated options