CVS Health (NYSE:CVS) had a solid second quarter, and despite the fact that the company's growth has slowed down considerably, shares still look attractive, mainly due to CVS' high shareholder returns.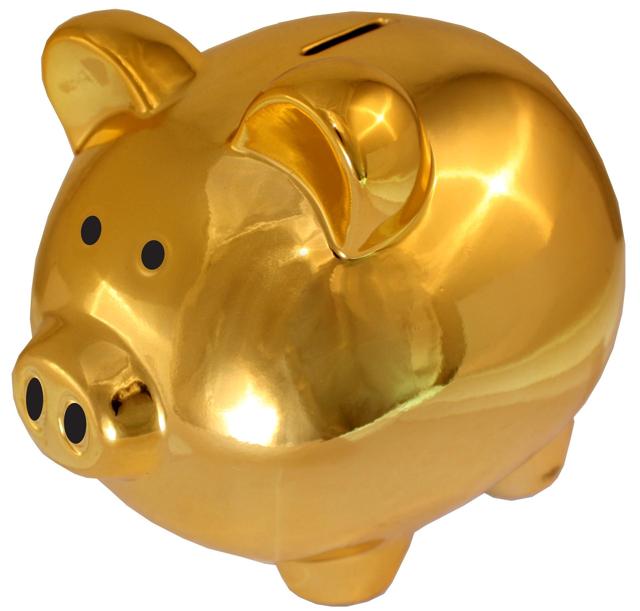 CVS reported results that beat the analyst consensus on the top as well as on the bottom line:
CVS' revenues grew five percent year over year, which was based on strong growth (10%) in the pharmacy services segment. Retail / LTC sales, on the other hand, dropped two percent year over year, which isn't disastrous, but which shows that competition from low cost online pharmacies is affecting CVS in a negative way.
Since pharmacy network claims were up a little bit more than ten percent, the company's pharmacy services segment's results were not surprising: Investors can count on ongoing growth on that front, whereas CVS' retail business will likely continue to perform rather sluggish -- since the pharmacy services segment is much bigger than the retail / LTC business, the current growth trends are in favor of CVS and its owners, though.
The company's earnings did not grow much, despite a solid revenue increase, primarily due to the fact that margins in CVS' LTC business were hurt by the introduction of new generics. CVS being excluded from restricted networks hurt pharmacy sales as well -- there's a good thing in here though: As CVS has already been excluded, upcoming quarterly reports will not include that one time hit to the company's comparables any longer, which should lead to CVS' pharmacy sales performing better going forward.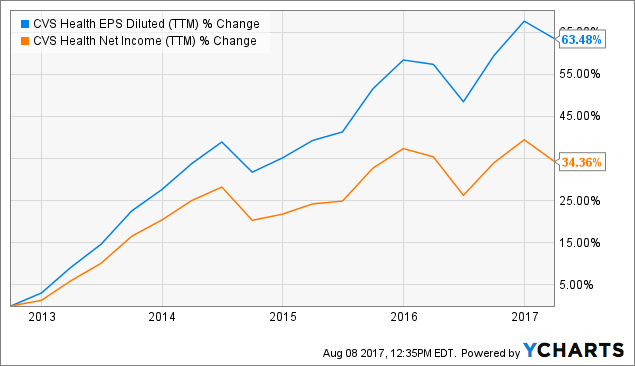 CVS EPS Diluted (TTM) data by YCharts
There is a big discrepancy between CVS' EPS growth and its net income growth, which can be explained by a steadily declining share count: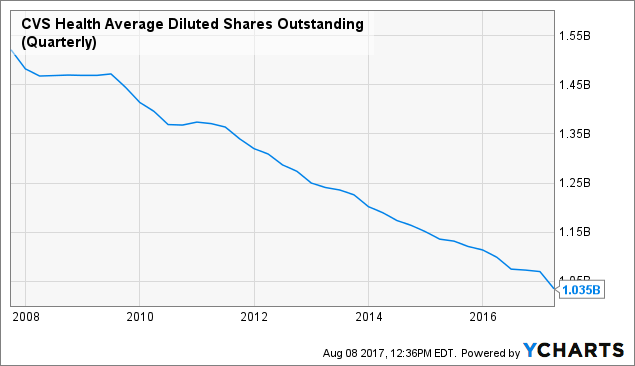 CVS Average Diluted Shares Outstanding (Quarterly) data by YCharts
Over the last ten years CVS has bought back about half a billion shares -- this alone allowed for a fifty percent increase in the company's earnings per share numbers.
CVS continued to repurchase shares during the most recent quarter: Year to date CVS has spent $4 billion on buybacks, which resulted in the company's diluted share count dropping to 1.024 billion during the second quarter -- down five percent year over year.
CVS easily can spend this much on buybacks due to its high cash flows: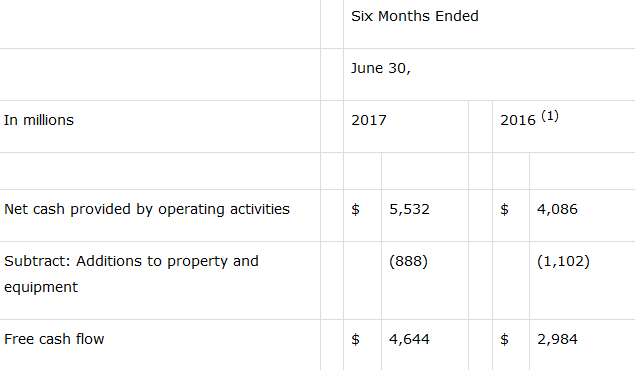 With high operating cash flows and relatively low capital expenditures (apart from some store openings and maintenance CVS does not need to invest heavily into its business) the company was able to produce $4.6 billion in free cash flows in just the first half of the year, which more than covers the company's high buyback pace.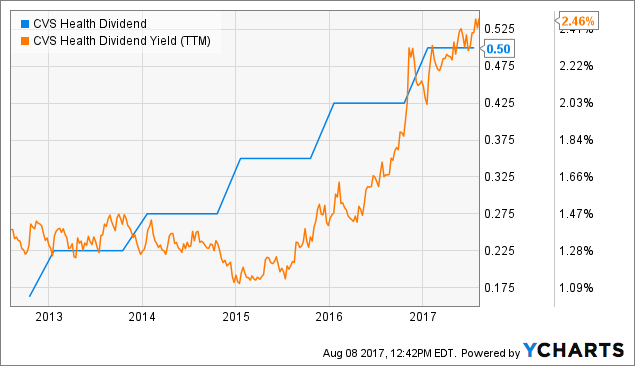 CVS Dividend data by YCharts
On top of its buybacks CVS is also returning cash to its owners via dividends, those are standing at $0.50 per share per quarter right now -- the next dividend raise should be announced in December (when the company keeps its schedule). With a dividend yield of 2.5% CVS not only provides better income than ten year Treasuries, CVS' yield is also much better than that of the broad market (which yields just 1.9% right now). With a high dividend growth rate (the last increase was 18%) and a low payout ratio of below 40%, there is a lot of potential for further significant dividend increases going forward.
For dividend investors the company's buybacks are a positive as well: A declining share count means that the company's total dividend payments are declining, which means that the growth rate of the dividends per share can be higher than if the share count would have remained flat. Income investors as well as those seeking capital appreciation thus highly benefit from CVS' ongoing share repurchases.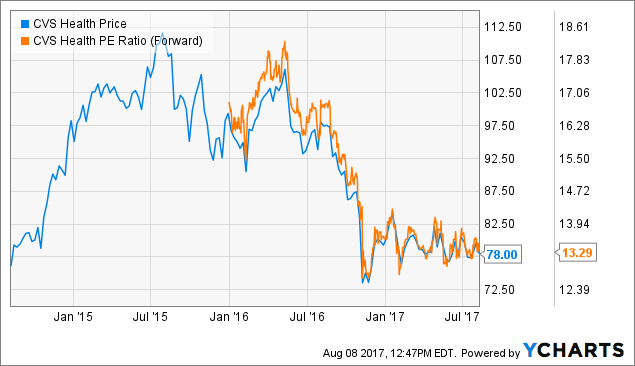 CVS data by YCharts
CVS trades at 13 times this year's earnings (with analysts expecting $5.86 in earnings per share), which seems like a quite inexpensive valuation for a company with high shareholder returns and solid top line growth. Since CVS' management guides for earnings per share of $5.88 for the current year (management has raised its guidance during the Q2 earnings call), the analyst estimate could be too conservative -- in that case CVS looks even cheaper, especially versus the broad market's valuation and the valuation CVS has traded at in the last couple of years.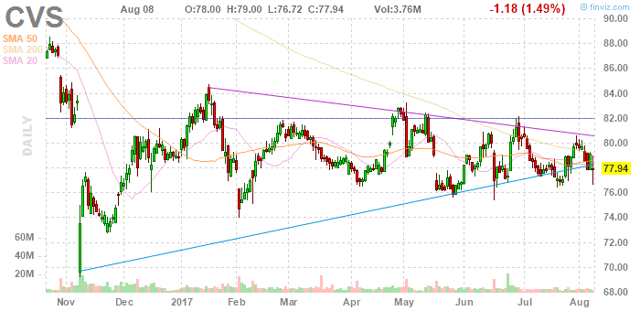 source: finviz.com
When we look at the technical picture, we see that the trading range of CVS' shares has been quite narrow over the last months, with shares trading at the lower end of the range right now. This could indicate that CVS' shares are poised to go higher in the near future again, which would signify a good buying opportunity -- coupled with the company's solid operational outlook and strong shareholder returns, I believe this makes CVS' shares attractive at the current price, for income focused investors as well as for those seeking capital appreciation.
Takeaway
CVS has beaten estimates, has increased its guidance, provides solid revenue growth, continues to pay large amounts of cash to its owners and last but not least, the company will raise its dividend later this year. Yet CVS' shares are trading at an inexpensive valuation, which makes the company's shares attractive at the current level.
Author's note: If you enjoyed this article and would like to read more from me, you can hit the "Follow" button to get informed about new articles. I am always glad to see new followers!