By Parke Shall
With MannKind's (MNKD) most recent financial results, it has simply become clear to us that the company is less and less likely to ever make for a significant and lucrative investment opportunity, but rather a place where shareholder capital is unlikely to see significant upside and will likely face pressure of continued equity raises going forward. In this article, we wanted to recap some of our final thoughts on the MNKD story as well as offer one last take as to why the company's most recent results indicate to us that it may never make for a serious investment opportunity.

There is no doubt that the initial concept of MNKD was an honorable one. Lifelong entrepreneur Al Mann left his legacy in trying to break into one of the most difficult markets in healthcare by doing something innovative that would be of meaningful benefit to the patient and by inventing something that, ultimately, would also turn out to be lucrative both for himself and for the many shareholders that believed in him.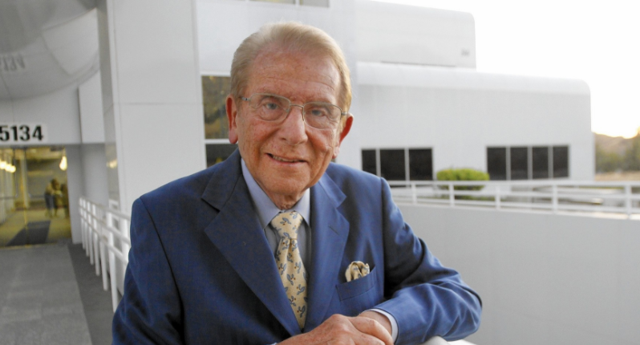 (Source: LA Times)
The idea of inhalable insulin, in theory, was a good one. Anything that usurps the traditional administration of insulin would be of tremendous benefit not only for those who suffer from diabetes, but also the caretakers and providers as well as the families who have to interact with the patients who are dealing with the illness. And from a business standpoint, diabetes is a fantastic issue to try and take on because it is a growing epidemic not just in the United States, but worldwide, and represents a significant business opportunity.
However, the prospect of MNKD stock as a lucrative investment from this point appears to have come and gone.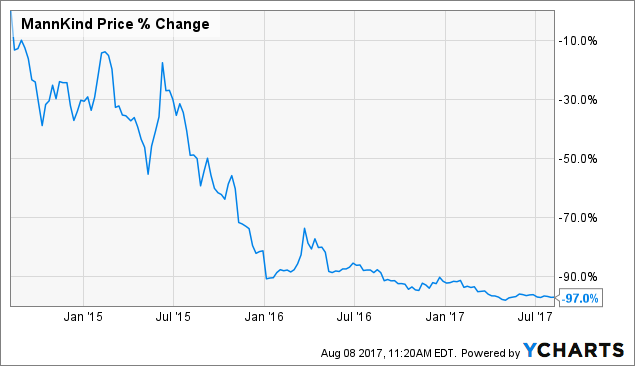 MNKD
data by
YCharts
It is always a relatively sad story when innovation that could do the public good falls by the wayside for any number of reasons, regardless of whether or not they are under the control of the company, the competitive landscape or any number of additional variables that can cause innovation and growth to slow or stop altogether.
The FDA approval of Afrezza was surely a great moment in the company's history. The stock moved, split adjusted, to over $35 per share and there was renewed hope and optimism for the future that, once the approval had been granted that response from doctors and patients alike would eventually make MNKD's product the standard in the industry. After the approval and after the drug was given some leeway to show investors how it would perform with the public, results started to trickle in that did little to impress investors in the company. As a result, the company's valuation started to contract both due to the decreased number of prescriptions and the corresponding cash flow that the company looked like it was not going to be able to produce going forward.

Then the company hit profound tragedy as its founder and namesake, Al Mann, unfortunately passed away in the months after the company received FDA approval. The company underwent a transformational period, wherein it tried to steady the ship and reinvent itself, but at that point the damage to the equity had already been done. You can see from the chart above that MNKD wound up falling nearly 97% off of the highs that it made after its FDA approval.

Unfortunately, there are still some who believe that a longer term story could possibly be intact for the company from this point going forward. However, this last quarter's earnings report when combined with the company's financial performance over the last 12 months paints a starkly different picture for us of a company that will be reliant on issuing stock to fund its operations. The unfortunate side effect of this being that downward pressure on the stock is more than likely to continue going forward.

When taking a look at some of the most important financial metrics for any company, we can see that MNKD fails to be a company that will be able to sustain itself in any meaningful facet going forward.
MNKD Cash from Operations (NYSE:
TTM
) data by
YCharts
As you can see from the chart above, the company's cash flow remains negative as its shares outstanding heads in the wrong direction. While it is true that the company does have over $40 million of cash in the bank right now, its current cash burn rate of $38M/annually only affords it so much time before the company must "go back to the well" and figure out ways to raise new cash.
The prescription performance of Afrezza has simply just not been indicative of a company that will be able to sustain itself without outside help.
Prescriptions for Valencia biotech MannKind Corp.'s lead product reached over 380, according to contributor Spencer Osborne. This was the highest number of prescriptions written for the Mannkind's inhalable insulin Afrezza since the company launched its internal marketing department about a year ago.

Prescription numbers for Afrezza at its peak were around 600, when MannKind was in a marketing partnership with Sanofi (NASDAQ:SNY), a French pharmaceutical company. However, since Sanofi pulled out of the partnership about a year and a half ago, the script numbers have been in the low 300's.
The company could look to try and diversify through an acquisition or try to develop a cash flow stream from one of its other pipelines, but both of these options are capital intensive efforts that will honestly make things worse before they wind up making them better.

MNKD is an unfortunate story of a company that tried to do something great and had no lack of vision, but was simply told by the free market that the idea wasn't good enough. Everything from this point forward becomes a wild scrap to try and salvage the business. While executives may prevent the company from having to enter restructuring, the effect of doing so ultimately will, one way or another, come at the cost of devaluing the equity or further leveraging the balance sheet. As such, we see no common sense case for owning MNKD shares with any type of longer term or medium term focus. Fans of the company often cite single day moves in the company stock as proof that market interest remains, but these are often the result of meaningless press releases or miniature short squeezes. Ultimately, we feel the long-term trend for the company will continue lower.
Disclosure: I/we have no positions in any stocks mentioned, and no plans to initiate any positions within the next 72 hours. I wrote this article myself, and it expresses my own opinions. I am not receiving compensation for it (other than from Seeking Alpha). I have no business relationship with any company whose stock is mentioned in this article.