Article authored by Cristiano Bellavitis, Ph.D., Integer Investments portfolio manager.
A while ago, we summarized our current understanding of trading strategies and signals based on insider transactions. This is the third article of a regular newsletter where we will review insider transactions and select the most interesting companies to invest in.
The companies that we reviewed in our first article, performed as follows:
OPK -19%
PCSB +5%
CSX -2.5%
TOCA -19%
AXON 0%
Average= -7% versus the Dow average of 5%. Graph from Google Finance.

Truth being said, we did not recommend any of these stocks for various reasons. For example, in relation to OPK we wrote that insider "could be buying shares to sustain the share price where so much of their wealth resides. For now we will pass." This confirms the importance of carefully selecting which insider transactions to look at rather than just follow what insiders do. In the second article, stocks with insider transactions performed much better:
BIVV +5%
CSRA +5%
GNC +30%
MATR+14%
OHI 0% + 2% dividend
FIT +7%
Average 10% versus 4.6% for the Dow Jones. Graph from Google Finance.

In this case, we were cautious on MATR and GNC. For example, in relation to GNC we wrote "We see some potential, but the level of risk is above our investment philosophy (Integer means that the capital needs to stay intact)." However, we concluded by saying that "Fitbit and GNC might offer risky but interesting turnaround activities." They ended up being very volatile but profitable.
We also recommended OHI (we own shares) but despite good initial gains, around the dividend payment, the stock has lost its gains. We are still positive about this stock and current prices are attractive.
Today we will continue to select investment ideas based on insider activity that follows the 7 rules:
Lesson #1: Following every insider transaction is not feasible, nor profitable.
Lesson #2: Only relatively large insider trading provides an informative signal.
Lesson #3: Aggregate insider trading is more informative than individual insider trading.
Lesson #4: Insider transactions generally do not predict short-term movements, but rather long-term stock price changes.
Lesson #5: Insider transactions are more effective in predicting returns for small companies.
Lesson #6: Insiders are generally contrarian investors.
Lesson #7: Insider sales do not offer a strong trading signal.
Therefore, our strategy follows these criteria:
- U.S. listed companies
- Share price above $2
- Insider transactions above $100,000 and that increase the amount of shares owned by at least 20%
- We will pay particular attention to aggregate trades
- We will pay particular attention to trades in small caps
- We will focus on Buy signals
Based on our search criteria we obtain 47 transactions. Let's look at the most significant (data from Open Insider). Follow this link to see the full list of transactions reviewed.
General Motors (GM)
GM usually experiences high levels of insider selling (as most large corporations), yet recently two insiders bought almost half a million of dollars each worth of GM stock. On the 1st of August two directors bought 34,000 stocks for a total of approximately $850k. The last time insiders bought GM stocks is in May 2017 (stock is +7% since then), August 2016 (+14% and a 5% dividend yield).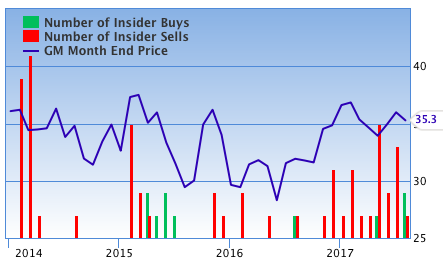 Interestingly, one of the two directors is Schoewe T. who, as it can be seen below (source GuruFocus), has a rather good track record with insider purchases.

Overall, we like General Motors. The company trades at very good multiples. Investors are cautious on the stock due to declining car sales. However, although this is a source of concern, we think that the management is doing a terrific job by streamlining the operations and cutting off underperforming assets. The company is also trading just above book value, including $25B in cash and equivalents (as of June earnings). In our opinion GM is a BUY. See this article for more details.
Del Frisco Restaurant (DFRG)
Del Frisco's Restaurant Group, Inc. engages in developing, owning, and operating restaurants such as Del Frisco's Double Eagle Steak House, Sullivan's Steakhouse, and Del Frisco's Grille. The company is relatively young as it was founded in 2006 in TX.
In recent years, quite a few insiders have been buying the stock. Over the last few months, both the CEO and CFO invested in the stock. However, as it can be seen from the graph below, previous acquisitions did not lead to stock price increases.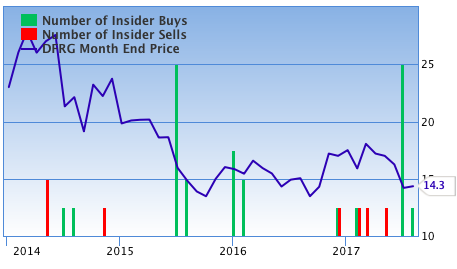 Over the last few years, the company has grown its revenues from $302M in 2014 to the expected $363M in 2017. However, this growth did not lead to profits. Net profits and EBIT are stagnant. Analysts expect a pick-up in revenues and profits for 2019. Yet, considering the low ROE (8%), limited growth, and uncertain competitive advantage, we are not sure this is a great investment (source: 4-traders.com). Interested investors should take a deeper look.
Stifel (SF)
Stifel Financial Corp. provides securities brokerage, investment banking, trading, investment advisory, and related financial services. It operates through the following segments: Global Wealth Management, Institutional Group, and Other.
On the 2nd of August, director Peacock purchased shares worth $225k.
The company's revenues are steadily increasing, but…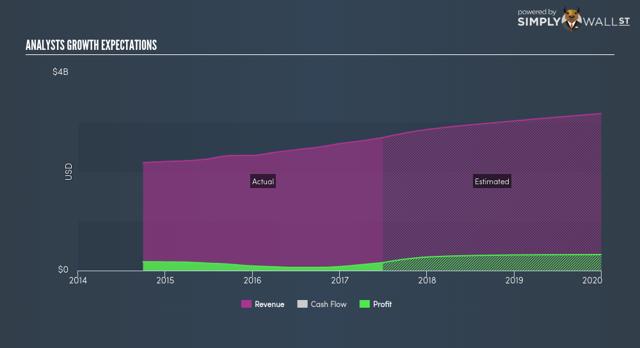 Its EPS is rather unstable (source: Simply Wall St).
These fluctuations are probably due to the industry the company operates in and its relatively small size. The company trades at 18X 2017 expected EPS and 12X 2018 EPS (source: 4-traders.com). The company could be interesting, but further due diligence is needed.
Raytheon (RTN)
Raytheon is an international aerospace and defense corporation. It produces technologically integrated combat solutions. It operates in five segments: Integrated Defense Systems, Intelligence Information and Services, Missile Systems, Space and Airborne Systems, and Forcepoint. A full breakdown can be found here. We also recently covered the company, see here for a full analysis.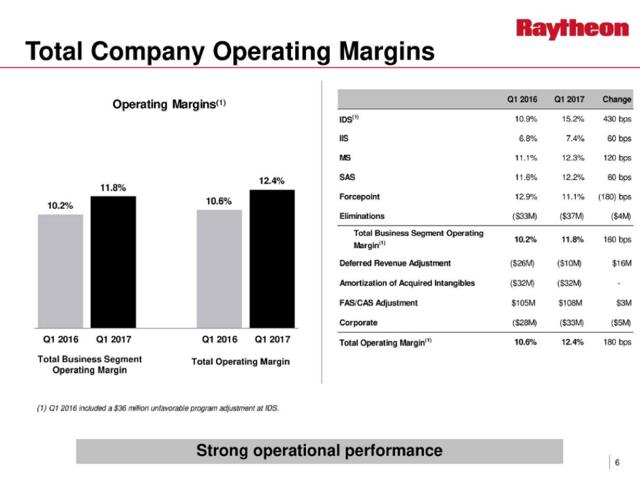 Raytheon is in a good position to capitalize on growing demand for military equipment, both in the US and abroad. The recent Saudi Arabian arms deal is a signal that US based defense contractors are going to face fewer obstacles when exporting overseas. Increasing European instability and the continued fight against terrorism will bolster this growth in a range of markets. With these strong positive indicators, we recommend holding Raytheon.
Recent insider activity confirms the stock potential. On the 31st of July, director Beauchamp invested $200k in the company. However, truth being said, this acquisition falls in a sea of sales. The graph below shows numerous sales that, though, matched a strong stock performance.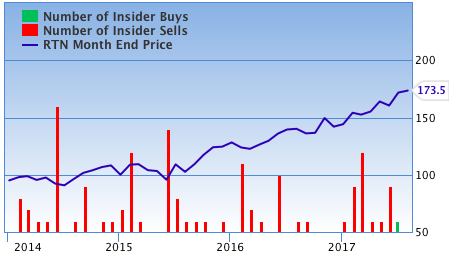 The stock trades at 22X expected 2017 EPS and 20X expected 2018 EPS (source: 4-traders.com). These values are reasonable in the current market. Yet, the insider activity cannot be considered a buy signal.
Macro-trends
In our first article, we also showed how cumulative insider activity can act as a strong market signal. Looking at data taken from www.openinsider.com, we showed that insiders generally sell (red) many more shares than they buy ( blue). The last period is no different. The graph below shows that, over the last three months, there is increasing insider selling activity. We will continue to keep an eye on this indicator as this can signal a trend reversal and offer a very precise buy signal.

Conclusion
This is the third article to review insider transactions. We will aim to regularly publish a summary of the most significant transactions, especially those that follow our 7 rules. Today we did found an interesting company that we already own: General Motors. In addition, we reviewed Del Frisco Restaurants, Raytheon and Stifel.
As always, thank you for reading. If you wish to follow our future articles about insider trading, just click the "Follow" button next to our name at the top or below. If you would like us to cover a company, please let us know in the comments.
Disclosure: I am/we are long OHI, GM.
I wrote this article myself, and it expresses my own opinions. I am not receiving compensation for it (other than from Seeking Alpha). I have no business relationship with any company whose stock is mentioned in this article.