O'Reilly Automotive (NASDAQ:ORLY) is a strong buy and is currently selling at a major discount to its intrinsic price. Its sub-industry has built-in safety due to ballooning new car prices, and last but not least, ORLY's predictable growth pattern makes it a value and growth opportunity.
The Latest from ORLY
It was just last month that O'Reilly was trading in the low $170's (Closed at $172.85 on July 7th), and due to a stronger-than-expected earnings report, it is now trading at $205.09 per share as of this writing. Its EPS of $3.10 beat the consensus estimate by $0.20.
O'Reilly has a nationwide network, including close to 5,000 stores, regional distribution centers, and Inventory Hub Stores that serve customers and provide same-day delivery of inventory to the other stores in the surrounding area. ORLY's saturation across the country should help this automotive parts retailer continue to be successful in its industry's current economic situation.
What is driving the positive outlook for automotive aftermarket retailers? There is a growing trend of consumers trying to extend the life of their current vehicles because of their reluctance to purchase new vehicles. And who can blame them? According to Kelly Blue Book's analysts, the average price of a new vehicle in the United States is $35,309.
Fundamental support for ORLY
My preferred ways to judge the quality of a business is to look at its growth over time, is it predictable, consistent, and positive? Also, return on capital is a useful measure that tells us how efficiently a business is run. Specifically, it tells us the return a company can expect from investing in itself.
Return on Capital: ORLY has a current ROC of 55.32%. This is an impressive return for any industry. When compared to its intra-industry peers, O'Reilly has a higher return on capital that 85% of companies.
Predictable Growth: The growth rates that ORLY has consistently produced give further credence to the idea that it is a quality company. In the last 1 year, the EBITDA growth rate was 11.9%; over the past 3 years, the growth was 19.7% on average; past 5 years, 21.9%; and finally over the past 10 years, 22.20%. Additionally, gurufocus.com has given O'Reilly Automotive Inc. a predictability rating of 5 out of 5 stars.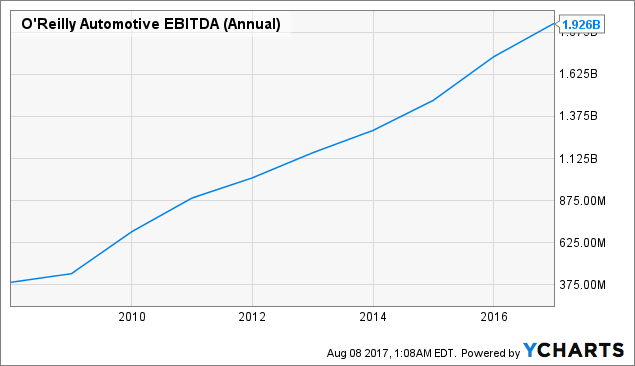 ORLY EBITDA (Annual) data by YCharts
There is also fundamental support that ORLY is available at a discount. Using the value driven metrics of EV/EBITDA, earnings yield, and intrinsic value and margin of safety, there is support for the theory that ORLY is undervalued.
EV/EBITDA: This metric is very similar to the P/E Ratio. Enterprise Value over EBITDA is preferred due to its inclusion of debt and cash. This metric can serve one of two purposes when looking for a value stock. First, if the stock's EV/EBITDA is low enough, intrinsic value is inferred. The second purpose, as used in this case, is to use it as screening criteria. The stock may continue to be considered for your portfolio as a value pick if its EV/EBITDA ratio is not out of line with its industry. The specialty retail industry has an industry median of 11.75, while ORLY's valuation is 10.59. O'Reilly passes the screen because it is ranked higher than the industry median.
Earnings yield: This speaks to the business's profitability as it relates to stock price. O'Reilly does very well when compared to its industry peers using this valuation metric. Their yield comes in at 8.35%, over 2 percent higher than the industry median. This earnings yield that is in excess of the median yield is interpreted as inherent value.
Intrinsic Value and Margin of Safety: As long as the stock being analyzed holds a true value that is higher than the current market price, the stock has a margin of safety. There is more reliability in calculating the intrinsic value of a company when that company has a predictable track record. In the case of ORLY, it is very consistent. Using an earnings-based DCF model, the intrinsic value is calculated as $325.11 per share. This presents the investor with a 36.92% margin of safety. I use the margin of safety as a quantitative way of showing how comfortable I should feel investing in this company. In the case of ORLY, the nearly 40% MOS is large enough to keep the odds in our favor even if we have overestimated the intrinsic value.
O'Reilly Risks
Recent economic indicators point out that there is currently a healthy economic outlook. This could lead to an increase in new vehicle sales, which as alluded to earlier, would decrease the demand for aftermarket automotive parts. Also, according to the Bank of America/Merrill Lynch research report, "topline growth may be limited given maturing industry growth, negative mix shift in the type of vehicles sold..." Finally, miles driven and vehicle scrappage rates could also adversely affect O'Reilly. Based on strong fundamentals and the generally positive outlook for this sub-industry, these risks do not seem strong enough to throw ORLY off its strong and predictable growth pattern.
The risk/reward gauge also favors going long ORLY. The consensus of 23 analysts has a price target of $227.48 per share, and using the low and high ranges as the downside risk and upside reward brackets, the upside is much greater than the risk. The low estimate is $190 while the high estimate is $320. Even if the stock price only gets up to the analyst average, it still represents a gain of approximately 11%.
Disclosure: I/we have no positions in any stocks mentioned, and no plans to initiate any positions within the next 72 hours.
I wrote this article myself, and it expresses my own opinions. I am not receiving compensation for it (other than from Seeking Alpha). I have no business relationship with any company whose stock is mentioned in this article.