GRAVY - "GR"owth "A"bility, "V"aluation and "Y"ield - is the acronym for my investment club's criteria for dividend-growing companies. We're searching for healthy, fairly valued dividend-payers with clear potential for dividend growth. Last week, the four-part series on sniffing for GRAVY in the Industrial Sector was published. The series covered Emerson Electric (NYSE:EMR), Eaton (NYSE:ETN) and McGrath RentCorp (NASDAQ:MGRC).
Ultimately, it will be up to my investment club to decide whether to invest in any or all of the three. All three reported quarterly results after the series was published. Certainly, it is judicious to do a quick review to ascertain whether these results impact the analysis.
I originally suspected the club would take a pass on Emerson Electric and Eaton and that there may be interest in McGrath RentCorp.
Original Summaries
Emerson is in the midst of transformation, but it didn't seem like it had fully turned the corner yet.
"I'll surmise the "ifs" will be perceived as too hefty and the growth prospects too slim. If Emerson cannot decrease its share count, investors will likely see a minimal bump to the dividend rate of only $0.01 per share per year. For DGI advocates, new investors may not find the prospects in this scenario compelling."
Eaton, too, is restructuring to improve margins. But, that is not the overriding factor. Since the club is a limited partnership, there will be foreign tax implications for us with Eaton (a special nod to Seeking Alpha reader Elaine Marino for clarifying this in the comments section).
"Though there is sufficient reason for my investment club to entertain an investment in Eaton, I do suspect the foreign tax will be the deciding factor. For us, in the bigger picture, 20% of the dividend would simply not be available for reinvestment. Scalping 20% off the $2.40 annual rate lowers the dividend yield to a range of 2.4% to 2.6% based on the current price range of $74 to $79."
McGrath, too, is focusing on transformation relative to its ROIC. Of the three, it appeared McGrath may fit the club's criteria the best.
"If McGrath can maintain its recent free cash flow achievement, it would position the company to speed its pace of dividend growth. But, it can not be ignored the company could rightly choose to instead pay down debt or repurchase shares with its free cash."
Emerson Electric's Fiscal 2017 Q3 Results
Emerson Electric reported fiscal 2017 third-quarter results on August 1st. Revenue improved 10% year over year, primarily due to Emerson's acquisition of Pentair's (NYSE:PNR) valves & controls (V&C) business in April, 2017. Of the 10%, 7% was credited to V&C, 4% to underlying sales and -1% to the foreign currency impact. Geographically, the majority of the gains came from Asia.
The company is focused on rebuilding revenue to $20 billion. For the full year of 2017 (ending September 30th, 2017), it originally expected revenue to "decrease slightly" from the 2016 level of $14.5 billion. Third-quarter revenue totaled $4.04 billion, equating to a run rate of $16.16 billion. For the first nine months of fiscal 2017, revenue totals $10.83 billion. Emerson now expects full-year revenue to increase approximately 5% to $15.2 billion inclusive of the V&C acquisition.
Diluted earnings per share from continuing operations declined 7% year over year, from $0.68 to $0.63. Of the $0.05 difference, $0.04 was attributable to acquisition charges and $0.01 to operations. The nine-month total for diluted earnings per share from continuing operations is $1.77. Emerson increased its diluted earnings per share from continuing operations estimate for the full year to a range of $2.58-2.62 (including an estimated $0.05 decline from V&C operations and excluding $0.10 for acquisition charges). The previous range, comparably, was $2.50-2.60.
The company's growth radiated in its free cash flow improvement. Year over year, it improved 24% to $668 million. For the first nine months of fiscal 2017, it improved 11% to $1.49 billion.
The most optimistic development reported in the call validated Emerson's projection that the energy market "should see a positive inflection point in 2017 or early 2018 with spending starting with MRO and brownfield projects, and slowly migrating into previously delayed greenfield projects." Its project funnel improved $1.1 billion to $4 billion from the $2.9 billion published in February.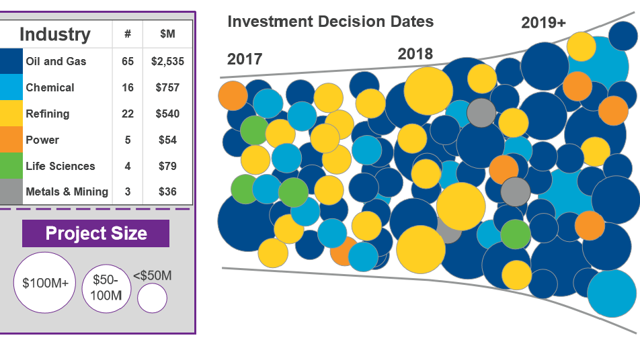 Of course, Emerson does not expect to win every project in the funnel. But it does expect to win more than it doesn't.
"We will see several projects in the funnel get approvals to proceed in 2018, probably half of what's depicted on this chart, should have decisions in 2018, and then I'll go through the award-order-execution sales process that typically follows and plays out typically over a 12 to 24-month period. So I anticipate we'll see some of these longer-cycle deliveries start to mix into our backlog as we get into next year."
Relative to the GRAVY analysis prior to this most recent earnings release, the company's growth prospects are much clearer than before.
Furthermore, Emerson specifically addressed the trivial bump to its dividend last fall. The company believes once it drives out the synergies with V&C, the "trapped cash" will drop its dividend-to-free cash flow ratio below 50%. CEO David Farr reiterated that Emerson wants to:
"make sure we maintain our dividend record and move towards actually starting to get off the minor increases towards more meaningful increases once we get back below 50%, toward that 45%." (emphasis added)
The year-to-date dividend-to-free cash flow ratio is approximately 63% ($930 million compared to $1,485 million).
There's still a long runway for Emerson. But, perhaps it has turned a corner.
Eaton's Q2 Results
Eaton also reported second-quarter results on August 1st. Revenue improved just 1% year over year to $5.13 billion. Organic sales actually improved 2% but were offset by the impact from foreign currency.
The company has a heightened focus on margin improvement to help drive its longer-term EPS goal of improvement of 8-9% annually. Every one of its five reporting segments saw margin improvement in the second quarter compared to the first quarter. In regard to its long-term goal, the operating margin in the Hydraulics segment is the only one outside the 2020 target range. As a whole, its operating margin was 15.63%. Excluding restructuring costs, its operating margin was 16.2%. Eaton noted this set a quarterly record for the company. For the third quarter of 2017, it expects this rate to improve to a range of 16.2-16.6% including the restructuring costs.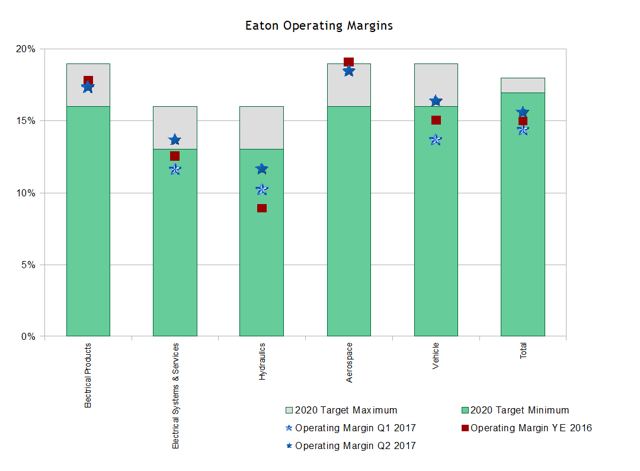 (Source: Author, created from company data)
Diluted earnings per share improved 6.5% year over year, from $1.08 to $1.15. Though respectable, the gain is shy of Eaton's long-term goal of 8-9% growth. The majority of the gain was attributable to improved margins and higher sales.
The company's full-year EPS improvement also falls outside its long-term goal, but to the positive side. Eaton originally guided full-year EPS in a range of $4.30-4.60 (5.7% year-over-year growth at the midpoint of $4.45). With the May 2nd earnings release, it bumped up the range to $4.45-4.75 (9.3% year-over-year growth at a new midpoint of $4.60). With its second-quarter results, Eaton tightened the range to $4.50-4.70 and maintained the midpoint.
Eaton also projected it would set a new company record for free cash flow in 2017. It expects free cash flow in the range of $2.1-2.3 billion. However, through the first six months of 2017, free cash flow totals just $791 million. Eaton has put $120 million more into working capital and contributed $86 million more to its pension plan in the first half of 2017 compared to the first half of 2016. The company reaffirmed its projection with its second-quarter reporting.
Another projection Eaton will fulfill in 2017 concerns its share repurchase authorization. On an annual basis, it expects to repurchase 1-2% of its market capitalization. The company has expended approximately $465 million for buyback of its projected $750 million for the full year.
Eaton's restructuring program stalled a bit in the second quarter due to the "timing" of projects. The second half of 2017 will pick up the slack.
An overarching stall lingers in the company's end markets.
"It's really what's going on with industrial production. And industrial production really, over this period, has been quite muted, growing sub 2%... And I'd say that we, too, have been disappointed that industrial production hasn't grown faster... But certainly, we, like you, have been concerned that we haven't grown faster over the last four years or so."
There wasn't enough spark in the quarter to offset knowing the club will take a 20% haircut on the dividend.
McGrath RentCorp's Q2 Results
McGrath RentCorp reported second-quarter results on August 2nd. Of the three companies, it performed best relative to analysts' average estimates. The B2B rental provider improved utilization year over year in all three segments: Mobile Modular, TRS-Ren Telco and Adler Tanks. Improved utilization helped improve revenue, which grew 6% year over year to $109.6 million. All three segments increased total revenue, with the Mobile Modular segment improving its rental revenues the most at 11%.
All three segments did not improve operating income, however. The Adler Tanks segment saw a slight decrease from $3.24 million to $3.02 million. Adler continues to experience pressures from the oil & gas industry. But, on a positive note, the company experienced growth in the other markets it serves. The two larger segments, Mobile Modular and TRS-Ren Telco, did improve operating income 36% and 19% respectively. The end result was McGrath decided to increase its full-year guidance for operating profit. Originally, it had expected an increase of 3-5% compared to the $79.3 million in 2016. The company exploded the range to 9-12%, or $87.6 million at the midpoint.
Earnings per share in the quarter jumped over 26%, from $0.38 to $0.48. Year to date, diluted EPS totals $0.80. In 2016, full-year EPS tallied $1.60. With the expected improvement to operating profit, earnings per share could bust the $1.85 mark.
But, McGrath has a spotlight on its return on invested capital. It defines ROIC as operating profit less taxes divided by total assets less cash and short-term operating liabilities. When 2016 commenced, the company was less than pleased with its ROIC and intentionally honed in.
From 2015 to 2016, McGrath's ROIC did increase scantily, from 4.3% to 4.36%. Already in 2017, the measure is advancing based on the trailing twelve months' result.
Operating Profit

(less Taxes)

Total Assets

Cash

Total Liabilities

Long-term

Liabilities

ROIC

2015

$66,377

$1,152,549

$1,103

$772,862

$381,281

4.30%

2016

$66,931

$1,128,276

$852

$733,989

$326,266

4.36%

TTM 2017

$84,596

$1,150,123

$1,871

$747,758

$330,287

5.40%
To date, the Mobile Modular business has focused the most on improving ROIC because it is the biggest contributor to revenue with the largest inventory. Year to date in 2017, it contributed 48% of total revenue. This level of contribution is expected to continue.
"If you look at our education business, generally across the regions that we have operations in, state funding is better, tax revenues are better, because the economic situation has improved over the last several years."

"On the commercial side, it varies. However, most of our markets are strong."
TRS-Ren Telco and Adler Tanks contributed 28% and 21% of total revenue respectively in the first six months of 2017. It is possible these contribution ratios could flip depending on market conditions.
Regarding TRS-Ren Telco, McGrath is not yet expecting strong demand.
"Yeah, we don't anticipate 5G to really start in any substantial way until 2019 and beyond."
But, the tide could be turning in Adler Tanks' primary market (oil & gas).
"And so we are seeing some - a little bit of recovery there. And, we're actually deploying some additional equipment into those markets. So I would expect that trend to continue."
McGrath's diversification and exposure to multiple industries do mitigate risk. The market noticed. Its share price jumped approximately 12% by the end of the week. With the jump, its dividend yield shrank below 3% to 2.5%.
Because we're hesitant to chase a stock price, McGrath is now, more likely, a candidate only if it pulls back below $38.50.
When We Meet
Understanding my club's preferences helps direct my research. Though I'm frequently incorrect, I still try to predict their reactions. Originally, my guess was the club would have an inclination toward investing in McGrath.
"Of the three companies analyzed, Emerson Electric, Eaton and McGrath RentCorp, it seems McGrath RentCorp, the smallest and least familiar to us, may fit the closest with our investment style. There may indeed be gravy wafting from those modulars."
With the most recent quarterly results published, I'm second-guessing my initial projection. The share price appreciation at McGrath casts a doubt. Yet, I cannot forget Emerson Electric could not hold the club's attention in 2016. On the other hand, Emerson specifically addressed dividend growth in its earnings call. And that could very well speak volumes where the club is concerned.
Disclosure: I/we have no positions in any stocks mentioned, and no plans to initiate any positions within the next 72 hours. I wrote this article myself, and it expresses my own opinions. I am not receiving compensation for it (other than from Seeking Alpha). I have no business relationship with any company whose stock is mentioned in this article.