After five straight months of declining or flat readings in small business optimism, July's update from the NFIB showed a big turnaround. With economists expecting the headline index to come in at a level of 103.5, the actual reading came in at 105.2. This puts the index back within a point of its cycle high and indicates that despite a lack of progress in DC, small business owners are seeing improved conditions on the ground. The commentary of the report said as much when it stated that, "Apparently economic activity in the second quarter was good enough to divert owner attention from the impotence of Washington lawmakers. There's nothing like more customers to make owners happy, and optimism held up as did important measures of spending and hiring plans. Congress still holds the key to faster growth, so let's hope they open the door."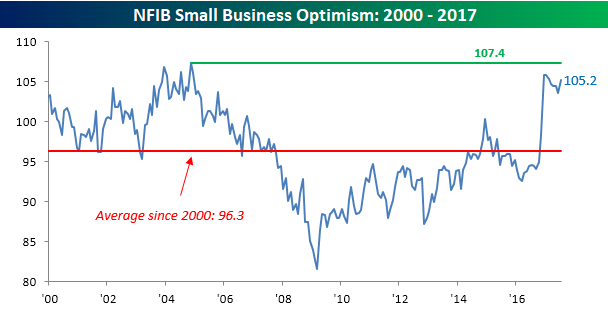 The table below summarizes the issues that small business owners consider to be the biggest problems facing their operations. Topping the list once again this month is Taxes, which was cited by 21% of respondents. Taking the number two spot this month was Quality of Labor, which saw the largest increase and was cited by 19% of business owners. Number three on the list was Government Red Tape, which declined from 19% down to 16%. The only other notable decliner was Poor Sales, as just 8% of small business owners are having a hard time generating sales.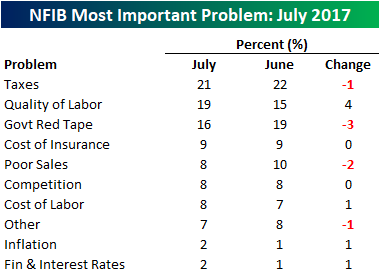 A few charts from the table above are worth highlighting. First, when it comes to the problem of Poor Sales, there really isn't one. Going back to at least 2007, there have never been fewer small businesses citing Poor Sales as a problem. From one perspective, this is encouraging; but one could argue that it would be hard for things to get much better than they are now.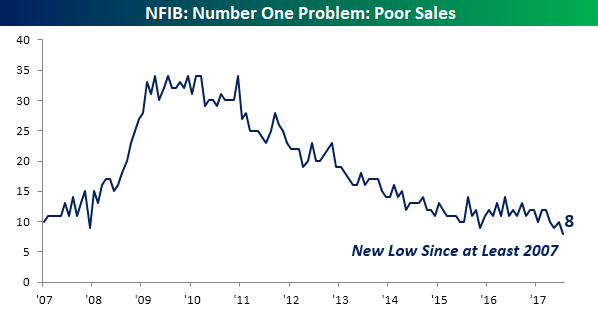 One of the biggest issues facing workers during this expansion has been the lack of meaningful wage growth. While we feel as though calling for higher wage growth around the corner is reminiscent of Waiting for Godot, small business owners are increasingly citing labor issues as their number one problem, and in theory, at least, that should translate to higher wages. In this month's report, 19% of small business owners cited Quality of Labor as their number one issue, and that's tied for the highest reading on record and an increase of four percentage points from last month.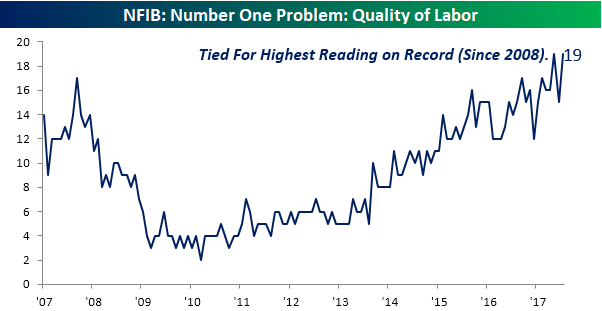 When labor quality is lacking, employers tend to have to pay up for higher quality labor, and that is showing up in the percentage of small business owners citing the cost of labor as their number one issue. In this month's survey, that percentage ticked up to 8%. Since 2007, there has only been one other month where more businesses cited labor costs as their biggest problem (August 2016).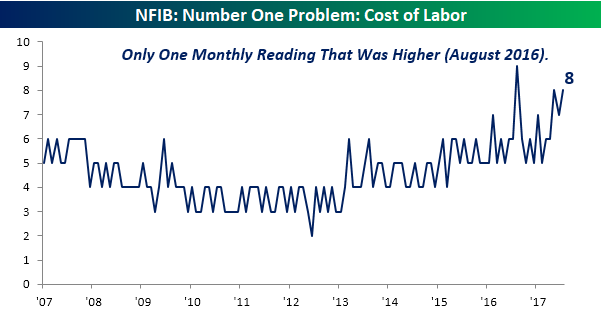 Thanks for reading the article. Follow our account to get our articles as soon as they're posted to Seeking Alpha. To get our full newsletter, sign up for Bespoke Newsletter PRO. Subscribers to that service get access to Bespoke's model stock portfolios, actionable data-driven insights, and in-depth analysis of everything that drives the markets, among other things.