I was having dinner with uber-investor Rick Rule and his wife the other night in Vancouver. He had just come off a hugely successful conference, and we decided to spend some downtime together.
I was in town taking care of my mother who was just admitted into hospice care. Needless to say, I am spending a lot of time here in Vancouver.
Rick and I have been very good friends for more than 25 years. In that span of time, we have both seen volatility, as measured by the different indexes, become highly unpredictable. Especially in the short term.
For options traders, volatility is critically important. It's a major component of the Black-Scholes options pricing model. When that component is low in the market, the premiums you receive from selling options (or the premiums you pay for buying options) are much lower than normal. So it pays to be attentive to the levels of implied market volatility because it can cost you... or make you a lot of money.
Market pundits are claiming that volatility as measured by the VIX Index is dead. I have heard this before about a lot of investments when they are trading at super low levels for a super long period of time.
Sayings like "X is dead" and "it's different this time" are some of the best buy or sell signals in the market. It's no different when it comes to volatility. But the public's perceptions and short memories can fool you into thinking it's different.
Today, the VIX is trading around 10. Let's put that number into perspective. When the VIX trades at low levels like it does today, it implies that investors are making bullish bets on the market. In other words, they are buying more stocks than they're selling - and buying more call options than put options. It's also a signal of what the pundits call "complacency."
Let's compare it to a person getting a great job. He goes out and buys a nice house, a nice car, gets married, takes on debt, has kids, takes on more debt, etc. Times are good. During these good times, he becomes complacent, thinking that all will be good or better forever. The problem is that the world doesn't work that way. And neither does the market.
Historically, when the VIX has been at low levels, like it is today, it has been a very good time to sell stocks or lighten up on positions.
The only problem is that it's difficult to gauge what "low levels" are, or when they'll end. You see, the VIX can stay very low for years, as we are seeing today. So selling now could mean leaving a ton of profits on the table.
However, I can absolutely guarantee that the market will indeed fall and the VIX will indeed rise. I just can't tell you when.
And when it happens, it will create the mother of all buying opportunities. Let's look at the past couple of decades for examples. In term of ranges, the VIX has traded between 9 (1993) and 80 (2008). That is a huge range. Today, we are closer to 9 than 80.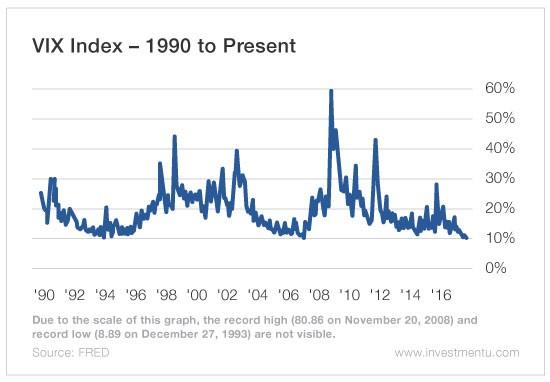 When the market experiences a little volatility, we see the VIX trading into the midteens. When there is a short-term correction of any type caused by, say, major elections, impending changes in monetary policy or the threat of a government shutdown, we see the VIX trade in the low to mid-20s. When we are in a 2010-style "flash crash" type of situation, the VIX trades into the 30s, and that flashes a pretty nice buy signal.
In full-fledged meltdowns like the crashes of 1987 or 2001, the VIX will trade into the 40s and even 50s. That presents a massive buying opportunity. And when we hit the mother of all meltdowns in 2008, the VIX broke through all previous records and hit 80. That was the mother of all buying opportunities. Of course, most people were hiding under their mattresses or selling during those major market dumps. They should have been watching the VIX and doing the opposite.
You see, the secret of the VIX is that it's a terrible indicator of when to sell, because people can stay complacent for a very long time. But it is an excellent indicator of when to buy - because people, like markets, panic at the same time and very, very quickly.
Volatility is not dead, it's just resting. Make sure your portfolio is ready for it when it wakes up.
Disclosure: We expressly forbid our writers from having a financial interest in their own securities recommendations to readers. All of our employees and agents must wait 24 hours after online publication or 72 hours after the mailing of printed-only publication prior to following an initial recommendation. Any investments recommended by Investment U should be made only after consulting with your investment advisor and only after reviewing the prospectus or financial statements of the company.