This article reviews both the current market conditions and outlook for U.S. domestic crude oil production, consumption, and trade through 2018. The analysis utilizes current EIA data and includes up-to-date political developments.
Production
EIA projects that production will rise to 10.1 MMBPD by the end of 2018. Even though the price of crude oil has fallen considerably since 2014, domestic production remains robust; cost cutting measures and increased well productivity have enabled producers to provide ample market supply.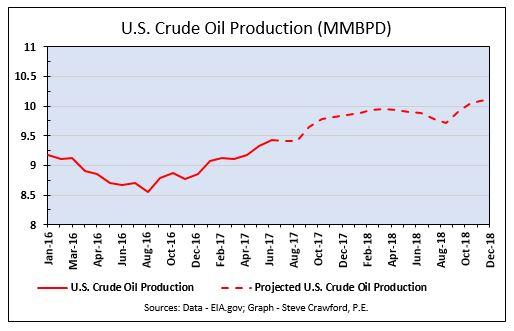 The EIA is forecasting that crude oil production growth will slow to 60 KBPD/month in the second half of 2017. Weekly trends have shown production rising by over 100 KBPD/month, so production could surprise to the upside; there is a large backlog of DUCs, which could keep production strong in the near-term even if a drilling slowdown materializes.
Consumption
After a weak start, year-to-date gasoline demand is now only .4% lower compared to last year's. This is principally due to a steep climb in consumption of 450 KBPD since April. EIA expects gasoline demand to remain elevated during the upcoming shoulder season; this is different to last year where demand weakened considerably in October. EIA forecasts that demand will remain firm through 2018, although significant growth isn't expected.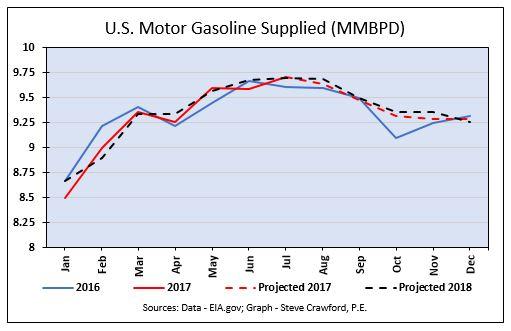 Compared to last year, distillate fuel demand is up a whopping 3.5% year-to-date. July demand was approximately 400 KBPD higher than last year's. Demand growth is expected to continue through 2018.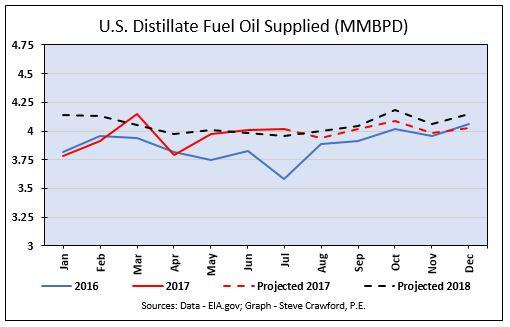 Year-to-date jet fuel demand is up 5.2% compared to last year's. EIA projects that jet fuel demand will fall 140 KBPD between July and December.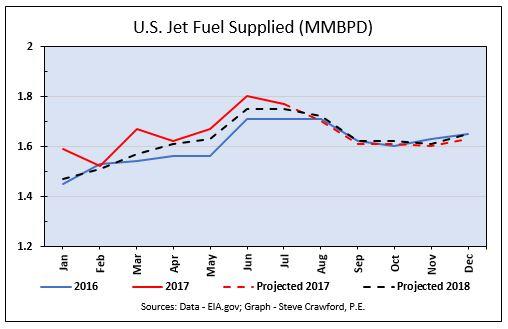 After a weak start, year-to-date refinery input is now 2.6% higher than last year's. Refinery input is expected to fall by 1.5 MMBPD between July and October. EIA projects that 2018 input will be similar to 2017.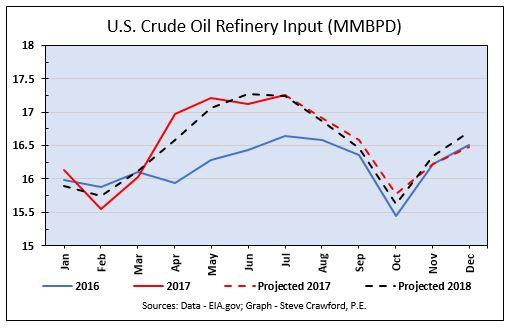 Trade
Crude oil net imports have remained relatively steady since the beginning of 2016. However, EIA is projecting that they will fall significantly during the remainder of 2017 and through 2018. This is chiefly due to an increase in domestic production and exports. The projected decrease in net imports is roughly equal to the projected increase in domestic production; this implies that nearly all of the domestic production growth is expected to be exported.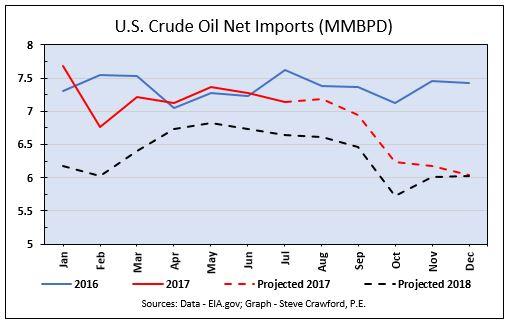 Domestic refiners are setup to process heavy crude which is mainly produced overseas; currently, much of the light crude that is produced domestically has to be exported to foreign markets.
Petroleum product export growth has been impressive this past year. Strong exports have provided relief to bloated U.S. inventories. EIA projects petroleum products exports will remain strong through 2018.
Conclusion
Robust product demand continues to be supportive for prices; distillate demand, jet fuel demand, and exports are all up sharply compared to last year. However, in the near-term, the balance could shift toward supply overwhelming demand as refiners cut runs into the shoulder season. EIA projects that gasoline demand will remain elevated over the next few months, which is sharply different to the demand drop-off we saw last fall. If this holds true, gasoline demand will provide much needed support to the market.
Domestic production continues to rise at a break-neck rate. Over the past several months, weekly production has been rising by approximately 100 KBPD/month. The EIA is forecasting that crude oil production growth will slow to 60 KBPD/month in the second half of 2017. The projected slump in growth is questionable because there is a large backlog of DUCs, which could keep production strong in the near-term even if a drilling slowdown materializes.
The U.S. will rely heavily on strong economies overseas to consume the surplus of crude oil and petroleum products. Petroleum product net exports are up an incredible 21% year-to-date compared to last year's; likewise, crude oil net imports are down a colossal 1.9% year-to-date. When comparing July 2017 to July 2016, the changes in the trade have led to a gigantic 1.28 MMBPD net crude oil and petroleum products imports reduction.
In the latest OPEC and non-OPEC compliance meeting, KSA reiterated its promise to cut crude oil exports by 520 KBPD. The EIA indicated its skepticism of KSA's latest move in the August STEO: "Crude oil prices...supported...Saudi Arabia announced a cap...exports in August...unclear how much extra crude oil...remove from the market given the country's typical seasonal decline in crude oil exports because of an increase in crude oil use..."
Production increases from Libya, Iraq, and Nigeria continue to pressure the producer agreement. Nigeria has signaled a willingness to cap its production at 1.8 MMBPD, which is only slightly above its current production. Libya and Iraq could give OPEC a set of black eyes over the next few months because they plan to increase production by year-end to 1.3 MMBPD and 5 MMBPD, respectively. As I wrote in a previous article, "Libya's Oil Production History and Outlook", Libyan production growth will likely begin to stall once the country reaches their near-term production target of 1.3. MMBPD.
It is unclear whether the U.S. will press for further Venezuelan sanctions as a result of President Maduro's push toward dictatorship. Gulf Coast refiners have begun to shy away from Venezuelan imports due to the cloudy political climate. However, they still rely on roughly 800 KBPD of heavy crude imports from the country.
The stability of Venezuela remains in question; recent escalations have included an attack on a military base, a grenade strike on the supreme court, and the arrest of opposition leaders. However, the upper echelons of the Venezuelan military continue to support Maduro, so there are no signs of a coup in the making.
Hurricanes are a near-term risk to energy infrastructure, shipping, and production. As I wrote in a previous article, "Energy Industry: 2017 Atlantic Hurricane Season", the chance for a major hurricane is the greatest in August and September; NOAA's 2017 Atlantic Hurricane Season Outlook suggests that the expected number of major hurricanes (category 3 or greater) this season is slightly more than three.
Disclosure: I/we have no positions in any stocks mentioned, and no plans to initiate any positions within the next 72 hours.
I wrote this article myself, and it expresses my own opinions. I am not receiving compensation for it (other than from Seeking Alpha). I have no business relationship with any company whose stock is mentioned in this article.