REIT Rankings: Data Centers
In our REIT Rankings series, we introduce readers to one of the thirteen REIT sectors. We rank REITs within the sectors based on both common and unique valuation metrics, presenting investors with numerous options that fit their own investing style and risk/return objectives. We update these rankings every quarter with new developments for existing readers.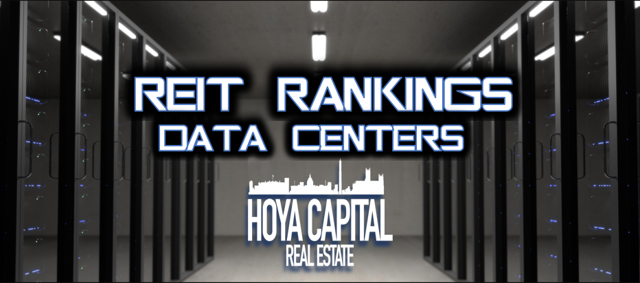 We encourage readers to follow our Seeking Alpha page (click "Follow" at the top) to continue to stay up to date on our REIT rankings, weekly recaps, and analysis on the REIT and broader real estate sector.
Data Center Sector Overview
Data center REITs comprise roughly 5% of the REIT Indexes (VNQ and IYR). Within our value-weighted Data Center Index, we track five of the six data center REITs within the sector, which account for over $34 billion in market value: CoreSite (COR) Digital Realty (DLR), DuPont Fabros (DFT), CyrusOne (CONE) and QTS Realty (QTS).

Equinix (NASDAQ: EQIX) is the sixth (and largest) data center REIT. We don't yet track EQIX because of its recent REIT conversion in 2015, which leaves insufficient data points for the regression analysis.
Above we show the size, geographical focus, and quality focus of the five data center REITs we track. For data centers, value is largely a function of its position along the "Internet backbone," the physical fiber optic network that connects every connected device across the world. Properties within the backbone are able to provide higher-value connectivity-based services than properties on the periphery which provide more ubiquitous data storage-based enterprise services.
Recent Developments and Quarterly Performance
Data Center REITs have been the best performing REIT sector over every recent measurement period. The sector has gained 23% YTD and nearly 100% over the past two years including dividends.

2Q17 earnings were stellar across the board. Of the five REITs we track, all five beat expectations. COR, CONE, and QTS raised full-year guidance. Average occupancy improved across the sector to 92%, up roughly 40bps sequentially. Revenue growth is higher by 16% YoY with AFFO growth of 17%.

During conference calls and the recent NAREIT conference, several key themes are being discussed. First, despite high levels of construction activity in recent years, REIT executives report that supply/demand conditions appear balanced across most markets and supply-constrained in key markets including Silicon Valley and LA, a positive sign for future rental growth. Leasing activity, an issue in prior quarters, was better than expected, particularly at COR and QTS. From the DLR conference call:
"Construction activity remains elevated across the primary data center metros, but leasing velocity remains robust… Vacancy rates remain tight across the board, and supply constraints are building in top tier metro areas. Competition remains intense…any uptick in new supply bears watching carefully. However, we were encouraged by the depth and breadth of demand for our scale, colocation and interconnection solutions and we believe tightening conditions bode well for long-term rent growth."
Second, hyperscale (public cloud) continues to drive incremental demand, raising the risk that these massive public cloud companies may eventually enter the data center ownership space, competing directly with these data center REITs. REIT executives, however, continue to express confidence in their competitive positioning within the space and believe that the mega-sized cloud service providers will continue to see the most relative value in overlaying their services atop the data center owned by these REITs. From the CONE conference call:
"While leasing across other verticals remained strong given the underlying secular trends, demand from cloud service providers has accelerated our growth….Given our relative cost and build time advantages and the fact that investors do not reward them for building their own data centers, we believe that 100% of their requirements should and will be outsourced over time. We continue to focus on educating them about our advantages and are at various stages with each company, but we believe we will ultimately be successful in convincing all of them to outsource."
Third, the long-term secular growth story relating to big-data, artificial intelligence, the internet of things, and self-driving technology remains very much intact. From the DLR conference call:
"A long-term secular shift to digital applications such as cloud computing, machine learning, artificial intelligence, and autonomous cars is driving robust dealer center demand."
Finally, the biggest news of this quarter was that Digital Realty, the second largest Data Center REIT, announced they will merge with the third largest Data Center REIT, DuPont Fabros. DuPont Fabros owns twelve data centers across several of the most network-dense areas in the US and the merger is expected to save up to $18 million per year in overhead savings. Digital Realty CEO William Stein said that the combined portfolio would become the "home to the cloud." The combined company will be the eighth largest equity REIT. Following the merger, we believe that Digital Realty should be positioned to command better pricing power on hyperscale leases in these markets.
Overall, it was another very strong quarter and fundamentals appear to be reaccelerating after a period of weakness. Below is our REIT Heat map, showing the quarterly performance in relation to other sectors.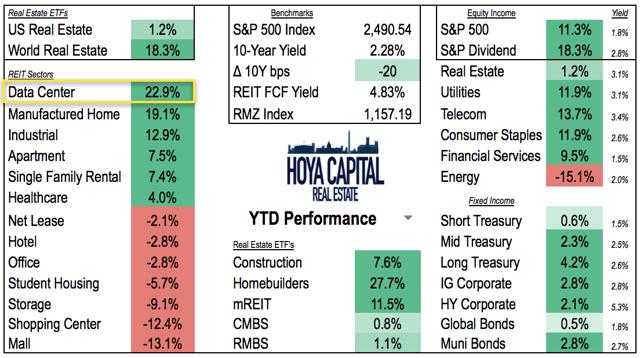 Long-Term Thesis and Dynamics of Data Center REITs
As connectivity and data storage demands of businesses have increased exponentially in recent years, these enterprises have increasingly outsourced their networks from on-site data center closets into off-site dedicated data centers. Enterprises have two choices when it comes to deployment of their networks. They can rent space directly from these data centers (private cloud) and install their own servers and software, or they can use one of the hyperscale providers, such as Amazon Web Services (AMZN), Microsoft (MSFT), Google (GOOG) (GOOGL), and Oracle (ORCL).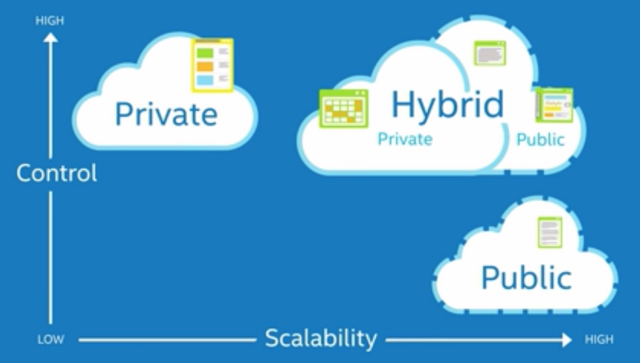 For users, the public cloud comes at a cost, however, namely the loss of control over security, pricing, reliability, and customizability. Mid-size and larger firms increasingly use a blend of public and private cloud, dubbed the 'hybrid cloud,' and chose to keep the mission-critical operations on their own private servers and outsource the less critical applications to the public cloud.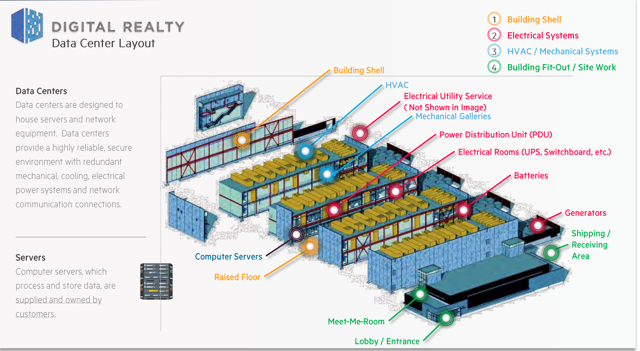 Public cloud providers rent massive amounts of space from Data Center REITs, but command significant pricing power relative to smaller, individual 'private cloud' leases. A concern for investors in Data Center REITs has been the power of the hyperscale providers to push down rents and implicitly threaten to build their own data center space using their ample liquidity. For now, at least, the hyperscale providers' demand for space far exceeds their ability or willingness to build it themselves.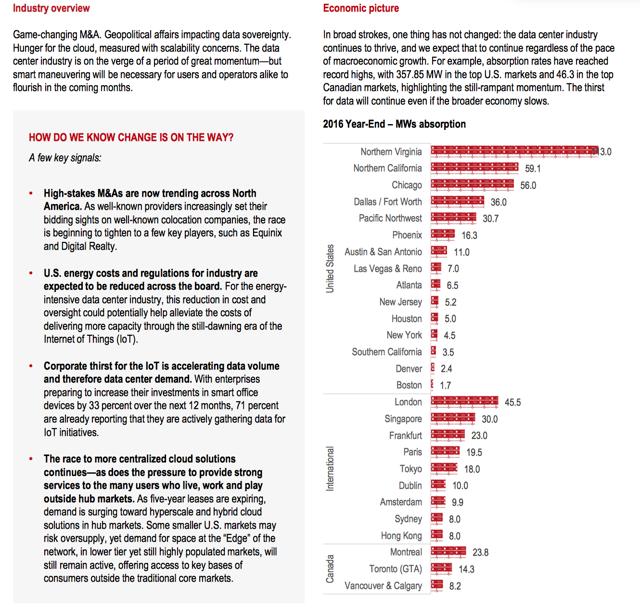 For the past five years, demand for data center space has been robust even as supply has increased substantially in all major markets. In JLL's annual 'Data Center Outlook' above, the commercial real estate brokerage firm discusses how the "thirst for data will continue even if the broader economy slows." The firm sees lower energy costs as an incremental benefit for the power-hungry data centers and sees benefits to continued consolidation. A negative for Data Center REITs is the trend towards universal wholesale pricing, a product of the increased presence of the hyperscale providers, which have decreased the relative pricing power of Data Center REITs.
Valuation of Data Center REITs
Compared to the twelve other REIT sectors, Data Center REITs appear fairly expensive based on current earnings, but very attractive after factoring in the robust growth expected over the next several years. Data Center REITs trade at 26x current Free Cash Flows, making them the third most expensive REIT sector we track. When we factor in two-year growth potential, however, the sector appears far more attractive. We use a modified PEG ratio, using the forward FCF multiple divided by the expected 2-year growth rate which we call FCFG. Based on FCFG, Data Center REITs are the most attractive sector, as the sector is expected to grow 10-15% per year over the next three years compared to the broader REIT average of 6-8%.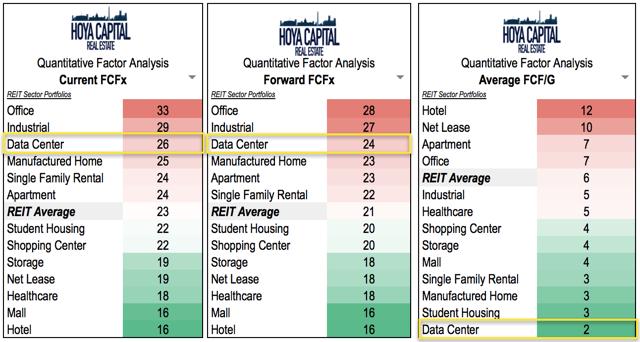 Within the sector, we note that the larger players, Coresite, Digital Realty, and DuPont, trade at moderate premiums to the smaller REITs, CyrusOne and QTS. All five REITs are within the top 10 of the FCFG metric across the entire REIT sector.

Sensitivities to Equities and Interest Rates
Data center REITs are among the more interest-rate sensitive REIT sectors, which is a surprise to many investors. High-interest rate sensitivity is a result of the sector's long lease terms and relatively high dividend yields. The low Beta to the S&P 500 (SPY) shows that these REITs are not particularly sensitive to movements in equities.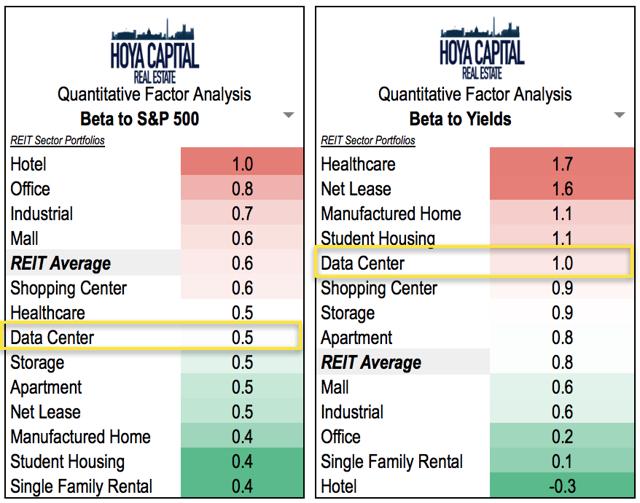 We separate REITs into three categories: Yield REITs, Growth REITs, and Hybrid REITs. ( click to read more information about our methodology).

Within the sector, we note that there are significant divergences in factor sensitivities. Digital Realty is among the most interest-rate sensitive REITs in any sector, which is a surprise given its strong expected growth rate over the next several years. CyrusOne, on the other hand, is among the least interest-rate sensitive. Overall, the sector falls into the Hybrid REIT category.

Dividend Yield and Payout Ratio
Two years ago, before the 100% rally in share prices, Data Center REITs were among the highest yielding REIT sectors. At 3.2%, the sector is now one of the lowest-yielding REIT sectors.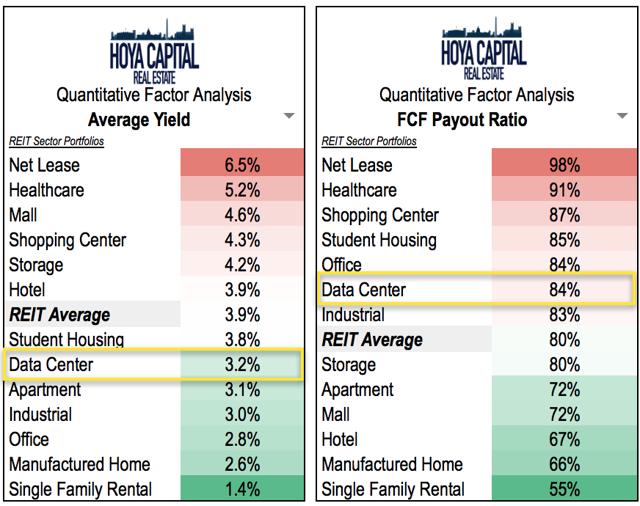 Within the sector, all five REITs command similar yields. The smaller names, CONE and QTS, yield slightly less and retain more of their cash.

Bottom Line
Data Center REITs are the growth engines of the broader REIT sector. Once a fringe sector, they have gained mainstream acceptance, but both REIT-focused and generalist investors, and for good reason: these companies are at the epicenter of the internet and the explosion in data consumption.
Data Center REITs continue to be the standouts in the REIT space. Data Center REITs have returned more than 100% over the past two years. 2Q17 earnings in the Data Center sector were stellar across the board. Of the five REITs we track, all five beat street expectations. COR, CONE, and QTS raised full-year guidance. Despite high levels of construction activity in recent years, REIT executives report that supply/demand conditions appear balanced across most markets and supply-constrained in several key markets.
Hyperscale cloud providers including Amazon, Google, and Microsoft have increasingly used their pricing power when leasing data center space. The shift towards public and hybrid cloud pressures data center REITs. For now, these hyperscale cloud providers have a symbiotic relationship with these data center REITs. Demand for connectivity far exceeds their ability to build capacity for themselves.
We aggregate our rankings into a single metric below, the Hoya Capital REIT Rank. We assume that the investor is seeking to maximize total return (rather than income yield) and has a medium to long-term time horizon. Valuation, growth, NAV discounts/premiums, leverage, and long-term operating performance are all considered within the ranking.

We currently view the smaller Data Center REITs, QTS and CONE, as the most attractive REIT within the sector, followed by Coresite and Digital Realty.
Please add your comments if you have additional insight or opinions. Again, we encourage readers to follow our Seeking Alpha page (click "Follow" at the top) to continue to stay up to date on our REIT rankings, weekly recaps, and analysis on the REIT and broader real estate sector.