Global capital markets were stirred on Tuesday afternoon following the assessment that North Korea has produced a miniaturized nuclear warhead. This resulted in an escalation of tensions and rhetoric over the potential outbreak of a military and nuclear conflict between North Korea and the United States. The latest verbal exchange late Tuesday afternoon sent shockwaves through financial markets, as stocks, bonds, and precious metals all swiftly reacted to the headlines. All of this raises the important question – what risks does the potential outbreak of a conflict between North Korea and the United States present for investors?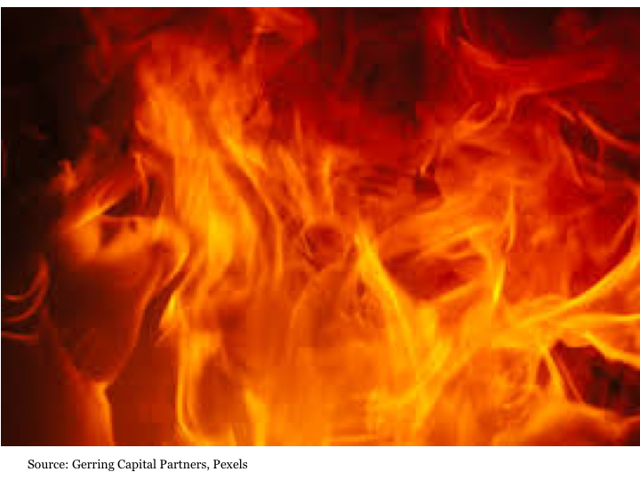 Stirred
Quickly, this article is NOT intended to assess the merits or faults of any political or military strategy associated with the recent confrontation between the U.S. and North Korea, as such debates are better left for forums other than Seeking Alpha. Instead, this report is ONLY considering the potential market implications depending on how this situation unfolds.
The capital market reaction to the escalation of rhetoric between the United States and North Korea was swift and notable on Tuesday afternoon. Immediately following the proclamations of "fire and fury" from U.S. leadership, the U.S. stock market, as measured by the S&P 500 Index (SPY), declined by -0.35% before finding its footing and bouncing back. And, heading into Wednesday's trading, the S&P 500 Index futures were down another one-third of a percent. On the flip side, traditional safe havens such as gold and U.S. Treasuries immediately rose on the latest headlines, gaining +1.1% and +0.3%, respectively.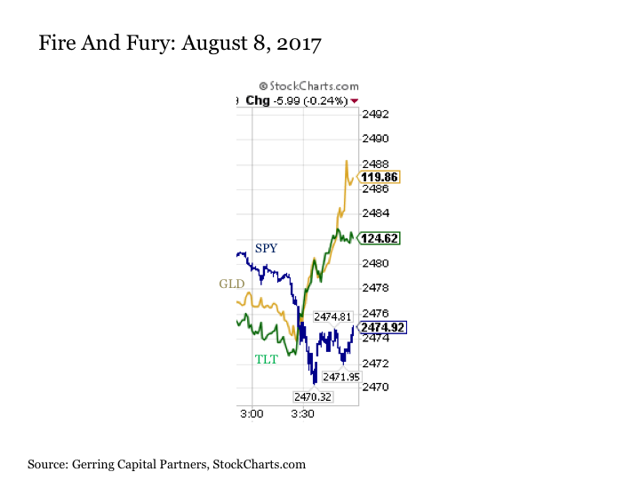 These are relatively small moves in the context of a long-term investment time horizon. But the latest headlines raise the following prospects for consideration. What if the escalating tensions between North Korea and the United States lead to the sustained outbreak of a military conflict between the two countries and their allies? More specifically, what would this mean for global financial markets in general and the U.S. stock market in particular?
Past Precedent
I have no shortage of reasons why a sustained decline on the S&P 500 Index would be a perfectly reasonable outcome in the current market environment. But while the escalation of tensions between North Korea and the United States have the potential to cause a short-term to intermediate-term downside shock to the U.S. stock market, past precedent suggests it does not represent a sustained downside risk for investors.
For while the U.S. stock market (VOO) is not immune to major bear markets over its history, the cause of such sustained and prolonged declines throughout history has always been related to valuations and leverage directly associated with financial markets. And, it has almost never been related to geopolitical conflict.
Consider some of the most dramatic geopolitical events over the past century and the associated reaction of the U.S. stock market (IVV).
The first is the U.S. stock market reaction to the attack on Pearl Harbor on December 7, 1941, that effectively ushered the United States into World War II. The Dow Jones Industrial Average (DIA) had already been declining for some time in December 1941 in the midst of the secular bear market dating back over a decade. And, while the U.S. stock market immediately dropped by more than -5% through December 23 that year, it subsequently bounced. By January 5, 1942, stocks were +1.5% higher since Pearl Harbor. Of course, stocks subsequently rolled over in the next four months, declining a total of more than -17% through April 28, 1942. But this late April low effectively represented the final secular bear market lows for U.S. stocks during the Great Depression period. For only three months later in July 1942, stocks had recovered most of their lost value since Pearl Harbor. By October 1942, they had recovered all of it. And, over the remainder of World War II, U.S. stocks steadily rose.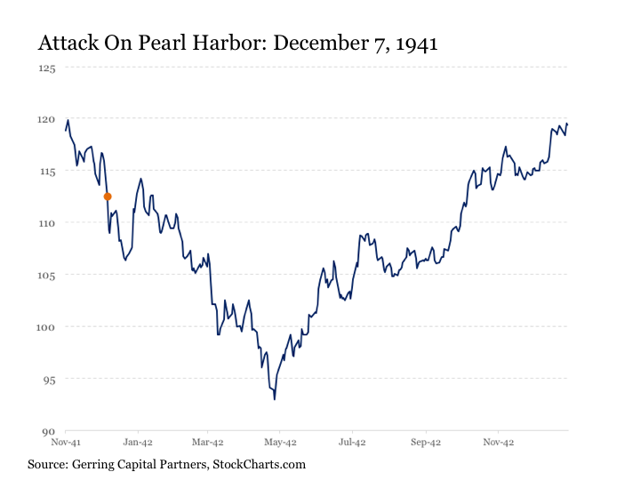 The next event worth consideration is the Cuban Missile Crisis, which took place over the course of 13 days from October 16 to October 28, 1962. Many historians regard this incident as the closest the world has come to the outbreak of a global nuclear war.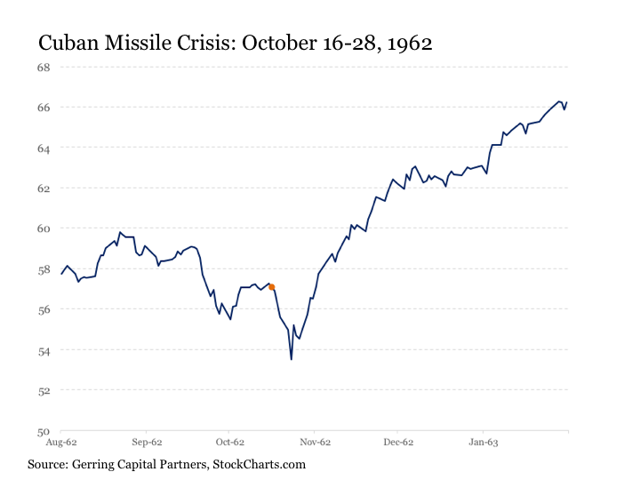 U.S. stocks, as measured by the S&P 500 Index, immediately dropped by -7% in the first four trading days of the crisis starting on October 16, but quickly bottomed and subsequently rallied. By November 1, they had recovered all of their lost value. And, by the end of the year, they were higher by double digits.
The third major geopolitical event we will consider is the 9/11 terrorist attacks that included the collapse of the World Trade Center in New York City and the closure of the U.S. stock market (QQQ) for four trading days. Stocks immediately fell by more than -8% immediately after the market reopened and proceeded to decline by as much as -15% over the next few trading days. But by September 21, stocks had bottomed. Less than a month later, they had recovered all of their lost value. And, by early December 2001, stocks were higher by more than +3% versus their pre-attack levels.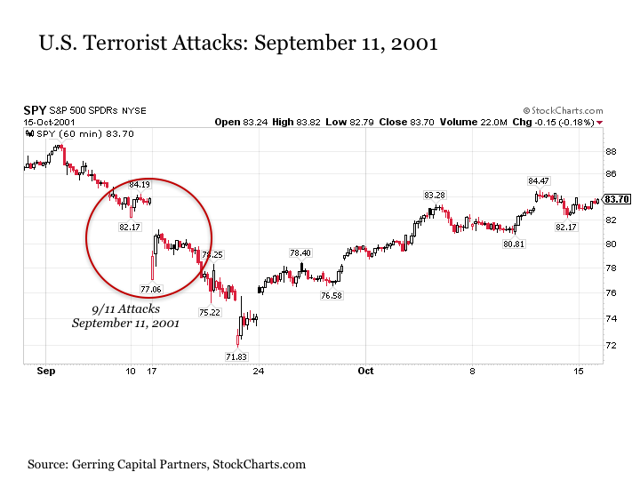 Risks Of The Risks
These three past events rank among the most dramatic and impactful geopolitical episodes in history. In each instance, U.S. stocks managed to overcome the downside volatility in the immediate aftermath to eventually trade measurably higher versus levels prior to the event. Thus, history has shown that investors are best served to largely stay the course during such periods of uncertainty.
Of course, if the recent past has taught us anything, it is that the unprecedented cannot be completely ruled out going forward. And, a few factors make the current episode with North Korea and the United States a bit different versus what we have seen in the past. This includes the fact that today's situation deals with the potential for nuclear conflict and involves players that are potentially more unpredictable versus those that have been engaged in past episodes across the global stage.
As a result, while past precedent suggests that the market impact associated with any future geopolitical event should largely be contained to short-term to intermediate-term impacts, a more profoundly negative outcome cannot be completely ruled out.
The Benefits Of Portfolio Diversification
This is where the benefits of portfolio diversification come into play. For while the stock market sold off notably on Tuesday afternoon in the wake of the latest escalation in tensions between the United States and North Korea, the U.S. Treasury (TLT) and gold (GLD) markets turned sharply higher. This highlights the benefits of maintaining allocations to asset classes that have are uncorrelated in general and have a low negative correlation during periods of market stress, as they can provide a meaningful level of portfolio protection during times of uncertainty.
Bottom Line
How events play out in the coming days, weeks, and months between North Korea and the United States remains to be seen. But while geopolitical events may unnerve the markets along the way, history has shown that investors are best served to largely stay the course with a diversified asset allocation strategy and not react to any short-term market jitters. Those with pure stock allocations may wish to consider more diversified allocations to protect against the potential for any short-term to intermediate-term downside shocks. Moreover, stock investors should also avoid complacency as events unfold. For while history is on their side that any downside stock market reaction will be short-term to intermediate-term in nature, the unprecedented simply cannot be ruled out, particularly in today's environment.
Disclosure: This article is for information purposes only. There are risks involved with investing including loss of principal. Gerring Capital Partners makes no explicit or implicit guarantee with respect to performance or the outcome of any investment or projections made. There is no guarantee that the goals of the strategies discussed by Gerring Capital Partners will be met.
Disclosure: I am/we are long TLT,PHYS. I wrote this article myself, and it expresses my own opinions. I am not receiving compensation for it (other than from Seeking Alpha). I have no business relationship with any company whose stock is mentioned in this article.
Additional disclosure: I am long selected individual stocks as part of a broadly diversified asset allocation strategy.