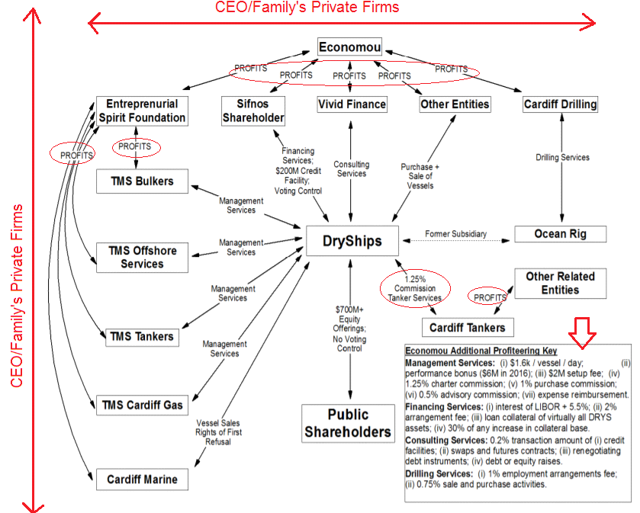 Source: rgrdlaw.com (court document)
Investment Thesis
It is illegal to make material misstatements of fact to investors. In DryShips' (NASDAQ:DRYS) case, along with material misstatements, court documents allege investors lost millions of dollars.
Count I – for violation of 10(B) of the exchange act and rule 10b-5 against all defendants.
Count II – for violation of 9 of the exchange act against all defendants.
Count III – for violation of 20 (A) of the exchange act against DryShips officer defendants, and defendants Bistricer and Murchison.
Based on this, there is a high possibility the CEO may be found guilty on all three counts mentioned in the court document. This situation creates a shorting opportunity.
Violation of Federal Securities Laws
As you can see from the above flow chart, the CEO/family's dozens of private firms deal directly or indirectly with DRYS. These private firms charge various management and consulting fees ranging into millions of dollars. If this is the case, it seems dubious that DRYS can be profitable at all.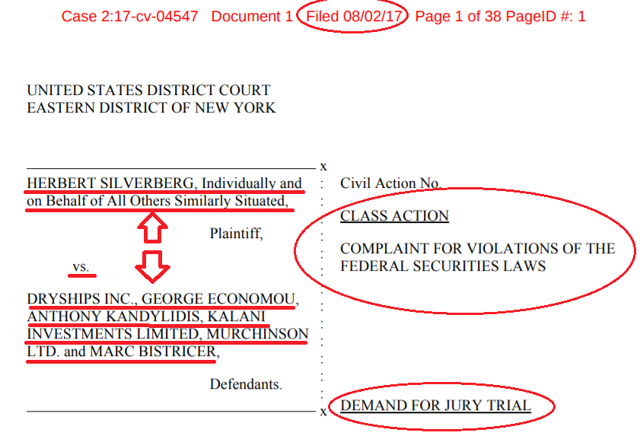 Source: rgrdlaw.com (court document)
In 2012, DRYS generated $1.23 billion in total revenue, yet posted a $246 million loss. In fact, the company has been posting losses every year for the last five years. I strongly believe that the CEO/family's private firms are hindering the ability of DRYS to post a profit.
The company earlier announced that they would pay off their debt (Sifnos) by using equity financing (Kalani deal). Despite the company having raised close to $700 million, the debt has still not been squared away – in fact, overall debt has increased drastically, to $237.5 million.
Since the Kalani deal (November 2016), the company has performed six reverse splits. Even though stock was trading at greater than $1, with no danger of Nasdaq non-compliance, the company insisted on performing voluntary reverse splits. The company failed to disclose the true purpose of the reverse splits in any of its SEC filings, and court documents clearly reference the code of federal security laws that the company violated.
Important points from the court document:
The court document alleges that the reverse split share issuance was nothing more than a manipulative financing scheme designed to further enrich Economou, Kalani and their associates.

The court document alleges that Kandylidis stated, "we are pleased to see our founding shareholder actively supporting the company in a way that is not dilutive to the rest of shareholders." This statement was false and misleading when made.

The court document alleges the company failed to disclose the massive dilution scheme under item 503 in the "Risk Factors" section of the November 2016 registration statement
This is a securities class action on behalf of all purchasers of DryShips common stock between June 8, 2016 and July 14, 2017(the "Class Period"), against DryShips, certain of the Company's officers and/or directors and Kalani Investments Limited ("Kalani") seeking to pursue remedies under the Securities Exchange Act of 1934 (the "Exchange Act").
Excessive Management Fees
The CEO charges a management service fee of $1,600 per vessel per day, a $2 million setup fee, a 1.25% charter commission, a 1% purchase commission and other miscellaneous consulting fees The CEO also charges interest of Libor plus 5.5%, an arrangement fee of 2%, loan collateral to all DRYS assets, and 30% of any increase in the collateral base a performance bonus was offered ($6 million in 2016), as well as an 0.5% advisory commission and expense reimbursement

Source: Tradingview
The last time the company paid dividends was in 2012. During share dilution (since November 2016), the company often pays a small dividend to investors. I strongly believe that the company's intention for the recent dividend payments is related to the share dilution. The company also often provides investors key financial information regarding stock valuation; for instance, on July 21st, the company said that their stock was worth $125.86 a share but failed to mention the danger of future share dilution.
On top of this, the company regularly provides investors with updates on vessel purchases, which again, I believe, is related to the share dilution. Whenever stock prices rise sharply, we immediately notice a strong pullback in the share price. This raises one of many red flags and is highly suspicious.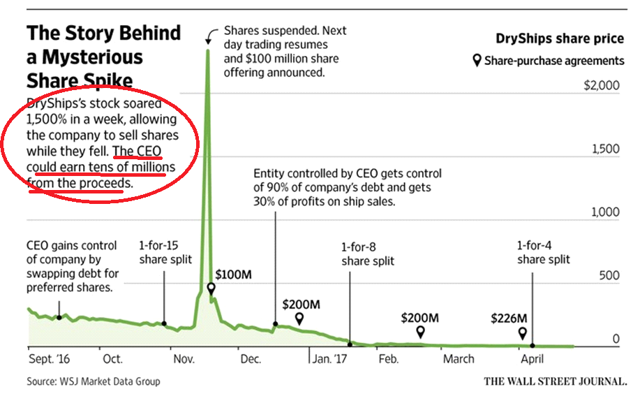 Source: rgrdlaw.com (court document)
Conclusion
I strongly suggest that interested parties read the court documents in the proceedings against DRYS. There is strong evidence that DryShips misled investors through its press releases and SEC filings during share dilution, which falls under violations of federal security laws. Even though shorting penny stocks are dangerous, DRYS appears a good stock for shorting at this time (I would short DRYS whenever the stock rises significantly). Day trading or holding DRYS for a longer time seems highly risky.
To read my previous articles, please click here.
Note: On March 28, 2017, George Economou's other company Ocean RIG UDW Inc. (ORIG) filed for Chapter 15 bankruptcy protection in the U.S. court.
Author's note: Get my articles as soon as they are published by clicking the big orange "Follow" button at the top of this page.
Editor's Note: This article covers one or more microcap stocks. Please be aware of the risks associated with these stocks.