A month ago, I presented data on the South African toy market as an example of a place where it is better to have a distributor than going it on your own. This article will examine the same premise for the Japanese marketplace.
Japan is a different world
Japan sees itself as a homogeneous nation. It has one of the least ethnically diverse populations in the world in that 98.5% of the population are ethnically Japanese. This tends to lead to a situation where non-ethnic Japanese and foreigners are tolerated but not considered socially equal. It also means that for product development, there is the Japanese way or the highway.
Japan is a highly structured, patriarchal, and traditional society. Education, ambition, hard work, patience, and determination are considered core values. Rigid etiquette and protocol govern all social interactions, including business dealings, and while solecisms by foreigners are excused since these Gaijin or outsiders cannot be expected to know any better, it is still bad form to breach them and can have consequences. One important factor, for instance, is the way people greet each other. Japanese typically bow to each other and keep their distance physically. They do shake hands with foreigners, but these handshakes tend to be very limp and extremely brief. The Western penchant for long, manly, white-knuckled handshakes is offensive to Japanese, and while they do not typically make their displeasure known, the offending party is typecast as ill-mannered and socially unfit.
Japan is not an easy country for business
The good news is that Japan is a very large marketplace. It is in terms of population [126.7 million in 2016] the eleventh largest country in the world. It is also the fifth largest in terms of gross domestic product after China, the EU, the U.S., and India; and it is the third largest toy market after the U.S. and China.
However, any company planning an entry into Japan should be aware of three issues.
The first issue is the difficulty of doing business. Japan is, in fact, at least on the surface, one of the easier countries compared with the other four non-Western countries surveyed:
| | | | | | | | |
| --- | --- | --- | --- | --- | --- | --- | --- |
| Difficulty doing Business | Japan | South Africa | Iran | China | India | Sweden | USA |
| Overall | 34 | 74 | 120 | 78 | 130 | 9 | 8 |
| Starting a Business | 89 | 131 | 102 | 127 | 155 | 15 | 51 |
| Construction Permits | 60 | 90 | 27 | 177 | 185 | 25 | 39 |
| Getting Electricals | 15 | 111 | 94 | 97 | 26 | 6 | 36 |
| Registering Properties | 49 | 105 | 86 | 42 | 138 | 10 | 36 |
| Getting Credit | 82 | 62 | 101 | 62 | 44 | 75 | 2 |
| Protecting Minority Investors | 53 | 22 | 165 | 123 | 13 | 19 | 41 |
| Paying Taxes | 70 | 51 | 100 | 131 | 172 | 28 | 36 |
| Trading across Borders | 49 | 139 | 170 | 9 | 143 | 17 | 35 |
| Enforcing Contracts | 48 | 113 | 70 | 5 | 172 | 22 | 20 |
| Resolving Insolvency | 2 | 50 | 156 | 53 | 136 | 19 | 5 |
Source: Doing Business - Measuring Business Regulations - World Bank Group
The real problems in doing business in Japan are not economic but societal. English language proficiency is rated as "low" or at the 10th rank out of the top 19 Asian countries, according to EF Education First. Business protocol is not only very important but also distinctly different from Western norms. There is an inherent bias against foreigners.
However, corruption is no more of a problem than in the United States:
Problem Index

Japan

South Africa

Iran

China

India

Sweden

USA

Corruption Ranking

(1 Best)

19

64

131

79

79

4

18
Source: United Nations Office on Drugs and Crime
The second issue is the very convoluted and difficult distribution infrastructure for fast moving consumer products.
There are more than a million retailers selling consumer products, and they are serviced by more than a hundred thousand wholesalers, semi-wholesalers, and semi-semi wholesalers. The latter are retailers who buy for themselves and also for resale to other even smaller retailers. The top one thousand or so wholesalers pretty much control the entire supply chain in order to service the retailers who really have no other way of getting merchandise. The average retailer has about 100 customers and could in fact not accommodate many more because of their size – on average, about 1000 square feet. Because of their size, the retailer needs to restock virtually daily. The reason they are so small and why there are so many of them is that their customers typically shop daily, and sometimes, several times a day, and this in very small quantities.
This very complex supply infrastructure means that wholesale and retailer margins tend to be very much higher than in the West, and this, again, results in considerably higher prices for the consumer. To give just one example from the toy space – Wonder Woman's 12" Queen Hippolyta with Horse fashion doll retails on Amazon (NASDAQ:AMZN) U.S. at $26.71 and at Amazon Japan at Yen 11,353 or US $102.17 – the same doll from the same retailer, the same company, and from the same manufacturer in China.
In turn, the leading wholesalers deal with pretty much all the key manufacturers and importers for a given product category – for instance, toys. Once hooked up with the right wholesaler[s], an importer can restrict themselves to a few shipments per week, and the wholesalers take over from there. Life in the U.S. is clearly more complicated because a company needs to make weekly shipments to all of its retailers and is often heavily penalized if these shipments are early or late or not completely in line with purchase orders.
A major benefit in dealing with a top wholesaler is that it gives the company credibility with retailers big and small. It is generally assumed that a good wholesaler will not represent a shady foreign company or handle products not suited for the Japanese market. However, large Japanese wholesalers are generally averse to dealing with companies not established in Japan.
One of my sources, an influential wholesaler of toys in Japan, put it this way:
For any toy manufacturer who wishes to come into Japan, there is really only one way. They have to enter into an alliance with a well-reputed distributor who has been in business for a rather long time and this successfully so. This gives us an assurance that the company is solid and their products well made and in line with market needs. We would not deal with them otherwise and we could not in all conscience take their products into our assortment. Our retailers trust us and will accept what we tell them about a company or a product. We cannot afford to make a mistake in this. If a European or American manufacturer who has no solid presence in Japan comes to us and wants us to work with them, the answer will have to be "no".
There are two alternatives by which you can enter the market without going in yourself or through a distributor. One is to work with retailers who buy merchandise from manufacturers on a FOB basis - the company sells the merchandise "Free On Board" typically at a major seaport, and the retailer transports the merchandise from there to its warehouses in Japan. In the toy space, the only major retailer who does this is ToysRUs. Since ToysRUs has a toy market share of about 25%, this still leaves 75% of the Japanese market untapped. The other complication is that ToysRUs, by importing directly, avoids all the trade margins taken by the distributor, the wholesalers, and the whole slew of middlemen in-between and hence is able to offer products at significantly lower prices. This fact will make a later entry by the same toy company via a distributor much more difficult as the price discrepancy at the retail level will need to be resolved one way or another.
The other alternative is to work through one of the so-called market expansion services active in Japan. One of them is DKSH who, in its own words, provides the following activities for a client – usually at a hefty price:
"We are the leading Market Expansion Services provider for companies who want to grow their business in Japan. With Market Expansion Services along the entire value chain – from sourcing, marketing and sales to distribution and after-sales services – our team at DKSH Japan offers attractive business solutions for companies wanting to grow their business in new and existing markets. Japan is a sophisticated and complex market with high barriers to entry for western companies. Regardless of company size or geographic location, and no matter whether consumer goods, specialty chemicals and ingredients for food and cosmetics, or advanced machinery are involved, our DKSH specialists have a deep understanding of the way business in Japan works."
However, there is no indication that the expertise claimed by DKSH extends into the toy space.
The third issue is the fact that the Japanese population is declining: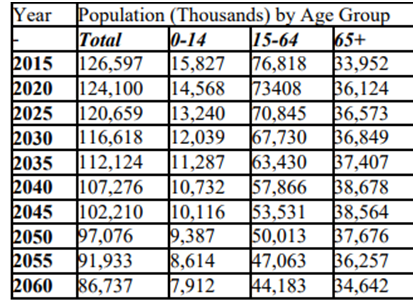 Source: National Institute of Population and Social Research 4/4/2016
While this decline has been developing for a while, it is now gaining steam. There are many reasons for this - sociological and economic - but one thing is clear. With shrinking population, there is a shrinking of the pie that is available for manufacturers and retailers, and this is leading to increasingly cutthroat competition.
In the case of the 0-14 age group, so existentially important for the toy industry, this decline if even more pronounced: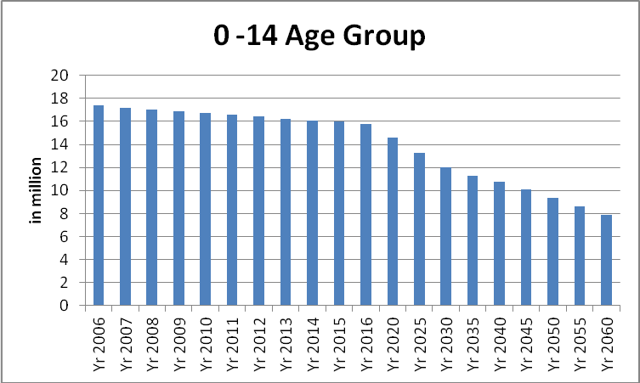 Source: CIA; National Institute of Population and Social Research
The Japanese Toy Market
As mentioned above, the Japanese toy market is the third-largest in the world. Its main dimensions break out as follows: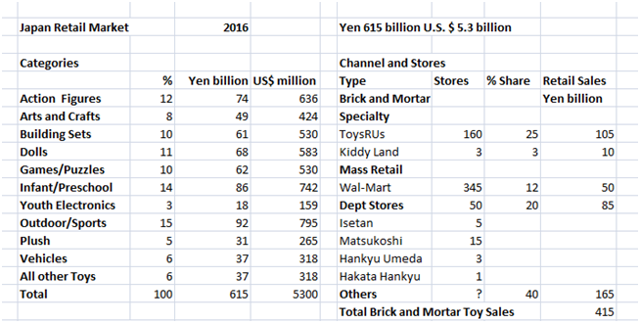 Source: Klosters Retailer Panel
The importance of the e-commerce providers is about the same as in the United States and is growing. However, their purchase practices and restrictions are very similar to those of brick-and-mortar retailers and hence pose the same problems for foreign companies active in the Japanese toy market or wishing to be so. The "Others" category represents both other e-commerce sites as well as the online activities of the leading brick-and-mortar retailers.
I mentioned above that Japan was the third largest toy market in the world. That was not always so – until recently, it was the second largest. The decline in the below 14-year-old population has already had its effect on toy sales: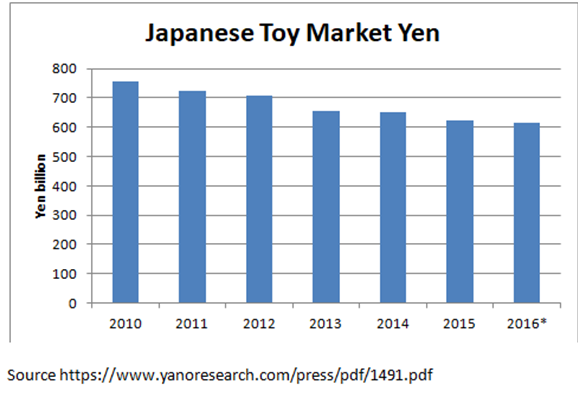 And, this trend is likely to continue and in fact accelerate given the projected future population trend in this age group.
Bandai/Happinet, Takaratomy/Hasbro (NASDAQ:HAS) and Sega Toys are the leading toy companies in Japan holding between them three quarters of the market. This dominance is due to both historical and social factors – the latter being that wholesalers and retailers both prefer dealing with Japanese companies.
Happinet is the largest of the three and is engaged in four areas of activity – toys, video and music software, video games, and capsule-toy vending machines. Its toy activity is mainly in two areas – toy products from Bandai for whom the company basically acts as the exclusive distributor in Japan and capsule toys sold from company-owned vending machines.
Takaratomy's business is basically divided into two parts – its own toys [Transformers, Beyblades and others plus and some third-party licenses such as Hatchimals of Spin Master] and Hasbro for whom the company acts as the exclusive distributor. The relationship between Hasbro and Takaratomy was described in a recent Seeking Alpha article - Is Takara Tomy In Hasbro's Gunsights?
The third largest company is Sega, a distributor for mainly Japanese toy companies but also for selected Hasbro products.
Both Lego and Mattel (NASDAQ:MAT) have their own companies in Japan. The former is doing very well and has about the same market share as it does in the United States, totally dominating the construction toy category. Mattel, on the other hand, is struggling, and its 5% market share in Japan compares with the 12% the company has in the United States. Barbie is still today the foremost fashion doll in Japan, but Disney Princess is catching up fast. Hasbro, as mentioned above, is being handled on an exclusive basis by Takaratomy. Hasbro's brands [which in Japan do not include Transformers and Beyblades] are thought to have a market share of about 6%.
Takaratomy's dominance in the toy market is best demonstrated by its position in the Fashion Doll and Action Figures Categories:
Fashion Dolls Ranking
Retailer

Best

Second

Third

Fourth

Fifth

ToysRUs Japan

Transformers Tomy

Minions Tomy

POP Funko

Star Wars Tomy

Spiderman Tomy
Action Figures Ranking
| | | | | | |
| --- | --- | --- | --- | --- | --- |
| ToysRUs Japan | Rika Chan Tomy | Sylvania Epoch | Barbie MAT | Dis Princess Tomy | Dis Princess HAS* |
*Direct Import
So, where does this leave a toy manufacturer who is eying Japan as a potential export market? If you have a truly breakthrough product such as Hatchimals, then you will always have a shot in Japan like anywhere else. If you do, your best bet is do what Spin Master did – go to the top and talk to either Takaratomy or Happinet or alternatively to Sega Toys.
And, where does this all leave a toy manufacturer who is already established there?
As always, Lego is in a league of its own and will maintain a profitable business because of its total market dominance in one solid toy category.
In the case of Hasbro, its position in the Japanese toy market was described in the Takaratomy article referenced above:
"The license agreement mentioned under Pt 2 also stipulates that Takaratomy is the exclusive seller of all Hasbro products in Japan. Takaratomy's faltering performance in their home market has a direct negative effect on Hasbro's license income. More importantly, the agreement as it stands forces Hasbro into the role of passive bystander in the world's third largest toy market".
Given Hasbro's role as absentee landlord, Takaratomy's weak performance, and the negative outlook for the Japanese toy market overall, the company's future outlook is not particularly promising. However, the downside for Hasbro is not that significant. All that can happen is that it loses some, or eventually all, of its license income from the sales of its brands in Japan, and this is now estimated at some US$15 million or about 2% of its 2016 operating profit – not chump change but not all the world either.
Mattel's position is much more difficult. The company has had a real presence in the country since the early nineteen-nineties – buildings, people, inventory, receivables. Its sales this year are estimated at about $120 million which is about the minimum at which it can still show a profit. Any future declines in sales – declines which appear to be unavoidable given the overall trend of the Japanese toy market – will sooner or later tip it into a loss position. At that point, things will become pretty hairy. It cannot pack up its tents and go home because Japan, as one of the largest toy markets, is too important for Mattel's overall business image. There is a limit to which it can trim costs because it still has to remain operational. Unless it reverses a sales trend that has been negative for several years, its outlook is one of ongoing losses and retrenchments. As they say – markets are like countries. They are easy to invade and pretty tough to extricate from.
So, in summary, if you have a breakthrough product and are approached by any of the leading Japanese toy distributors or by ToysRUs, go for it. Otherwise, stay away.
Disclosure: I/we have no positions in any stocks mentioned, and no plans to initiate any positions within the next 72 hours.
I wrote this article myself, and it expresses my own opinions. I am not receiving compensation for it (other than from Seeking Alpha). I have no business relationship with any company whose stock is mentioned in this article.