Less than three months ago back in mid-May, emerging market stocks led by Brazil went into a tailspin on reports that Brazilian President Michel Temer was under investigation in connection with a corruption scandal. The news sent the Brazilian Benchmark Ibovespa down nearly 9% in a single day in a move that was more reminiscent of the 1990s when emerging markets were extremely volatile rather than the current lower volatility era for the region.
What a difference ten weeks can make though. While the Ibovespa didn't exactly experience a v-shape bounce, the rebound has been swift. In the last two days, the index has rallied more than 2% and is back within spitting distance of the levels it traded at before the investigation was disclosed after rallying more than 12% from its lows.
The sell-off and subsequent rebound in Brazilian equities serve as an excellent reminder of how quickly sentiment can change in the market for both the good and the bad. At the close on 5/18, sentiment towards emerging markets and Brazil, in particular, was extremely cautious if not downright negative. Now, though, investors are a lot more comfortable. As they say, price heals all wounds! On the flipside, as good as things seem today, it wouldn't take a lot to have investors looking at the markets from an entirely different perspective.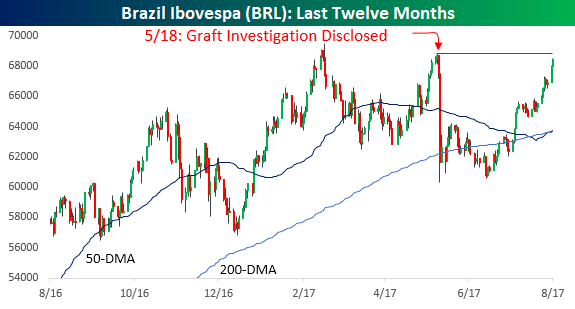 Thanks for reading the article. Follow our account to get our articles as soon as they're posted to Seeking Alpha. To get our full newsletter, sign up for Bespoke Newsletter PRO. Subscribers to that service get access to Bespoke's model stock portfolios, actionable data-driven insights, and in-depth analysis of everything that drives the markets, among other things.