(Editors' note: This article is meant to introduce Darren McCammon's Marketplace service, Cash Flow Kingdom)
I invite you to join me at Cash Flow Kingdom: the investor community where "Cash Flow is King". Together, we can unearth small cap opportunities with strong cash flow characteristics.
Why Cash Flow Kingdom?
Small cap investments with superior cash flow characteristics were specifically chosen because it is an area of investment which responds well to individual investor research. A place where the individual can have an edge. Wall Street can't invest in these stocks as they are simply too small to take meaningful positions. They can't get in or out without moving the price significantly, and thus their research dollars would be wasted. Individual investors on the other hand typically do not have the time, skills, or interest to do the level of research necessary by themselves. The deep dives into cash flows necessary to the find truly "hidden" values. Thus, those of us individual investors who are willing to make the effort and share with others can truly have more and better information than the rest of the market. We are entering a realm (pun intended) where WE HAVE THE ADVANTAGE!
In addition, utilizing his education, experience, and the YMBC portfolio as a foil, Darren will lead discussions on matters of more general investment interest: portfolio construction and diversification, macroeconomics, money management and trading strategy, retiree goals, and concerns, potential uses for trusts, etc. These additional financial planning factors will primarily be examined in reference to how they can be applied to lower risk or increase return for a portfolio of small cap investments with superior cash flow characteristics. However, the strategies will likely also pertain to the other parts of one's overall portfolio.
Who is it for?
Cash Flow Kingdom: the investor community where "Cash Flow is King" is primarily designed for investors who want to participate in this sector. Those seeking more in depth thorough analysis and discussions centered around small cap equities with strong cash flow characteristics. Cash flows which can support stock buybacks, debt paydowns, additional growth asset purchases, or solid dividend pay-outs. Whether you have a financial and investment background, or are more from Main Street, it is also hoped you will openly offer to contribute what you can, where you can. The variety of experience, interaction, and focus will help us all to learn a little from each other, and thus become better investors.
Investment and Report Samples:
Income:
CPLP from $2.65: a 12% tax advantaged dividend yield on cost covered at 1.5x; Trigger: HMM deal reported in South Korean newspapers; Status: still held, price as of writing $3.56
PFX, Phoenix 2032 QUIBS from $15.68: an obscure 11.9% interest yield on cost 'bond in an equity wrapper' of small cap Phoenix insurance. Trigger: Nassau Re offer to buy Phoenix thereby greatly reducing risk; Status: still held, 11.9% yield locked in for 15 years, no longer actively traded but last price quote was $19.31
LADR from $10.02: a mREIT/REIT hybrid with an 11.9% dividend on cost which is well covered by cash flows and well aligned, capital allocation disciplined, management; Trigger: Sharp fall in stock price to oversold territory following a dividend partially paid in shares; Status: still held, price as of writing $13.53
Growth:
ERI from $4.83: a transformative refinance and merger; Trigger: the transformative refinance; Status: sold at $18.62 for a 386% gain
RICK from $8.32: great cash flows and capital allocation discipline; Trigger: Management clearly articulating disciplined capital allocation policy and following through; Status: still held, price as of writing $23.28, a 280% gain
BRYFF from 18¢: a hidden value, micro-cap turnaround; Trigger: Algiers agreement and climb of Baker Hughes drill counts; Status: still held, price as of writing 54¢, a 300% gain
Anyone, however, can pick a few winners. Outperforming on a portfolio basis is more difficult.
Portfolio Performance History (past performance may not be indicative of future results):
As reported by third party provider Etrade:
The Search For Value portfolio (Individual Equities) has had a total return of 50.4% from inception (December 20, 2015) to the end of Q2 2017. For comparison, the Russell 2000 returned 24.6% during this period of time. That is correct, the Search For Value portfolio more than doubled the index.
The YMBC portfolio (ETNs and ETFs) has had a total return of 44.1% since inception (January 1, 2014) vs. 21% for the Russell 2000. This is also more than double the index; however, I attribute that outperformance more to the money management strategy used rather than specific security selection.
2014: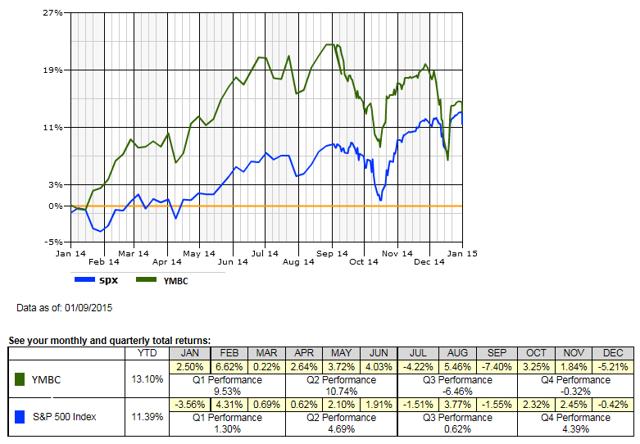 2015: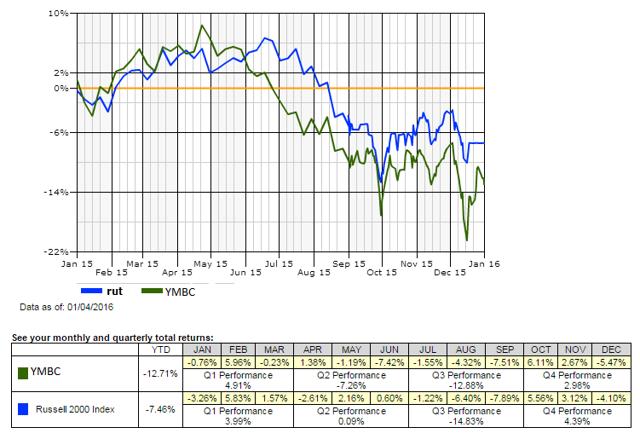 2016: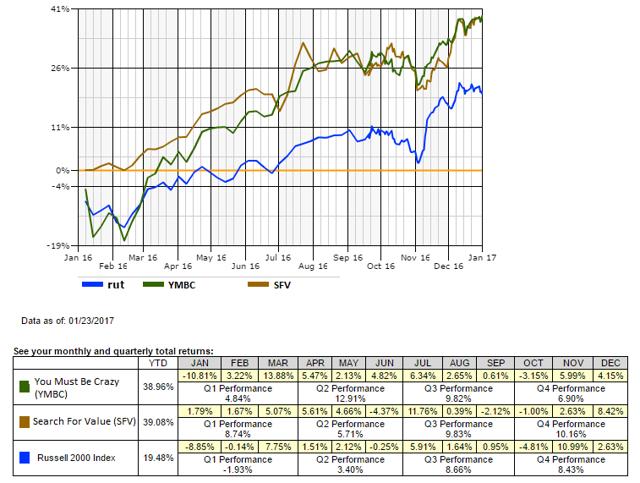 2017 YTD: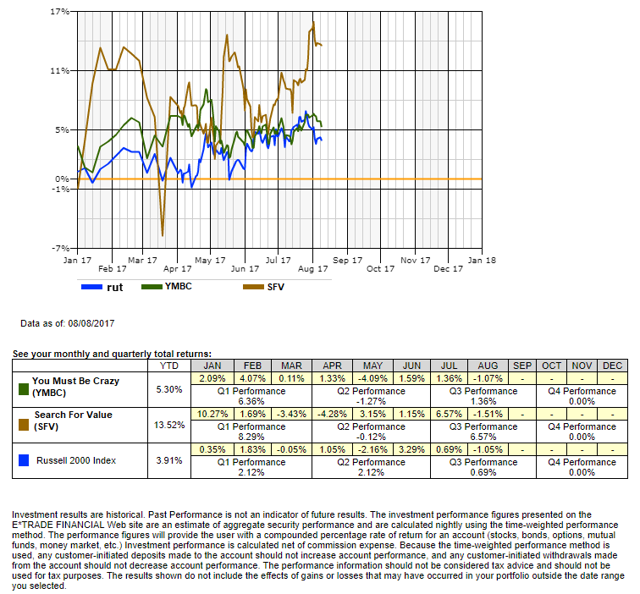 About Darren:
My first career was in convenience store operations. I started as the Assistant Manager of a 7-Eleven and, eight years later, had responsibility for 14 stores. This was a huge learning period, responsible for instilling most of the business sense which served me well throughout life.
My second career was in corporate financial planning and analysis. I started as an entry level Financial Analyst, worked for a variety of Silicon Valley firms, eventually achieved Director level, then opened my own consulting company. This is where my modeling and analysis skills were refined and tested, as well an understanding of executive motivations. These skills transferred well to stock analysis and investment, allowing me to semi-retire in 2006 at the age of 40.
Cash Flow Kingdom will be my third career.
My education includes a Bachelors in Economics, an MBA, and a Certificate in Personal Financial Planning. I am a full-time investor; I eat what I kill. Here I share the analysis which has allowed me to retire early with you.
FREE Trial Offer:
A FREE two-week trial is available now. At the end of the trial, a special introductory price of $49 per month, or $499 per year will be grandfathered in for the first 40 members (or all members who join by Labor Day, September 4th). The time will never be better to participate in a community of like-minded investors working together to uncover the best small cap stocks. Companies with solid cash flows that cover dividends and can be used to buy back stock, pay-down debt, or purchase more assets for growth. Companies with aligned management who exhibit superior capital allocation skills. Please join me at:
Cash Flow Kingdom: The Investment Community where "Cash Flow is King"
Disclosure: I am/we are long CPLP, LADR, RICK, BRYFF. I wrote this article myself, and it expresses my own opinions. I am not receiving compensation for it (other than from Seeking Alpha). I have no business relationship with any company whose stock is mentioned in this article.
Additional disclosure: These portfolio's contains a number of small and micro cap positions that may only be suitable for the small cap speculative portion of one's portfolio. I do not know you (yet): your goals, risk tolerance, or particular situation. Therefore, I can not recommend these portfolio's or for that matter any investment to you. Together we can do the due diligence necessary to succeed in the small cap with significant cash flow universe.
Editor's Note: This article covers one or more microcap stocks. Please be aware of the risks associated with these stocks.