Overview
Looking ahead, the momentum in earning seems to have jumped this recent quarter, and it would appear analysts have underestimated earnings and put too much emphasis on currency headwinds. Currency headwinds play a significant part in the decreased income from overseas. However, overall earnings have been on the rise, which has helped nullify the FX negativity.
GDP from emerging markets has vastly outperformed the majority of developed markets. However, it is a much safer bet to put your money in the US. Although it would appear from the outside political turmoil is rampant, the numbers remain relatively robust and on the rise. Moreover, with that in mind, I retain my long recommendations in DIA, IWM, QQQ, SPY, and VTI.
Firstly, let's take a look at GDP.
United States GDP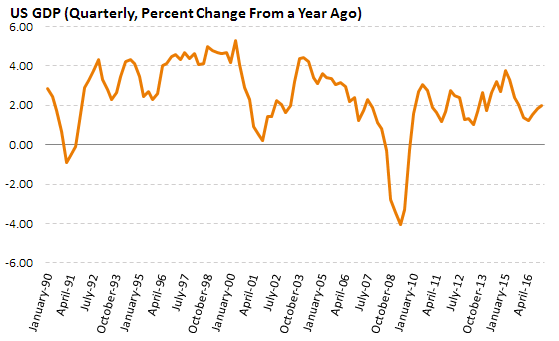 - Source FRED
US GDP has been floating around the 2% level on average, the new administration's goal of 3 or 4% seem out of reach for many, however, when we consider tax cuts, and slashes in regulations, this intended target seems within grasp.
A headline from The Independent:
Donald Trump to slash corporate tax to 15% in 'biggest cut in history', Treasury Secretary Steven Mnuchin reveals
As everyone knows, Trump has suggested that he will slash up to 75% of regulations, this sounds great and allows business more opportunity to move quickly. Although it looks good, many people would argue that we are setting ourselves up for another crisis. However, at this point where we are now, even though we are at all time highs, there is no way investors should be on the sidelines.
We're going to put the regulation industry out of work and out of business. And by the way, I want regulation. I want to protect our environment. I want regulations for safety.

I want all of the regulations that we need and I want them to be so strong and so tough. But we don't need 75 percent of the repetitive, horrible regulations that hurt companies, hurt jobs. - CNBC quotes Donald Trump to have said.
The new administration's eagerness to boost GDP will open the doors for growth by creating many beneficial two-way business deals, or so that is the plan.
The UK leaving the European Union is one of those nations in which a deal could boost GDP. The UK is the sixth largest economy in the world and a good friend to the US; it is times like Brexit that the UK needs a good friend. Questions regarding what will happen after Brexit are still relatively unanswered.
US vehicle sales appear to have peaked around November 2016 after again, being flat since 2015. As this happened towards the end of the previous government's tremendous growth in auto sales, it could be used politically to show adverse impacts that the new administration is having on the auto industry. I would not be surprised to see some government weight, and money put behind this sector.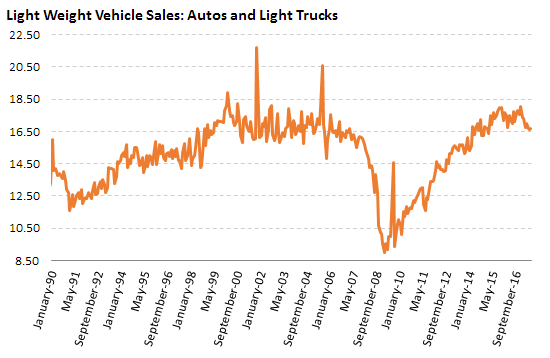 - Source FRED
It is possible that the UK will focus on importing more US cars than German cars shortly; this could be political vengeance if the UK receives poor treatment in its departure from the EU. It could be a gesture of unity from the UK to open up more to the US car industry; this is 100% speculation on my part.
The auto industry does not carry much weight within the S&P; this does not mean an auto market decline would have no impact on the S&P. The ramifications of a substantial decrease in the auto industry would be widespread. Any continued numbers below 16 million units in light weight auto sales should raise some eyebrows. The last reported numbers for July were 16.77 million units.
- Top 10 SPY holdings: data from Yahoo Finance
Inflation Falls To 8-Month Low
During the month of June (as reported in July) consumer prices Rose 1.6% on a year-over-year basis, this is slightly below market expectations of 1.7%.
We had the lowest inflation numbers since October 2016, this fall in inflation is mainly due to the price of gasoline declining by 16% mid-May to mid-June. Month over month CPI rose just 0.1%.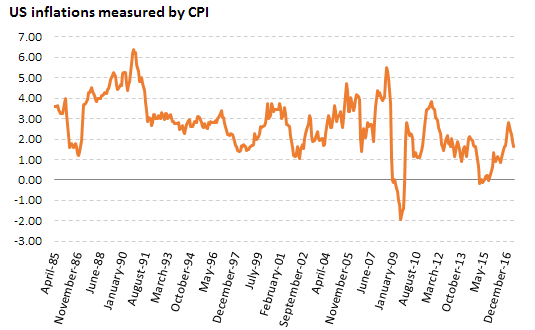 - Source FRED
This week, we get the inflation numbers for July on the 10th of August. These figures are significant, any positive signs in this data will certainly have impacts on rates. Also, it will reinforce the unwinding of the Fed's $4.5 trillion balance sheet; they admit this will start 'relatively soon.'
Many say the Fed is the key reason the market is propped up. When the Fed starts unloading assets the market could see a significant drop. Predictions are anywhere between 5 to 10%. Not only is this overdue, but it has been one year and nine months since the last apparent price decline, that was a decline of just under 15%, and it lasted for four months.
Earnings
Factset reported that 80% of the S&P 500 companies had surpassed analyst's EPS estimates, and 83% of these businesses have beat the average revenue forecasts.
They also note that growth in earnings for the S&P 500 in Q2 was 10.1% YoY. Earnings estimated growth rates for the third quarter are 6.6% YoY.
Investors should keep in mind that the year-over-year growth in EPS can be somewhat misleading. Banks have been aggressively buying back their own shares, because of "limited opportunities to allocate capital to value generating investments," - Analyst Saul Martinez at UBS.
The S&P 500 has a PE ratio of 24.75, and forward PE ratio of 17.6; this is still above the 5 Year average 15.4.
An apparent trend has been happening during earnings season, companies with larger global integration are confirming higher earnings. Despite fluctuations in currency, this shows that the majority of the world's economies are on the rise.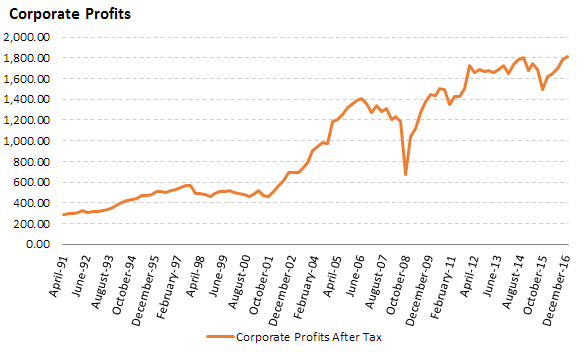 - Source FRED
Since 2012, corporate earnings have essentially been flat, with a slight dip in 2015.
This data on profits after tax, in my personal view, will be the lead indicator on how the new President is performing. Corporate profits are the real drivers of the stock market; along with companies buying back shares to boost EPS, this can drive the S&P 500 higher for a long time.
Any flutters in this data under President Trump will have a large impact on the markets. Investors should keep an anxious eye on this data. The average quarterly change in profit after tax from 1991 is 2.19% QoQ, while the median is 2.37%.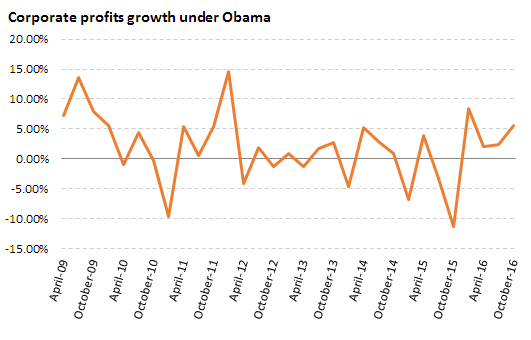 - Source FRED
As you can see from the chart above, Obama took office during one of the worst economic periods in history.
As mentioned before, you can see that corporate profits struggled to grow past 5%, and in some periods declining up to 10% during his run.
After the initial bounce higher, profits remained relatively flat from the end of 2011.
Was this down to over regulation and cautious companies taking less risk? Perhaps. I guess that will all be verified as accurate if over the next year corporate profits surpass $1.8 trillion.
Final note
As just mentioned, although corporate profits as a whole are reported quarterly, you can get a general feel during earning season from some of the main companies that report before this data comes out, as of now we have seen significant earnings. It is a bit hard to tell yet if this is down to Trumponomics, we are still very early in this presidency.
$1.8 trillion in profits is a real level we need to break; I believe more money will pile into the markets than ever before, the rally will continue.
Disclosure: I am/we are long SPY, IWM, DIA, VTI, QQQ. I wrote this article myself, and it expresses my own opinions. I am not receiving compensation for it (other than from Seeking Alpha). I have no business relationship with any company whose stock is mentioned in this article.