Auto Sales
In what was the fifth consecutive month of a sub-17 million sales rate, auto sales came in at a seasonally adjusted annual rate of 16.73 million in July. This was 6.1% below the rate in July 2016. Domestic auto sales for July were 12% below last year's number. As inventories continue to build, it appears certain that 2017 will mark the first year since this expansion began that annual auto sales decline. This will serve as a significant headwind to factory orders, manufacturing activity, industrial production, and employment in 2018.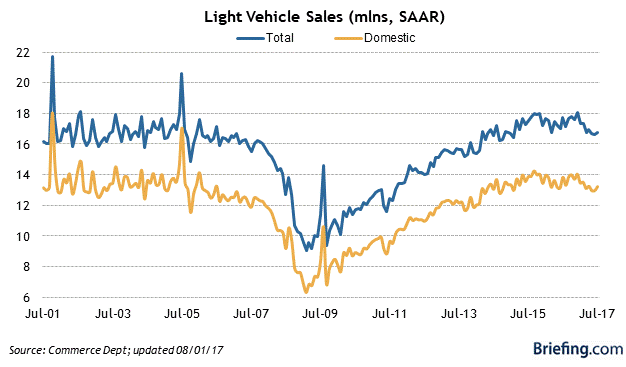 Personal Income and Spending
There was no increase in personal income for June, as declines in dividend and interest income were a drag on the overall number, but the wages and salaries component rose 0.4% after an increase of just 0.1% in May, which is good news. Personal spending (personal consumption expenditures or PCE) rose a paltry 0.1%. Spending declined 0.4% on both durable and non-durable goods, but increased 0.3% on services, which are more heavily weighted in the overall figure. The rate of year-over-year growth in income and spending remains in downtrends.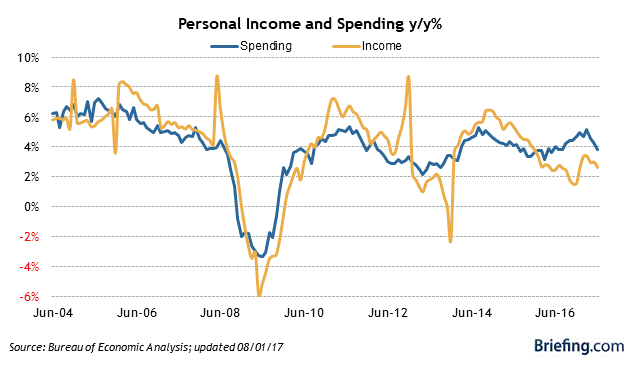 The Personal Consumption Expenditures price index, which is the Fed's preferred measure of inflation, was unchanged for the month of June, while the annual rate of increase dipped to 1.4%. The core rate, which excludes food and energy, is up just 1.5%. We are now moving away from the Fed's 2% inflation target.
Factory Orders
Factory orders measure the change in dollar value for both durable and non-durable goods orders, updating the most recent durable goods report with more information. Factory orders increased a whopping 3.0% in June, but this was all due to aircraft orders. When we exclude transportation equipment, orders fell 0.2%, following a 0.1% decline in May. Orders for non-defense capital goods excluding aircraft, otherwise known as capex or business spending, were flat in June. Outside of aircraft orders, factory activity remains muted.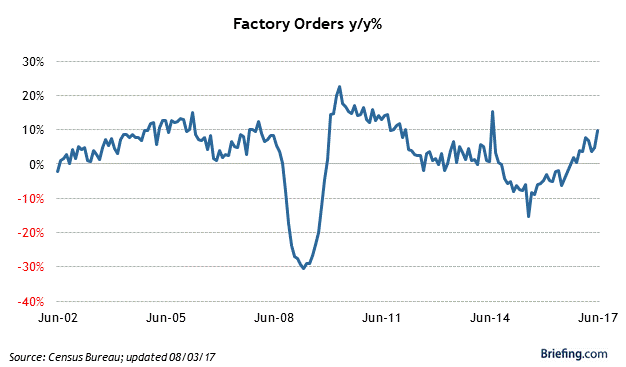 Construction Spending
The construction spending report includes the total value of all new construction activity for residential, non-residential, and public projects. Overall construction spending declined an unexpected 1.3% in June, and it is now up just 1.3% on a year-over-year basis. This is the slowest rate of annualized growth since 2011. Public construction was particularly weak (-5.4%) with declines in every category, while residential spending was down 0.3%, and non-residential spending was down 2.0%.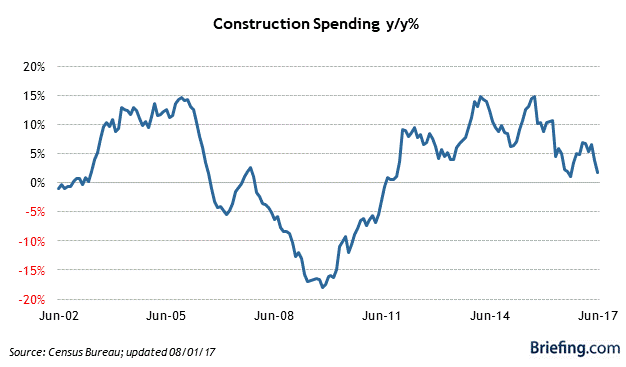 ISM and PMI Manufacturing Index
The Institute for Supply Management's manufacturing index, coming in at 56.3 for July, continues to register very strong readings that have yet to materialize into stronger manufacturing-related activity. Per the ISM, July's reading is consistent with an annualized rate of economic growth of 4.1%. The strength in new orders, which is coming from exports, is understandable considering the decline in the dollar. Otherwise, the overall strength in this report simply does not equate with real economic activity.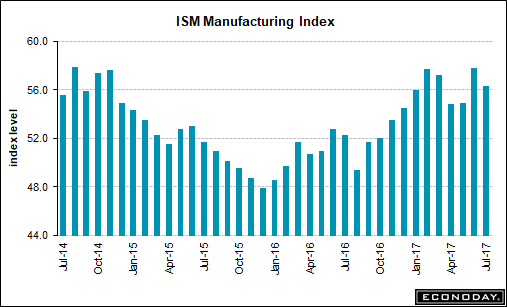 Markit's PMI Manufacturing index bounced to 53.3 after five consecutive monthly declines. New orders strengthened after falling to a nine-month low in June, as did output and employment. This survey continues to show expansion, albeit at a more modest rate than the ISM survey.
ISM and Markit Services Indices
The Institute for Supply Management's service sector index compiles survey results from approximately 375 companies representing a wide variety of service sector industries. In what was the weakest survey result since last August, the index declined from 57.4 in June to 53.9 in July, led by big declines in new orders and business activity. This isn't a good start for the economy in the third quarter, but it still suggests growth of approximately 2%.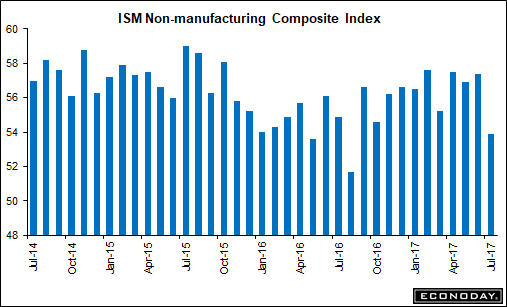 Markit's PMI Services index rose to 54.7 in July from June's reading of 53.0, falling in line with the ISM Services index. What is notable in this report is that new orders rose to a two-year high, suggesting stronger business activity and employment in the months ahead. Still, these surveys have been indicating an acceleration in the rate of growth for months, but it has yet to transpire.
The Jobs Report
The Bureau of Labor Statistics estimated that 209,000 jobs were created in July. Leading all industries were bars and restaurants, which accounted for 53,000 of the total. These are typically part-time and low paying positions. I don't see how this industry continues to create so many jobs every month when same-store sales growth for the more than 28,000 units that participate in the monthly Restaurant Industry Snapshot survey has declined on a year-over-year basis for six quarters in a row. Something doesn't add up.
Far more relevant than the number of jobs that the BLS estimates are being created each month is the growth in income for those already employed. On that front, this month's news remains uninspiring. Growth in average hourly earnings held steady at 2.5% on a year-over-year basis. When we subtract the annualized rate of inflation from this figure, we arrive at real earnings growth, which is negligible. Until we see a substantial increase in real earnings growth from what we see today, there is little chance that the rate of economic growth will accelerate from its sub-2% pace.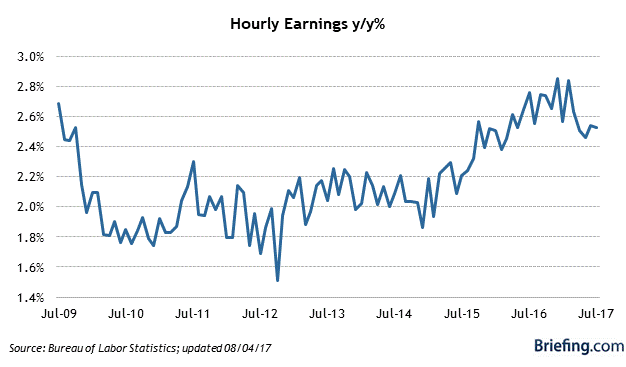 Our economic growth is mediocre at best, and there are many indications the rate of growth will continue to slow, but investors are interpreting this mediocrity as positive news. Economic mediocrity means that the Federal Reserve is likely to delay any further withdrawal of monetary stimulus.
Disclosure: I/we have no positions in any stocks mentioned, and no plans to initiate any positions within the next 72 hours.
I wrote this article myself, and it expresses my own opinions. I am not receiving compensation for it (other than from Seeking Alpha). I have no business relationship with any company whose stock is mentioned in this article.