Investment thesis
Realty Income (O) has had a terrific stock performance and a long dividend record. Looking at the financials, though, it has a relatively low dividend yield of 4.43%, a high payout ratio and modest rent escalators in place. However, Realty Income uses its stock as currency to acquire assets with higher yields, which allows it to increase the dividend. But this makes a large part of Realty Income's dividend growth going forward depended on the stock price and vulnerable to a significant decline.
The growth story of Realty Income
Realty Income has grown fast. Over the last 22 years it expanded it footprint from 630 properties in 1994 to 5028 properties in the second quarter of 2017. A growth rate of close to 10% a year while consistently paying a monthly dividend.

Source: Realty Income
Because of all those dividend payments, however, it was impossible for Realty Income to finance all this growth without issuing new shares. Realty Income is issuing new shares on a consistent basis to acquire new assets and grow the business. Management estimates that same store rent growth going forward is around 1.1%.
Low cost of capital
Realty Income is proud that it has the lowest cost of capital compared to net lease peers. This means that it can offer lower rent than the competition or have a higher spread, which allows for more dividend growth. The problem with this, though, is that this low cost of capital is created by the high share price which means that investors might be better off investing in competitors who are more reasonably valued. An example of a strong REIT in the same space in which Berkshire Hathaway (BRK.B) has invested is STORE Capital (NYSE:STOR), which you can read more about here. The share price of Realty Income is high because investors accept a lower dividend yield and a lower dividend growth rate than can be expected from competitors. This allows Realty Income to issue more of its expensive shares who have a lower return than than the new investment, allowing the new investments to be accretive to AFFO per share and enabling a higher dividend.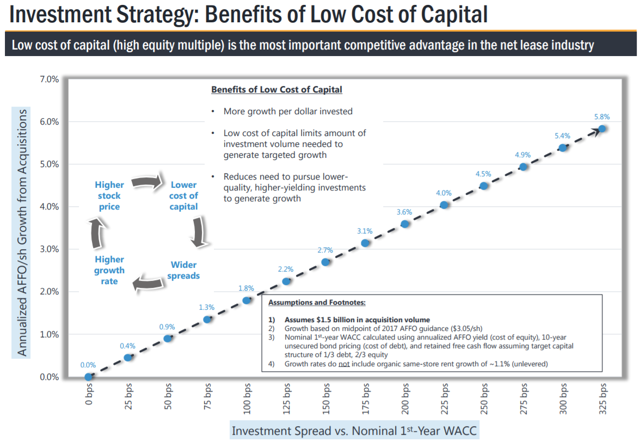 Source: Realty Income
The problem with this kind of reasoning is that if the stock price declines, the spreads become smaller because of an increase in the cost of capital leading to further declines in the stock price. Using your stock as currency only works when your currency is more expensive than the asset you want to acquire. The problem with this is that when a part of your valuation is based on acquiring assets with expensive currency a drop in the share price can actually also create a decrease in the value of the business. This is similar to what happened with some of the nifty fifty in the 1960s and '70s. Teledyne managed by Henry Singleton is the perfect example of using a high share price to acquire companies while divesting and buying back shares when the share price is cheap.
Tenants quality
The tenants of Realty Income are of the highest quality. Most of them are very familiar names and many of them are pharmacies or Dollar Stores, which have quite recession-proof business models.
Source: Realty Income
The result of this high quality is that Realty Income can deliver consistent growth even during times of economic distress. Tenants also tend to renew their contracts with a 99% recapture rate which makes the business more efficient and shows that retail companies are eager to stay in the properties rented from Realty Income.
The Size of Realty Income
Realty Income has over 5000 properties in 47 industries given the amount of coverage and following on SeekingAlpha one could easily think that Realty Income is the largest retail REIT, but this is clearly not true. The market capitalization of Realty Income $15.7B. Simon Property Group (SPG) is the 500-pound gorilla with a market cap of $51B, and also GGP (GGP) is also larger with $19.9B. Realty Income, however, is different than those REITs since it focuses only on single tenant properties, like National Retail Properties (NNN) and STORE Capital (STOR) do, and is clearly the largest in this popular space.
Valuation of Realty Income
Realty Income increases its monthly dividend regularly and currently yields 4.43%. It's adjusted AFFO for the second quarter was $0.76 giving it a payout ratio of 83%. Given the quality of its tenants and the triple net lease structure of those leases this dividend is very safe. However it does not give much room to invest in the business to increase the dividend going forward. The company can issue shares to enhance growth but to do this while increasing AFFO per share it is dependent on its share price being more highly valued than the assets it acquires.
Conclusion
Realty Income is arguably the highest quality REIT. It has able management and large, high quality tenants in predominantly defensive industries who tend to stay in their properties. The shares are quite expensive, though, given their stable bond like returns and monthly dividend payments. Management is using this as an advantage to grow the business and increasing the dividend using the shares to acquire attractive assets. The dividend of 4.43% is nice as well as its rent escalator of 1.1%. The past returns of 16% a year, however, are unlikely to be repeated given the current valuation. Investors should be careful not to depend too much on growth since a high future share price cannot be guaranteed by anyone.
Note: To get these types of articles as soon as they are published, just click on the "Follow" button next to my profile and choose the "Real-time alerts" option. You are also strongly encouraged to read my previous work and comment in the comment section.
Disclosure: I/we have no positions in any stocks mentioned, and no plans to initiate any positions within the next 72 hours.
I wrote this article myself, and it expresses my own opinions. I am not receiving compensation for it (other than from Seeking Alpha). I have no business relationship with any company whose stock is mentioned in this article.