Summary
Wholesale dividend growth is slowing - we're seeing similar evidence in the REIT space.
Disruptive forces are leading to wide valuation spreads.
Should you go with what's working now, or go with low valuation/high yield?
With wholesale dividend growth on the downswing amidst rising equity valuations, the search for safe, reliable, and growing equity-income continues to be an across-the-board challenge.
Consistent with many other sectors, the REIT space is currently experiencing bipolar valuation spreads given disruptive forces and uneven growth trajectories. Some trusts such as data centers are trading at premium multiples due to growing technological need, while most retail oriented REITs are being discounted due to the so-called "Amazon (NASDAQ:AMZN) effect." Downscale mall REITs, with their attached going-concern worries, are trading with mid-single-digit FFOs and low double-digit yields.
Growth in self-storage, one of the biggest wealth generators over the past decade, has continued positive. But the once well-above-average multiples are starting to pull back, reflective of undeniable slowing.
Rise and fall of large-cap storage REITs
Source: Yahoo Finance
Hotels, collectively, trade at seemingly bargain basement prices, but with RevPAR growth almost unnoticeable across the hospitality services spectrum, the omnipresent 6+% yields shouldn't necessarily be looked at as free lunches.
Healthcare real estate, amongst the largest of the REIT subdivisions, possesses substantial dichotomy all unto its own. While large-cap diversified players and medical office building owners largely trade with modest valuations and 4-5% yields, skilled nursing and hospital landlords trade with large discounts and 7-8.5% yields.
Reading The Fundamental Cross Currents
Even though REIT investors are currently faced with uneven and perhaps unenviable choices, the fundamental backdrop isn't exactly ominous.
Indeed, with interest rates low and destined to stay low, leveraged entities such as REITs continue to benefit from access to cheap expansionary capital. Further, most RE operators across the board are still able to build inflationary escalators into lease deals. In many respects, for much of the real estate operations universe, it's business as usual.
As I've argued before, however, the broad economy is not as healthy as market indices might indicate. Stagnate bond yields in the face of a hawkish Fed, as well as aforementioned slowing dividend growth, are leading indicators of that fact. For those companies in the RE space that have had a good run and are starting to slow, there may be additional slowing to come.
Investors thus must strike a careful balance in allocative methodology and be reserved with forward expectations.
Play It Value-Safe/Yield-Heavy Or Play The House Of What's Working?
There's stiff momentum at the backs of data center REITs. Elsewhere, despite the troubles investors see brewing in retail RE, that void is being filled by industrial/warehouse/big box trusts that are increasingly servicing the needs of e-commerce fulfillment.
The obvious question is at what pace tailwinds sustain technology-based RE themes. While the data center group is set for an equity appreciation breather, I wouldn't expect a price turnover similar to the one we've seen in self-storage over the past 18 months. There's simply too much reason to believe that data hosting demand will continue in unabated fashion.
The warehouse owners are a less-thought-of stealth play on the future of e-commerce. While the longer-term growth may not be as robust as data centers, there's certainly also good reason to believe that the now bullish trends will maintain over the foreseeable future.
Of course, with most of these trusts priced near 20X funds from operations, the risk/reward proposition is rather steep compared to property pools that are priced at half the cash flow multiple.
Somewhere in between the valuation polarity are the triple net stand-alone property owners. Much adored by income seekers, these companies own buildings typically leased out to retail outfits with long duration contracts. As close to a bond as an equity investor can get, these stocks tend to sway along with interest rate movement. Although, recently, the general retail jitters have gotten the better of them, and valuations have become somewhat abnormally depressed.
Strategy Session
After an extraordinary run following the financial crisis, the REIT growth engine has collectively started to lose a lot of steam over the past several years. With no general catalyst to jumpstart growth again, we have entered a proverbial stock picker's market.
10yr VNQ chart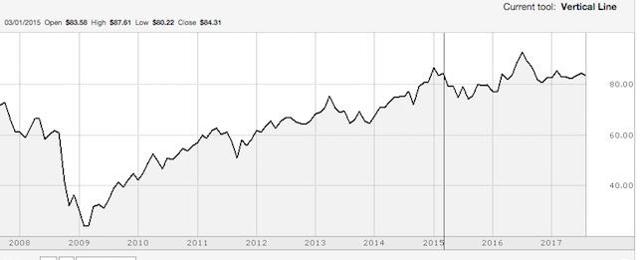 Source: Ameritrade
While I wouldn't call it a no-brainer, the data centers may be the closest the REIT space has to offer right now. My top pick had been DuPont Fabros (DFT), which has since been bought out by Digital Realty (DLR).
If one wishes to remain aggressive, I'd probably roll that money into CyrusOne (CONE) or CoreSite (COR). The DFT/DLR combo is attractive, but I'd see better total return from CONE or COR.
Elsewhere in technology, I'm comfortable recommending Crown Castle (CCI), the cell tower owner as well as on the more aggressive side Uniti (UNIT). The pair yields 3.5% and 10.5%, respectively.
While I don't follow the industrial space that closely, of those that I've done a bit of DD on, I'd probably go with First Industrial Realty (FR).
On the value side, unlike many on SA, I'd avoid skilled nursing, including its kingpin Omega (OHI), which I consider a value trap. While the government won't allow the space to slide into oblivion, it's becoming clear that growth will be elusive here.
Instead, I'd probably currently look at New Senior (SNR), which is trading at the low end of its multi-year range. While it has a crummy balance sheet and the dividend coverage is barely there, it has attractive assets of entirely private pay ilk - i.e., no government reimbursement dependence. It currently yields 11.3% - but don't bet the farm it doesn't get cut at some point.
A better growth trajectory and secure (but lower) dividend in the health space would be found in Physicians Realty (DOC), the medical office building owner. Even more conservative types should consider Welltower (HCN), the nation's largest healthcare REIT.
I have no hotel exposure and don't consider this a great time in the cycle to be even nibbling on the group. If I had a gun to my head to buy one, it would probably be Park Hotels & Resorts (PK). Hotels are probably the worst kind of REIT to be holding during a recession. The day-to-day nature of the pricing (as opposed to long-term lock-in) can create considerable business havoc.
Last, but certainly not least, I'll give you my current thinking on retail. Much like the tech/Internet bubble of the late '90s, it appears that investors are buying into substantial demolition of malls and niche brick-and-mortar retailing. To that defense, we have already been seeing some remote strips and downscale properties go dark or keys thrown back to lienholders.
Washington Prime (NYSE:WPG) and CBL & Assoc. (CBL) are the two "B" mall owners (and to lesser extent Pennsylvania REIT (PEI)) that have been the target of short sellers and a veritable near-term bull/bear tug-of-war. Frankly, I think the near-term concerns are a bit overdone. The B-mallers certainly deserve a discount due to a weak lease line-up and slack growth, but these guys are a long way from ruin. That's not to deny some remaining granular property finance issues, but the bread and butter portions of the portfolio are being revamped in positive fashion.
Still, these aren't core or positions of conviction. The Amazon effect is clearly beginning to clear-cut the weak hands of retail. However, in my mind A-mall weakness is clearly a buy opportunity. Yields of 4-5% in Simon (SPG), Macerich (MAC), and Taubman (TCO) are worth buying right now.
Somewhere in the middle are the outlet centers. The big name there is Tanger (SKT), which frankly I find to be overloved. Tanger's ABR is dominated by clothing retailers which the company characterized as a "strong tenant mix" in a recent presentation.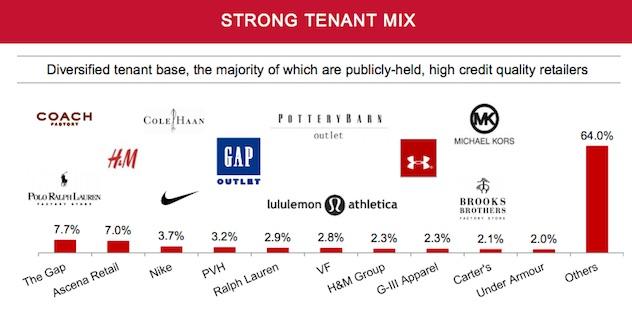 The mix, right now, is anything but strong. Most of the names you see above are facing tremendous headwinds and may be rethinking their commitment to the outlet concept. Ascena Retail (NASDAQ:ASNA) - 7% of ABR - is starting to be priced with going concern worry. Worth mentioning is that Tanger's short interest is about 15% right now - almost as high as Omega Health's! Bottom line: Avoid Tanger.
In the NNN single tenant space that encompasses a number of publicly traded REITs, I find myself broadly ambivalent at the moment. While I uncovered the value of STORE Capital (STOR) almost two years before Berkshire (NYSE:BRK.A) (NYSE:BRK.B), following my 2015 interview with CEO Chris Volk, the stock's 20% move over the past two months leaves me somewhat less bullish. Still, for the aggressive NNN investor, this is the one you should look to own.
More conservative types may look to Realty Income (O) or National Retail (NNN), which invest in more familiar names compared to the mostly middle market clientele of STORE. Triple net should generally be considered a solid all-weather holding, but make sure you comprehend blended lease duration and associated interest rate sensitivity.
Conclusion
Even with a somewhat slowing growth backdrop, today's REIT investor who allocates thoughtfully, entering positions with reasonable expectations, isn't likely to be disappointed. Still, an economically disruptive environment and disparate sector valuations should signal caution. There are clearly some cracks in the REIT foundation.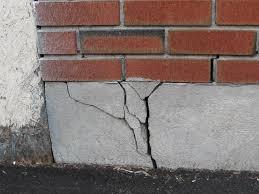 Disclosure: I am/we are long DFT, DOC, SNR, STOR, UNIT. I wrote this article myself, and it expresses my own opinions. I am not receiving compensation for it (other than from Seeking Alpha). I have no business relationship with any company whose stock is mentioned in this article.