Activision-Blizzard is Far From Overvalued
Activision-Blizzard (ATVI) is up 54% since we initiated our bullish coverage on the video game giant back in March 17th 2017. ATVI is currently trading at a P/E of 42 by GAAP standards while the S&P 500 index is trading at an P/E of 26. This leads many investors to believe that ATVI is overvalued. However, GAAP P/E is a deceitful measurement of ATVI's profitability due to the company's heavy non-cash depreciation and amortization expenses.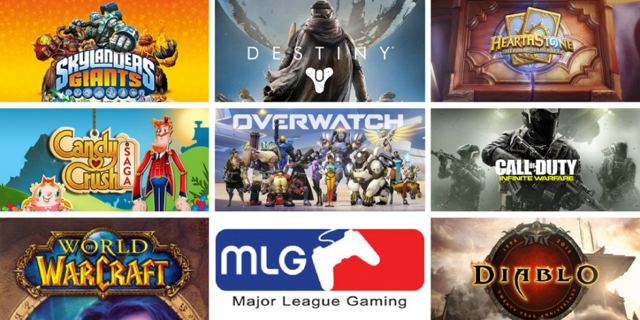 In this article, we'll look at more valuable metrics of profitability such as operating cash flow and free cash flow to show that ATVI is actually undervalued relative to its peers and the market as a whole. Furthermore, we will update our free cash flow-based DCF model to show that ATVI has a 33% upside from its current price.
The Illusion of GAAP P/E

Source: Bloomberg
We believe P/E is a poor metric to measure ATVI's profitability. Non-cash items such as depreciation and amortization of good will has consistently eroded ATVI's net income. In FY 2016, ATVI's net income was $966 million while its total depreciation and amortization amounted to $1,150 million. A further look into the company's FY 2016 financial statements show that operating cash flow amounted to $2,155 million and free cash flow was $2,019 million, both numbers being more than double the company's GAAP Net income. Heavy depreciation and amortization has been a trend in ATVI's business as a result of the company's mark down of goodwill, long lived assets, capitalized software development cost, and IP licenses. From 2010 through 2016, ATVI has reported significantly higher operating cash flow and free cash flow than net income. For those seven years, the company's average net income to revenue was 18.6% while its average OCF to revenue and FCF to revenue were 28% and 26%, respectively.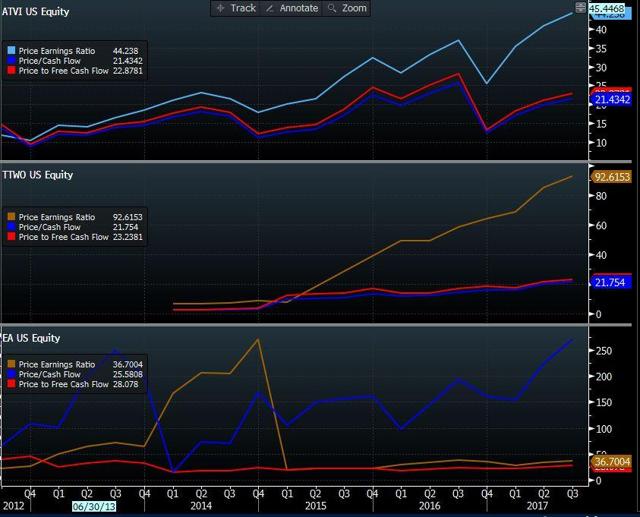 Source: Bloomberg
Free cash flow is often regarded as the true measure of a company's profitability. For the past five years. ATVI posted an average free cash flow to revenue of 26.8% while its competitors TakeTwo (TTWO) and Electronic Arts (EA) posted far inferior ratios of 11% and 15%, respectively. The chart comparison of the three tickers above highlights the deceptive nature of P/E ratio in the video game space. EA, currently trading at 37 P/E, appears to be cheaper than both ATVI and TTWO. However, ATVI and TTWO are actually considerably cheaper than EA in terms of cash flow and free cash flow multiples. Using FY 2016 numbers, ATVI is trading at 23x free cash flow while EA and TTWO are trading at 23x and 28x free cash flow.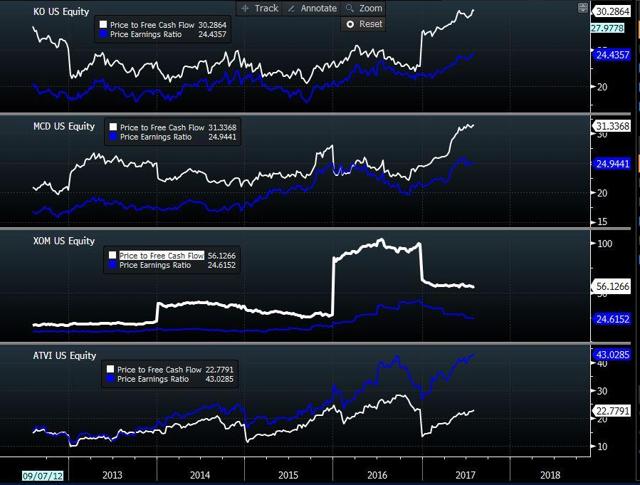 Source: Bloomberg
To put the numbers in perspective, blue chip stocks Coca-Cola (KO), McDonald's (MCD) and Exxon Mobil (XOM) are all trading at free cash flow multiples of 30x, 31x and 56x, respectively. Based on the metric of true profitability, ATVI is trading at a cheaper multiple than some trusted blue chip companies.
Video Game Stocks Are Viable Long Term Investments


Source: VGsales
In our last article, we analyzed the historical growth of the video game industry and explored a NewZoo Research report that projected further industry growth into 2020. Historically, the global video game industry revenue grew at an impressive compounding annual growth rate ((CAGR)) of 5.7% from $19.9 billion in 1989 to $76 billion 2013. The rapid emergence of mobile gaming, micro-transactions, and DLC packages in the last three years caused the industry to grow at a CAGR of 10% from $76 billion in 2013 to $101 billion in 2016.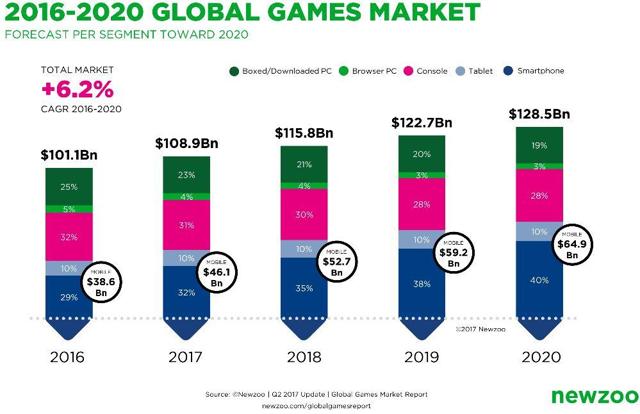 Source: Newzoo
Newzoo's research projects a global video game industry to grow at a CAGR of 6.2% from $101.1 billion in 2016 to $128.6 billion in 2020. Newzoo expects a good amount of this growth to stem from smartphone gaming, which their research projects to grow from $38.6 billion in 2016 to $64.9 billion by 2020. ATVI has excellent exposure to this growth segment through its mobile gaming division Kings. We advise that ATVI and video game stocks in general are a strong long-term investment due to the unwavering historical and expected growth in this industry.
DCF Valuation Update (Free Cash Flow Based)
In our last article, we performed a conservative DCF for ATVI and arrived at a price target of $65. After the company's continued success in the first two quarters of 2017, we'd like to enhance our DCF assumptions and raise our price target on ATVI from $65 to $81.34, which represents a 33% upside from the current price of $61. The upgrade is due to the following enhanced assumptions below:
1) We are raising operating cash flow to revenue ratio from 27.9% to 30% on higher than expected MAUs (monthly active users). Monthly active users contribute to ATVI's micro-transaction and subscription revenue, both of which have high margin due to tremendous economies of scale.
2) We are increasing 2017 revenue projection from $6,393 million to $6,577 million. This new revenue is derived from the average of management's latest guidance in 2Q 2017 and the mean estimate of 22 sellside analysts via Bloomberg.
3) Net debt went down from $1,642 million to $1,109 million from the time of my last analysis to the latest Q2 2017 balance sheet.
4) We assign the average result of our sensitivity analysis as the price target rather than the result of our base case assumptions.
Please see below for our current DCF model.
Source: Financials Are Pulled From Bloomberg
Our calculated equity value of 55,691 million is roughly 28x ATVI's FY 2016 free cash flow, which is around the same free cash flow multiple that EA is currently trading at. Our price target using base assumptions (3% terminal growth rate and 6.8% WACC) results in a price target of $73.76. However, given the video game industry's historic CAGR of 5.6% and its expected CAGR of 6.2% going into 2020, we think a terminal growth of greater than 3% is reasonable to assume. With that in mind, we are assigning a new price target of $81.34 (the average of 25 scenarios in our sensitivity analysis) in the next 9 to 12 month time frame.
Disclosure: I am/we are long ATVI.
I wrote this article myself, and it expresses my own opinions. I am not receiving compensation for it (other than from Seeking Alpha). I have no business relationship with any company whose stock is mentioned in this article.