Investment Thesis
A review of forward-looking economic data as well as historical trading norms suggests that 10-year treasury bonds are well overpriced. As prices move lower and yields move up, significant capital losses could arise if yields move north of 3.00% by year end.
Market Consensus
The Bloomberg weighted market consensus for the 10-year treasury rate is 2.58% by year-end 2017. Despite calls of a bond market bubble by former Federal Reserve President Alan Greenspan, market complacency seems to have set in.

Source: Bloomberg Finance L.P.: Bond Yield Forecasts
Potential Market Value Loss
The current on-the-run 10-year treasury is the 2.375% maturing on 5/15/2027. At a market price of $101.3125, it presently yields 2.22% to maturity. If the market yield moves to 3.00% by year-end, the holder of the bond, if purchased today, will experience a total return loss on their investment of (13.611%).

Source: Bloomberg Finance L.P.: Horizon Analysis
Relative Value
When buying bonds in the market, one of the first things to look for is relative value. Are the bonds cheap or are the bonds expensive versus historical trading levels? A normalized historical spread chart helps answer this question.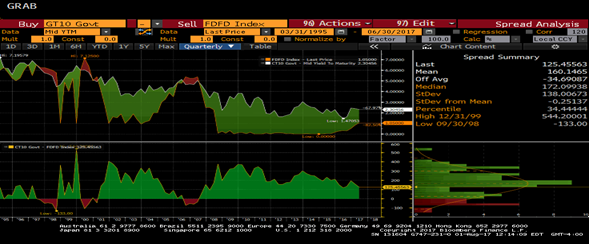 Source: Bloomberg Finance L.P.: Government Spread
Since 1995, the ten-year treasury has traded at an average spread of 160 bp's to the implied Fed Funds rate curve. Today, at a spread of only 125 bp's, the ten year treasury looks expensive from an historical perspective. Furthermore, if one additional FOMC rate move does take place in December of this year, a 3.10% ten year treasury rate would be considered fairly valued based on historical average trading norms.
Forward Looking Economic Data
A favorite economic indicator to always consider is the ISM manufacturing index. Although this does fall in the category of "soft data", it is a forward-looking indicator relied upon by many economists. Of late, it has been running very strong and suggests the current ten-year treasury rate is underpriced relative to historical correlations.

Source: Bloomberg Finance L.P.: ISM Data.
Dollar Movements
The dollar's movement against the major currency groups tends to track the direction of the overall U.S. economy. Generally, it will strengthen as the U.S. economy improves and weaken as the U.S. economy slows. Although down about 10% from its recent December high of $103.3, the current $93 price is still well above the lows experienced during the post financial crisis. Any reversal of the dollar from present day levels could pull the ten-year treasury rate toward the 3% level by year-end.

Source: Bloomberg Finance L.P.: Dollar Index
Conclusion
Although 2017 has started off a bit rocky, be it from a legislative or economic viewpoint, the second half of the year looks promising. Unemployment is low, GDP is improving and tax reform looks possible. This tips the pendulum in favor of higher long-term rates, with the ten-year treasury yield within reach of 3.00% by year-end. With a bit of patience, an investor can avoid a double-digit loss by avoiding this sector until year-end 2017.
Disclosure: I/we have no positions in any stocks mentioned, and no plans to initiate any positions within the next 72 hours. I wrote this article myself, and it expresses my own opinions. I am not receiving compensation for it (other than from Seeking Alpha). I have no business relationship with any company whose stock is mentioned in this article.