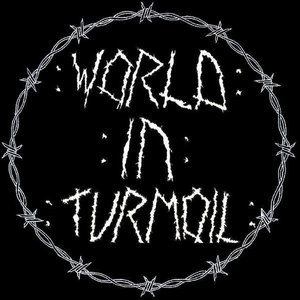 I know that I have sent up warning signals in the past, but now more than ever a retired person living off of dividend income to pay expenses must be aware of what the markets, and our world, are facing. I would think long and hard about buying just about any stock right now, even Dividend Aristocrats. In my eyes, everything is overvalued or faces headwinds that could affect stocks for a longer period of time than we would like:
Valuations of even the greatest companies on Earth are quite high.
The world is changing, and so are we.
We might have spent years building up a portfolio that pays us handsomely in the form of dividends, but that income can drop at any time, and we must be aware of how it will affect us and what our risk tolerances are.
Even those with more time to recover might want to consider sitting on the sidelines for a while.
This Is Not A Cause To Panic But To Reflect
Two recent articles of mine, this one on Exxon Mobil (NYSE:XOM) and this one on IBM Corp. (NYSE:IBM), offer two completely different perspectives. XOM seems to have a fundamental problem with its ability to continue increasing dividends, and IBM appears to be able to continue increasing and paying its dividend but is facing major issues within its own business. IBM seems undervalued, XOM seems overvalued, yet both stocks are not right for me to do anything with at this point.
I won't be selling XOM and I will not be buying IBM. I am not panicking; I am evaluating the stocks as well as the model Team Alpha Portfolio, and have decided to view the portfolio as it is and keep an eye on the dividend income being produced.
The model portfolio now currently consists of the following stocks: XOM, Johnson & Johnson (NYSE:JNJ), AT&T (NYSE:T), Procter & Gamble (NYSE:PG), Coca-Cola (NYSE:KO), Realty Income (NYSE:O), Main St. Capital (NYSE:MAIN), Microsoft (NASDAQ:MSFT), Con Edison (NYSE:ED), Altria (NYSE:MO), Nuveen Floating Rate Income Fund (NYSE:JFR), Apollo Global Management (NYSE:APO), Apple (NASDAQ:AAPL), Ford (NYSE:F), and Bank of America (NYSE:BAC).
While I continue to look for opportunities to grow the income, I will be looking at this portfolio in the following manner: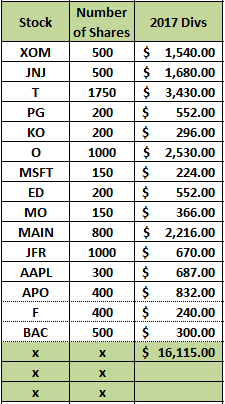 For now, the income produced is reliable. That being said, I will be looking at each stock to make certain that the income from dividends in this model portfolio are as safe and reliable as they were 2 years ago. I would urge every dividend growth investor to do the same with their real portfolios and to keep a close eye on at least the following metrics:
Payout Ratio (Is it over 80%? Why?)
Cash Flow (Has is increased or declined?)
Debt (Has it increased or declined?)
Cash Reserves (Have they increased or declined?)
Dividend Growth (If it has continued to grow, how is it being paid for?)
Obviously, the business segment and the company performance to a changing landscape can also give some clues to the long-term viability of the income being produced, so I suggest looking closely at both the earnings reports as well as the forward guidance given during conference calls.
By paying close attention, a dividend growth investor can then evaluate their own risk tolerance as well as their time horizon to recover from setbacks and decide if it might be time to be more conservative and reduce equity exposure, and to increase cash reserves to redeploy when bargains may be had.
For the purposes of illustration, TARP will remain as it is, and although I have determined that XOM might face issues, I will not reduce the allocation, nor will I increase the allocation in my two favorite high-yielding stocks, Realty Income and Main Street Capital.
My Suggestions To Those Just Starting Out
While you might have enough time to recoup from a severe setback, I would take the following actions myself:
Reduce spending in basically every category.
Aggressively increase savings by as much as possible for as long as possible, as soon as possible.
Invest slowly and conservatively in the greatest companies on Earth with strong balance sheets and a history of success through good and bad times.
Do not chase yield. The higher the yield, the greater the risk. You have the time to ease into solid stocks and grow your income slowly, over time. Let compounding and dividend reinvestment do its job for your portfolio's total value and income growth.
Know your risk tolerance, and see if you can look at your portfolio as I have illustrated above. The daily fluctuations in share price are less important than a reliable stream of income.
Build your cash reserves so that when the worst-case scenario finally hits, you can be a buyer not a seller into the crush of declining prices.
The Bottom Line
Avoiding panic is just as important as buying great stocks. Doing your own personal research and due diligence will help you assess your tolerance for risk as well as give you more comfort that you know what is going on more than simply buying a stock and checking its share price every hour.
Time horizons are vital. Those who are retired have no time to recoup loss of principal, and those with long time horizons (20+ years) can be very selective with time to wait.
Be careful out there. The markets are not guaranteed to do anything, and you should be aware and prepared!
Not To Bore You, But...
Knowledge is power, and many folks shy away from the investing world because that very world makes it more confusing each and every day in an effort to sell you something: stock picks, technical strategies, books, videos, subscriptions with "secret ideas," gadgets, and even snake oil.
My promise to you is that my work here will remain free to all of my followers, with the hope of giving to you some of the things that took years for me to learn myself. That being said, let me reach out to you with my usual ending:
**One final note: The only favor I ask is that you click the "Follow" button so I can grow my Seeking Alpha friendships. That is my personal blessing in doing this, and how I can offer my experiences to as many regular folks as possible who might not otherwise receive it.
Disclaimer: The opinions and the strategies of the author are not intended to ever be a recommendation to buy or sell a security. The strategy the author uses has worked for him, and it is for you to decide if it could benefit your financial future. Please remember to do your own research and know your risk tolerance. The long positions held are based upon what the model portfolio holds, and I personally could have held all of the stocks noted at one time or another.
Disclosure: I am/we are long AAPL, APO, BAC, ED, F, JNJ, KO, JFR, MAIN, MO, O, PG, T, XOM. I wrote this article myself, and it expresses my own opinions. I am not receiving compensation for it (other than from Seeking Alpha). I have no business relationship with any company whose stock is mentioned in this article.
Additional disclosure: The portfolio is for educational purposes only, and not an actual portfolio. The long positions are based on the model portfolio.