I started investing in stocks significantly from 2014. While I had done some investing beforehand, my portfolio is geared towards investing in two types of stocks:
1) Dividend aristocrats (companies that have an established track record of raising their dividend payment for at least 25 years)
2) Companies that may not fall under this bracket but show strong growth potential in other regards
My philosophy is that owning strong companies on the S&P 500 will outperform the market itself over the long term.
On a weighted-return basis, my portfolio has returned 12.06% since I started investing in 2014 (taking trading costs and currency fluctuations into account). Had I invested the same amounts in the S&P 500, my weighted return would have been 15.05%.
| | | | | | |
| --- | --- | --- | --- | --- | --- |
| Stock | Date of Entry | Price at Entry | Current Price | Portfolio Return | S&P 500 Return |
| Linde AG (OTCPK:LNAGF) | 2014-01-07 | 148.45 | 167.04 | 12.52% | 32.08% |
| Johnson & Johnson (JNJ) | 2014-07-23 | 102.19 | 126.99 | 24.27% | 22.16% |
| Lockheed Martin (LMT) | 2016-08-25 | 248.53 | 272.35 | 9.58% | 11.74% |
| Starbucks (SBUX) | 2016-09-14 | 53.90 | 60.45 | 12.15% | 14.19% |
| Electronic Arts (EA) | 2016-09-14 | 81.27 | 110.9 | 36.46% | 14.19% |
| Royal Bank of Canada (RY) | 2016-10-13 | 82.11 | 93.62 | 14.02% | 13.83% |
| Microsoft (MSFT) | 2016-11-29 | 61.09 | 68.43 | 12.02% | 10.10% |
| Wal-Mart (WMT) | 2017-02-03 | 66.70 | 76.29 | 14.38% | 6.08% |
| AT&T (T) | 2017-04-05 | 40.93 | 31.77 | -22.37% | 2.91% |
| Chevron (CVX) | 2017-06-30 | 104.10 | 103.04 | -1.02% | 0.17% |
Source: Author's Calculations
Technically, the S&P 500 outperformed my portfolio (albeit slightly). So, I'm not there yet in terms of outperforming the S&P 500, but take the view that holding a collection of strong-performing companies will eventually outperform the market long-term.
For instance, AT&T has fallen by just over 22% since I got into the stock in April, with the S&P 500 having gained just over 2% within that time frame. However, the downside to my overall portfolio has not been all that much when it comes to comparing the overall return with that of the market.
Moreover, my strategy this year has been to target blue-chip companies that I estimate to be trading at a significant discount to the market and have fallen out of favour with investors. Wal-Mart is one such company, which has risen by 14% since February compared with 6% on the S&P 500. Another example is Chevron, which has yet to see significant gains from my entry price of $104, but I continue to have faith that it will and accordingly hold with patience.
How Can An Investor Create A Low Risk and High Return Portfolio?
You will see that of the stocks I own, the majority of them are large blue-chips that pay stable dividends.
However, one stock - Electronic Arts does not pay a dividend and while technically a large-cap stock, it is one that I bought primarily for growth and inherently has more risk since I'm not being "paid to wait." So far, the stock has appreciated by nearly 40% since I started holding it.
Going forward, I intend to continue to structure 90% of my portfolio with "safer" dividend stocks such as Johnson & Johnson, Wal-Mart, and others, while allocating 10% to riskier small/mid-cap stocks that may not pay a dividend, but have a highly promising business model and growth potential. In this manner, I am limiting the downside risk in my portfolio while at the same time exposing myself to potentially big upside.
If I were to describe the core of my investment philosophy, it would be this: 1) set up the majority of a portfolio with large blue-chip stocks and reinvest dividends to compound growth over time, and 2) allocate a smaller amount to stocks that have more inherent risk but potentially large upside from a growth perspective.
More Detail on My Portfolio
Here is some more detail on the stocks I own and why I see them as being strong staples of my portfolio, and which could be of interest to potential investors:
Linde AG
Linde AG is one of the leading chemicals companies in Europe, and while I had previously expressed some scepticism on the company as a result of competitive pressures in the chemical industry worldwide, it has shown significant growth this year to a price of €167, along with paying a dividend yield of 2.4%. While this is not necessarily a company that you buy for growth, I see it as a highly stable choice for investors looking to diversify into the European market.
In particular, this company is one that appears to be trading at a significant discount on a price-to-free-cash-flow basis, and could yield significant value from this perspective: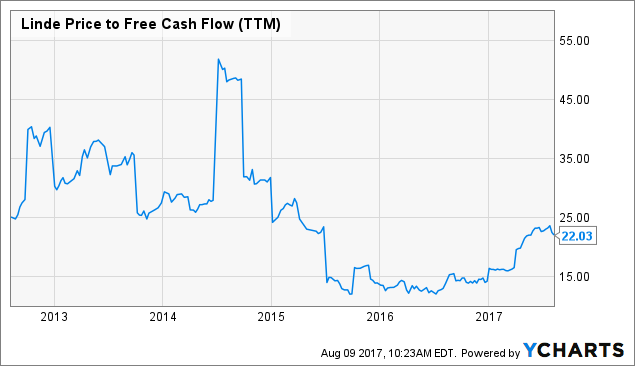 Johnson & Johnson
Johnson & Johnson has been one of the best performers in my portfolio, and there have been times where I've thought to myself that I could just park all my equity into this stock and do nothing else (that's obviously not a good idea from a diversification standpoint, but this company is really solid nonetheless).
In addition to paying a respectable dividend yield of 2.5%, the company has also shown significant price growth in 2017 and continues to have a strong business model with significant growth in its pharmaceuticals and medical devices segments. Johnson & Johnson is one of the very few companies that I see as having a strong blend of both income and price growth, and this company will remain a hallmark of my portfolio for that reason.
Lockheed Martin
One of my reasons for holding a defense company in my portfolio is that such companies tend to be more resilient to market downturns and are not as correlated to market indices as stocks in other industries.
In the time I've held Lockheed Martin, it has returned just under 10 percent, in spite of concerns regarding future defense spending plans by the Trump administration. In this regard, I see this stock as being a good defensive play in the event of a decline in the broader market, especially considering that its price-to-free-cash-flow ratio remains low even in spite of the recent price rise: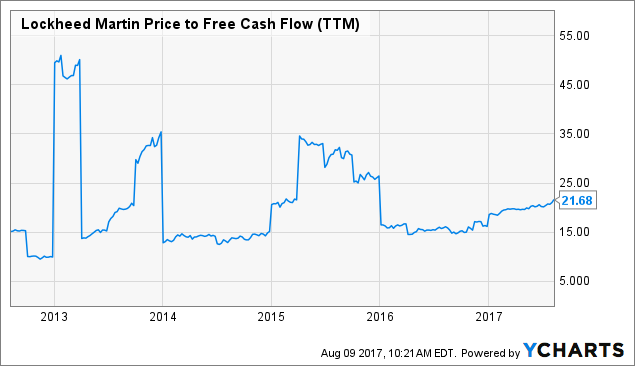 Starbucks
Starbucks is one of those companies that fall under the bracket of technically not being a dividend aristocrat, but showing significant growth that certainly makes it a highly sustainable and stable company.
Starbucks has returned 12% since I got into the stock back in September of last year, and with a strong business model and lucrative expansion opportunities across the Asian market, I'll continue to hold on to Starbucks for further growth.
Electronic Arts
Electronic Arts is the one company I hold that does not pay a dividend. However, from a price perspective it has been the best performer in my portfolio, having risen by 36% since I first got into the stock in September 2016.
The company is a leader in the electronic gaming industry and is set for significant growth in an industry that is also set to see very significant expansion in the coming years. Even with no dividend payments, this is a stock I'll be holding on to.
Royal Bank of Canada
One of my reasons for going for Royal Bank of Canada was not only the fact that it is a strong performer in the financial industry, but overall the Canadian banking market has a reputation for being more stable and less prone to significant downturns than that of the United States.
The stock has returned 14% since I bought it in October 2016 and pays a good dividend yield of above 3%. For investors who want to gain exposure to the financial industry but don't want too much volatility, I see Royal Bank of Canada as being a good choice.
Microsoft
Microsoft currently pays a dividend yield of 2.4%, and despite a growing reputation of becoming an income-oriented stock with little in the way of price growth, the company did return 12% since November 2016, in comparison to the return of 10% on the S&P 500 over the same period. The company has seen success in reinventing itself under Satya Nadella, with cloud computing tools such as Microsoft Azure having seen high growth in the past couple of years.
Microsoft is a good choice from a dividend standpoint, and also shows significant potential to continue being profitable from a capital appreciation perspective.
Wal-Mart
When I first got into Wal-Mart earlier this year, it had largely fallen out of favour as a result of concerns that the company could not compete effectively in the e-commerce space. However, the company has been proving doubters wrong, with its e-commerce sales up by over 60% since last year.
Moreover, Wal-Mart itself has risen by over 14% while the S&P 500 has risen by 6%. Having gotten in at a bargain appears to be paying off, and for this reason I'll be holding on to Wal-Mart.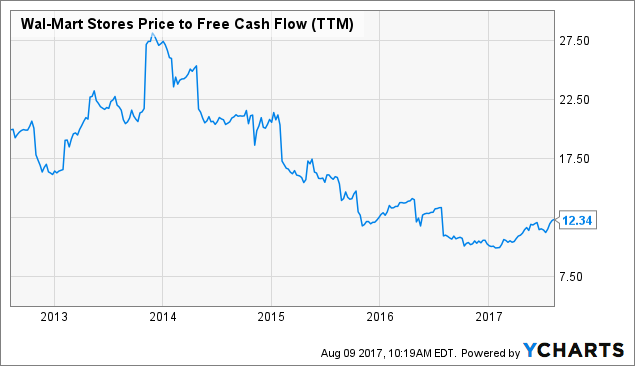 AT&T
AT&T is one stock which has gone down significantly since I got into the stock at a price of $40.
There are currently significant doubts as to whether AT&T can compete effectively in the mobile entertainment space. This, coupled with its growing debt levels, appears to be making investors jittery.
However, the company's merger with Time Warner could well be setting the company up for a highly competitive business model in the future, and give AT&T significant control over a TV market that is increasingly becoming smartphone-based.
An investment in AT&T is not without risk (indeed it's not for any stock), but with a nearly 5% dividend yield – it's one that could pay off significantly.
Chevron
I've only recently initiated a position in Chevron, and I have yet to see if my investment will pay off. However, its dividend yield is highly generous at above 4%, and even if it is assumed that oil prices maintain a range of roughly $50 over the coming years, this company has significant potential for growth.
I already elaborated in another article that Chevron's returns have not necessarily been dependent on oil price solely in the past, and that significant growth is possible for this company in the coming years, with a handsome dividend yield also adding to the stock's appeal.
Which stocks to go for at this time?
As mentioned, I see the above stocks as being great from a long-term perspective in terms of building a strong line-up of dividend aristocrats and gradually building the portfolio over time through dividend reinvestment.
From a value perspective, I have already mentioned that Linde AG, Lockheed Martin, and Wal-Mart in particular, are trading at significant discounts on a price-to-free-cash flow basis, i.e., free cash flow has been rising at a faster rate relative to price. There could be significant value in these stocks from that point of view and could be of interest to potential investors.
Conclusion
So, that's my portfolio and how I'm trying to beat the market! My personal belief is that selecting companies with a strong business model, and reputation for paying (or at least having the potential to pay) high dividend yields will outperform the broader market over time. I'm not there yet – but will continue to be patient and update you as to my progress!
In the meantime, are there any stocks that you would add/subtract from this list? I would love to hear your thoughts.
Disclosure: I am/we are long CVX,EA,JNJ,LNAGF,LMT,MSFT,RY,SBUX,T,WMT.
I wrote this article myself, and it expresses my own opinions. I am not receiving compensation for it (other than from Seeking Alpha). I have no business relationship with any company whose stock is mentioned in this article.