The US market is off to a very good start in 2012, with the NASDAQ up 5.4% in February alone and nearly 14% since the beginning of the year, while the S&P 500 and the DOW gained 4.1% and 2.5% respectively, in February and 8.6% and 6% in the first two months.
In spite of such a strong benchmark, data center related stocks performed, on average, much better than the market, delivering mostly double-digit gains in February alone, and several outstanding results since the start of the year.
Time for a few exact numbers, so let's have a look at the February performance for the stocks under our coverage: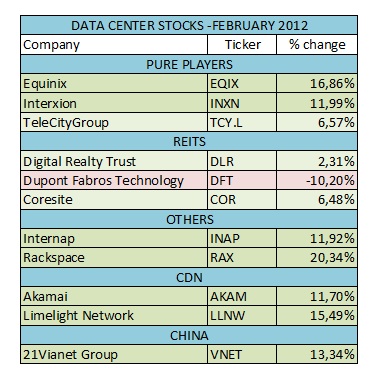 All stocks were in the green in February, with the only exception of Dupont Fabros Technology (NYSE:DFT), that guided softly for 2012. A large part of its loss was due to its weak after earnings performance.
As anticipated, most stocks achieved gains of more than 10% in February, with Rackspace (NYSE:RAX) leading this not-so-small group of companies that includes both CDN players, Akamai (NASDAQ:AKAM) and Limelight Networks (NASDAQ:LLNW), Equinix (NASDAQ:EQIX) and Interxion (NYSE:INXN) among network-neutral players, and Internap (NASDAQ:INAP) and Chinese data center provider 21ViaNet (NASDAQ:VNET).
Performances remain very strong also on a year-to-date basis, with several stocks exceeding returns of 20%: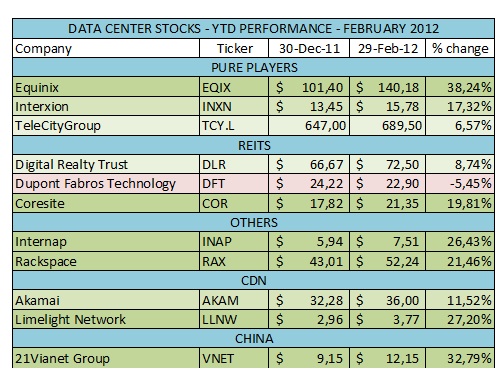 TeleCity Group's relatively weaker performance among pure players can be partially explained with its strong performance in 2011 (+38%), as the company delivered solid results for 2011 and guided for strong growth in 2012.
CoreSite (NYSE:COR) scored the best performance among data center REITs, having gained almost 20% since the beginning of 2012, while Digital Realty's (NYSE:DLR) stock grew almost 9%, a performance which is in line with the main indexes, but may sound weak in this strong environment.
Not to be forgotten, all these positive data come on top of a strong 2011 performance for the sector. While looking at past performances is always very interesting, investors tend to look forward - gains are easily forgotten, as attention is immediately turned to future opportunities.
Recently announced results in the sector confirm, on average, that data center stocks should enjoy another year of double-digit revenue growth, as secular trends like Internet use and the move to cloud computing make an outsourced facility a must-have for several enterprises.
While investments in the sector have increased recently, we believe demand remains stronger in several key markets, with most of the companies under our coverage enjoying strong pricing for their offering, even in 2012. While some valuations have probably reached levels that require the companies to show strong execution capacity to reach the targeted performances, in the long term, we still see the sector as very attractive, with any future weakness to be evaluated as a potential entry point.