The start of the third quarter saw a sustained upturn in the majority of Asian sectors. One of the notable performances was that of chemicals, which recorded a sharp improvement to become the best performing sector in July, reflecting a general turnaround seen across the broader basic materials group.
The Nikkei Asia Sector PMI showed that 15 of the 19 detailed sectors covered by the surveys registered an increase in business activity, the same number as seen in each of the previous two months. June's growth leader, commercial & professional services, slipped to fifth in the rankings, overtaken by chemicals for the top position. Forestry & paper products, another basic materials sub-sector, rose four places to sixth, while metals & mining eked out a marginal gain in output after four months of contraction.
Nikkei Asia Sector PMI Output Index: July 2017

Basic materials sectors revive
Since bottoming out in March 2015, the PMI Output Index for the broadly defined basic materials category - comprising chemicals, forestry & paper products, and metals & mining - has trended upwards, albeit not in a smooth manner. When comparing the averages for the January-July period this year with those for 2015-2016 (chart 4), all three basic materials sub-sectors have returned to growth. In fact, metals & mining posted the largest positive swing among the 19 sub-sectors, with forestry & paper products and chemicals also in the top five.
Basic materials

Sources: IHS Markit, Nikkei
Moreover, despite chemicals output growth being the highest for over six years in July, the PMI survey indicated that the upturn has more room to run: new orders rebounded in July and increased at the fastest rate since January, leading to another build-up of backlogs of work. Confidence about future output also remained strongly positive.
Strong year for technology so far
Technology equipment remained one of the strongest performers in July, with its output growth rate the fourth-highest in the rankings (and the second-highest in 2017 so far). Latest data showed a sustained solid increase in business activity in the sector, with growth above the average seen in the first half of this year. Driving the upturn was another robust rise in new business, which also contributed to higher employment. By contrast, machinery & equipment - another gauge for capital expenditure - saw a steep fall in output, which ended nine months of expansion.
Nikkei Asia Sector PMI Output Index: January-July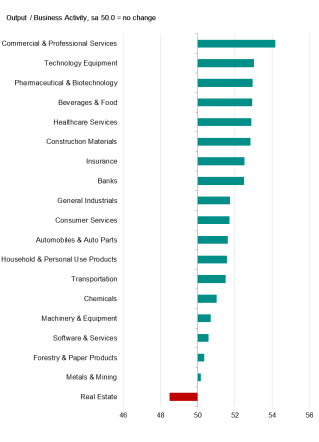 Sources: IHS Markit, Nikkei
Basic materials sectors see large positive swings

Sources: IHS Markit, Nikkei