Ferrari (NYSE:RACE) reported its second quarter results last week and they were quite impressive. Much like the richness of its brand though, it trades at atrociously expensive multiples. And as Warren Buffet once said – "You don't have to swing at everything — you can wait for your pitch." Given current valuations, is it time to wait or is it time to swing on Ferrari? My thesis argues for the former.
Q2 Review
Ferrari's 13.5% revenue growth in Q2 was primarily driven by a 13.7% increase in sales from the cars and spare parts business. The cars and spare parts unit represented ~73% of total company sales in the quarter. The engines business (~11% of sales), registered a solid 41.9% growth thanks to increased deliveries to Maserati. Operating margins expanded 290 basis points on account of higher volumes, better product mix and benefits from currency translations. The company sold more of its high margin V12 engine cars which led to the mix tilting in favor of high margin products. Despite posting some impressive numbers the company opted to stick with the more conservative stance of not raising its guidance. But looking at the movement in the stock post-earnings as well as the results so far, an upgrade in Q3 is probably priced into the stock already.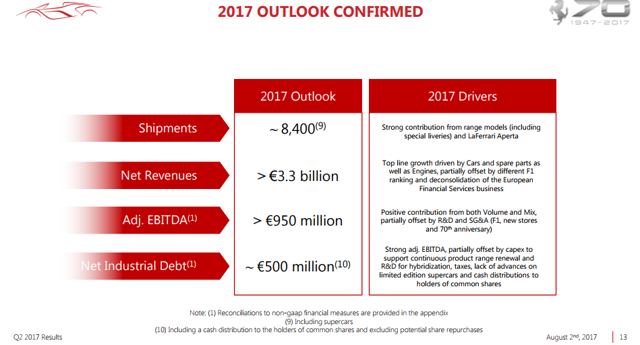 Relative Valuation
I agree with the contention of not using automakers such as Ford, General Motors or even Daimler as comparables for a company like Ferrari. For relative valuation to make sense we need to use comparable assets priced by the market. And, to know whether assets are comparable we need to look at the fundamental determinants of value of the ratio used for pricing companies. In its most basic form, the P/E ratio can be expressed as follows.

Therefore, firms with a similar payout ratio (or cash flow potential), risk and growth rate should have approximately the same earnings multiple. Ford and Ferrari have grossly different growth and risk profiles. Ferrari has low capital spending requirements, is less susceptible to cyclicality and is growing at a much faster pace than legacy automakers. Companies with a lower risk profile and experiencing faster growth must merit higher multiples than high risk slow growth companies. Therefore the rich multiples of Ferrari compared to legacy automakers is not really surprising.
The CEO of Ferrari, Sergio Marchionne had argued during the company's IPO that the company's multiple be compared with the likes of luxury handbag maker – Hermes International. Just to have a wider sample, I have added Tiffany's and Louis Vuitton into the mix.
Assuming these companies have similar risk profiles, to account for their differing growth rates, I will be using the growth adjusted PE ratio to compare them. Ferrari's PEG ratio of 10.5x (Source: Morningstar) is roughly three times that of Hermes PEG ratio 3.6x. When compared to Tiffany's and Louis Vuitton's PEG of 1.9x it comes across as even more expensive. A multiple in excess of 300% of peers suggests Ferrari is trading at a multiple well beyond the margin of error inherent in such an analysis.
Finding the next source of growth
To justify its current valuations, Ferrari has to find a new source of growth. Given how exclusivity drives its brand image, I don't think it can achieve higher growth by doing more of the same. That probably explains why the sports car maker could possibly venture into the SUV market. The company CEO in the latest earnings call stated "That space is too big and too inviting, and we have a lot of our customers who will be more than willing to drive a Ferrari-branded vehicle that has that king of utilitarian objective."
The details of this SUV launch though is still a year away. While it may eventually become a huge success, I wonder how much of it is already priced in the stock. And if the company fails to materialize these outsized growth expectations, the downside would simply be catastrophic. Therefore, I would hold my horses instead of baking in such projections prematurely.