Economic Slow Lane
Includes:
BIL, DFVL, DFVS, DLBL-OLD, DLBS, DTUL, DTUS, DTYL, DTYS, EDV, EGF, FIBR, FTT, GBIL, GOVT, GSY, HYDD, IEF, IEI, PLW, PST, RINF, RISE, SCHO, SCHR, SHV, SHY, SPTI, SPTL, SPTS, TAPR, TBF, TBT, TBX, TBZ, TLH, TLT, TMF, TMV, TTT, TUZ, TYBS, TYD, TYNS, TYO, UBT, UDN, USDU, UST, UUP, VGIT, VGLT, VGSH, VUSTX, ZROZ
by: Janus Henderson Investors
By Jenna Barnard
Jenna Barnard, Co-Head of Strategic Fixed Income at Janus Henderson Investors, speaks to journalist Heather Connon about monetary policy, the state of the economy and its implications for bond markets.
The Trump reflation fever may prove as short-lived as some of the president's campaign promises. U.S. economic indicators - from inflation trends and wage growth to auto sales and consumer spending - point to a softening in the economy as the global stimulus provided by China's loosening of economic policy in 2015-16 gradually peters out.
That is no surprise to Jenna Barnard, Co-Head of Strategic Fixed Income and Portfolio Manager at Janus Henderson Investors. She believes that the global economy remains stuck in a low-growth, low-inflation regime and that those who are predicting a rapid return to inflationary growth are likely to be disappointed.
"We expected the Trump rally to fizzle out by the end of April and, already, the data is starting to show this. U.S. core inflation, as measured by Personal Consumption Expenditures (less food and energy), has only been over the 2% target for just four months (early 2012) in this economic cycle and currently remains below target. In Europe, core inflation has also remained very low and is still around 1%, despite an improvement in growth."
She and co-manager John Pattullo have been heavily influenced by economist Richard Koo on the lessons from Japan's credit-fueled recession and they believe that Europe's economy is showing the same characteristics as Japan's, with structural issues weighing on it, including unfavorable demographics, low productivity, high debt levels and technological disruption. "There will be cyclical peaks and troughs but they do not change the fundamental picture."
There is a clear divergence in corporate behavior between Europe and the U.S. in the current elongated business cycle. In the U.S., companies have displayed "animal spirits" by buying back their own shares and making acquisitions. The picture in Europe has been much more subdued compared with the U.S., as well as the time period around 2007, as shown in Exhibits 1 and 2.
Exhibit 1: U.S. and Western European share buybacks (U.S. $ billions)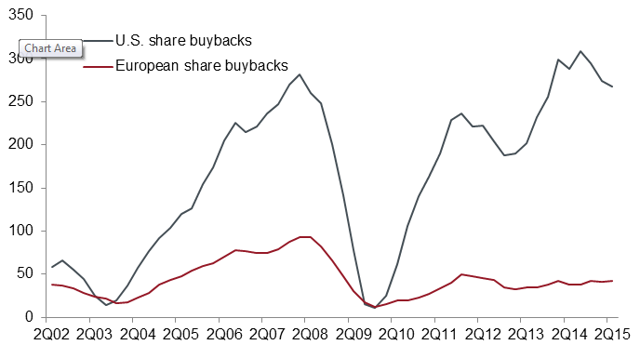 Source: JPMorgan, 2Q 2002 to 2Q 2015, Quarterly amount
Exhibit 2: U.S. and Western European M&A activity (U.S. $ billions)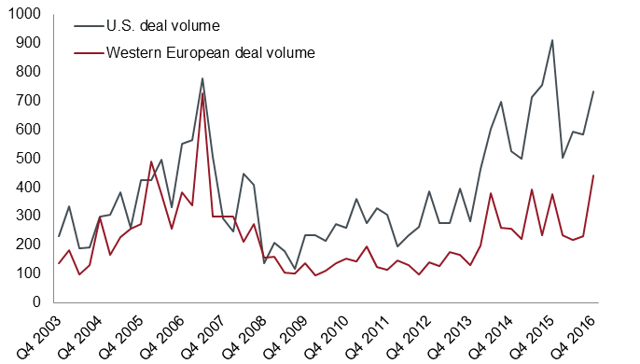 Source: Bloomberg, 4Q 2003 to 4Q 2016
These charts show that Western European companies remain relatively risk averse. European companies' aggressive activity is well below the levels of 2007.
Conflicting economic data is causing a dilemma for policy makers as to when or whether to end their Quantitative Easing (QE) market support programs and start increasing interest rates. The decision is particularly acute in the U.S., which has already started to raise interest rates and is now considering how much further to progress on the path to normalization.
Ms. Barnard points out that moves so far have been given the "thumbs down" by the bond market; while short-dated securities did sell off, longer maturities were relatively unmoved. "The bond market is effectively saying, be careful [to the Federal Reserve]. If you over-tighten, growth and inflation could end up being much lower. I do not think the economy will take much more tightening - there is a danger that it will cool too much."
While the EU is discussing whether to ease back on QE, the arguments are not clear-cut as inflation remains anemic and many of its economies are still in need of support, while the UK is dogged by fears over the impact of Brexit.
Despite the lackluster growth, some investors have been dismissive of bonds in recent years and they are instead piling into higher risk/illiquid assets.
Yet, says Ms. Barnard, the current low-growth, low-inflation environment combined with the low risk of defaults means that the macro environment for bonds remains benign. Within the global credit market it is still possible to find good quality corporate bonds with reasonable yields of between 4% and 5%.
In her view, the reflation theme has been overhyped, as is the almost universal expectation for an implosion in the bond markets, evidenced in the persistent misforecasting of long‑term bond yields over the last quarter of a century (see Exhibit 3).
Exhibit 3: U.S. 10-year Treasury yield and median forecast (yield %) Forecasts in red, actual 10-year Treasury yield in grey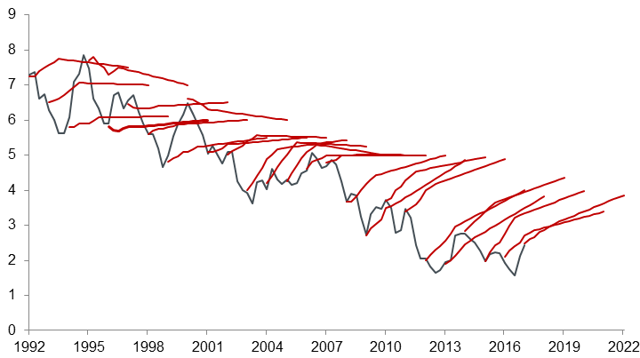 Source: Federal Reserve Bank of Philadelphia survey of professional forecasters, 1992-2017
Disclosure: Please consider the charges, risks, expenses and investment objectives carefully before investing. Please see a prospectus or, if available, a summary prospectus containing this and other information. Read it carefully before you invest or send money.
The views presented are as of the date published. They are for information purposes only and should not be used or construed as an offer to sell, a solicitation of an offer to buy, or a recommendation for any security or market sector. No forecasts can be guaranteed. The opinions and examples are meant as an illustration of broader themes, are not an indication of trading intent, and are subject to change at any time due to changes in market or economic conditions. There is no guarantee that the information supplied is accurate, complete, or timely, nor are there any warranties with regards to the results obtained from its use. It is not intended to indicate or imply in any manner that any illustration/example mentioned is now or was ever held in any Janus Henderson portfolio, or that current or past results are indicative of future profitability or expectations. As with all investments, there are inherent risks to be considered.
Janus Henderson Investors © 2001-2017. All rights reserved.