Advanced Micro Devices (NASDAQ:AMD) reported strong earnings for the second quarter of 2017 that topped most analysts' estimates. The company reported revenues of $1.22 billion, which is up 19 percent from the second quarter of last year and above analysts' estimates of $1.16 billion. AMD's gross margins were 33 percent, up by 2 percent from last year.
The company issued strong guidance for the third quarter of 2017. AMD announced on its July 25th earnings call that it expects revenues to increase by 23 percent in Q3 17 due in large part to the demand of its Ryzen desktop processors and state-of-the-art graphics.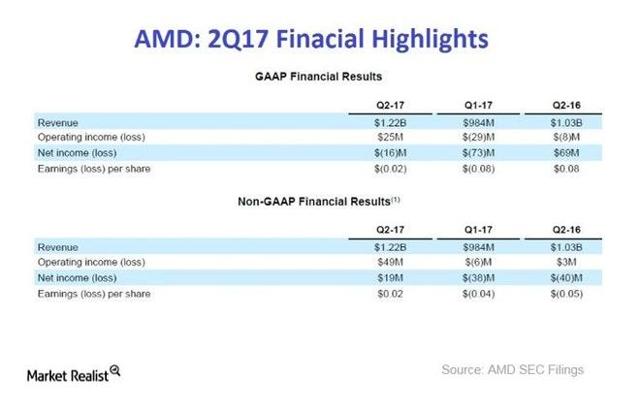 Source
Stronger Fundamentals
The company continues to dig its way out of debt after its first full quarter of revenue from Ryzen processor shipments. AMD slashed its long-term debt by 35 percent when it reported $1.46 billion in long-term debt compared to $2.24 billion last year. Additionally, AMD reported it had cash reserves in excess of $1.2 billion at the end of 2016. Any company that can report more cash on hand while slashing debt is certain to get some attention from growth investors looking to capitalize on a combination strong fundamentals and beat and raise guidance.
AMD Targets Larger Market Share
Demand for AMD's Ryzen 3 processor helped increase the company's computer and graphics revenue by 51 percent in the second quarter, and there is no mistaking that demand for the company's products remains white hot. Computer retailers couldn't keep AMD's RX 580 GPUs on their shelves as sales for the processors in the first week of June surpassed the whole month of May. AMD also has its sights set on a big chunk of the industry's server space.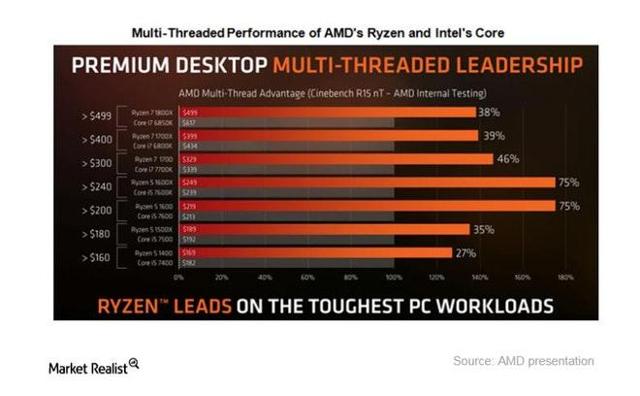 Source
Many analysts believe that no company can overtake Intel's (INTC) 99 percent market share in server space. However, AMD has Intel in its sights with the launch of Epyc back in June. The datacenter market is lucrative, and the company plans to stake its claim since signing on customers like Microsoft, Hewlett Packard, Baidu and Dell to use its Epyc server product line. The company also plans to offer the Ryzen Threadripper CPU and the Radeon RX Vega Graphics chip this month, which targets the content creation and high-end consumer markets currently dominated by Intel. Many consumers want an alternative to Intel, and some believe AMD can deliver.
AMD Valuation
It is tough to value a company that did not report profits in the past three years. It also doesn't help when analysts believe that the company is currently overvalued with a price target of $10.66, including tech analyst Toshiya Hari of Goldman Sachs. A few weeks ago Barclays Bank downgraded AMD, and the bank recently reinforced its position by warning investors to stay away from the stock. Barclays announced to its investors they should place very little value on AMD's strong earnings report. The bank estimates AMD's stock will fall by roughly 30 percent with a price target around $9 per share.
AMD Stock Outlook
Although the company's solid second-quarter earnings report gave it a much-needed boost, the stock is still down 18 percent since its 52-week high of $15.65. When compared to Intel and NVidia, AMD's balance sheet and market cap remain small. The company's current market cap is $12.41 billion compared to Intel's $170.57 billion market cap.
Since the cryptocurrency market started to boom, AMD was one of the best-performing stocks with a mammoth 365 percent return since 2016. However, the stock is now one of the most divided on Wall Street, with price targets as low as $10.66 from Hari at Goldman Sachs to as high as $22 per share.
Some analysts believe the company had a nice run over the last year, and many point to the company's biggest shareholder, Abu Dhabi's Mubadala Investment, selloff of 40 million shares earlier in the month. The investment firm also unloaded 45 million shares in March worth $613 million. What analysts do know is AMD stock is resilient and a $20 price target isn't far-fetched.