Grayscale Investments, LLC filed to list shares of its Bitcoin Investment Trust (OTCQX:GBTC) on NYSE Arca on Jan. 20th, 2017. This coincided with the suspension of placing new units of the trust. As a result of this and the dramatic rise in the price of Bitcoin, the premium to NAV has soared to 82% as of Friday's close. With no mechanism for arbitrage, there is no path to close the large gap between NAV and market price unless supply and demand take a sharp turn. Given the the momentum of Bitcoin and block-chain technology, this has been a losing bet. This will change in the next 60 days, however.
The SEC has 240 days to approve or disapprove an application for a proposed rule change relating to the listing and trading of shares of Bitcoin Investment Trust under NYSE Arca equities Rule 8.201, from the date the proposed change was filed with the Federal Register. That date was Feb. 9th, 2017. 240 days lands on Saturday, Oct. 7th, making the decision date Oct. 9th, 2017. If the SEC does not issue a decision, the proposed rule change is automatically granted.
Registration Statement and SEC Meetings
In the Form S-1 Registration Statement dated Jan. 20th, GBTC proposed to offer $500,000,000 in new shares, which was increased to $1b in the subsequently amended S-1 filed May 4, 2017. With the rise of Bitcoin prices over the time period between filings, this signals the intent of Grayscale to grow the trust as large as possible in order to have it accurately track its NAV.
Found in the comment section on the proposed rule change on the SEC website, there is a notice of a meeting with SEC officials. This meeting was attended by the Chief Counsel (in addition to a subordinate) to the SEC Chairman Jay Clayton, as well as Elizabeth King, general counsel to the NYSE. King appears elsewhere in the comment section, noting that she signed a letter of support of approval with Douglas M. Yones, head of Exchange-Traded Products at the NYSE.
Grayscale's presentation to the NYSE provides insight into the level of sophistication of the GBTC product and the high-profile names that are currently backing and involved in the trust, as opposed to the previous SolidX and Winklevoss products.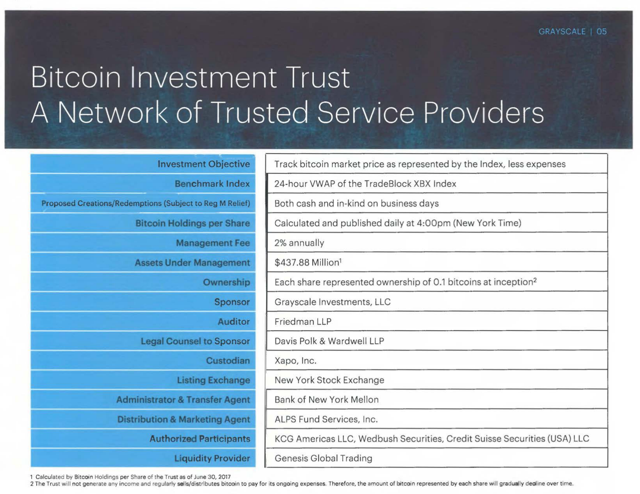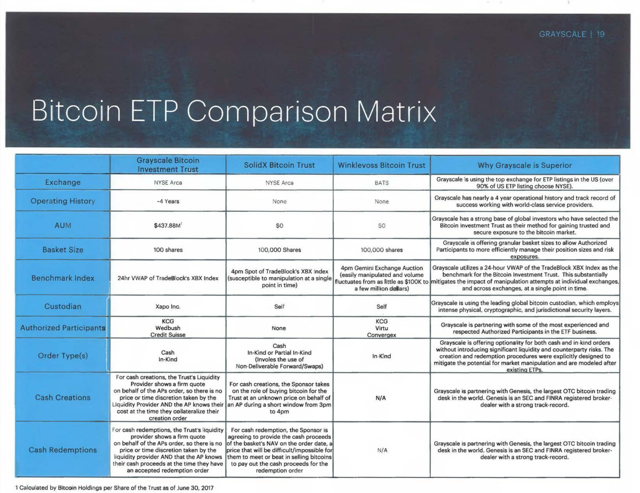 Grayscale also specifically highlights its belief in the importance of an ETP structure for investor protection, and how its thorough creation and redemption procedures facilitate arbitrage.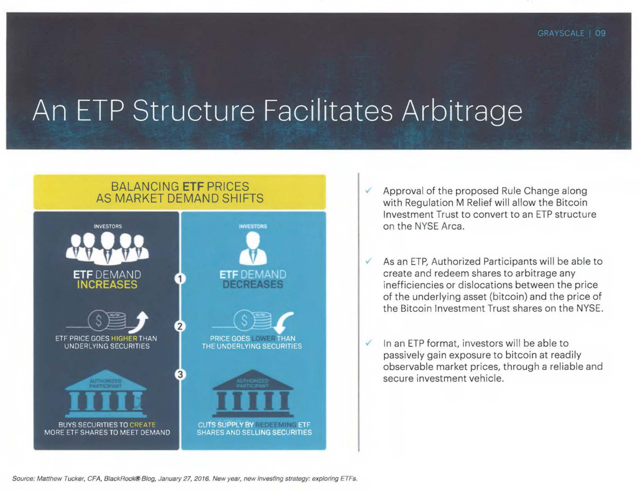 Grayscale's presentation signals their commitment to offering a product that accurately and fairly tracks the price of its underlying assets.
Potential Outcomes
While it is not known if the SEC will, in fact, approve the listing of GBTC on NYSE Arca, it is possible to list the the scenarios and possible outcomes.
SEC Approves GBTC: If the SEC approves GBTC for listing on NYSE Arca on Oct. 9th, 2017, the premium to NAV will evaporate to zero on massive new share issuance.
SEC Disapproves GBTC: If the SEC disapproves GBTC for trading on NYSE Arca, there are a few different scenarios.
Grayscale has signaled its strong intention to expand the trust and have it accurately track the underlying value of its holdings. Given that the trust currently has a premium of over $250m at market value, there is a strong incentive to offer private placement either to accredited investors or their liquidity provider, Genesis Global Trading.
Prior to the notice that ceased private placement to investors, placements were actively taking place. As per Form D, dated Oct. 4, 2013, the trust started with just four investors. By March 4, 2015, the trust had 191 investors. By March 4, 2016, it had 202 investors. Its last filing, dated Feb. 24, 2017, lists $84,822,520 of shares sold and 279 total investors.
This issuance of shares prior to the Jan. 20th S-1 Filing, along with the high moral hazard of having $250m in market cap premium, is enough to believe that new share issuance will happen even if SEC disapproves GBTC. The last option would be a disapproval without any new issuance of shares. While this is possible, it is not the most likely scenario.
Conclusion
Grayscale is a sophisticated operation with a quality, well-thought-out product. It has a chance of being approved for listing on NYSE Arca Oct. 9th, 2017 (44 business days). It is likely that, as a result of the decision, the premium to NAV on GBTC will fall dramatically -- possibly to zero. Investors looking to have exposure to the price of Bitcoin should look to hold Bitcoin directly instead of GBTC over the coming months.
Disclosure: I am/we are short GBTC. I wrote this article myself, and it expresses my own opinions. I am not receiving compensation for it (other than from Seeking Alpha). I have no business relationship with any company whose stock is mentioned in this article.
Additional disclosure: Long Bitcoin as a hedge against a short position in GBTC.