Today, August 10th, Snap (SNAP) will release its second quarterly earnings report after the bell.
Being myself short on the stock, I have been reading and doing some analysis these last days in preparation to the big event.
The four key metrics that will be most closely watched by investors will be:
Earnings (Losses) per share (EPS): Analysts' consensus here is for a -$0.29 loss per share, or -$0.14 once GAAP adjusted. The popular "Whisper Number" is for a -$0.12 adjusted loss per share.
Loss per share in Q1/2017 had been heavily impacted by extraordinary items related to IPO costs and bonuses, totaling a whopping -$2.31 per share.
Focus here will be on the company's ability to get "back on track" to a somehow "reasonable" spending and to show any sign of a prospect path towards profitability.
Daily Active Users (DAUs) for Snapchat, the messaging application currently accounts for 96% of Snap total revenue.


DAUs value came in at 166 million at the end of Q1/2017, an addition of about 8 million (+5%) on top of the 158 million reported in Q4/2016.
Expectations for Q2/2017 seem to be for an addition of 6 million DAUs, or +3%, to about 172 million DAUs (source: this article on Forbes).



Revenue, according to the different sources and analysis I read, is expected to be in the range $186.8 million to $189.23 million, the consensus value being on the upper side ($189).

Average Revenue Per User (ARPU)" At Snap's IPO stage, the company explicitly pointed at ARPU as a key way to measure its revenue growth. This also is a good parameter to assess the company's ability to monetize its Snapchat app, and is the main rationale behind the company's strategy to focus mainly on developed markets.
During Q1/2017, ARPU vs. previous quarter decreased for the first time in Snap's history: value came in at $0.90, down $0.15 (-14%) from Q4/2016.
The challenge for the company here is be to come back to ARPU growth in Q2/2017. RBC Capital's Mark Mahaney is positive on this topic, and believes Snap will report ARPU of $1.19 per user on 8/10.
Now, the big question: "Will the earnings report match the expected figures on Thursday, 8/10?"
I tried to provide my small contribution by choosing the downloads of Snapchat app as a proxy for its DAUs, and trying to find and compare this figure for Q1 vs. Q2.
Full Data (in millions) can be seen in the table below.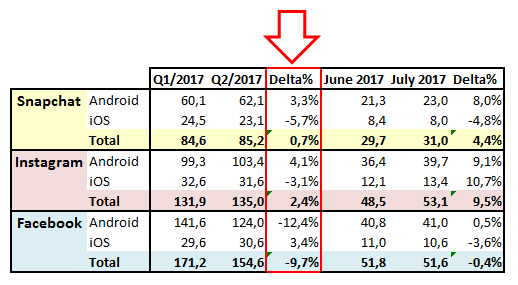 Source: Priori Data mobile intelligence platform.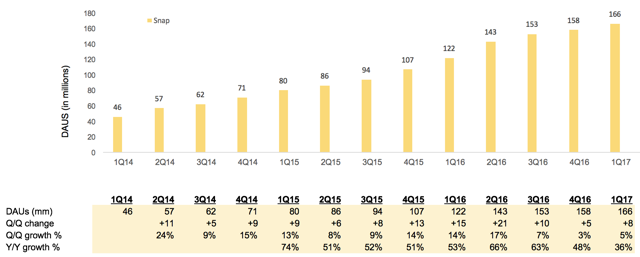 Source: Snap reports.
As you can see, Snapchat downloads totaled 85.2 million in Q2, up 0.7% from Q1. Just for reference, the table also shows that competitor Instagram got a 2.4% increase over the same period.
The 84 million downloads in Q1/2017, as we said, have been enough fuel to propel an 8 million increase in the DAUs compared to Q4/2016.
Under this perspective, it is more than reasonable to believe that the 85.2 million downloads in Q2/2017 can easily support the 6-million-only expected increase in DAUs expected by the market.
Back in March, after its first earnings report as a listed company, Snap price was down 20%-plus overnight due to missing expectations. Currently, the analysis on options on the stock also suggest a price movement magnitude of at least +/- 15% following the second earnings report on 8/10.
Being myself heavily short on the stock, I must admit I am not happy of having found a potential evidence of Snap meeting analysts expectations.
What's more, I also understand that a lot of negativity is already baked into the current stock price ($13.58, well below IPO price of $17), and also that analysts' expectations have already been lowered down following disappointing Q1, and thus easier to meet.
On the other side, of course, I know that estimation on Snapchat's number of downloads can be only a proxy for its DAUs and can't be considered as fully reliable.
Also, the company doesn't provide any guidance, giving analysts a harder job in making their estimates, leaving more room for error.
Conclusions
As 84.6 million Snapchat downloads in Q1/2017 were enough to propel a +8 million increase in DAUs QoQ, the 85.2 million downloads in Q2 can easily support the expected +6 million DAUs expected for the quarter.
Still, there are many other key factors which will heavily impact on the market's reaction to Snapchat's second Earnings Report, including (but not limited to) loss per share, revenue and ARPU.
Please let me know your views and opinions in the comments.
Disclosure: I am/we are short SNAP. I wrote this article myself, and it expresses my own opinions. I am not receiving compensation for it (other than from Seeking Alpha). I have no business relationship with any company whose stock is mentioned in this article.