Fiat Chrysler (FCAU), the brand that contains Jeep, Maserati, Alfa Romeo, Chrysler, Fiat, and RAM trucks, is being valued at just $18 billion. We believe that FCAU is severely undervalued as its assets are worth multiples of its market value.
We won't discuss Jeep's value as Adam Jones of Morgan Stanley (MS) predicted that Jeep alone could be worth more than the whole company. He gave Jeep a 120% premium value to Fiat Chrysler as the segment's sales are growing at a high rate with decent margins.
Another segment that we expect should be worth 80% to 100% of Fiat Chrysler is Maserati.
Our valuation is based on the market value of its competitor, Ferrari (RACE). Ferrari now has a market cap of $21 billion, up 25% since we recommended putting the stock on your watchlist (read here).
Ferrari, which was part of Fiat Chrysler, now has a market cap that is bigger than its ex-parent company. We believe that if Maserati was a publicly traded company, or if it was spun-off, its market value would be close to Ferrari's current value.
Our analysis is based on strong Q2 numbers which were reported 10 days ago. FCAU reported that its Maserati sales increased 85% to €1,074 million. And guess what, the segment's adjusted EBIT margins improved from 6.2% to 14.2%, and that stock has been flat since reporting these numbers.
These numbers are magnificent. Maserati revenues are now higher than Ferrari's while having 36% lower adjusted EBIT as the latter's adjusted EBIT is close to 22%.
Also, Ferrari reported a 14% Y/Y growth while Maserati reported an 85% Y/Y growth which suggests that Maserati may be valued at least at par with Ferrari in the future (lower EBIT margin for Maserati should be compensated by higher revenues).
Not to forget, Maserati has more room for a production ramp-up as its 2018 target is 75,000 units which is 40% higher than the current annualized production, while Ferrari's 2018 target is slightly higher than the current annualized production.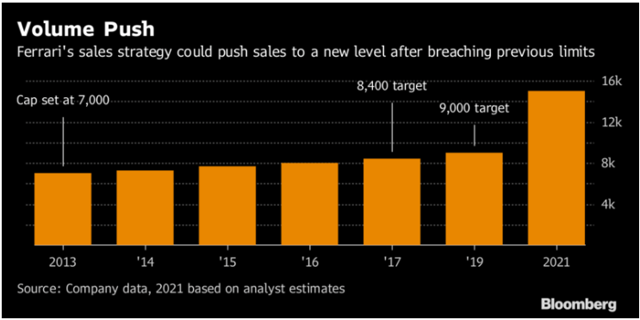 Thus, if we assume a proportionate relation between Ferrari's EBIT premium and Maserati's market value (and neglecting the notion that Maserati's growth is higher than that of Ferrari's), then Maserati should be valued at $13.44 billion at least (34% lower than Ferrari's market cap).
It's worth to note that Ferrari's net debt is €1.3 billion while FCAU's net debt is €6.1 billion. However, Maserati's revenues and EBIT are nearly 2% and 4.5% of the whole company respectively. So, Maserati would have negligible debt if FCAU spun-off the segment.
Last but not least, Fiat Chrysler is the safest among auto OEMs as its debt to EBITDA ratio is the lowest and it has the highest percentage of cash with respect to its size.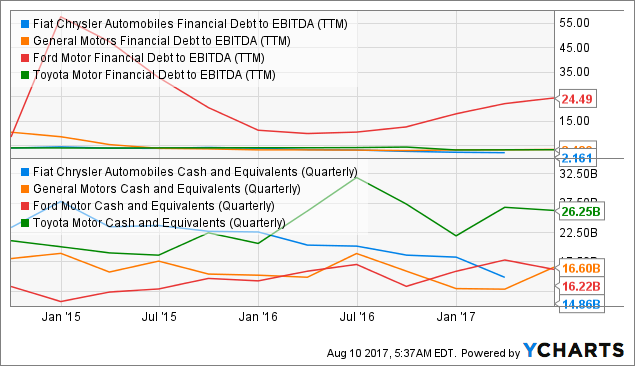 FCAU Financial Debt to EBITDA (TTM) data by YCharts
The bottom line: If we and Adam Jones were right, then Fiat Chrysler's stock could more than double. According to Adam Jones' analysis, Jeep should be worth $21 billion. And according to our analysis above, Maserati should be worth $13.44 billion without factoring the growth prospects for the company. These two parts alone, if spun-off, would have a market value that's double the value Fiat Chrysler is having (FCAU's current market cap is $18 billion). As a result, we rate Fiat Chrysler as a "crazy buy" as the company has so much value that can be unlocked.