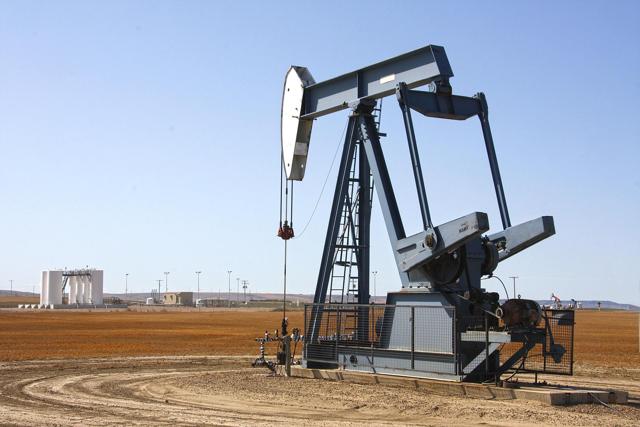 Source: Stock Photo
In what should be considered about the worst news you could get for oil, the IEA says there is approximately 230 million more barrels of oil in storage than previously believed.
If participants in the oil production cut want to balance the market quicker, they'll be forced to cut output to a higher degree. This is happening at a time when the resolve of the participants is weakening, and oil production from Libya, which is exempt from the deal, has been soaring.
The "discovery" of the additional stockpiles helps to explain the extraordinarily weak response of the price of oil to the cuts; it wasn't really drawing down inventory.
To understand the significance of this much oil, a report from Bloomberg noted it represents "almost 25 percent" more inventory than was thought to be in place at the beginning of 2014. Another 1 million in production cuts would have to be put in place to draw down that much in a six-month period.
With OPEC compliance faltering under the existing deal, and Russia showing little interest in cutting more production, it's dubious as to what will be done going forward, even if the terms of the deal are changed on paper and announced in the media.
Instead of drawing down inventory, the market has been doing nothing much more than treading water.
Narrative disintegrating
As readers know, I never bought into the narrative of the market rebalancing because the results were never reflecting that. By results I'm referring to the actual movement of the price of oil.
My thoughts were centered on the rapid pace of the increase in production of U.S. shale companies; the timing of the introduction of the deal, where OPEC producers in the Middle East were cutting back on domestic consumption because of cooler weather, so they could declare production compliance and still retain high exports; rising output from Libya in particular, which was exempt from the deal; and finally, as mentioned, the fact oil prices remain subdued.
Under normal market conditions, even with shale supply, there should have been a little more support for oil prices than the market was getting; it never could hold for any meaningful period of time. It's easy to see now why that was happening. Demand isn't near as high as we thought because a number of countries are still drawing down excessive inventory the market wasn't taking into account.
With the revelation of this new data, the alleged progress of rebalancing has been completely flipped on its head. Essentially, we're starting all over again when measuring it against the stockpile level of early 2014.
That isn't to suggest it'll take three years to draw it down. It means decisions were made based upon faulty data, and now decisions have to be made or not made based upon an entirely different scenario.
In turn, that means the price of oil will remain under pressure for longer than probably everybody was expecting.
The good news is producers have removed a lot of the costs out of the process and are prepared to better endure the prolonged period of lower prices than they were even a year ago. What investors will have to take into account is it'll take longer for companies to accelerate momentum.

Source: Bloomberg
Oil inventories in the OECD
The problem here is OPEC and others had been targeting the commercial oil inventories in the OECD, which are the only stockpiles that have reasonable visibility.
In that regard, it gave the appearance of the market rebalancing, because they were closing in on the five-year average the cartel was looking to reach. That is what has been disrupted.
It also gives understanding that the oil market isn't as predictable as thought, as evidenced by about 25 percent more oil being in storage than originally thought.
That said, I'm a little skeptical concerning analysts and pundits not having at least some suspicions on that front, since the price of oil should have responded much stronger than it did.
In that regard, I've been saying for months that short-term demand seemed to be much more subdued than the general market was thinking, but I wasn't thinking in terms of the lack of visibility of stockpiles being the major reason behind it. Now we all know.
The point is OECD oil inventories are only one part of the entirety of global stockpiles. Another factor most investors don't consider is drilled but uncompleted wells in U.S. shale regions also act as a form of storage because they can be quickly completed and brought to market.
One final note on the draw. It was reported inventory was cut to 84 million barrels in June, but because the five-year average actually went up, it represented a decline of only 37 million barrels.
In other words, over 50 percent of the cut came from the increase in inventory average rather than actual removal of oil from stockpiles.
Where the non-OECD oil came from
So where did the bulk of this oil inventory come from? According to the IEA, China accounted for over 25 percent of a reassessment of non-OECD demand in 2016, slashing it by a hefty 420,000 barrels per day.
What that means is approximately 157 million barrels of oil were unaccounted for, which means they had to have been placed in storage somewhere. The remaining inventory increase came from various demand reassessments the IEA made for 2015.
This means the IEA and most others were inordinately focused on OECD numbers, not taking into account the rest of the global oil market. The consequence is the discovery of 230 million more barrels of oil in storage that have to be drawn before the market rebalances.
Conclusion
With its revisions, the IEA has cut the demand for oil in the current quarter by 800,000 barrels per day. That comes on the back of an increase in OPEC production of 200,000 barrels per day in July.
Now the IEA has projected oil inventory to climb in this quarter, and thinks there will be a modest draw in the last quarter. Taking it all into account, the second half for stockpiles will remain unchanged.
All of this after OPEC and others made what was declared as an historical decision to extend production cuts. All of it was for naught, as it has done nothing to reduce oil stockpiles. Does this mean all participants will have to start over and extend production cuts to the end of 2018, and possibly into 2019?
The remaining question is if the participants in the deal decide to cut deeper and longer, how much deeper and longer will it be? Another million barrels per day would take six months to achieve what many thought was already there, and most, just around the corner.
With OPEC alone, current production levels would add another 170 million barrels to global oil inventories, representing six times what the drawdown will be for all of 2017.
The bottom line here is those providing data on oil inventory levels have totally dropped the ball. Oil investors will have to reassess their positions in light of the fact oil will remain lower for longer, and in regard to upstream companies or companies with upstream exposure, debt, margins, and free cash flow will become increasingly important.
Only those companies with the ability to compete under low price conditions should even be considered. The recovery in oil prices will take longer than expected. Invest accordingly.
Disclosure: I/we have no positions in any stocks mentioned, and no plans to initiate any positions within the next 72 hours.
I wrote this article myself, and it expresses my own opinions. I am not receiving compensation for it (other than from Seeking Alpha). I have no business relationship with any company whose stock is mentioned in this article.