J.C. Penney (NYSE:JCP) reported earnings before market open on Friday and what ensued was nearly a 20% sell-off. So how bad were the numbers? Let's dive in.
JCP reported revenues of $2.96 billion in the quarter ended July 2017. This represented a 1.5% YoY increase and actually came in higher than analyst estimates of $2.84 billion. EPS was -$0.09, which missed analyst expectations of -$0.06. CEO Marvin Ellison attributed the miss in EPS to liquidating inventory in 127 of the stores set to close and stated that the event was isolated to the second quarter. While missing expectations for the last two quarters, JCP reaffirmed its full-year guidance set out at the beginning of the year. This includes non-GAAP EPS of $0.40-0.65 and non-GAAP free cash flow of $300-400 million. It also reaffirmed comparable store sales to be in the -1% to 1% range, although comparable store sales were -3.5% in Q1 and -1.3% in Q2.
To be fair, the numbers aren't terrible. They also aren't great. But a big reason for the sell-off is due to a few comments by the CEO. During the first quarter conference call, Marvin Ellison stated that comparable store sales were tracking much better in April than in March. Then, again in July, when it was announced that CFO Ed Record would be leaving the company, Marvin Ellison added that JCP "demonstrated sales performance improvement in the second quarter, and we continue to expect to report significantly improved top-line results this quarter versus the first quarter." While JCP did indeed beat on revenue, I wouldn't say the numbers lived up to the hype.
The huge sell-off, however, has left JCP's stock with a unique opportunity. In January, I wrote an article on JCP stating that the current setup left a good opportunity to profit in the short/medium term via call options. While there was a reasonable period to profit from my recommendation, JCP headed for broke shortly after. This time around is a little bit different as JCP closed Friday at $3.93 per share, or trading at a P/B of approximately 1.0.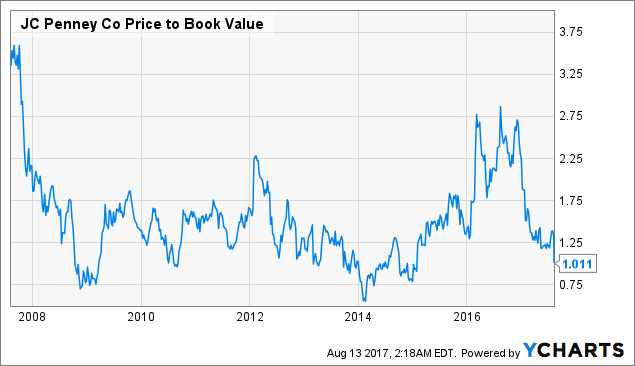 JCP Price to Book Value data by YCharts
To reiterate, JCP now trades at a price to book value of 1.0. The graph above shows historical P/Bs for JCP over the last 10 years. You'll notice that while JCP has traded at this level below on a couple occasions, it is always followed by a correction back above 1.0.
And that makes sense. Because a P/B at or less than 1.0 means that shareholders' equity is equal to the valuation of the company. Put another way, if the company was to liquidate all of its assets tomorrow, shareholders would still be awarded with $3.93 per share, assuming that it sold all of its assets for book value. So let's look quickly at its assets.
The balance sheet for Q2'18 (fiscal is different than calendar for JCP) lists JCP's assets. If you take a look, you'll find that much of its assets are quite desirable (cash, property plant and equipment (essentially real estate)). The only asset that may not hold its entire book value would be inventory, at $2.78 billion.
The fact that investors will be receiving something in the range of the share price in the worst case scenario (liquidation of the company's assets), I find it safe to say that JCP represents a good risk/reward at these levels. I think it also helps to compare JCP's P/B of its closest competitors, Kohl's (NYSE:KSS) and Macy's (NYSE:M). This is shown in the graph below and what you'll find is that these companies too have rarely (if ever) traded a book value at or below 1.0.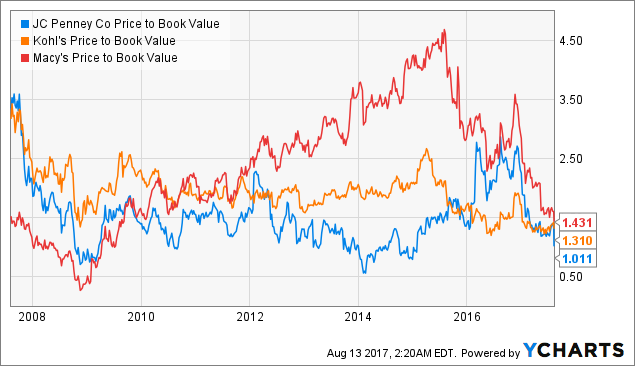 JCP Price to Book Value data by YCharts
Assuming the floor is in or at least close with JCP trading at book value, we can look to the ceiling. And that ceiling is that JCP is serious about diversifying the business. The initiatives executed on in the second quarter include rolling out 100 new appliance showrooms, rolling out 300 new mattress showrooms, launching toy shops in all stores and on JCP.com, along with others. This along with improved merchandising has led JCP to reaffirm its guidance of non-GAAP EPS of $0.40-0.65.
If JCP is able to meet its guidance, this will place its forward P/E to be in the range of 6-10. Although the retail sector is currently getting crushed with Macy's and Kohl's sporting P/Es of 9.5 and 10 respectively, there seems to be a lot of upside at these depressed valuations.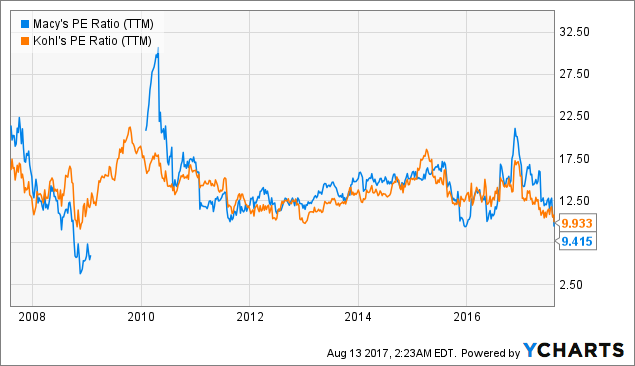 M PE Ratio (TTM) data by YCharts
To put it in perspective, if JCP is to meet the top end of the guidance and the retail sector gets enough of a lift to trade at Macy's and Kohl's 10-year average of around a P/E of 12, JCP would double from current levels. This would indicate a share price of nearly $8.
As with any investment, there are risks associated with JCP. At the front of the line is that the company could miss full-year guidance if the fourth quarter comes in weaker than expected. Considering JCP hasn't impressed in the first half of the year, this is a possibility. The other risk, in my opinion, is that JCP's book value continues to deteriorate.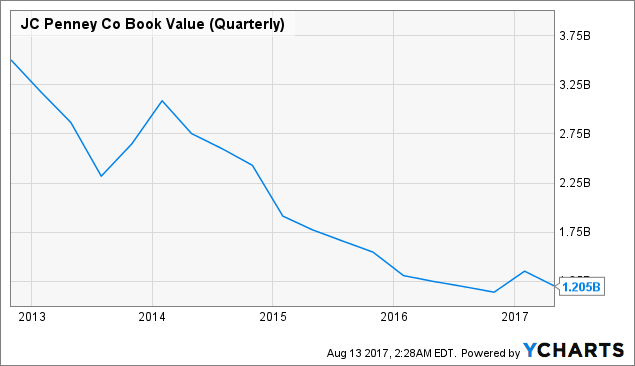 JCP Book Value (Quarterly) data by YCharts
As you can see below, this has been the case in the past few years. But JCP is no longer mounting billions of dollars in annual losses and plans to return to profitability in 2017. If that's the case, the book value should be relatively safe moving forward.
Notwithstanding the risks mentioned above, JCP could also continue to trend downward from general fears of Amazon (NASDAQ:AMZN) and the overall retail environment. I believe, however, that investors can feel comfortable knowing they can purchase shares at a discount to the company's assets on-hand. I find it very rare in the market of today to be able to find a company trading at or less than book value and a profitable one at that. I believe that not many would regret starting a position around these levels.
Disclosure: I am/we are long JCP. I wrote this article myself, and it expresses my own opinions. I am not receiving compensation for it (other than from Seeking Alpha). I have no business relationship with any company whose stock is mentioned in this article.