If you haven't heard of Manning & Napier (NYSE:MN) I don't blame you. Manning & Napier is an investment management company with a market capitalization of just $58 million and hasn't been covered by a Seeking Alpha author in 6 months. But I'm here to tell you Manning & Napier represents one of the best values I've discovered in my history investing.
I'm not going to get into the weeds of the company because I don't think it's as important based on my recommendations. It's an investment management company catering to individual and institutional investors as well as finance professionals and 401(k) plan sponsors. As of the end of Q2 '17, the company had AUM of $27.1 billion (assets under management).
To anyone familiar with the story, it's no secret the company has fallen out of favor, losing more than half of its valuation in a year's time.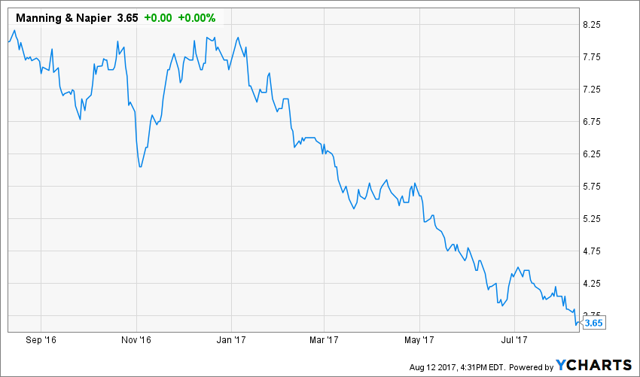 Graph by Ycharts.
And for good reason. Manning & Napier has similarly fallen out of favor with its clients, dropping assets under management from over $50 billion four years ago to $27.1 billion today. But this type of drop is not in any way warranted, based on the balance sheet.
Balance Sheet
Manning & Napier might have the most discounted balance sheet of any company out there. This can be shown most simply with the Price to Book ratio. Price to Book, or P/B represents the market capitalization (share price times shares outstanding) divided by the book value of the company. The book value represents shareholders' equity in the company.
As of 8/11/17, Manning & Napier has a P/B of 0.339.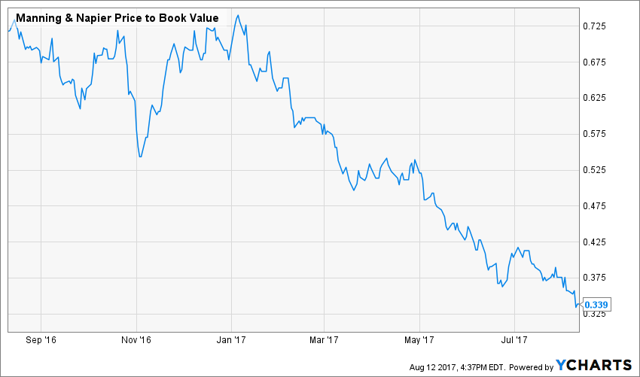 Graph by Ycharts.
I'll repeat. Manning & Napier trades for just a third of the assets less liabilities owned by shareholders. To put this in perspective, you'll be hard pressed to find companies that trade at a P/B under 1. What a P/B less than 1 means is that the company is being valued for less than the equity it owns. This generally only happens for one of two reasons—
The company's assets are overstated or not worth what the balance sheet says
The company is losing money fast, and therefore deteriorating book value
First off, Manning & Napier is a profitable company and has been a profitable company as long as it has been public. Manning & Napier also has some of the most desirable assets for a company. Let's dive into each one a little further.
Investing in Manning & Napier today is like buying a $100 bill for $33. Why do I say this? Because again, the company is trading at a book value of just 0.33. But what does the book value consist of?
Shareholders' Equity
Book value is total assets minus total liabilities, or equal to shareholders' equity. If we look at the Q2 '17 balance sheet, we'll find MN has cash of $92 million. That alone is larger than the market cap of $58 billion. But it has other assets, too. Marketable securities were $42 million. Receivables were almost $18 million. Property Plant & Equipment was $5.6 million. You get the point, but total assets were $213 million. All these assets are desirable assets that will hold their value should the company be liquidated. The only one that may not is deferred charges ($39 million) which are long-term prepaid expenses, but these are usually good for their value as well.
So total assets are $213 million. I'd add a liquidation factor of safety but it's not really needed. Total liabilities come in at $76 million. This leaves $137 million in cold hard assets to shareholders of the company. But again, this $137 million in assets is currently on sale for only $58 million.
Profitability
As I mentioned above, the only other reason (besides questionably valued assets) you wouldn't want to invest in a company with a P/B less than 1 is if the company is losing money. Manning & Napier has never lost money.
But really what we'd like to know is if this free cash flow it creates every quarter is translating to an increased book value for the company.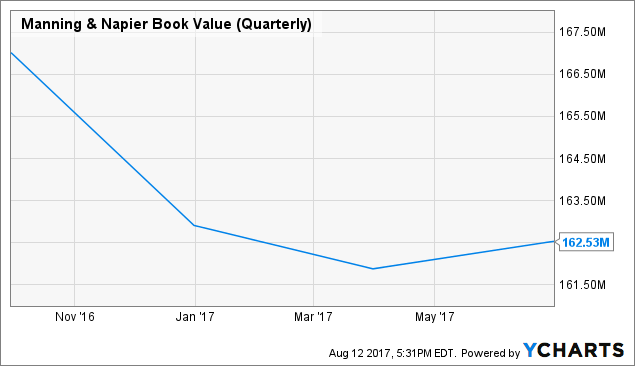 Graph by Ycharts
The answer to that is not necessarily, as book value has also decreased. But this isn't as concerning as the chart may lead you to believe. Since Manning & Napier has dropped off from $20 a share to less than $4 a share, the book value has decreased by only about 4%, or $6 million. That's extremely mild, and you would think with that kind of share decline (75%) the book value would have decreased accordingly.
Dividend
Oh, I forgot - Manning & Napier also pays a nice dividend. Due to the recent decline in share price, it actually pays a 13% dividend yield. This means you'll make a 100% return on your investment in just over 7 years, provided the dividend does not get reduced further (which it may) or the stock price doesn't drop further (which it may). But overall, part of the reason the book value hasn't increased as much as you might think for being free-cash-flow positive is because of the high dividends paid.
In Q2'17, Manning & Napier realized a profit of $1.69 million. With a $0.08 quarterly dividend payout, and 14.16 million shares outstanding, the dividend payout was 67% of profits, which is high. This suggests the dividend may be cut further in the future.
Concerns
Of course, with any investment there are risks. The main concern with shareholders of Manning & Napier appears to be management. There has been discussion on if Manning & Napier management has the best interest of shareholders. This includes topics such as class action lawsuits, overcompensation, and appointing unfit members to the board.
Considering the factor of safety investing in a company with a P/B of 0.33, these risks don't seem nearly enough justification to stay away.
Conclusion
Overall, as a value investor, I find MN to be a strong buy. There is no telling when Manning & Napier may fall back in favor with investors and it may take a while, but I'll be happy to sit on a 13% dividend yield in the meantime while paying $33 for a $100 bill. The second AUM begins to increase or the market ETFs turn bad, Manning & Napier will be ripe to reward shareholders. Any sign of market corrections will bring investors back to investment management companies, and Manning & Napier seeks to receive the benefits. I fully expect Manning & Napier to trade much closer to, if not, a book value of 1.0 in the long-term future and at current prices, this represents a 200% return.
Disclosure: I/we have no positions in any stocks mentioned, but may initiate a long position in MN over the next 72 hours. I wrote this article myself, and it expresses my own opinions. I am not receiving compensation for it (other than from Seeking Alpha). I have no business relationship with any company whose stock is mentioned in this article.