In theology, if you acted sinfully, you got punished. In the world of business, if management loses shareholders' money, then management is punished by a devaluation of the company by the marketplace. So, it is unsurprising that the common share of Famous Dave (DAVE), a barbecue restaurant chain, has plummeted recently. The company had earned over $110 million in revenue for nine consecutive years - between 2007 and 2015. And in 2016, sales dropped to about $99 million, a record low. As you can imagine, the drop in sales did not go unnoticed.
The drop in sales was about 10%. How much should the stock decline be? 10%? 30%? 50%? If markets are logical and efficient, then stock prices should relate to expected earnings. So, we should be able to see a somewhat close relationship between a decline in sales and operating margins and a decline in stock price. In practice, that rarely occurs. So, I thought of an arbitrary rule of thumb. Here it is: a reasonable price decline, following a loss in sales, should be close to the difference between the 10-year average earnings and the current earnings. If the price decline is higher, then market price has been penalized too heavily. For Famous Dave, the average 10-year net earnings after capital expenditures, was $0.61. The 2016 net earnings after capital expenditures was $0.37, a decline of about 40%. The stock price, however, lost 72%.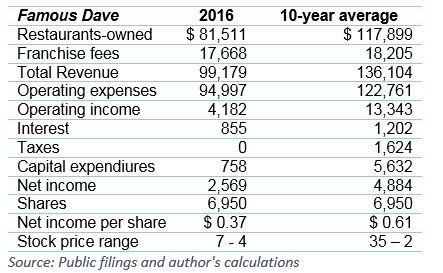 So, the price decline seemed harsh, I thought. But a bearish price may be the result of the restaurant industry economics, unrelated to the operations of a specific company. And it is obvious that the industry is fraught with an increasing amount of risk. Have you lately tried to open in California a restaurant? The amount of red tape and regulation you will experience will leave you with a similar outcome as that of a boat buyer. Where your happiest day will be when you sell the business. But red tape for the restaurant industry is not the only problem.
Ask anyone in the restaurant business and they will tell you of flaky clientele, of increased competition and of the client's palate that follows whatever the current nutrition gurus say. Today, owners of restaurants will tell you that to differentiate your restaurant, you should focus on organic produce; yet five years ago, all you had to do was avoid high fructose corn syrup; and before that, it was trans fats. In short, to budget your ingredients for the next fad will be difficult. But I have side tracked from our topic of discussion. So, before I further advise you to eat only what your grandparents would recognize as food (Michael Pollan talks about it in his wonderful book, "In Defense of Food"), let us get back to the analysis of Famous Dave.
Purchasing a common share at Famous Dave at about 6 times the 10-year average net earnings after capital expenditures met my cardinal rule of investing, which is that I rarely pay above 10 times the earnings per share. Yet, as I told you, I felt the decrease in market valuation was due to industry trends. So, I played the following game thought: How much would I have earned, over the past three years, if I had owned the competition (which I subjectively defined as DineEquity (DIN) that franchises and operates Applebee's, Denny's (DENN), Nathan's Famous (NATH), and Brinker International (EAT) that owns Chilli's) versus owning a share in Famous Dave. The answer was about 9% earnings yield for the competition and about 20% earnings yield for Famous Dave. Put differently, without any price appreciation, I would get my money back in four years with Famous Dave, while it would take about nine years with the competition. That was enough for me to make a decision.

In short, I bought some common shares in Famous Dave. I did not make the purchase because Famous Dave won the 2013 "Best in the West Cook-Off" national competition; frankly, I have never been to a Famous Dave. I hardly eat meat and am somewhat allergic to barbecue sauce. But I felt the price of the stock was low enough compared to the company's past valuation and compared to its peer competition. And, perhaps, this purchase was less rational than I care to admit: perhaps I wanted to please my mom as she often nags me with "Did you get any meat this week?"
And now for the usual disclaimer: please remember to read this article as a starting point. My goal is to share with you the stocks that are on my mind and…well…pockets. But not by any means to encourage you to follow blindly what I do. You should research the company, industry and its prospects on your own. Investing is an art as much as it is a science, and just as you and I may not share the same enthusiasm for, say, the Impressionism movement, our opinions on companies may not be the same. Besides, Seeking Alpha has for you other excellent commentators on the company, with a line of reasoning that differs from mine. For example, the author using the pseudonym Courage & Conviction will provide you with their impression of the company after attending its annual shareholder meeting. And Mark Gottlieb questioned Famous Dave's management as to why they still owned a few of their restaurant (37 to be exact) and did not transform their business to be franchised restaurants only.
Editor's Note: This article covers one or more microcap stocks. Please be aware of the risks associated with these stocks.