Yoga... what an awesome ticker symbol!
I was quite excited to run across the news that there was a new IPO for a yoga company.
While many of my regular readers know that I am a gun guy, it may be a bit of news that I also routinely practice yoga, and I try to make it to my Ashtanga Yoga class a few times a week. In my 10 plus years of off and on yoga sessions I have never heard of YogaWorks (YOGA) however.
Being a Yoga IPO, and especially one priced so "low" I was instantly intrigued.
While it is important to look at the numbers I believe it is equally as important to understand what those numbers mean and their impact on the business and how sustainable they are throughout the market cycle. Over the next two articles we will focus on the important metrics and factors from the offering documents and a discussion of which metrics we should focus on.
Beyond that I would like to discuss how I believe YogaWorks fits in the investment world and if it deserves a look for your portfolio.
The Numbers
With this public offering, YogaWorks offered 7.3 million shares at $5.50 per share. This IPO raised $40.15 million leaving approximately $37.7 million for the company after offering expenses. With this offering, the outstanding share count is 16,209,081 shares giving the company a valuation of $89.149 million.
Unfortunately for shareholders and IPO buyers, the stock price fell over 11% after the IPO and is currently trading at $4.85 per share, thus valuing the company at $78.614 million, or a bit more than a 10% drop in one day.
So what is YogaWorks?
YogaWorks is a corporation which currently owns and operates 50 yoga studios, predominately located in California and the Washington-Boston corridor.

Source: YOGA IPO Offering Docs
Some of the metrics that management breaks down is the number of studios, number of paid student visits and studio classes held over various time periods.

Source: YOGA IPO Offering Docs
While this does not gives us the revenues, it does provide us with clarity into some metrics.
As we can see, while YOGA has grown significantly from 2014 through today, almost doubling in the number of stores (studios), in the past two years only 3 new studios were added.
The company primarily grows through the acquisition of existing studios.
Looking at the above data we can see the number of visits is down year over year. The company attributes that to the change revenue recognition, going from unlimited monthly classes to selling packages of classes. The company does note that with this shift, there are less visitors however. The company justifies this by stating that it further provides options for new students. We will have to see how it would grow.
While the slow growth would be a point of concern the real ugly numbers are in the "earnings" or more appropriately in the lack of earnings.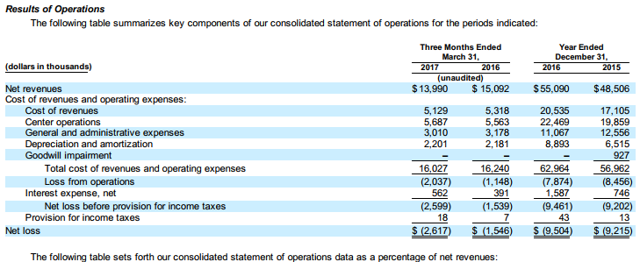 Source: YOGA IPO Offering Docs
Year over year for the first 3 months of the year revenues were down and the loss has been deeper. For the first quarter of 2017 YOGA has lost $2.617 million and is on track for a loss of over $10 million for the year. For year end 2016 and 2015 the company has lost $9.5 million and $9.215 million respectively.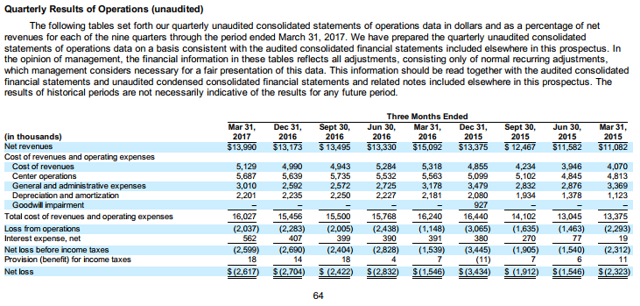 Source: YOGA IPO Offering Docs
Looking at the rolling quarterly breakdown we can see that the business does not seem to be seasonal, thus I do expect the current trends to hold and surpass the $10 million loss for 2017, particularly if there are new acquisitions and further "one off stock" compensation awards.


Source: YOGA IPO Offering Docs
One interesting metric that is provided by the company is the studio level EBITDA. Studio level earnings are net of location expenses but before being throwmn in at the corporate level and all of the associated expenses, such as sales and general administrative expenses and other corporate expenses.
Through 2016, each studio earned approximately $252,000. This is down from $263,787 from year end 2015.
For the first three months of 2017 we can estimate that number to be $256,400 if it is annualized. I would caution however that Q1 2016 was significantly better yet finished the year down. It is quite plausible that studio level earnings will drop through the rest of this year.
One number that is not quoted directly but for which we have the data to calculate is the average students per class. We get this number by dividing the number of student visits by the number of studio classes.
For 2014 we calculate the average students per class of 17.90 for the 29 yoga studios. This is the average over the course of the year.
For 2015, while the number of student visits increased, so did the number of classes and the amount of studios. For 2015 the average students per class decreased to 16.61.
In 2016, following the same methodology the number continued to drop but at a smaller percentage, down to 16.21 students per class.
Finally we can calculate the 2017 numbers based on the first 3 months which were reported. For the first quarter of 2017, the average number of students per class was 16.84 compared to 17.63 for the same time period a year ago. So keep in mind, the 16.84 does not translate into full year numbers if Q1 is once again front loaded like it was for 2016, when Q1's 17.63 ended up a 16.21 over the course of the full year.
From my own experience, I do believe Yoga classes behave much like other fitness and health activities which spike in the beginning of the year based on New Year's resolutions and then drop off by Q2. While I do believe yoga practitioners are more committed than the general gym goer, YogaWorks does attract the novice and as such does likely see a bit more weight on Q1 numbers.
Finally I want to point you to some graphics from the IPO presentation.

Source: YOGA IPO Offering Docs
While all three graphics increase from left to right, they are not equal. YOGA grew their store counts by a 20% CAGR, yet the total visit only grew by 14%, and the total revenues grew at an even smaller 11% CAGR.
Quite clearly we can see from the charts and our own calculations that even though YOGA is growing their store count and revenues, they are not increasing the underlying same store sales numbers and visits as fast as they are adding new studios.
Bottom Line
After looking at the offering documents and the associated numbers, I am seriously concerned about the growth of the company.
First, there are the annual losses which only increase with new club acquisitions.
Secondly I am concerned about 3 years of declining class sizes. What are the plans to increased the count?
Third I am concerned with the saturation of the clubs in the "high cost of living" areas such as New York City and California. If YogaWorks is planning on expanding, I am sure they are aware that while charging $100 per month for yoga classes in NYC or Orange County is normal, that pricing strategy does not work out in the south or midwest. There are only so many YogaWorks studios that may be opened up in LA or NYC before stealing their own customers and over-saturating their own markets.
Finally there is the massive competition from the numerous competitors, both big and small, national and local. Below is a summary of competitive risk factors cited in the offering documents.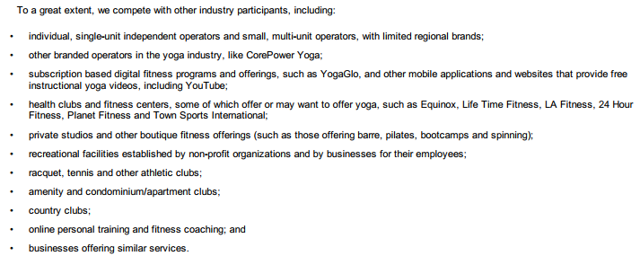 Source: YOGA IPO Offering Docs
Bottom line, from a financial point of view I would seriously avoid the company until we have some firm answers.
In my next article we will examine YOGA from beyond the numbers, looking a how they fit into the investment world and into what customers and employees think of the company.
I hope this article was helpful and of interest.
Income Idea
Interested in sustainable income ideas? Please consider subscribing to my premium marketplace service, Income Idea.
Income Idea subscribers receive detailed analysis along with discussion beyond the research numbers. More importantly, a more detailed discussion of whom the investment works best for, whether it is the right time to invest it in or not, and actionable strategies for implementation if it belongs in your portfolio.
I believe in active management that works, and I am here to help you find those opportunities. Please follow me here on Seeking Alpha as we look for those opportunities and sort out the good managers from the mediocre. Simply click the "Follow" button next to my name at the top of the article or on my profile page.
Disclosure: I/we have no positions in any stocks mentioned, and no plans to initiate any positions within the next 72 hours.
I wrote this article myself, and it expresses my own opinions. I am not receiving compensation for it (other than from Seeking Alpha). I have no business relationship with any company whose stock is mentioned in this article.