Rising lithium prices have created a bull run in lithium producers since early 2016. With Albemarle (NYSE:ALB) being one of the world's largest lithium producers, it comes as no surprise that its stock price has risen as well.
Its stock price has increased from about $53 in January of 2016 to over $123 on August 7th, 2017. My analysis shows that it has risen far above any reasonable valuation and is now a strong sell.
LITHIUM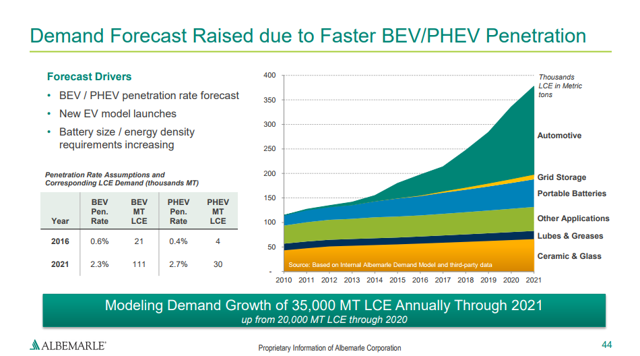 (Source: Albemarle Investor Day Presentation)
Lithium has been coined "the new gasoline" by Goldman Sachs due to the annual double-digit projected growth of EV automobiles that operate from lithium-ion batteries. Many of the other lithium uses are expected to grow as well but at lower rates.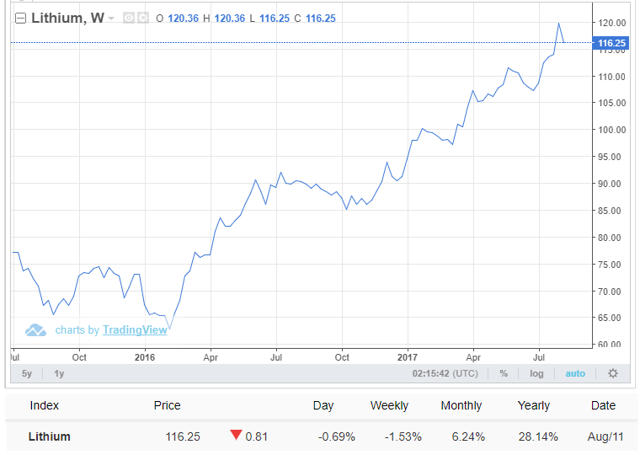 (Source: TradingEconomics)
Lithium prices have increased 28% YTD due to a supply squeeze.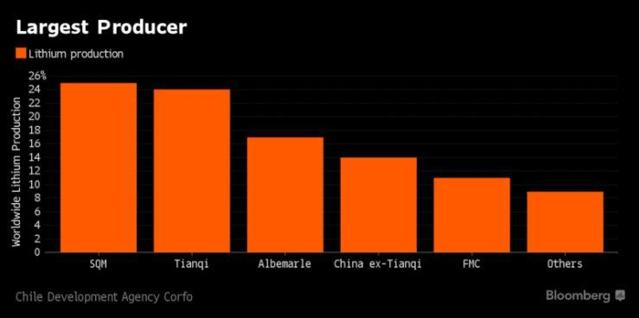 Albemarle is a world leader in lithium production, along with Sociedad Química y Minera de Chile (SQM) and FMC (FMC).
ALBEMARLE
Albemarle is a large cap diversified specialty chemical company with Lithium (33%), Advanced Materials/PCS (10%), Bromine (27%), and Refining Solutions (24%) segments. Other items make 6% of net sales. (Data used is from Albemarle's second quarter earnings presentations.)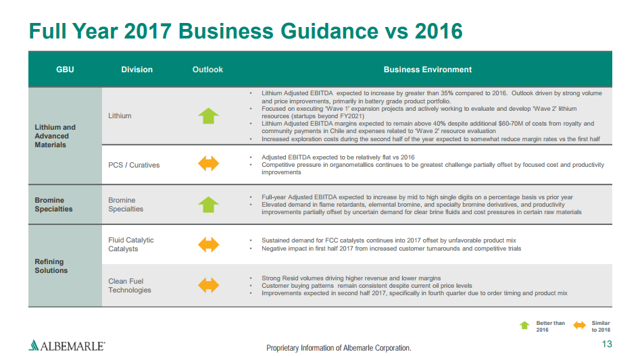 (Source: Albemarle 2Q2017 Presentation)
Let's face it though, its $244 million lithium segment (up 55% YoY) is why the company has been growing, and why that growth is forecasted to continue, as the other two areas have been basically flat in net sales.
(Source: Albemarle 2Q2017 Presentation)
EBITDA increased by 80% while the lithium price rose from an approximate average of $8,500 to $11,000 per metric ton YoY, or 30%. Any lithium price increase greatly increases earnings as it is all profit since the cost to mine it costs roughly the same.
The Case For Selling Albemarle
I love F.A.S.T. Graphs™ as it can show you at a glance what has been going on in a company over the years.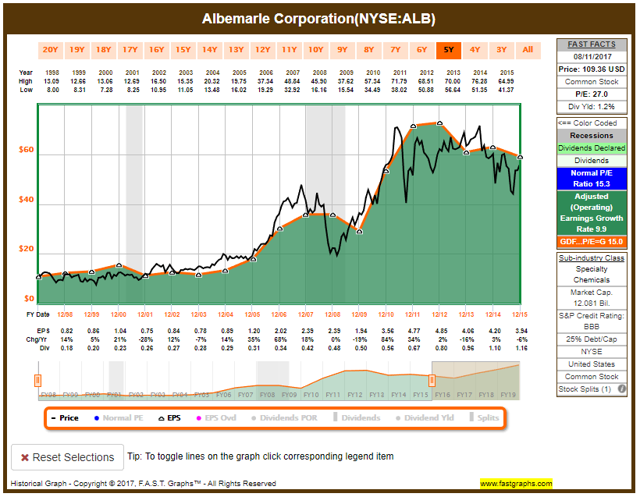 The black line is the price and the orange is earnings. Albemarle's price has traded alongside earnings during its history. It has averaged a P/E of 15.3 during the time period shown. I have stopped this chart at the end of FY15.
Let me lengthen the chart.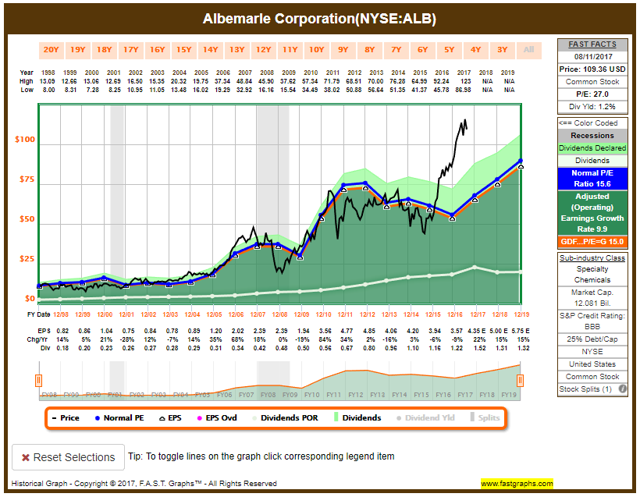 With the full chart shown you can see how sky-high the price has become. Currently the company has a P/E of around 27, far above its historical norm of around 15.
Let's look at 2Q 2016.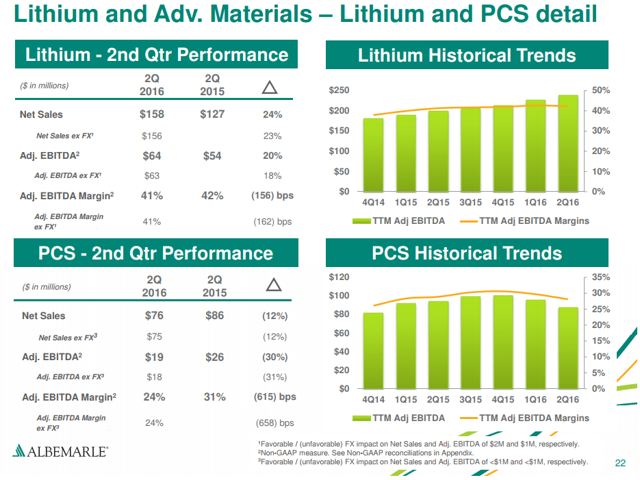 (Source: Albermarle's 2Q2016 Presentation)
2Q2015 EBITDA: $181 million - $54 from lithium (30% of total)
2Q2016 EBITDA: $191 million - $64 from lithium (33% of total)
2Q2017 EBITDA: $219 million - $115 from lithium (52.5% of total)
That's an impressive increase in the lithium segment, for sure. Albemarle is not just lithium though, and total EBITDA only increased by 17.3%.
On May 29th, 2015 ALB's stock price was $60.15. Today (August 13th, 2017) it is $109.36, an increase of 82%. It appears to me that the market is valuing Albermarle almost exclusively as a lithium producer and not just the third of it that is.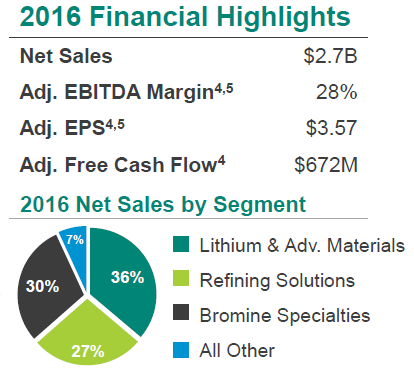 (Source: Albemarle IR Day Consolidated Presentation)
By year, Adjusted diluted earnings per share from continuing operations are as follows:
2015 EPS: $3.52
2016 EPS: $3.57
2017 EPS: $2.18 over the first two quarters, $4.20-4.40 year estimated.
Estimated full year EPS growth using the midpoint of $4.30 would be 17%. Far lower growth than the stock price increase. As the previous F.A.S.T. graph showed, price has always returned to meet earnings. Current price has been bid up far above the level earnings has supported historically. I expect the stock price will decrease to meet earnings rather than trade sideways until earnings catches up.
Competition
Albemarle does not own the patent on lithium and any commodity that becomes extremely valuable breeds competitors. Look back to what oil prices over $100/barrel did for this effect. Numerous companies were started to take advantage of those prices, lithium is no exception.
Read: Lithium is the latest hot metal commodity, but investor fever could be cooling.
There are many junior lithium explorers out there with projects in the works. Please follow Seeking Alpha contributor Matt Bohlsen for updates on their progress. I find him to be the most knowledgeable writer on the subject of lithium producers.
So while lithium supply looks to be squeezed for a few years due to the length of time it takes for new lithium production sites to be set up. But by the time Albemarle's current price is estimated to catch up to earnings, these other projects will be online feeding the demand.
Innovation
Battery costs are also expected to go down as new methods to increase efficiency are discovered.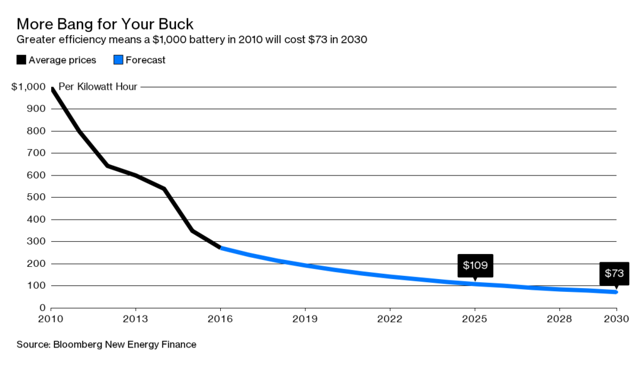 The growing demand for lithium in batteries will likely be somewhat negated by new battery technology.
Conclusion
This wild stock price is based off hype. People know Albemarle is a lithium producer and lithium is a hot commodity right now, so it has been enthusiastically bid up in price without the earnings to back it up.
In the recent 2nd Quarter Earnings call the CFO, Scott Tozier, suggested that lithium profits would likely decline from Q2's record level. This sent the stock tumbling, it ended the week down 9.35%.
"In the short run, the market is a voting machine but in the long run, it is a weighing machine." ― Benjamin Graham
Greed is what is behind the rise of Albemarle's stock price. It looks near enough to a bubble to me, so I sold out of my position last week.
I think Albemarle is a great company that will continue to grow into the future, but at current prices, it is wildly overbought. Anyone that purchases now will have to wait years for earnings to catch up to price, even with 20% earnings growth per year.
If you hold Albemarle shares it might be time to take some profits and buy back in at a more reasonable price.
This is also a possible short candidate, but I do not short stocks.
I see the current fair value at $75. I do not know if the market will let it get there as significant lithium hype remains but I am confident that it will drop below $100/share.