Note to the Reader - this article is Part II of a series entitled Health Insurance - An Industry In Transition. We suggest reading the initial article for background and context. This article also assumes that the reader is familiar with the basics of Medicare, known as Medicare Part A and Medicare Part B. We refer to the combination as Original Medicare. The annual government publication Medicare and You is an excellent source of background information.
Abbreviations Used in Article:
AHIP - America's Health Insurance Plans
NAIC - National Association of Insurance Commissioners
Medicare Part A - Hospital Insurance that covers inpatient hospital stays and related care
Medicare Part B - Medical Insurance that covers Doctor's services, outpatient care, medical supplies and certain preventative care
HI - Health Insurance MA - Medicare Advantage
SNP - Special Needs Plans PDP - Prescription Drug Plan
FPL - Federal Poverty Level PMPM - Per member, per month
MedPac - Medicare Payment Advisory Commission
CMS - Centers for Medicare and Medicaid Services
Coverage Universe for Article Series: Aetna (NYSE:AET), Anthem (ANTM), Centene (NYSE:CNC), Cigna (NYSE:CI), Humana (NYSE:HUM), Molina (NYSE:MOH), UnitedHealth (NYSE:UNH)
Introduction
It is well known that Medicare is a Government sponsored Health Insurance [HI] program largely aimed at the senior (65+) demographic. Medicare currently has approximately 58M enrollees and spends on the order of $600B/year, which constitutes 3.6% of the GDP of the USA. Medicare is well positioned due to a demographic growth wave of people with considerable political clout - unlike Corporate Group Insurance, which is on a long, slow decline and Medicaid which is under political attack. Interestingly, due to the public's continuing need for affordable/accessible health insurance coverage and the political struggles involving efforts at "Repeal and Replace", there has been a recent surge in discussion of "Medicare for All" as a viable option. What is less well known is that the vast majority of Medicare enrollees actually have some form of supplementary health insurance above and beyond Original Medicare. This supplementary insurance is purchased from private health insurance companies and is thus directly addressable by our coverage universe of publicly traded HI companies.
In particular, we will examine three of these programs - Medigap, Medicare Advantage [MA], and Medicare Part D Prescription Drug Program [MPD]. We will summarize the features, benefits, and restrictions of each of these programs. We will examine the characteristics of the enrollees of each of the programs and their drivers for program selection - e.g. how do they choose between Medigap and Medicare Advantage, and how do they choose MA plan providers? We will then examine the plan providers of each of these programs to understand their revenues, margins, market share and geographic/services footprint. Finally, we will analyze the likely evolution of the plan providers and use this analysis to draw conclusions about their relative ability to build competitive advantage and leverage the advantage to create likely upside for their stock prices. Note that the plan providers in our universe are mega-cap companies with multiple lines of business and that this article only analyzes them from the Medicare perspective. This needs to be combined with several other aspects (e.g. Commercial, Medicaid, etc.) and detailed financial analysis - all of which will be topics for upcoming articles in this series.
The Medicare Demographic Wave
Before going further, the reader should understand the demographic wave currently sweeping across the landscape of the USA. As we can see from the diagram below, the rapid growth of the over 65 age cohort is being paired with lifespan longevity. This results in the concurrent rapid growth of the so-called "super senior" (i.e. age 80 and over) population.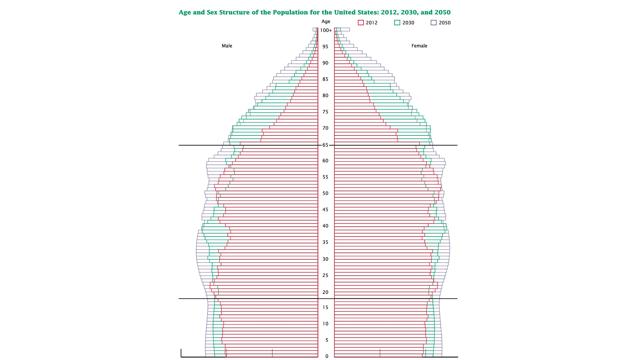 It is also clear to see that the wave is not merely temporary. This age cohort will continue to constitute more than 20% of the population, and the Census forecast calls for the addition of more than 3.5M additional people to the cohort every year for at least the next 20 years. The reader should note that there is also a potential downside to this situation - the aging of the population has also led to the emergence and rapid expansion of a large population with multiple chronic conditions (e.g. arthritis, obesity, etc.) and diseases associated with aging such as Alzheimer's. These conditions can be huge drivers of medical costs and thus potentially detrimental to the bottom line of HI companies. They can also be a major driver of overall healthcare spending and the associated political and policy discussions about debt and deficits.
Making Medicare Choices
The initial decision facing a Medicare enrollee is summarized by the Medicare policy decision diagram below from Medicare.gov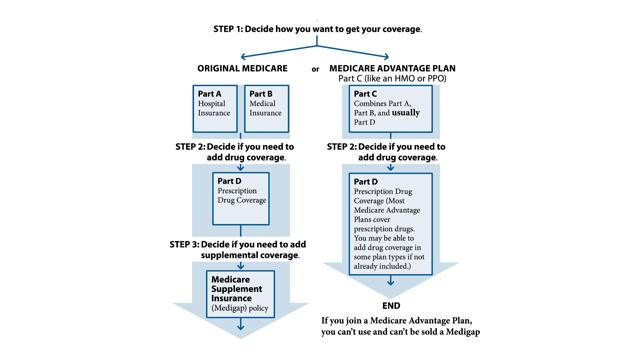 If you choose Original Medicare, private insurers can sell you Medigap and Medicare Part D. If you choose Part C, then they can sell you Medicare Advantage with various Part D prescription drug coverage options. We will examine each of these three programs in detail below. To get a feel for the size and scope of the opportunity, Medicare Advantage is forecast to be a $190B opportunity in 2017, Medicare Part D spending is approximately $90B, and Medigap premiums are forecast to be approximately $28B in 2017.
Spotlight on Medigap
The definition of Medigap is provided in the documentation available from Medicare.gov,
"A Medicare Supplement Insurance (Medigap) Policy is a health insurance policy sold by private insurance companies which can help pay some of the health care costs that Original Medicare doesn't cover, like coinsurance, copayments, or deductibles. These are the "Gaps" in Medicare coverage. Unlike Medicare Advantage, Medigap only supplements the costs of your Original Medicare benefits".
For those readers unfamiliar with Medigap, the key benefit is simple - under Original Medicare, there are co-payments and deductibles that you must pay directly out of pocket when you utilize medical services. These costs are the so-called "Gaps". It turns out that the Gaps can be quite substantial and even potentially ruinous as there are no out of pocket spending limits. The Medigap universe actually consists of a series of standardized packages that go under the names "A" through "N". Highlights of the features of each of these policies are summarized in the table below.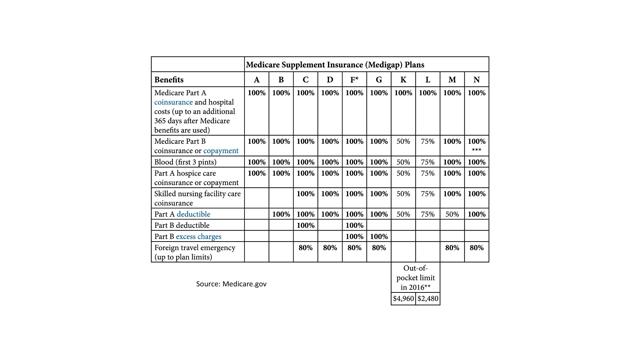 Insurance companies offering Medigap policies need not offer the full range of policies and indeed many offer different policy options in different geographic locations.
Medigap Enrollee Numbers
A recent chart shows that the number of Medigap enrollees at the end of 2016 was approximately 12.8M (22.1% of Medicare enrollees) based on analysis of NAIC and CMS data. The same chart suggests robust growth in Medigap through at least the year 2020.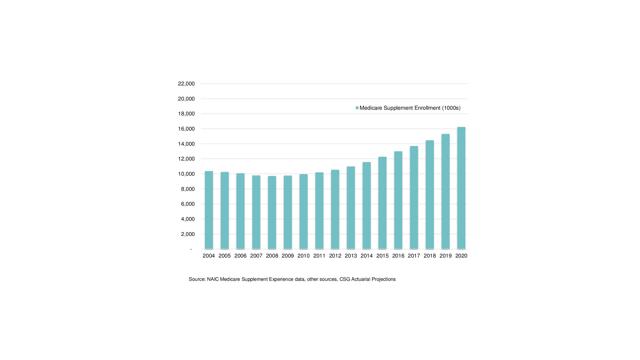 The question of how these enrollees are distributed between the various policy options requires much more detailed analysis. The most recent estimate through the year 2015 was produced by AHIP. The AHIP data shows that the vast proportion of the policies and the actual growth are concentrated among a much smaller variety of policy types, namely (F, G, J, N). Even among these policies, there is an active "switchover" - i.e. a transition between types F and G. We will discuss the reasons behind this transition in the paragraphs below.
Medigap Provider Market Share Distribution
Combing through the 10-Ks and 10-Qs of the Medigap plan providers in our coverage universe yields surprising differences in their Medigap data transparency. At one end of the spectrum is Humana, which provides granular details for both membership numbers and associated premium revenue. The other plan providers either break out membership numbers without associated granular revenue numbers (i.e. the revenue is aggregated along with other types of revenue) or fail to break out either Medigap membership or revenue numbers. Thus, once again, we must resort to the data from NAIC and CMS with analysis via 3rd parties such as CSG Actuarial. The most recent data is summarized below.
| | |
| --- | --- |
| Provider | Market Share |
| UnitedHealth | 34% |
| Other | 32% |
| Mutual of Omaha* | 10% |
| HealthCareServices Corp. | 5% |
| Anthem | 5% |
| Aetna | 4% |
| CNO Financial* | 3% |
| Cigna | 2% |
| Humana | 2% |
The data indicates that UnitedHealth (especially based on its partnership with the AARP) is by far the market share leader. We also find other members of our coverage Universe in the table, namely Anthem, Aetna, Cigna, and Humana. Two other interesting results from this table are: (1) several of the market share leaders are not HI companies - these companies are marked with an * in the table, and (2) second place in the table is occupied by "other" - a conglomeration of numerous companies, many of which are also not HI companies. Individual provider data can be extracted from filings with NAIC and CMS and are periodically reported by CSG.
Provider Revenues and Margins
Individual provider revenues and margins are rarely broken out with sufficient granularity (as mentioned above). Thus, we must once again resort to analysis of NAIC and CMS data to get reasonable estimates. On the revenue side, CSG created a chart of revenues from premiums associated with newly sold policies. The chart shows a briskly increasing sales forecast for the time period 2018 - 2025. More importantly, it shows strong actual growth between 2011 and 2017.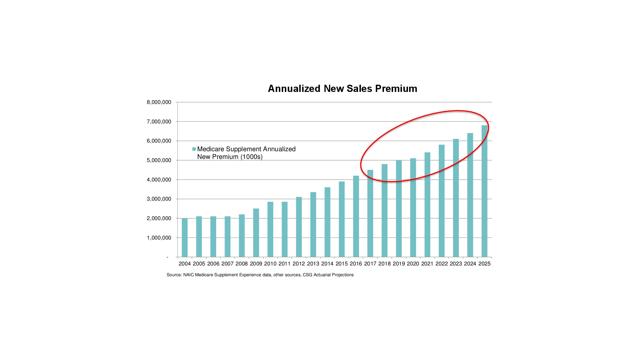 The best estimates of margins come from reported numbers on premiums collected vs. claims payouts. A table of estimates from 2012 to 2016 is provided below, and the overall ratio has hovered between 76% and 78% for the last five years.
| | | | |
| --- | --- | --- | --- |
| Year | Premiums Collected | Claims Paid | Payment Ratio |
| 2012 | $22.26B | $17.4B | 78.2% |
| 2013 | $24.74B | $18.95B | 76.6% |
| 2014 | $24.76B | $18.8B | 75.9% |
| 2015 | $26.26B | $20.34B | 77.4% |
| 2016 | $27.94B | $21.75B | 77.8% |
Medigap Competition
Competition comes in three primary forms:
Do Medicare enrollees need a supplementary plan - this level of competition has been largely resolved as more than 75% of enrollees have some form of a plan. Key questions are the value of selling to the remaining eligible market and the expectation that employer supplementary coverage will continue to shrink and thus provide the opportunity to shift part of the market to individual coverage
Between Medigap plans - as we can see from the market share table, the Medigap market is highly fragmented, and many plans are available from many different providers at widely varying price points. Indeed, there are even 3rd parties such as General Re that specialize in providing services that allow new carriers to enter the market. We expect that competition will hold down increases in Medigap premiums
Between Medigap and the key alternative - namely Medicare Advantage [MA]. We will explore MA in some depth in the paragraphs below, but suffice to say that both have been growing nicely, and there is good evidence that the demographics and "geographics" of the MA enrollees often differs from the Medigap enrollees.
Medigap is overseen by State Departments of Insurance - for example in California, the California Department of Insurance [CDI]. You can go to the CDI website and find a list of available policies. As we can see from the table below, the list contains several of the members of our coverage Universe, namely UnitedHealth, Aetna, Anthem, and Humana.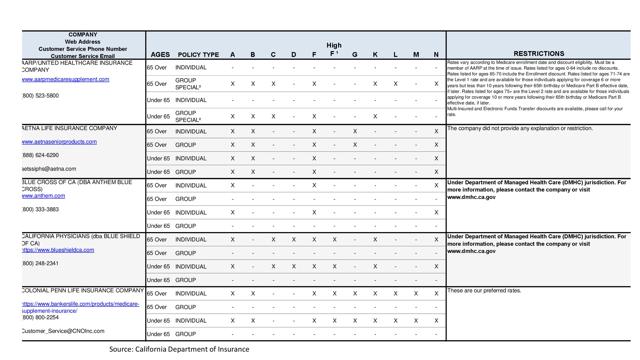 The CDI list contains 26 companies, 18 of which would certainly be classified as Life Insurance instead of Health Insurance companies (e.g. USAA Life, Transamerica Life, Oxford Life, Standard Life, etc.). Indeed, we would argue that the nature of Medigap policies is quite akin to Life Insurance - the policies don't encourage healthy living or cost-effective provider selection. Their role is to pay the allowable costs according to the defined Medigap rules.
Enrollee Demographics
We next examined the question of who buys Medigap policies and how might they differ from the general Medicare population or from the Medicare Advantage population. AHIP provides an insightful map which is depicted below. The interesting takeaway is there is a small "belt" of highly concentrated Medigap enrollment which spans that states of South Dakota, Nebraska, Kansas, Iowa, North Dakota, Wyoming and Montana.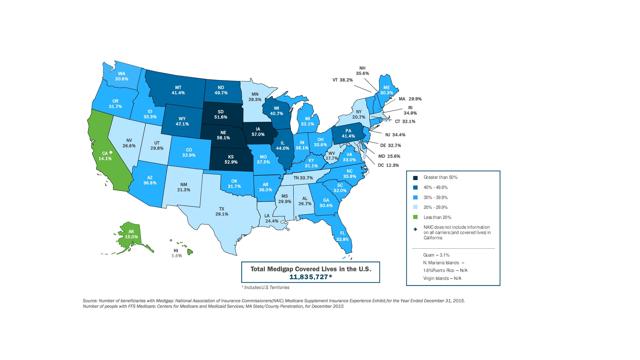 In addition, several ongoing AHIP studies have shown that Medigap enrollees are considerably more likely to be low/moderate income, from rural areas and female than the Medicare population as a whole.
Legal and Regulatory
The Medicare Access and CHIP Re-authorization Act (MACRA) was passed in 2015. Buried within the bill with little attention or fanfare were changes to Medigap, namely the elimination of Plan F and Plan C. Both will no longer be available for new enrollees as of 2020. Note that Plan F is by far the most popular plan in the current roster (more than 50% of policies). The idea behind this change was the notion that Plans F and C were "Cadillac" plans - they provide first dollar coverage on deductibles and co-pays. This in turn supposedly led to overconsumption of Medicare services. On closer study, we would argue that Plan F premium rates are actually too high and thus switching to another plan such as Plan G might actually allow enrollees to use the same amount of services for the same total amount of money by trading lower premiums for subsequent out-of-pocket payments. Regardless, we see this as an attempt at a "stealth" Medicare budget cut - with perhaps many more to come…
Spotlight on Medicare Advantage
An excellent definition of Medicare Advantage [MA] is provided by AHIP,
"Medicare Advantage is the part of the Medicare program through which private health plans provide comprehensive medical coverage to seniors and individuals with disabilities. A significant proportion of all Medicare beneficiaries, have chosen to enroll in a Medicare Advantage plan because of the higher-quality care and additional benefits these plans provide".
MA includes all of the same services that Original Medicare provides. Unlike Original Medicare, MA plans have annual out-of-pocket spending limits. MA plans often offer a multitude of additional services that are not part of Original Medicare such as: Mental Health, Vision, Dental, Hearing, Care Coordination, Disease Management, Nurse hotlines, fitness services, preventative care and "embedded" prescription drug plans.
The History of Medicare Advantage (MA)
The seeds of MA date back as far as the mid-1970s via a series of demonstration programs that made private HMOs available to Medicare enrollees. The stated goals of the MA program were twofold: (1) to maximize Medicare enrollees set of choices via plans from private providers which offered more comprehensive benefits, and (2) to leverage the supposed benefits and efficiencies of private managed care delivery systems to make Medicare more cost effective. The Medicare fee-for-service (FFS) payment model was replaced by "risk-adjusted capitation" - a negotiated set fee per member, per month (PMPM) with upward adjustments based on the health condition of the enrollee. The plan was initially formalized by the Balanced Budget Act of 1997 under the name Medicare + Choice. It was subsequently re-labeled Medicare Advantage under the Medicare Modernization Act of 2003. Note carefully that despite the strong growth that we hear about today, there was a lengthy period of enrollment declines that stretched from 1999 to 2005. Both trends are depicted in the chart below.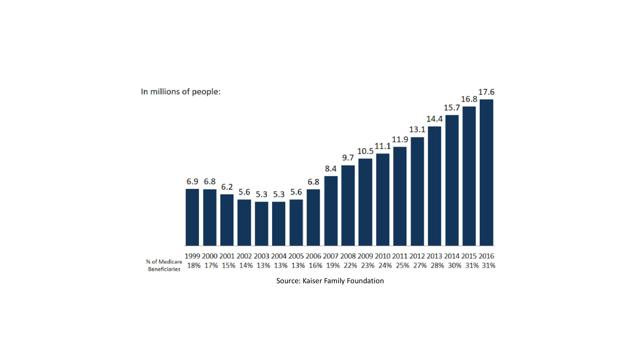 It can be argued that the enrollment recovery and subsequent growth spurt was the result of a change in focus. The initial emphasis was on cost savings, and this has shifted to expansion of services and benefits. Indeed, as recently as 2009-10, MA enrollees cost 14% more on average than Original Medicare. In a fascinating twist, MA advocates such as AHIP now argue that not only has MA reached cost parity but "despite the conventional wisdom Medicare Advantage costs more than FFS - that the Medicare Advantage program in reality costs less than traditional Medicare on average, and has been contributing to the recent downward trend in national Medicare fee-for-service spending". This has led to the definition and promulgation of a term known as "spillover" wherein innovations generated by the MA delivery system are said to lead to lower costs and better results throughout the Medicare system as a whole.
MA Enrollment
As of mid 2017, enrollment stood at 19M, which is 33% of total Medicare enrollment and an astounding rebound from the 5.3M/13% that was recorded in 2003. AHIP provides an excellent aggregate MA summary that provides a rolling monthly view instead of the usual annual enrollment view. MA offers five different types of enrollment plans: HMO, local PPO (LPPO), regional PPO (RPPO), Private Fee-for-Service (PFFS) and Special Needs Plans (SNP). As we can see from the chart below, the vast majority of MA enrollees are in either HMO or LPPO plans, much as we would expect (PFFS is close to the equivalent of Original Medicare).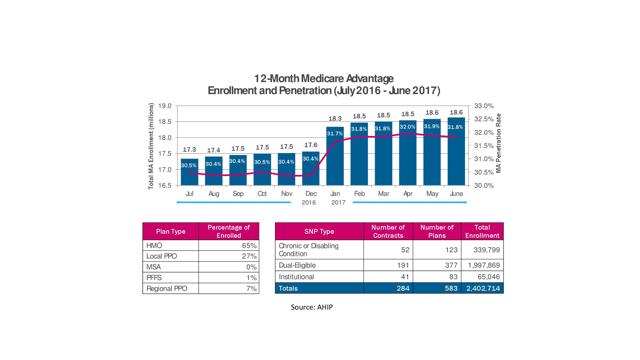 A rapidly expanding area of enrollment is known as Special Needs Plans (SNPs). SNPs are a type of MA plan that limits membership to enrollees with specific diseases or conditions. Specially designed plans then customize benefits, provider networks and drug formularies to meet the requirements of specific subgroups. There are three main types of SNPs - (1) Chronic Condition SNPs which handle conditions such as cancer, Dementia, Congestive Heart Failure and Diabetes; (2) Dual Eligible SNPs for those who have both Medicare and Medicaid coverage, and (3) Institutional SNPs for those living in an institution such as a Nursing Home. SNPs are a particular strategic focus for some of our coverage Universe for reasons which we will discuss below.
Group Insurance
The other key category is known as Group Insurance - typically sponsored by a labor union or as part of a corporate retirement benefit. This category has undergone rapid growth - doubling from 1.8M in 2009 to 3.7M in early 2017.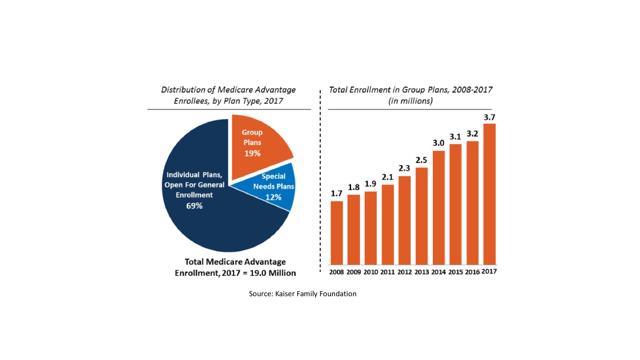 This constitutes an excellent target market for some of our coverage universe because of their strong presence in the non-Medicare Group Health insurance segment. There is already a pool of potential enrollees who are familiar with the HI company and thus may be naturally transitioned to MA via the combination of "aging in" to Medicare age and joint marketing efforts on the part of their own employer/union in conjunction with the HI company. An example from Pfizer based on the partnership with UnitedHealth is linked.
MA Geographics and Demographics
Similar to the case with Medigap above, there is a strong geographic component to MA adoption. The Kaiser Family Foundation (KFF) publishes a map with state-by-state MA concentration numbers in its annual MA Spotlight Enrollment Market Update report. As can be seen in the chart below, this is also a useful way to visualize changes in MA adoption concentration. Two key examples are: (1) the same "Belt" of states (e.g. North Dakota) that had unusually high Medigap numbers has unusually low MA numbers, and (2) you can clearly see adoption growth in states such as California which moved from the "yellow band" to the "orange band" as well as a general gradual transition from "blues" to "yellows" in several southeastern states - an indicator of steady MA growth. It should also be noted that even in states with high MA adoption such as California or New York, that the adoption rate varies widely on a county-by-county basis. One such example is the 56% adoption rate in the Bronx, New York vs. the 19% rate in Suffolk County, New York.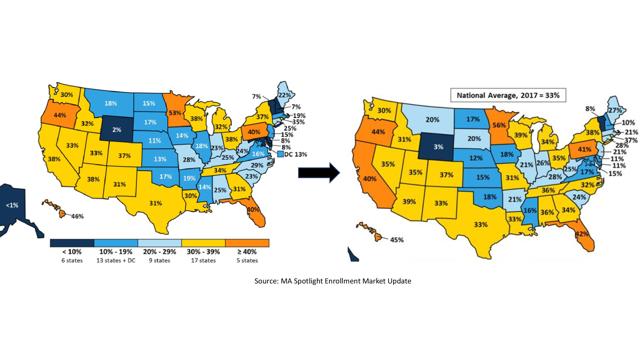 There have been arguments that MA plans were attempting to "cherrypick" more affluent, urban enrollees. However, as has been reported by the Medicare Current Beneficiary Survey [MCBS] (and can partially be seen from the maps above) - the MA population is more elderly, more low income and more racially diverse than the overall Medicare population and is increasingly coming from the Southeast.
The Quest for Quality
Beginning in 2008, CMS has generated an annual public report on its measure of MA plan performance. CMS rates the plans on a five-star quality scale based on the aggregation of a variety of clinical quality, member experience and customer service metrics. The stakes were raised in 2012 when CMS began to pay significant bonuses to plans based on their Quality Rating. The overall idea was to create a double-edged incentive for plans to focus on continuous quality improvement as: (1) the bonus payments lead to improved net income and margins, and (2) Medicare enrollees would make significant use of the rating information to determine their own plan selection. In addition, beneficiaries are allowed to enroll in 5-star plans at any time during the year, unlike the usual limitation of enrollment limited to the annual open-enrollment period. The results of this initiative can be seen in the diagram below - there has been a heavy shift out of plans rated 3-stars or 3.5 stars and into plans rated 4-stars or 4.5 stars. The 5-star proportion has remained remarkably stable over this 5-year time period, perhaps reflecting the scarcity of 5-star plan choices or the nuances of making plan choice decisions that are weighted by criteria other than the quality rating (e.g. existing primary care relationships).
MA Provider Market Share
Similar to the case of Medigap, the granular reporting of Medicare Advantage membership and revenues varies widely across our covered Universe. The best way to get a quick summary of overall market share is to make use of the most recent KFF MA Spotlight Enrollment Update report. We can see that: (1) the largest market shares by far are UnitedHealth and Humana, and (2) the market is highly fragmented with "other" taking the 2nd largest market share. A different method of looking at the market is to analyze geographic market concentration - i.e. what percentage of the local market is held by the top three providers. As we can see from the diagram below, the top 3 hold 70% of the market almost everywhere although the specific three varies widely by state.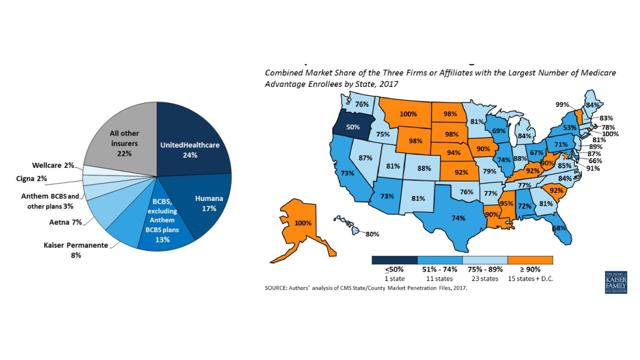 We can also utilize a series of these charts to show the market share migration over time - e.g. we can see UnitedHealth making significant market share gains in the period between 2015 and 2017.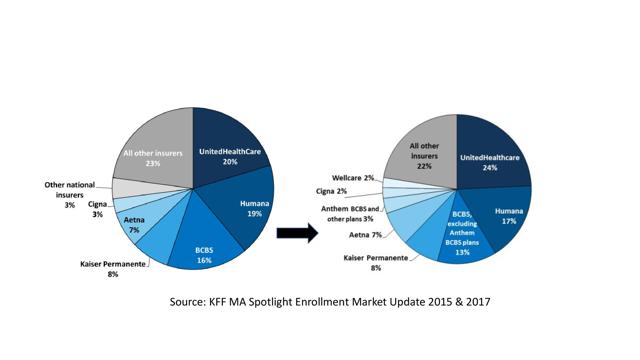 An alternative market share viewpoint can be derived from Medicare Payment Advisory Commission [MedPac] data which differentiates between metro/urban and non-metro/rural enrollees. We derived the table below from the MedPac information which is quite consistent with the KFF data above. The conclusion is that the ones to watch from a pure market share perspective are UnitedHealth, Humana, and Aetna.
| | | | |
| --- | --- | --- | --- |
| Metro/Urban | | Non-metro/rural | |
| UnitedHealth | 22% | Humana | 29% |
| Humana | 17% | UnitedHealth | 23% |
| Aetna | 8% | Aetna | 8% |
| Anthem | 3% | Anthem | 3% |
| Cigna | 3% | Cigna | 3% |
Some Medicare Advantage Wrinkles
There are a number of additional "levers" that MA Plan providers have utilized to improve their profitability. It is quite notable that MedPac is well aware of these factors and has explicitly called them out in congressional testimony. Thus, we need to be watching carefully for reactions that would in essence "plug the loopholes". These levers include the following:
Crosswalk - current MA rules allow "an organization to consolidate plans that previously had separate ratings into combined plans with a single rating. The star rating in such a case is the star rating of the surviving plan, regardless of the star ratings of the other plans being combined". In other words, contracts/plans are being consolidated for little purpose other than maximizing bonus payments. This happens with sufficient frequency that MedPac created some new vernacular called "contract cross-walking" describing the practice and MedPac has proposed several remedies
Health-biased Disenrollment - recent coverage in both the popular press Sicker Seniors More Likely to Drop Medicare Advantage and in a study by the Government Accountability Office [GAO] entitled CMS Should use Data on Disenrollment and Beneficiary Health Status to Strengthen Oversight suggest that Seniors in poor health switch from MA plans to Original Medicare due to lack of access to needed care and/or to preferred providers. This trend which the GAO has now named Health-biased Disenrollment has also been found to be highly correlated with low quality ratings on the 5-star system. Several remedies have been proposed and new rules called Medicare Advantage Network Adequacy have been proposed
Risk adjustment and coding intensity - as noted above, MA payments are "risk adjusted" and based on an enrollee's risk score. In the words of MedPac - "MA plans have financial incentive to ensure that their providers record all possible diagnosis as higher risk scores lead to higher payments". MedPac and CMS are well aware of this incentive and an annual downward adjustment is now applied to risk scores
Note to readers - in case it is not clear, MA plan providers have a number of additional tools (levers) that they utilize to improve profitability. These tools include crosswalking to enhance star-quality ratings and bonus payments, maximizing coding intensity to increase risk scores and PMPM payments, and encouraging high cost members to transition to Original Medicare. MedPac and CMS are well aware of these levers and have suggested counter-balancing remedies. We need to closely follow actions taken to implement these remedies due to their potential financial impact on our coverage Universe.
Spotlight on Medicare Part D
Medicare Part D was authorized as part of the Medicare Prescription Drug, Improvement and Modernization Act of 2003. The Act was signed in December 2003 and went into effect in early 2006. The program was designed to provide Medicare enrollees with coverage of outpatient prescription drug costs and was the culmination of a 38-year battle to add drug benefits to Medicare. The benefit has a complex design. The parameters for 2017 are captured in the diagram below. After an initial deductible is paid, the plan pays 75% of the costs up to an Initial Coverage Limit. After this limit is reached, there is a coverage gap often known as the "Donut hole". The enrollee is then responsible for a much larger share of costs up to the Catastrophic Coverage Threshold. Beyond this threshold, enrollee costs are substantially reduced. For low income enrollees (i.e. incomes at < 150% of FPL) there is a Low-Income Subsidy (LIS) program that eliminates the monthly premium expense and offers additional drug cost-sharing reductions.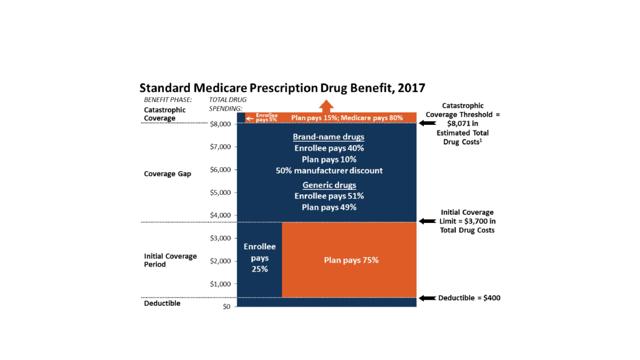 There are two forms of the prescription drug benefit - (1) a standalone plan known as the Prescription Drug Plan [PDP] and (2) a plan integrated with Medicare Advantage known as MA-PD. The benefit has been highly popular in both forms and the table below shows the growth in terms of numbers of members and percentages. Overall, 77% of Medicare enrollees have the benefit as of early 2017.
| | | | | | | |
| --- | --- | --- | --- | --- | --- | --- |
| | 2012 | 2013 | 2014 | 2015 | 2016 | 2017 |
| Medicare members | 49.5M | 51.3M | 52.8M | 54.3M | 56.6M | 58.1M |
| MA-PD | 13.4M/27% | 14.6/28.5% | 16.0/30.3% | 17.3/31.9% | 18.2/32.2% | 19.6/33.7% |
| PDP | 19.8M/40% | 22.5/43.8% | 23.3/44.1% | 24.0/44.2% | 24.7/43.6% | 25.1/43.2% |
| Total | 33.2M/67% | 37.1/72.3% | 39.3/74.4% | 41.3/76.1% | 42.9/75.8% | 44.7/76.9% |
Medicare Part D Geographic Considerations
Analogous to our discussion of Medigap and MA above, there are geographic aspects to Medicare Part D adoption and differentiation. First, there is a Part D "coverage belt" with very high enrollment rates similar to the Medigap belt - i.e. North Dakota, etc. Secondly, this same belt has a very high PDP enrollment rates. This is to be expected as Original Medicare goes hand-in-hand with PDPs and not MA-PDs. Finally, the presence of Low Income Subsidies is much higher in the Southeast and much lower in the "Medigap belt".
Market Share Analysis
Medicare Part D really consists of two different markets - the MA-PD market and the PDP market. Thus, it is best to examine the data for each market separately. In the MA-PD market, the top two of UnitedHealth and Humana have remained steady over time with Aetna and Anthem emerging from the pack but at a much lower level. Kaiser Permanente remains a strong presence, but growth at Kaiser continues to be limited by geographic footprint (and of course Kaiser is not publicly traded and hence not part of our coverage Universe). In the PDP market, there has been the explosive emergence of new players led by CVS Health (NYSE:CVS) and Express Scripts (NASDAQ:ESRX) with Aetna emerging from the pack at a lower level. Three key observations that can be made from this data are: [a] the importance of well chosen partnerships as the combination of UnitedHealth with AARP, UnitedHealth, with Walgreens (WBA) and Humana with Wal-Mart (WMT) make clear; [b] the pivotal importance of a strong stable of MA plan offerings as only key MA players are able to compete for MA-PD market leadership, and [c] the importance of strategic acquisitions such as CVS/Target and UnitedHealth/Symphonix in driving growth. The Medicare Part D opportunity is maximized by having sufficient balance to gain high market share in both the PDP and MA-PD markets.
Costs
The explosive growth of drug prices is a hot topic of discussion and concern among the public, policy makers and politicians alike. So, how profitable is the Medicare Part D business likely to be for our covered universe in such an environment? To get some perspective on the enormity of the problem consider the following facts: [a] Medicare Part D spent $3700 per member per year (PMPY) in 2016 on prescription drug benefits - more than 3x the expenditure level for either the commercial or Medicaid population; [b] Part D members had an average of 56 prescriptions PMPY as opposed to 13.8 for commercial enrollees; and [c] Part D spending is estimated to reach $94B in 2017 which is approximately 16% of Medicare spending. Part of what makes the business profitable comes from the relentless rise in Part D deductibles and coverage limits - these costs are detailed in the diagram below and are of course costs borne by the Part D enrollee.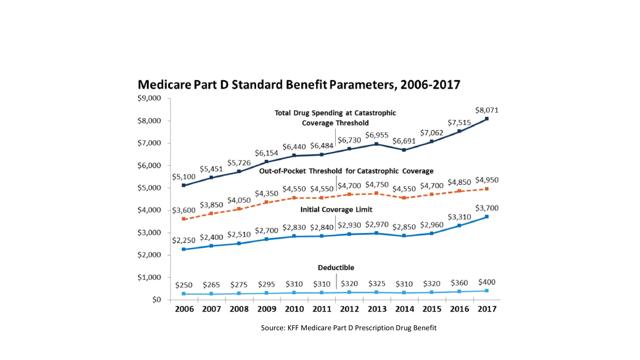 Another part of the answer comes from a deeper understanding of the nature of Medicare payments and the profit levers available to the HI companies. It seems to be well known that there is a restriction on Medicare negotiating drug prices. The restriction arises from the so-called Noninterference clause that was inserted into the Medicare Modernization Act. What seems to be much less known is that this restriction DOES NOT apply to the private HI companies that actually offer the Medicare Part D plans. These companies (especially the largest ones) negotiate extensively and have developed sophisticated 5-tier drug formularies with special rules for each tier. The point of these tiers is to encourage generic drug usage and to shift costs of expensive specialty drugs onto the enrollee.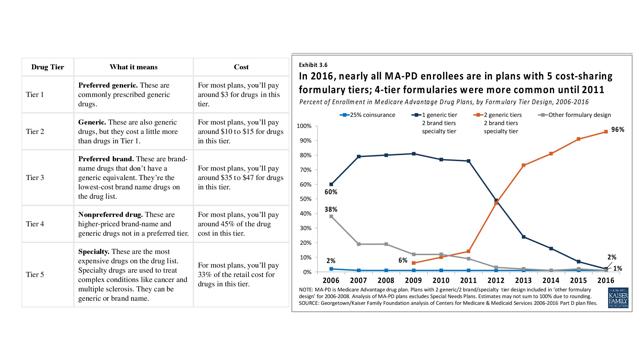 The tables above show a typical example of a five-tier formulary and the payment split between the plan and the enrollee for each tier. They also show the amazingly rapid switchover to 5-tier formularies (this holds both for MA-PD and PDP). Over a seven-year period, the 5-tier approach has grown from 6% to 98%.
Perhaps more important is the nature of the payment process. Note carefully from the diagram above entitled Standard Medicare Part D Prescription Drug Benefit that once the catastrophic limit is exceeded that it is actually Medicare (i.e. the Government) that is responsible for absorbing 80% of the net costs. Thus, we have a case of "perverse incentives" - enrollees requiring expensive specialty drugs quickly reach and exceed the Catastrophic Limit and the majority of the costs are borne by Medicare, Thus, there is less incentive for the plan to negotiate the best prices possible. The 80% is called "reinsurance" and generated 42% of Part D spending in 2016, up from 16% in 2007. Needless to say, this issue has not escaped the attention of MedPac and various potential changes are under study.
Coverage Universe Data and Commentary
As a reminder to our readers, our coverage Universe consists of the following HI companies: Anthem, UnitedHealth, Cigna, Humana, Centene, Molina, and Aetna. Many of these companies recently reported quarterly results. This is a Medicare-specific article so will focus on Medicare related membership and Business Balance issues in our commentary. Keep in mind that subsequent articles will focus on Corporate group and Medicaid insurance as well as the underlying financials for each individual company. The relevant membership numbers from the respective 10-Qs are depicted below followed by our summary comments.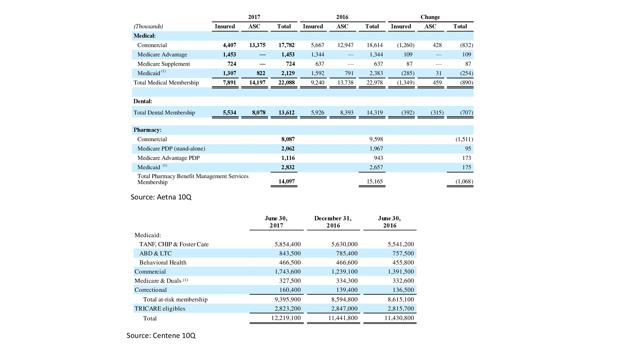 Aetna
With the failed Humana merger presumably behind it, Aetna is well positioned in the Medicare market. Although Aetna is 3rd in market share in MA, it is consistently showing strong membership and premium revenue growth and superior quality ratings. Aetna is also showing strong growth in plan accessibility - i.e. from 2015 to 2018, the percentage of MA beneficiaries with access to Aetna plans is forecast to grow from 45% to 60%. Aetna has an innovative care model and solid provider relationships within their current geographic footprint. Aetna also has strong balance between the commercial group, Medicaid, MA, Medigap, and Medicare Part D businesses. The key question remains - how to grow to the Medicare scale of Humana or UnitedHealth, which suggests that merger and acquisition activity is still likely. The Aetna Medicare membership data is captured above but Aetna currently fails to breakout MA revenue data and instead aggregates it with Medicaid revenue. More granular information is available in Aetna's investor presentation which suggests MA premium growth from $9B to $16B over the 5-year timespan between 2013 and 2017. Aetna is one to watch carefully.
Centene
Centene is currently a Medicaid giant and has yet to be a true Medicare contender. Although the HealthNet acquisition brought along a Medicare footprint, the current Medicare population including MA, Medigap and various SNPs, including Medi/Medi duals contributes a very small enrollee population that provided no membership growth in 2016-2017 as shown in the table above. Centene has suggested that it has the potential for a unique market positioning focused on the Medicare population at less than 400% of the Federal Poverty Level [FPL] - a group tightly associated with Centene's substantial Medicaid base. Centene's track record of generating growth and the big picture goal of 20% of future growth based on Medicare expansion makes them one to watch for future despite their current position.
Anthem
Anthem reported quarterly results on July 26th. As we can see from the data in the table above, Anthem is a Medicaid powerhouse but does not have equivalent strength or balance in Medicare markets - e.g. a distinct lack of Group MA members.
Molina
As we can see from the data in the table above, Molina's Medicare business is miniscule in comparison to the Medicaid business. The Medicare business, which consists of SNPs and Medi/Medi members, has low membership numbers and high Medical cost ratios. Molina was slated to gain Medicare Advantage members from Humana but, due to the merger failure, was instead paid a substantial breakup fee. It is now back to the regular business where Molina has their hands full given the scope of management changes, Medicaid issues, workforce reductions, etc. Molina is unlikely to become a substantial Medicare player in the foreseeable future.
Cigna
Cigna lacks a leadership presence in the Medicare market and indeed its share is shrinking despite strong overall market growth. Cigna's initial approach was to acquire presence and purchased HealthSpring for $3.8B in 2012 followed by the Sterling Life acquisition in 2015 to enter the Medigap market. In 2016, Cigna was hit with sanctions imposed by CMS which prevented marketing of MA plans. The result was a steep decline in quality ratings and MA and Medicare Part D enrollees. The sanctions were recently lifted but the damage was done. With the Anthem merger no longer under consideration, we would expect Cigna to look for further acquisitions. We also expect that CI will mount an effective MA marketing blitz resulting in a strong MA rebound.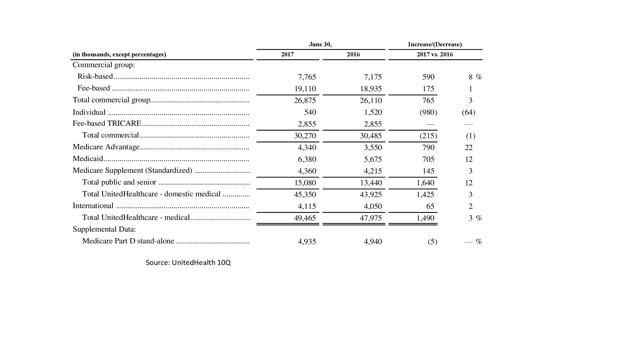 UnitedHealth Group
UnitedHealth is the industry leader in each of the Medicare segments we have discussed and is outgrowing the industry. They escaped the merger frenzy that engulfed the competition and instead focused on assembling and/or strengthening the capabilities (e.g. provider partnerships, data analytics, renewal of the AARP relationship, etc.) needed to solidify their position. Although it is not clearly broken out in their data table above - UNH also has a uniquely well-balanced position between both the individual and Group MA markets. UnitedHealth is the clear market leader in the Medicare market and certainly one to watch going forward.
Humana
Humana has a relatively small share of the Medigap market. More importantly, HUM has a very strong 2nd place position in the MA market and contends for market leadership in the standalone PDP market as we can see from the figures in the table below. Humana has raised its Star Quality via consolidations, has consistently achieved strong MA growth, has exited poorly performing geographic regions, and has built a strong MA-PD and PDP brand. The question we would raise about Humana is potential over-reliant on MA as they lack the diversified balance of several of the other Plan Providers.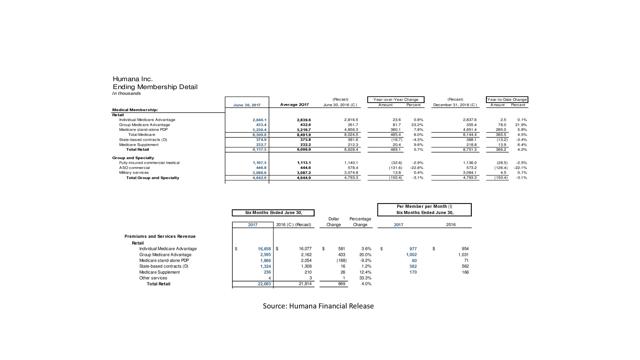 Humana has done an extraordinary job of assembling the capabilities to efficiently serve MA enrollees as well as to build out a set of increasingly incentive aligned provider networks. HUM has also does an excellent job of communicating the features and capabilities to Medicare beneficiaries as well as to the investment community.
Analyzing the Data - What does it all mean?
The conglomeration of the Medicare data from Medigap, Medicare Advantage and Medicare Part D prescription plans leads us to the conclusion that the attractiveness of a member our coverage Universe (in addition to the usual financial analysis) boils down to two key factors - one of which we call the MA Sweetspot and the other Business Balance. Each is discussed below.
Medicare Advantage in the Sweetspot?
HI companies have found themselves in the middle of a firestorm due to the politics of Repeal and Replace [see a particularly inflammatory example ]. In some respects, this is not new as both Medicare and Medicaid have long been budgetary targets due to their huge and rising expenditures and long standing conservative antipathy. We would argue that Medicare Advantage actually sits in a uniquely valuable sweet spot and thus should be a pivotal focal point for Plan Providers for the following reasons:
It is often argued that the private market will outperform "Government" healthcare/insurance. But MA is the privatized version of Medicare and it already has captured 33% of Medicare enrollees. Indeed the Congressional Budget Office (CBO) estimates that MA will have over 40% share by 2026 [see the New York Times article Gingrich's Correct Prediction about Medicare's Future to get some perspective]
Medicare enrollment is riding a demographic wave AND the enrollees constitute a powerful and politically active voting block. This makes all types of politicians think twice about open attacks. Contrast this with Medicaid where a politician can get away with saying "If they are able-bodied and they want to work, then they'll have employer-sponsored benefits like you and I do." There is a powerful and effective lobbying organization solidly behind MA, namely America's Health Insurance Plans [AHIP]. AHIP does an excellent job of marshalling congressional support of MA Plans and programs - their recent letter to the House Ways and Means Committee provides an example
MA Plan Providers have the opportunity, the incentive, the resources and perhaps the ability to develop a highly differentiated delivery system. This system will heavily utilize big data and create new payment approaches and operational procedures that align the incentives of Plan providers, care providers and Big Pharma alike (e.g. value based pricing). Such a system could provide a difficult to match breadth of resources including Medical, pharmacy, behavioral, dental, vision and hearing in a coordinated manner. The system could provide smooth transitions between Hospital care, community care and home care. Our covered Universe is uniquely positioned to create a system that really does enable spillover efficiency effects to Original Medicare and perhaps even beyond. An excellent (on paper) example of the possibilities of crisp and focused execution comes from Humana's investor presentation. Primary care preventative techniques together with holistic wellness/fitness and behavioral health approaches are core basics instead of afterthoughts. Execution on this vision would be difficult to match by fee-for-service Original Medicare without a major care Provider-driven restructuring. However, the reader should note carefully that vision and execution, especially in Healthcare, are often disconnected…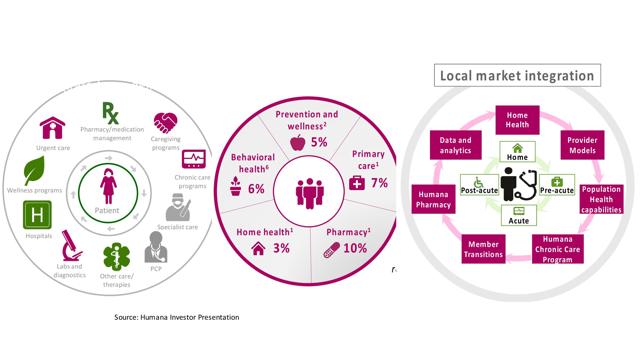 The reader should also carefully note the potential downsides which we haven't given much room for discussion in this article for example: [a] continual stealth budget cuts impacting MA PMPM payment rates and bonus payments, and [b] the rapid growth of large populations with multiple chronic conditions requiring multiple levels of hospital and long term care and escalating prescription drug usage. A rich source of data on this matter is the Medicare Chronic Conditions Data Warehouse. Exploration of this data shows a growing pool of expensive Medicare beneficiaries which Private HI companies have incentive to push onto Original Medicare (see the discussion of Health-biased disenrollment above). This may be especially true for the population of "dual eligibles" where data indicates especially high cost enrollees.
Business Balance
The best strategic approach for Megacap plan providers (i.e. our covered Universe) combines breadth and depth, in other words balance. Even if MA continues strong growth and reaches the predicted 40% of the Medicare population, that still leaves 60% of the enrollees. Thus, the plan provider should be well positioned to sell Medigap and PDP to the non-MA pool of beneficiaries. Recall from the discussion above that the geographics and demographics of MA and Medigap are still different.
A growing number of enrollees will select MA and indeed this should be viewed as the optimal business for plan providers. These plan providers will need to be well positioned with a bevy of MA and MA-PD plans and options that are readily accessible in key geographic areas. They must have a strong provider network in place with well aligned incentives. The plan provider needs to maximally leverage "age in" - as people become Medicare eligible you would like to transparently "roll" them to MA and MA PD plans. This implies strength in the commercial/group market and in select Medicaid markets as the dual eligible population expands. The plan provider must be able to effectively coordinate all of the medical services and simultaneously offer readily accessible mental health, preventative wellness, dental, vision, hearing and other services. Finally, the plan provider must have the scale to negotiate the most favorable terms and aligned incentives with both care providers and with drug/pharma companies in order to keep the costs under control.
The Bottom Line
Note carefully that this article only analyzes our coverage Universe from the Medicare perspective. Of course this needs to be combined with several other aspects (e.g. Commercial, Medicaid, etc.) and detailed financial analysis - all of which will be topics for upcoming articles in this series. The table below summarizes the results of this analysis by indicating the relative strength of the Medigap, Medicare Advantage and Medicare Part D segments as well as an indicator of overall Business Balance (as discussed above). The ordering in the table indicates our level of interest based on the Medicare analysis. The top tier opportunities are UNH and AET. The next tier of opportunities are HUM and CI. CNC is a speculative opportunity based on Medicare criteria. MOH is best served by staying away from Medicare for now - it seems fortunate that they received a cash breakup fee instead of MA footprint after the collapse of the Humana deal. Finally, for interested readers, we would suggest examining an ETF alternative to the individual stocks in our coverage Universe. This ETF is the iShares US Healthcare Providers ETF which has Ticker (NYSEARCA:IHF). This ETF is heavily overweight our coverage Universe with approximately a 48% weighting. In addition, the portfolio weights (except for ANTM) turn out to be quite closely aligned with our Medicare-based ranking.
Conclusions
Medicare is the huge, government HI system targeted largely at the 65+ population. Medicare has been rapidly growing based on the demographic wave that is fundamentally restructuring the USA population. With the recent drama caused by efforts at Repeal and Replace, new questions are being asked about the potential for Medicare For All as a viable solution to ongoing cost and access problems. However, it turns out that the majority of Medicare beneficiaries already participate in one or more forms of supplementary Privatized Medicare in the form of Medigap, Medicare Advantage, and Part D Prescription Drug Plans. These plans are purchased from private HI companies and are thus a major opportunity for our coverage Universe. The article summarizes the features, benefits and restrictions of each of these programs. The article then characterizes the enrollees and the plan providers for each of these programs. Finally, the article characterizes the relative strengths and investment opportunity associated with each of the plan providers from a Medicare perspective including the key decision factors identified as MA Sweetspot and Business Balance. We close with a ranking of our universe based on Medicare criteria as well as an alternative healthcare ETF suggestion.