In recent years, traditional banks are changing their physical channel based on branch networks to services based in the cloud, mobile, and digital channels in an effort to retain customers, as the FinTechs have changed the financial sector by offering new solutions and payment methods. It is estimated that 73% of all interaction between banks and clients are now digital, according to a study by Fidelity National Information Services, Inc. (NYSE:FIS), with not just millennials using these technologies but also older generations.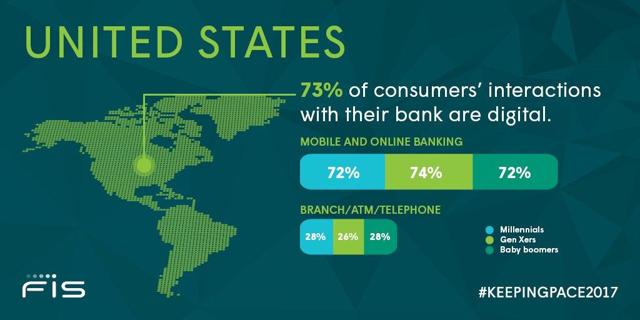 (Source: FIS study)
The technology gap is widening between the banks that still depend on "legacy IT platforms" developed 40 years ago and the major financial institutions that are investing heavily in developing and updating these old systems. This transformation is not just expensive for the retail and regional banks, but it is also time consuming to develop, a better option being to partner with companies offering these technologies rather than develop it by themselves.
One company that is focused on serving regional and community financial institutions (RCFIs) with solutions based in the cloud is Q2 Holdings Inc. (NYSE:QTWO), a company with a small market capitalization that, since it started trading, is showing double-digit growth together with high operating costs. Its services embrace a common platform that delivers unified digital banking services across online, mobile and voice channels that enable users to access and view their account activity.
Q2 Holdings has sustain its rapid pace, as revenue growth reported in the second quarter of 2017 was up to 32% year over year and 7% from the previous quarter, delivering a current $47.6 million in total revenue. This growth was followed by an increase in total users of 25% from the same period last year. The growth was driven by subscriptions and services revenues, which are displaying strong momentum and organic user growth. While Q2 Holdings have not presented an operational income yet, executives are expecting to report positive free cash flow by the second half of the year as a reduction in capital expenditure is seen.
Similar to Q2 Holdings, a competitor offering digital banking services and that is listed in its financial report is Bottomline Technologies Inc. (NASDAQ:EPAY), another company with small market capitalization that can be compared to Q2 Holdings, given that most of its revenue comes from the hosted solutions segment as well as subscription fees for its digital banking products.
Bottomline is transitioning its business model in recent years in an effort to join the cloud services and digital banking. So far, the digital banking segment represents a 21% of total revenue and is growing at a slow pace due to decreasing software license revenue that is offsetting subscription and transaction fees. Moreover, the increase in product development cost is causing a deterioration in margins, creating concerns between investors, as it seems difficult to justify these investments at the cost of modest revenue growth, even after the fourth-quarter result which has shown a recovery in revenue growth.
On the other hand, while these two companies seem to be moving into the digital banking, ACI Worldwide Inc. (NASDAQ:ACIW) is disinvesting its online and mobile banking solutions. After selling the community financial services (CFS) to Fiserv Inc. (NASDAQ:FISV) on March 3, 2016, revenue coming from the digital banking segment has been reduced from 21% to a 12.5% in fiscal year 2016. Management is trying to expand its software as a service product (SaaS) and platform as a service (PaaS) for large financial institutions in an effort to focus on higher growth opportunities and better-margin investments.
So far, total revenues have suffered the impact of the CFS divestiture throughout 2016 and the beginning of 2017. However, ACI Worldwide claims it has grown about 10% year over year in both the first and second quarters of the year, if the CFS divestiture and the impact of foreign currency are excluded. Meantime, while management is determined to push forward its transaction and payment solutions, revenues are expected to return to normal levels, as the company has reaffirmed its guidance for the full year 2017.
Performance

(Source: Extracted and calculated using data from the SEC)
ACI Worldwide has been the most profitable company over the past 5 years, reporting not just better margins but also a higher ROIC. While the gross margin, R&D, and G&A cost structure have been similar between these companies, historically ACI has been spending a lower percentage of total revenues in selling and marketing costs. This could imply a better adoption of its product compared to those of Q2 Holdings and Bottomline, since it continues to report sales growth. The relatively fixed cost structure and positive free cash flow have led to an authorized buyback program of $78 million, which speaks to management's commitment in returning capital to investors.
Nevertheless, it seems that over the past 2 quarters ACI has reported higher operating cost as a result of a countersuit from Baldwin Hackett & Meeks (BHMI), a long-time rival, which it was granted with $43.8 million given that ACI has failed to meet its burden of proof regarding the accusation of BHMI of violating antitrust laws and breaching a nondisclosure agreement.
On the other hand, it is important to highlight that these companies seem to be in different business cycles and their investment needs are particular, although leverage is quite similar between them. Q2 Holdings and Bottomline present lower levels of financial debt compared to the industry, as they have displayed a better capital structure by a small difference in the past 3 years.

(Source: Extracted and calculated using data from the SEC)
In the case of Q2 Holdings, its cost structure is anticipated to continue in order to support and expand its services and improve the existing solutions, since management continues to up its spending due to an increase in headcount and professional services to support the product road map and maintain the growth in sales. Even so, capital expenditure is forecast to decline in the second half of the year, as management is expecting to see a positive free cash flow by year end.
For Bottomline, its negative returns and margins can be explained mostly from the transition in the business model that has led to cost and expenses coming from banking implementations, ongoing internal system initiatives, and the company's global internal system implementations. So far, the plan to drive accelerated growth and better shareholder value will keep its pace, hoping that in the long run the company will achieve an expansion of operating margins.
Valuations
Since Q2 Holdings started trading, the company has been outperforming its competitors, as the price has gained 133% over the past 3 years, while ACI Worldwide and Bottomline have increased only about a 45% in the past 5 years, underperforming the S&P.
While the beta of Q2 Holdings, ACI Worldwide, and Bottomline, are at similar levels of risk at 1.60, 1.31, and 1.24 respectably, only the first one has been able to present a return above the market, driven by higher revenue growth compared to its competitors.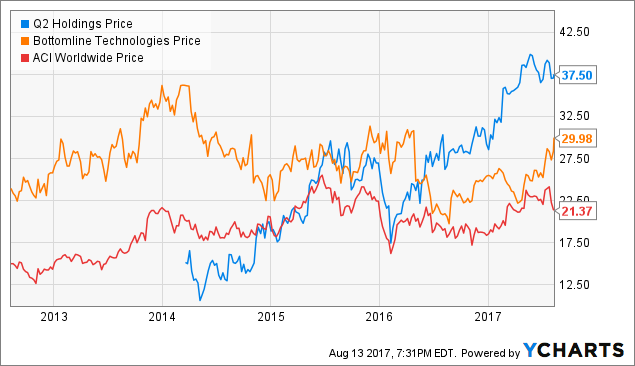 QTWO data by YCharts
At this point, Q2 Holdings' valuations appear to be trading at a considerable premium due to higher growth rates, while ACI and Bottomline's valuations are very much alike, even though the first one presents better fundamentals and better growth rates.

(Source: Calculated using data from the SEC and price data from Google)
The investment thesis is that Q2 Holdings offers a strong case of a growth company with low levels of financial debt and a large amount of capital expenses, although it is combined with valuations that are at the high end of the technology sector and also from record highs. Investors should be aware that the premium over its peers could put pressure on the price in the mid-term if the company does not manage to sustain both historical and expected sales growth.
In a different manner, ACI Worldwide could turn around the decreasing rates in revenues suffered in the past year, as the company has recently shown signs of improvement. Additionally, the current and future buyback program could potentially lower the valuations from its existing peak, as ACI hasn't seen these high levels in a long time, even back in 2011 and 2012 when it used to report double-digit growth.
Lastly, in a similar way, Bottomline could also turn around its rough patch, where it has passed from reporting double-digit growth to being basically stagnant. As its fiscal year end, revenue growth seems set to recover as the reception of its business payment product starts to improve. Additionally, this company has also implemented a buyback program in an effort to return some capital to investors.
Disclosure: I/we have no positions in any stocks mentioned, and no plans to initiate any positions within the next 72 hours.
I wrote this article myself, and it expresses my own opinions. I am not receiving compensation for it (other than from Seeking Alpha). I have no business relationship with any company whose stock is mentioned in this article.
Additional disclosure: This article represents the opinion of the author as of the date of this article. The information set forth does not constitute a recommendation to buy or sell any security. This article is based upon information reasonably available to the author and obtained from sources the author believes to be reliable. Investors are encouraged to conduct their own due diligence.