In my last article, we looked at CBOE's SKEW index and how the elevated 140+ reading indicated that traders were hedging more than usual for a back swan event, and how the VIX was due for a return to the upside. Well, we certainly saw the VIX return in a big way, with a 70% jump in the VIX last week, even if the S&P 500 itself only dropped a paltry 2%. CBOE reported a new record high of VIX futures traded (VIX Options and Futures Set New Daily Volume Records).
With the volatility of VIX (VVIX) spiking to the highest in a year (around 134), the likelihood is that VIX won't stay around 16. The volatility of the volatility index may sound odd, but all it reflects is the 30-day implied volatility of the underlying asset, which in this case happens to be the VIX. If you take a look at previous spikes in the VIX, they rarely stay high, even if we are entering the historically active VIX season. There's a decent chance VIX could revert back towards 10, particularly if the North Korea/Trump threat of war ends up being overblown.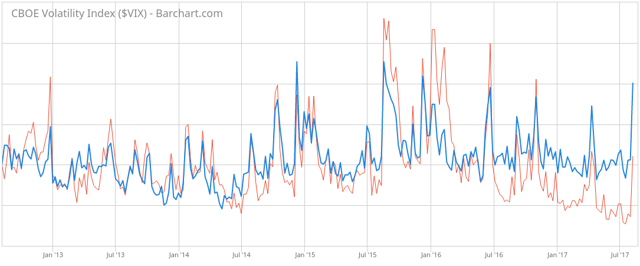 (source: barchart.com, $VIX and $VVIX 5-year chart)
As you can see, VIX spikes have typically not followed through with a higher baseline. This is why I am adding short volatility positions while the VIX sits around 15.
However, there are plenty of other issues on the horizon that could cause the VIX to spike higher in the short term. We have the U.S. debt ceiling deadline and the next FOMC meeting in September, the annual Jackson Hole symposium, as well as other economic data coming out. There's also the concept that built-up short vol positions could still due to fully unwind (read The Heisenberg's A Few Thoughts On Thursday's 12:30 'Kolanovic' Moment for more on this). So my recommendation is that you'll want to go both long and short volatility for the next couple of months.
Also, take a look at how strange the VIX futures curve has become - it is still overall in contango, but there's slight backwardation between the front and second month, and it is relatively flat from August through December: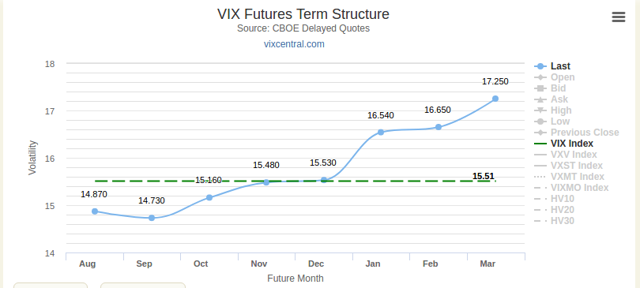 (source: vixcentral.com as of 8/13/2017)
If you're not interested in a complex trade, a simple and conservative play is just to buy the iShares 20+ Year Treasury Bond ETF (NYSEARCA:TLT). And before someone calls me out for not mentioning gold, while it is true that it is known as one of the ultimate safe havens, it has not always gone up when markets go down. If you must gravitate to gold, you may also want to consider platinum and silver as those have been beaten down and could pop higher. However, prices of metals are also driven by supply/demand and consumer/industry cycles, so there are no guarantees.
But if you're here for some trading ideas to profit from the recent volatility spike, here's how I'm playing both long and short.
For the long volatility leg, the easiest way is to buy the iPath S&P 500 VIX Short-Term Futures ETN (NYSEARCA:VXX) or short the VelocityShares Daily Inverse VIX Short-Term ETN (NASDAQ:XIV) shares (I can vouch that at least my broker, TD Ameritrade, has shares available to borrow, as I shorted XIV last week). The reason I feel comfortable buying VXX here, despite its propensity to head towards 0, is that it has remained historically speaking, relatively stable between late August and late October.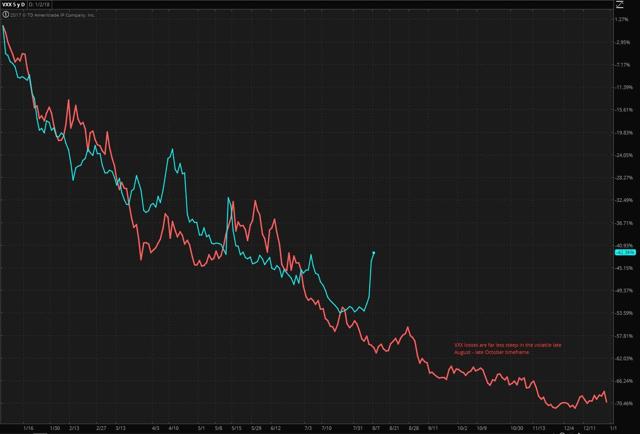 (source: thinkorswim chart of VXX YTD vs. VXX 5y seasonality)
Now, for the short volatility leg, I don't feel comfortable going long ProShares Short VIX Short-Term Futures ETF (NYSEARCA:SVXY) or XIV, due to the risk that another VIX spike or backwardation in the VIX curve would cause these funds to lose significant value. I would instead buy at-the-money (ATM) or slightly out-of-the-money (OTM) December or January puts in UVXY, which are especially volatile because the ProShares Ultra VIX Short-Term Futures ETF (NYSEARCA:UVXY) is a 2X long vol ETF. These puts should profit handsomely if VIX heads back down. The other interesting thing about these puts is that losses due to time decay (theta) of long puts is effectively reduced due to the underlying funds losing value due to contango between the front and second month VIX futures.
This is one of the easiest trades to make, and it ought to be doable in a non-margin cash account. I normally don't like buying long puts, but in this case the recent spike provides a nice risk-reward without exposing yourself to a violent move up. If VIX reverts to prior levels, the value of the put should rise significantly, and you can take your profits before December. Otherwise, VXX will have to rise significantly in order for you to profit on this trade.
Note: The following trades should not be considered as financial advice. Options are a wasting asset and can, and often do, expire worthless.
Example trade #1:
Long vol: Buy VXX (around $13.60), VelocityShares Daily 2x VIX Short-Term ETN (NASDAQ:TVIX) (around $23), ProShares VIX Short-Term Futures ETF (NYSEARCA:VIXY) ($45), or short XIV ($74).
Short vol: Buy the Dec 15 2017 UVXY $40.0 put (around $15 per contract)
A variation on this would be to buy cheaper VXX near-term calls and roll them forward. It requires more work to keep rolling the contracts forward every week or two, but there is far less initial cash outlay, and you can take a quick profit if the VIX reverts back down.
Example trade #2:
Long: Buy VXX Aug 25 2017 $14 calls (around $1/contract)
Short: Buy the Dec 15 2017 UVXY $40.0 put (around $15/contract)
You will need to pay attention to the market, and I would certainly buy more long vol puts at higher strike prices on any further vol spikes. Take your profits on big moves and adjust as needed.
Now let's look at another trade, this time with VIX futures. Let's look at a Short Call Ladder, which is a Bear Call spread with an additional long call to capture the upside.
Example trade #3:
Long: Buy the Aug 23 2017 VIX $21.0 call (around $0.80/contract)
Short: Sell the Aug 23 2017 VIX $14.0 call (around $2.10/contract) and buy the Aug 23 2017 VIX $20.0 call (around $0.90/contract)
This results in a net credit of $0.80 per contract. If the wide bear spread concerns you, sell an OTM put and tighten the spread. This would make the strategy similar to a reverse Iron Condor. Losses are contained to the downside, but you have unlimited upside if VIX spikes higher in the following days.
Summary: You may want to short the recent VIX spike as it tends to quickly revert back down to previous levels. In addition, you'll want to retain long volatility exposure due to VIX seasonality and the numerous catalysts in the months ahead.
Disclosure: I am/we are short XIV.
I wrote this article myself, and it expresses my own opinions. I am not receiving compensation for it (other than from Seeking Alpha). I have no business relationship with any company whose stock is mentioned in this article.
Additional disclosure: I am also short SVXY calls, long UVXY puts, long VXX calls. I may initiate additional positions in these as well as other ticker symbols over the next 72 hours.