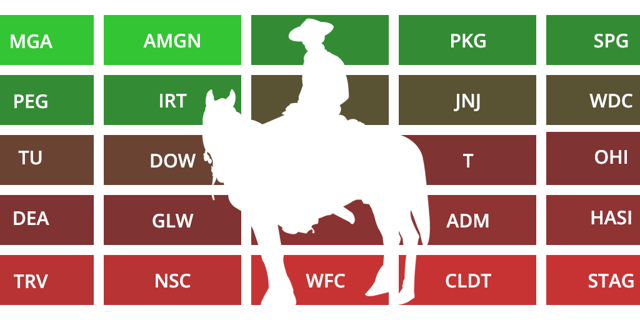 Credit: High Plains Investor
Portfolio Goals
For those who haven't read my introductory piece, the first group of stocks were purchased in the winter of 2015.
I used inherited funds upon my father's passing to buy an equal allocation of shares in 10 US companies, one in each sector.
The goals were to find large companies with growing earnings, stable cash flows, consistent dividends and low debt at a reasonable valuation. I have, for the main, kept to that strategy with some exceptions.
As of the end of July, my holdings have expanded to a current total of 21: 14 companies and seven REITs.
Monthly Performance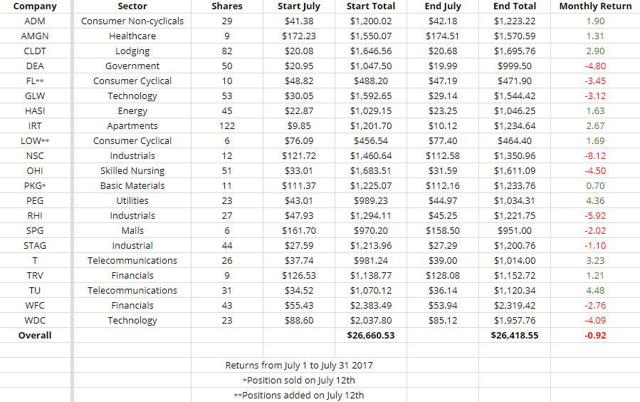 Credit: High Plains Investor
After an extremely pleasing June, when my portfolio rose by 2.8% over the month, many of my holdings went on vacation in July.
The overall portfolio dropped by 0.92% over the month as the latest earnings season arrived.
My strongest performers were Canadian telecommunications giant Telus (TU), and New Jersey utility Public Service Enterprise Group (PEG). TU and PEG are two of my longest-held securities and rose by 4.48% and 4.36% respectively.
Conversely, railroad Norfolk Southern (NSC) receded by 8.12% despite a fine earnings call. NSC increased its net income by 23% year-over-year and recorded a best-ever operating ratio of 66.3% yet STILL disappointed the market!
Elsewhere, there were noteworthy declines for Robert Half International (RHI), Easterly Government Properties (DEA), Omega Healthcare Investors (OHI) and Western Digital (WDC).
Those declines have not shaken my confidence in the affected holdings to any degree and I feel particularly positive about the prospects of WDC and DEA.
Overall Performance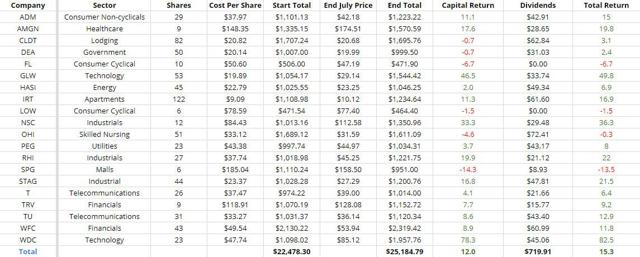 Credit: High Plains Investor
As of the end of July, my portfolio has had a capital return of 12%, and total return of 15.3%.
Mall REIT Simon Property Group (SPG) still wallows in the red despite continued excellence from its management. I appreciate that the retail sector is in a precarious state, but the lack of love for a company that just boosted its guidance and dividend baffles me. Still, I'm happy to accumulate more shares at a cheap price.
WDC has been my strongest performer for some time and I feel confident about its future in the storage business whatever may happen with the Toshiba situation.
I've held some Corning (GLW) stock from the very start of my portfolio and I continue to be impressed by its ability to adapt to changing trends in a broad range of industries. In June, I analyzed the Gorilla Glass manufacturer if you'd like to take a read.
Dividends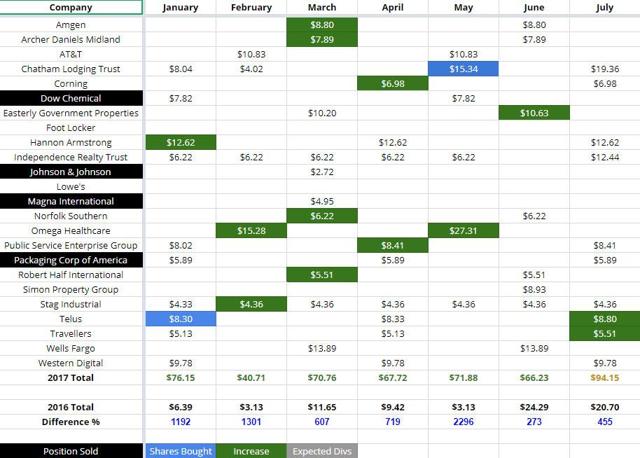 Credit: High Plains Investor
July was my finest month for dividends yet as I almost broke $100. It's a minor amount of money but from small acorns...
I received quarterly payments from Corning, Hannon Armstrong (HASI), Packaging Corporation of America (PKG), Public Service Enterprise Group, Telus, Travelers (TRV) and Western Digital. My monthly-paying REITs Chatham Lodging Trust (NYSE:CLDT), Independence Realty Trust (IRT) and Stag Industrial (STAG) also contributed to the final total.
One goal for 2017 is to reach annual dividend payments of $1,000 by year's end.
Acquisitions & Dispositions
It was an unusually busy month as I sold one stock for a healthy profit and purchased shares in two firms that I have long tracked.
On July 12, I traded all of my shares in Packaging Corporation of America. I bought into the paper company at $59.03 back in March 2016. With the stock trading at $112.16 at time of sale, I made a gain of almost 88% when dividends and commissions are counted.
The chief reasons why I sold PKG were valuation and profit. Although a very well run company, I felt that it was getting expensive at almost 23 times last year's earnings. I was also excited by the two dividend growth stalwarts lined up to replace the paper company.
I opened positions in Foot Locker (FL) and Lowe's (LOW) just after selling PKG. I have followed these companies for a while and have written articles for Seeking Alpha about the footwear firm and home improvement titan in recent months.
Thanks to the sale of PKG, I was able to add two dividend powerhouses to my portfolio with enough leftover to spend on a recent holiday. I'll take that!
What I'm Looking At
Apart from adding to current positions when the price is right, I have a variety of companies and REITs on my radar.
At the moment they include the following REITs; Digital Realty (DLR), CyrusOne (CONE), Realty Income (O) and Crown Castle (CCI).
Finally, with (hopefully) time on my side, I'm also investigating large cap growth names likes Alphabet (NASDAQ:GOOG) (GOOGL), Paypal (PYPL) and Celgene (CELG).
Disclosure: I am/we are long ADM, AMGN, CLDT, DEA, FL, GLW, HASI, IRT, LOW, NSC, OHI, PEG, RHI, SPG, STAG, T, TRV, TU, WDC.
I wrote this article myself, and it expresses my own opinions. I am not receiving compensation for it (other than from Seeking Alpha). I have no business relationship with any company whose stock is mentioned in this article.
Additional disclosure: At the beginning of August, I sold my position in WFC. I'll discuss the reasons in the next update.