If index funds buy the FANGs regardless of price then that's a risk. There's nobody sitting at the index funds saying let's not buy that today because it's too expensive. They have to buy it.

And anytime people buy because they have to, then the world is a dangerous place.

Howard Marks
One thing becomes clear in Howard Marks' latest CNBC interview. Following his memo, which I critically reviewed in The One Thing Howard Marks Got Brutally Wrong, Marks does differentiate between the dangers of investing in Alphabet (GOOG) (GOOGL), and Amazon (AMZN) and Netflix (NFLX), which trade at stratospheric multiples.

Marks is a value investor, leading Oaktree Capital (OAK), who's still listened to despite the raging bull market.
That's because he is a distressed bond specialist operating a private equity vehicle and that has been a particular fruitful place to be post financial crisis. It's not that he doesn't deserve it but at other times the likes of Bruce Berkowitz, Carl Icahn and Richard Pzena were revered and their every word worshipped as truth. Today they are mostly ignored.
Their more traditional value approaches have not worked as well. The reason for that isn't the subject of this article but you can at least partly chalk it up to the unusual outperformance of growth over value since '07 as illustrated by the Guggenheim S&P 500 Pure Value ETF (RPV) and Guggenheim S&P 500 Pure Growth ETF (RPG).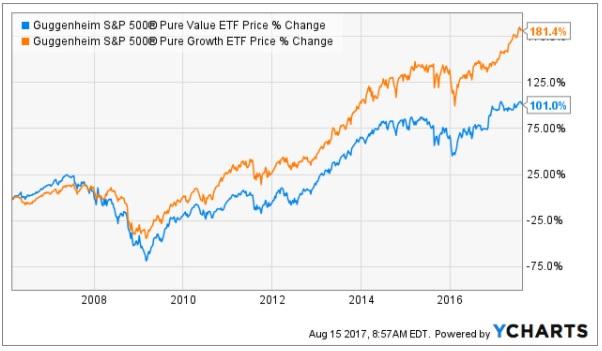 But like Marks they have been warning about the risks created by the ETF industry. Emphasis is mine:
But in the market today, the danger is that you have all this money pouring in America into ETFs and ETFs are sort of almost blind buying. You just buy these ETFs and I always question the fact that if you're buying these stocks and you really don't know what you own, you're prone to these periods of time – there could be some kind of crisis and there could be a problem.
Richard Pzena, a famous value investor, warned us too:
All active investors pay attention to the price. They all consider value. Passive investing pays no attention to the price paid.

That means in a sense, all active investors, within the constraints of their style box, are value investors.

Meanwhile, while allocating to passive, people are actively allocating toward liquid, momentum stocks with low volatility.
On CNBC Berkowitz talked about index investing. He called it a great solution if you don't get spooked, if you don't invest at highs or when interest rates are at a historic low. With these kind of recommendations, you don't need enemies. Summary: you know it will badly fail at some point.
Bill Ackman, of activist investment fund Pershing Square (OTCPK:PSHZF), in his early 2016 letter:
We believe that it is axiomatic that, while capital flows will drive market values in the short term, valuations will drive market values over the long term. As a result, large and growing inflows to index funds, coupled with their market-cap driven allocation policies, drive index component valuations upwards and reduce their potential long-term rates of return.

As the most popular index funds' constituent companies become overvalued, these funds' long-term rates of returns will likely decline, reducing investor appeal and increasing capital outflows. When capital flows reverse, index fund returns will likely decline, reducing investor interest, further increasing capital outflows and so on.
Then there are Murray Stahl and Steven Bregman who are the thought leaders on the drawbacks of the indexation industry. From the annual letter of FRMO Corp. (FRMO) (which they lead):
As a consequence of the industrial scale upon which indexes operate, the largest companies frequently have valuations far in excess of smaller companies. For example large-capitalization shares have outperformed microcapitalization equities for years. The Standard & Poor's 500 trades at nearly two times the price-book (P/B) value ratio of a typical microcapitalization index. This is very unusual.

However, the enormous industrial scale of indexation investing, as well as the market capitalization float adjusted methodology of weighting, requires maximum trading liquidity that simply cannot be provided by genuinely small companies.
I'll end the parade of famous investors with decade long track records established through a range of strategies with a short take from Weitz Investments:
Price distortions, including those caused by the growing popularity of indexing and ETFs, are making it hard to find investments at reasonable prices. This is annoying, but you pay us to "figure it out," so complaining is not helpful. The question is, "What are we doing about it?"
Weitz said it. The burden is on active managers to figure it out. Where to go from here?

Do something else
This is the time to be different. To really move away from the stuff your co-workers and neighbours are buying. Bonds aren't really an option. Holding cash can be a short term solution, but it is not a complete solution.

This is the time to be entrepreneurial and create huge upside exposure by taking very small risks. Obviously this is not a solution for everyone but if you can fund a small business that creates value for users, where you can take limited risk and where it is theoretically scalable, that can be a great alternative to buying overvalued liquid securities.

It is the time to venture outside of the U.S. where valuations are clearly less elevated (read The Gundlach trade).
It's the time to buy companies outside of the indexes or major ETFs. This can mean buying illiquid companies. These can't be held by ETFs, which puts them outside of the fallout zone once inflows into indexation products reverse.

It can also mean buying owner/operated companies. Owner/operated companies perform better during downturns and ETFs often can't hold companies with 50% of the float tied up by insiders. This is a selection criteria I suspect will be counterproductive towards generating solid risk adjusted returns.
Even small companies are often not represented at all or only in a very limited way by ETFs. I've already shown you the value vs growth graph. You probably won't be surprised micro caps underperformed the S&P 500 (SPY) in a big way since '07 as well.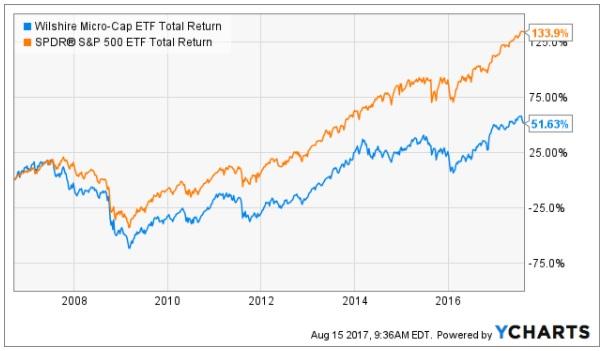 This is very unusual as well. Or as Quantpedia puts it:
The small capitalization stocks premium is one of the few effects which is accepted by nearly the whole academic community. It says that low capitalization stocks earn substantial premiums against stocks with large capitalization (without additional risk).
One of the major advantages individual investors have is that they only have to invest small sums. You could buy some land companies, some gold or miners, some cryptocurrencies, and you could buy without moving these markets. That's a luxury that the likes of Ray Dalio or Warren Buffett don't have.
If you have any great ideas on where to hunt for opportunities while avoiding major ETFs like the S&P 500 and its derivatives I'd love to hear them.
Disclosure: I am/we are long OAK.
I wrote this article myself, and it expresses my own opinions. I am not receiving compensation for it (other than from Seeking Alpha). I have no business relationship with any company whose stock is mentioned in this article.
Additional disclosure: I'm short a Euro ETF ISIN: IE00B802KR88 which is a low volatility S&P 500 ETF.