About two years ago, I moved IRA's and other long term investments with the goal of developing a portfolio of dividend growth stocks that would produce a steady income during our retirement. Mistakes have been made, and although results have been good, the overall portfolio was too volatile. SWAN (sleep well at night) was an elusive goal with this initial group of stocks. In the past year several highly volatile issues have been sold, and some less volatile stocks that became overvalued IMO were also traded to increase overall yield. Generally, I don't like to purchase anything that does not produce at least a 3.5% yield - a value that should produce real income after inflation.
I continue to avoid most bonds, because I believe that the next few years will be a bear market in these investments. The standard advice for retirees to own at least 50% bonds is going to have to wait, perhaps for a long time, depending on the Fed and the overall market.
My investing in the market goes back to 1982, and of course I have endured more than a couple of bear markets during that time. I have always believed that timing the market is a fool's game and selling in a bear market is not an option. Some advisors have recommended increasing cash in this very old bull market, and that might be a wise thing to do if you think that the bull is nearly dead, but my goal is to produce income and cash just won't do it. The days of double digit returns on cash are long gone.
So what has happened since last year? This was the portfolio in September 2016: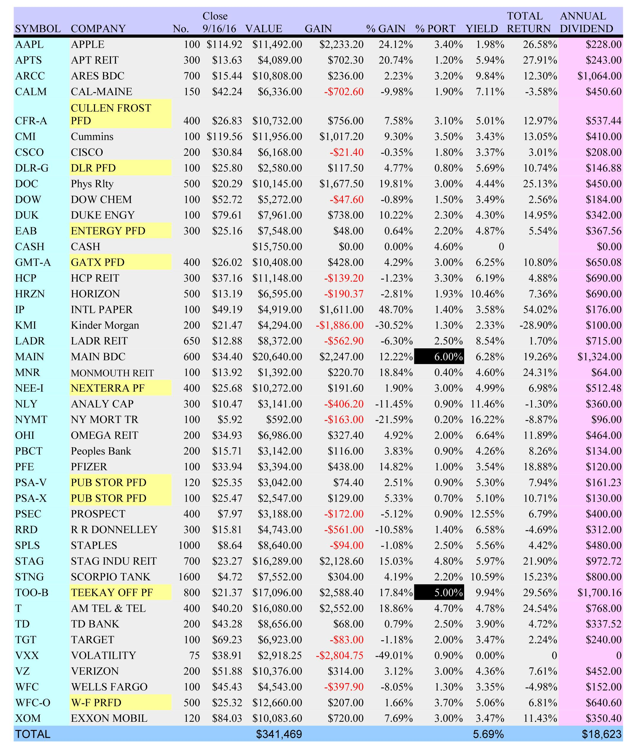 The yield was only slightly lower, but a number of stocks that proved too risky are gone including Kinder Morgan (KMI), Scorpio (STNG), Cal-Maine (CALM) and some others. Also, some profit taking was done to keep each issue below 6% of the total portfolio.
Here's the current portfolio: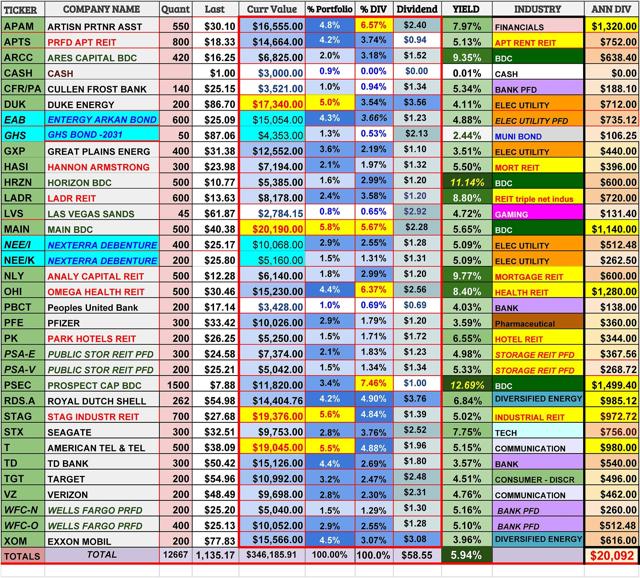 About $33,000 in dividends, interest and capital gains were withdrawn from August 2016 to date. Our goal is to maintain or slightly increase our initial investment capital. During bear markets only dividends and interest will be withdrawn.
Three stocks - Omega (OHI), Seagate (STX), and Target (TGT) have been disappointing this year. I think they will eventually climb back up the ladder, and I will hang on as long as the dividends keep coming in. I am worried about Target, however - the jury is still out on big stores. Seagate and Omega will likely catch up to the changing market conditions and be recognized for leadership in their respective markets.
In retrospect, I have not been a strict dividend growth investor who only sells if the dividend is cut. Rather, I have combined elements of momentum trading, value investing and dividend growth. The former traits will probably diminish over time, especially if the bears wake up, but the habits learned during many years of taking profits during up markets are hard to overcome.
As always, I welcome your comments, especially constructive criticism. The stocks mentioned are not to be taken as recommendations for your investing; I present these only to suggest one method of earning income especially for retired investors.
Disclosure: I am/we are long ALL LISTED STOCKS.
I wrote this article myself, and it expresses my own opinions. I am not receiving compensation for it (other than from Seeking Alpha). I have no business relationship with any company whose stock is mentioned in this article.