Bitcoin continues to surge. It's trading around 1 BTC to $4K USD.

As of July 31st, the Grayscale Bitcoin Investment Trust (OTC:GBTC) holds 0.09258535 Bitcoin per share. Let's translate that to USD:


In other words, one share of GBTC ought to be worth $367.89, give or take a few pennies. Instead, GBTC trades at around $684 right now.
Here's the explanation for the excessive premium: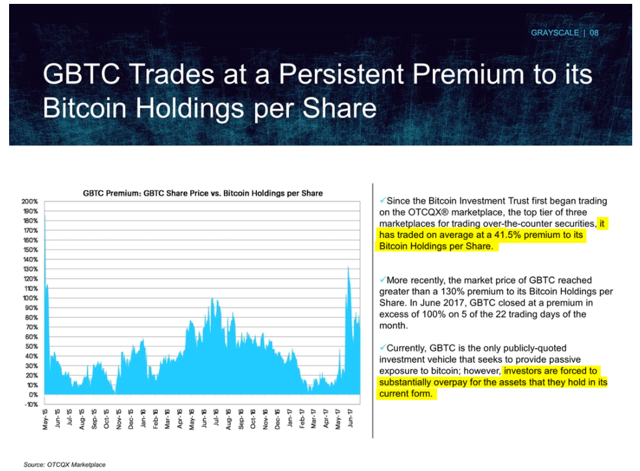 Source: Registration Statement No. 333-215627
GBTC has traded at an average premium to Bitcoin Holdings per Share because (per the July 14th, 2017 filing) it's the:
...only publicly-quoted investment vehicle that seeks to provide passive exposure to bitcoin.
I suppose the first level of insanity is the growth in Bitcoin value. It feels like a bubble, it feels like speculation. That can be debated.
What cannot be debated is the insanity in paying an average 41.5% premium over the value of Bitcoin. Why is this so crazy?
Because you can pretty quickly and easily join Coinbase. You sign up, connect your bank account, and then buy Bitcoin (or Ethereum, or Litecoin). In other words, it's a lot like turning U.S. dollars into Euro or Swiss Francs. To be perfectly clear...
You can just buy Bitcoin directly.
Bitcoin isn't so much of an "investment" as it is a digital currency. With a company like Coinbase or Kraken you can buy, sell and trade Bitcoin. Then you can hold your Bitcoin in a wallet or move it. Once you move money into Bitcoin, you can just sit and do nothing but watch the numbers go up and down. And, to be very blunt about this...
Owning Bitcoin is just as passive as GBTC.
In any event, investors aren't yet savvy about Bitcoin but they want in on the action. They are willing to pay that 41% premium to have skin in the game.
Gasoline is added to the flames every day like this: After calling latest surge above $4,000, Standpoint's Ronnie Moas raises bitcoin forecast to $7,500
I think that 41% average premium is insane and it opens up a huge risk as GBTC and Bitcoin converge. Competition will increases and it will crush the spread, e.g., VanEck files for Bitcoin ETF
I realize that many, many investors will call me crazy for not being in GBTC, or at least heavy into Bitcoin. I'll be the first to admit, there are many people who are winning at this Bitcoin speculation:

And you've probably seen at least a few people talk about how they are winning with Bitcoin. I see it every day on social media. There's a frenzy.
So, with GBTC, what's the "hidden in plain sight" pain?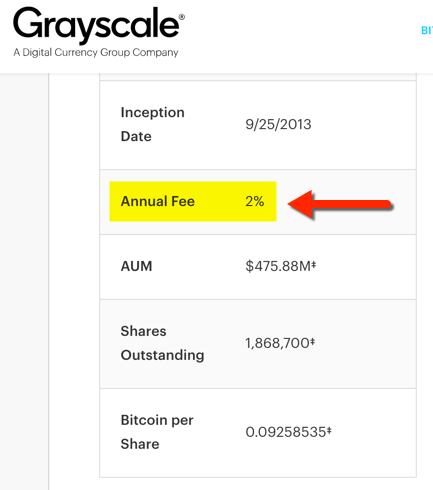 Source: Grayscale
The 2% annual fee. We know that 2% here and 2% there adds up. However, this 2% fee is a grain of sand compared to the 41% average premium, and it's a paltry sum compared to the +110% change since last month with Bitcoin:

Source: Coinbase
So, we have a massive 41% premium to the intrinsic value (or market value) of Bitcoin. And then on top of that, there's a 2% Annual Fee. This is all washed away because GBTC "investors" want to play the Bitcoin game but they don't want to get their hands dirty with actual Bitcoin. The price of admission is very high, and there are many cuts bleeding investors.
Wrap Up: If you enjoyed this, I only ask that you click the "Follow" button. I am always looking to learn from others and to increase my circle of friends here on Seeking Alpha. I appreciate your feedback and your comments.