Note: This article was first published on 17 July 2017 on Trend Investing, therefore all data is as of that date.
Scandium is not rare; however, finding commercially viable grades (>200-300g/t) of scandium is very rare. With lightweight electric vehicles ((EVs)) and airplanes becoming increasingly popular, the demand for scandium could skyrocket, whilst supply may be constrained - similar to the 2017 cobalt story that I was very early to forecast and have covered in depth.
Similar to cobalt, most scandium is produced as a by-product of the production of other metals - nickel in particular.
Scandium uses
Scandium is used for the following:
1. Scandium/aluminum alloys – By adding a small percentage of scandium it allows aluminum sheets to be welded to each other. This is used in the aerospace and automobile industries. Note that the lightweight, strength and corrosion resistance of scandium/aluminum has huge potential future demand from the EV industry.
2. Optics and lasers.
3. Fuel cell technology.
4. High performance sports equipment – Scandium/aluminium alloy sports equipment includes such items as baseball bats and bicycle frames.
5. Gun making – Gun revolvers and frames can be made with scandium alloys.
6. Metal halide lamps – Scandium iodide together with sodium iodide produces a white light resembling sunlight.
A key to understand is that by using scandium it offers both cost and strength improvements by promoting lower cost forming techniques on complex shapes, and offering lower cost design options and lower assembly costs.
Scandium uses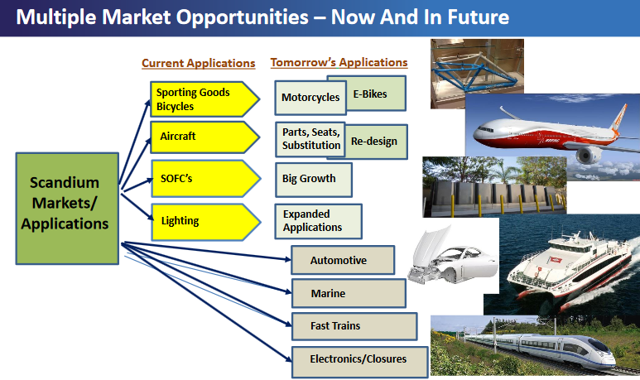 Source
Scandium's benefits are known and understood, but global supply is only a fraction of latent demand. Scandium markets are waiting for reliable supply volumes, from transparent sources, and at viable pricing levels.
Scandium oxide price - US$4,200/kg

The 99.95% scandium oxide price is quoted on Mineralprices.com at US$4,200/kg, or for 99.9% scandium metal at US$15,000/kg as of Dec 31, 2016.
The market size is estimated to be only about 15 tonnes traded pa so a very small market right now. There is potential for the scandium market to grow by several multiples especially if reliable supply can come online at more reasonable prices (~US$2,000/kg).
Scandium demand and demand
Demand
Demand has historically been very limited due to scandium's very high price. Total global demand has been only about 5 to 15 tonnes pa and used mostly for the aerospace industry components that require strong lightweight aluminum/scandium alloys. This type of component has been used in Soviet missiles and MiG-29 and MiG 21 military aircraft.
Supply
Supply has been mostly from Russian stockpiles, and some Chinese mines, with a total annual production of only around 10 tonnes. Global supply is thought to be only a fraction of latent demand.
Although low levels of scandium are not uncommon, economic mine-able deposits averaging at least 200 grams a tonne are very rare, as only four such resources are known to exist worldwide.
A look at the scandium miners
Australian Mines [ASX:AUZ] - Price = AUD 0.016 ~ 75% SCONI

Australian Mines currently has a market cap of AUD 34m.
They have two main projects:
SCONI - Joint Venture agreement to acquire up to 75% of SCONI from Metallica Minerals. The SCONI Project encompasses five deposits (two scandium-cobalt rich, and three nickel-cobalt). The resource has 12 million tonnes at 162 ppm scandium for 2,989 tonnes of scandium oxide, 514,000 tonnes of contained nickel metal (@0.58%) and 54,000 tonnes of contained cobalt metal (@0.06 %). They have a Bankable Feasibility Study in progress.
Flemington project - An option from Jervois Mining over one of the highest grade scandium deposits in the world, adjacent to Syerston in NSW, has a resource of 3.14Mt @ 434 grams per tonne scandium.
You can view the company's April 2017 presentation here.
Clean TeQ [ASX:CLQ] (OTCQX:CTEQF) - Price = AUD 0.72, USD = 0.60

CleanTeQ currently has a market cap of AUD 343m.
CleanTeQ 100% owns the Syerston nickel, cobalt, scandium laterite project in NSW, Australia. Also of great interest is that mining legend Robert Friedland owns 20% of the company.
The Syerston Project is one of the largest and highest grade scandium deposits in the world and one of the highest grade and largest nickel and cobalt deposit outside of Africa. The resource reserve is 700kt of contained nickel (grade @ 0.65%) and 114kt of contained cobalt (grade @ 0.1%), supporting a 20-year mine life (39 years if all resources included). The total measured, indicated, and inferred scandium resource is 18,083 tonnes contained scandium oxide at an average grade of 419ppm.
The September 2016 PFS resulted in post tax NPV8% of US$891m, with a post tax IRR of 25%. Capital costs of US$680m. Assumes a nickel price of US$7.50/lb and a cobalt price of US$12/lb. The cash cost of production net of cobalt credits was forecast at US$0.89/lb nickel. Note that the nickel price is above current prices and the cobalt price is well below, and scandium was not included in the PFS economics.
The project is fully permitted with a strategic partnership and AU$81m placement to Pengxin Mining. Pilot plant has processed ~20t of ore with customer samples progressing well.
For now, the focus is on nickel and cobalt with scandium as a bonus, as it has been excluded from the PFS economics.
Catalysts include:
Bankable Feasibility Study by Q4 2017

Binding off-take agreements and further project finalizing
Jervois Mining Limited [ASX:JRV] - Price = AUD 0.09

Jervois Mining currently has a market cap of AUD 13m.
Jervois owns 100 percent of two major nickel-cobalt-scandium-deposits in New South Wales, Australia. Flemington is currently optioned to Australian Mines.
There is some checkered history as investors can read here.
Metallica Minerals [ASX:MLM] - Price = AUD 0.06 ~25% SCONI project

Metallica Minerals currently has a market cap of AUD 18m.
The company has optioned off 75% of their SCONI scandium-cobalt-nickel project, which is located in Northern Queensland. The company states that it could become the largest source of scandium in the world. Metallica Minerals will most likely retain a 25% share if Australian Mines meets all the steps.
Meanwhile the company is focusing on their other projects such as the Urquhart Bauxite project, also in Northern Queensland. You can view the June 2017 company presentation here.
Platina Resources [ASX:PGM] (OTCPK:PTNUF) - Price = AUD 0.10, USD = 0.07

Platina Resources currently has a market cap of AUD 10m.
Platina 100% owns the Owendale Scandium-Cobalt-Nickel-Platinum laterite project in central New South Wales, Australia.
They have 16,500 tonnes of scandium oxide contained at a grade of 385ppm, and 13,200 tonnes contained cobalt at a grade of 0.15%.
The company has the potential to become Australia's first scandium producer with cobalt, platinum and nickel credits.
The company expects to complete their Feasibility Study in early 2018.
The company also has 100% ownership of the Skaergaard project in Greenland. This is one of the world's largest undeveloped gold deposits and one of the largest palladium resources outside of South Africa and Russia.
Scandium International Mining Corp. [TSX:SCY] (OTC:SCYYF) - Price = CAD 0.30, USD = 0.25

Scandium International currently has a market cap of CAD 69m.
Scandium International's flagship project is the 80% owned Nyngan Scandium Project, at Nyngan in New South Wales, Australia. It is the largest scandium only resource in the world.
Their NI 43-101 Measured & Indicated resource is Measured: 5.7Mt @ 256 ppm Sc/t, and Indicated: 11.2Mt @ 225 ppm Sc/t.
Minerals exploration at the site has defined a measured and indicated resource significantly larger (7X) than the currently planned 20-year mine life outlined in the feasibility study.
Nyngan is a surface mine-able resource, with an excellent infrastructure & jurisdiction.
May 2016 Definitive Feasibility Study highlights for the Nyngan scandium project:
"Capital cost estimate for the Project is US$87.1 million,

Operating cost estimate for the Project is US$557/kg scandium oxide, selling price forecast at US$2,000/kg scandium oxide

Oxide product volume averages 37,690 kg per year, over 20 years,

Project Constant Dollar post-tax NPV10% is US$177 million, (post-tax NPV8% is US$225 million),

Project Constant Dollar IRR is 33.1%,

Oxide product grades of 98-99.9%, as based on customer requirements,

Project resource increases by 40% to 16.9 million tonnes, grading 235ppm Sc, at a 100ppm cut-off in the measured and indicated categories, and

Project Reserve totaling 1.43 million tonnes, grading 409ppm Sc was established on part of the resource."
The project has received all key approvals, including a mining lease, necessary to proceed with project construction. Initial off-take agreement of 7,500 kg/year (3 years, renewable) is in place. Production targeted for 2019 at approximately 38,000 kg per year of scandium oxide (scandia) (Sc2O3).
Financing for construction and further off-take partners is currently being sought.
The DFS outlines a 20-year mine life using less than 10% of M&I resources; hence there is a large potential to expand mine output, extend mine life, or both. The company also has an adjacent project - the Honeybugle Scandium Project. Drill results similar to Nyngan property with 30 exploration holes drilled during 2014. It offers excellent expansion potential as required.
Investors can read the company's May 2017 presentation here.
For more information investors can view an excellent John Kaiser video here, where he is forecasting a scandium boom.
Conclusion
As the car and airplane industries move to lightweight materials to gain additional fuel savings and increased range, the need for scandium/aluminum will grow exponentially. Up until now, there has been no reasonably priced source of scandium supply. However, with the advent of electric vehicles and the need for maximum range per kWh of battery per EV, and new lower cost scandium supply coming to market, demand for scandium could skyrocket.
Risks remain as to the viability of the scandium industry, as well as the usual risks around mining, so investors should take a cautious approach. As usual with greater risk also comes greater reward should scandium demand take off dramatically. Existing or near-term scandium producers can do exceptionally well. Only a small investment for now appears warranted based on the risk/reward balance.
My top three scandium plays right now are Scandium International Mining, CleanTeq, and Platina Resources. Australian Mines would be my fourth, but they do have over 2 billion shares on issue.
I would be happy to hear your views on the scandium market and any good scandium plays. As usual all comments are welcome.
Disclosure: I/we have no positions in any stocks mentioned, but may initiate a long position in INTERNATIONAL SCANDIUM over the next 72 hours. I wrote this article myself, and it expresses my own opinions. I am not receiving compensation for it (other than from Seeking Alpha). I have no business relationship with any company whose stock is mentioned in this article.
Additional disclosure: The information in this article is general in nature and should not be relied upon as personal financial advice.
Editor's Note: This article covers one or more microcap stocks. Please be aware of the risks associated with these stocks.