The Samsung of fashion and cosmetics brands are fast emerging in Korea.
The world's leading fashion and cosmetics brands are overvalued. Investors should look to undervalued fashion and cosmetics brands for meaningful upside. Korean fashion and cosmetics players offer the best value in the sectors in terms of brand value, growth, and fundamentals.
Brand value chain ensures royalty, market presence, expanding coverage, profitability, and higher EV
The benefits that brand value gives to consumers are the starting point for creating a high entry barrier to the consumer goods market: 1) basic trust in product value including safety issues as well as the power to penetrate both on- and off-line channels save consumers' time and efforts; 2) 'prestige' brands reduce consumer risks because of their functional superiority over mass/masstige brands; and 3) using brands is one of the most popular ways for consumers to express themselves. Because of such characteristics, companies with renowned brands enjoy high royalties and market presence, which ensures earnings stability. They gain growth momentum by adding more brands to their portfolios and expanding regional coverage. In the end, a stronger brand value chain boosts customer loyalty and helps strengthen the brand's market presence while providing momentum in a new market. Ultimately, this leads to stronger company fundamentals. Enterprise value grows as a result, higher multiples are applied, and stocks trade at higher valuations.
Cosmetics: Fundamentals weak short term but EV to rise mid/long term, stocks to be fairly valued soon
The cosmetics sector index rose steadily in 2014-2015 thanks to a surge of Chinese inbound travelers to Korea and extension of prestige product lineups. However, starting with the Middle East respiratory syndrome (MERS) outbreak in 2H15, increased tensions over the deployment of the Terminal High Altitude Area Defense (THAAD) system in July 2016 coupled with China's ban on group tours to Korea have resulted in a series of stock deratings. In 2015, the sector enjoyed a 250% premium to the KOSPI, trading at 33-38x 12-month-forward P/E but it currently trades at 23x, with the premium shrinking to 137%. With fundamentals deteriorating in the short term and Chinese inbound tourist volume falling back to the pre-2014 level, we think stock deratings are understandable. However, from a mid- to long-term investment perspective, we note that sector fundamentals have greatly changed compared with the past: first, the Chinese cosmetics market has grown in importance and the position of "K-Beauty" in overseas markets including China has also been upgraded; second, large cosmetics companies' prestige product portfolios are strengthening and medium-sized firms' newly launched brands are growing rapidly; third, EV contraction in the short term is unjustified given the enhanced brand value and other valuation-driving factors (e.g., royalties in China, further market penetration into greater China, etc.); and fourth, improvements in company fundamentals are a matter of time following a recovery of Chinese inbound volume and the normalization of the Chinese market.
1. Brand valuation process and methodology
Brand equity is defined as an asset that, when strong, provides a company with higher profits with the same level of marketing efforts as the brand name itself is expected to produce differentiated effects. The M&A history of a US tobacco manufacturer Altria Group (MO) over the past three decades is one of the best examples that showcases the implications of powerful brand equity. In 1985, Altria Group, the then-named Philip Morris, bought General Foods for USD5.8bn and then in 1988 bought Kraft Foods for USD12.9bn (four times the book value of its fixed assets). The value of tangible assets (materials and products) was just USD1.3bn so the remaining USD11.6bn was paid for intangible assets such as brands, goodwill, and intellectual property. The deal marked an important milestone in M&A history where brand equity was considered an important company asset. Indeed, intangible assets' share of EV at the US S&P companies was at the 10% level in the 1970-1980s but by the 2000s, the percentage surged to over 70%. Afterwards, Altria, then-named Kraft Foods, purchased Nabisco for USD1.5bn and was sold off for USD46.1bn in 2007 after an IPO in 2001. Even when considering the hefty amount paid for General Foods and Nabisco, Kraft Foods was sold off for USD46.1bn in the end for a gain of USD25.9bn.
In 2015, Berkshire Hathaway (BRK.A) (NYSE:BRK.B) bought Kraft Foods and merged it with Heinz to establish Kraft Heinz Co (26.8% ownership). With sales of USD26.5bn and an operating profit of USD6.1bn as of 2016, Kraft Heinz is now the world's fifth-biggest F&B company with eight mega brands generating over KRW1tn in annual sales and five brands with over KRW500bn in annual sales. Its market cap has risen to USD114.1bn (USD63bn prior to M&A). At the time of M&As, a 50% stake in Heinz was bought for USD23.3bn and a 50% stake in Kraft Foods was worth USD36bn. After calculations, both companies' values at the time of M&As are, combined, more or less similar to the current market cap of the post-M&A entity. This suggests that brand value can be the basis for M&A value and in turn M&A value can be a prelude to a market cap.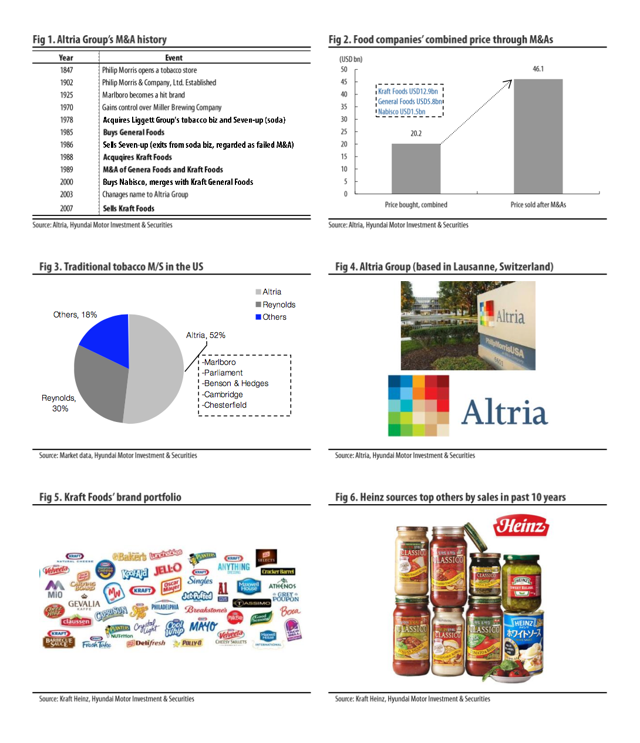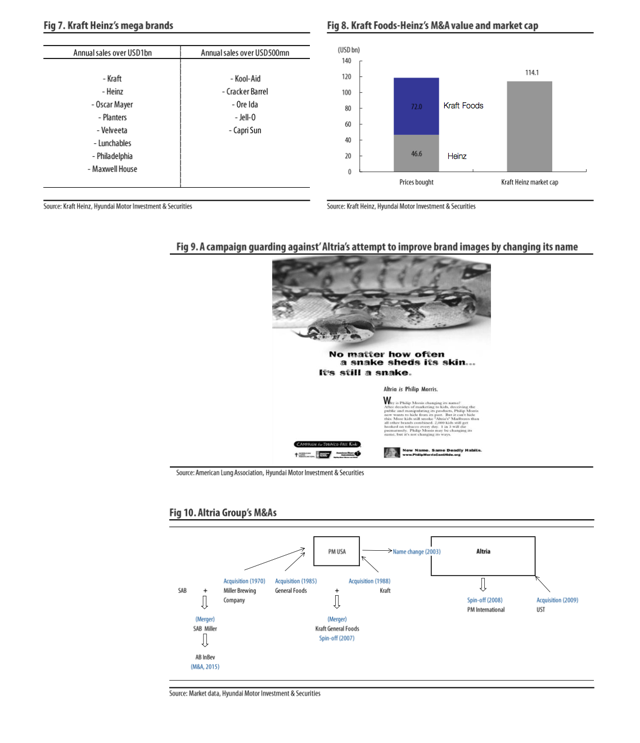 Brand value chain runs in a virtuous cycle
Ideally, brand knowledge develops into brand preference and finally brand loyalty. When a company has strong brand loyalty, 1) consumers spend less time and energy to buy a product because of their confidence in product value; 2) prestigious brands in particular ensure superior performance compared with mass/masstige brands and therefore reduce risks for consumers; and 3) consumers often use brands as a way to express themselves. In the value process, knowledge of a brand develops into brand preference and brand loyalty. It then again leads to stronger and expanded brand knowledge, thus a brand value chain runs in a virtuous cycle.
Brand knowledge is composed of brand awareness and brand image. Brand awareness is achieved through advertising/promotion/marketing activities which result in brand recognition and brand recall. Brand image is formed through perceived quality and emotional association. Since these factors determine brand preference and loyalty, it takes time and a tremendous amount of effort to establish brand value. Once a brand image is built, it is also difficult to improve or change. This is the prime reason that brand value deserves a high valuation multiple.
A brand value chain is associated with company fundamentals. In existing markets, brand competitiveness provides a company with a cash cow and ensures high profitability. In new markets, brand competitiveness makes initial launching easier and helps expand regional coverage and facilitate rapid growth. As such, brand equity is an important factor that determines the direction of shares in the mid/long term and affects a company's value in the M&A market.
Interbrand's brand valuation methodology
There are three major ways to assess brand value: marketing, financial, and comprehensive approaches. The most widely known method is a comprehensive approach by Interbrand, which calculates brand earnings from a financial standpoint and assesses brand strength from a marketing perspective. The brand earnings approach calculates the operating profit of a brand to determine profit purely coming from brand equity. Brand earnings are brand sales minus sales cost, marketing cost, indirect cost, capital cost, and tax. On the other hand, seven criteria are used to determine brand strength-leadership, stability, market, internationality, trend, support, and legal protection-with a certain weight given to each criterion. Based on brand strength score, an S-curve can be drawn to produce a discount rate and with this, brand earnings are converted to present value, which is brand value. There are other ways to assess brand value but Interbrand's methodology is the most widely used globally.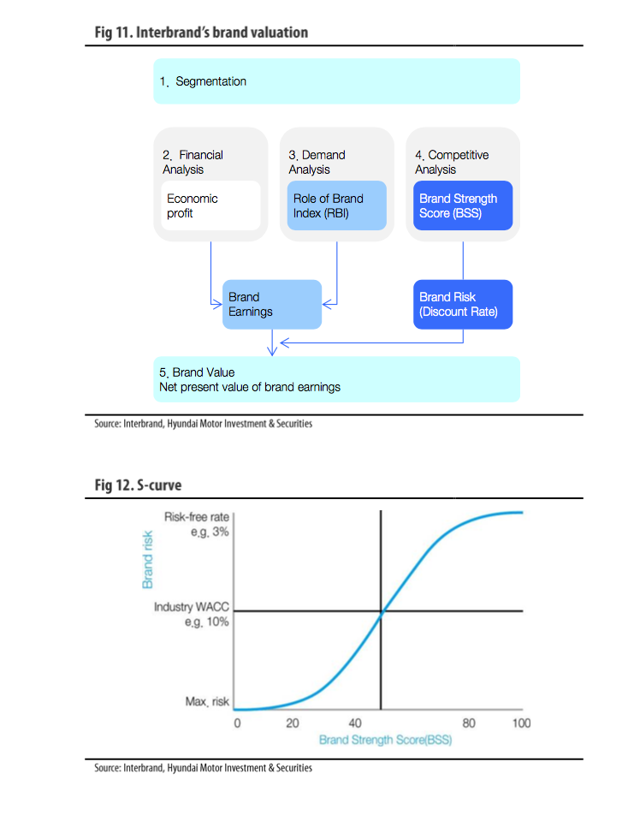 How important is brand value?
Although brand is a key to satisfy consumers' emotional purchase needs, it has been difficult to quantify and assess brand value. According to research by Ocean Tomo, intangible assets, which include brand asset, represent over 80% of EV at S&P 500 companies and the number is growing. Brand asset's percentage of EV is especially higher for luxury brands, at nearly 70%. This is because strong brand asset increases customer loyalty and justifies price premiums, which ensures fat profits. As such, strong brand value not only raises EV but also reduces EV volatility. Especially in cosmetics and fashion, consumer preference is a more decisive factor of consumption than product functionality, thus brand name has stronger influences. In an era when consumers seek to buy not just products but also experiences and values, "brand" is a key to companies' profitability that enables companies to maintain a competitive edge over rivals through differentiation.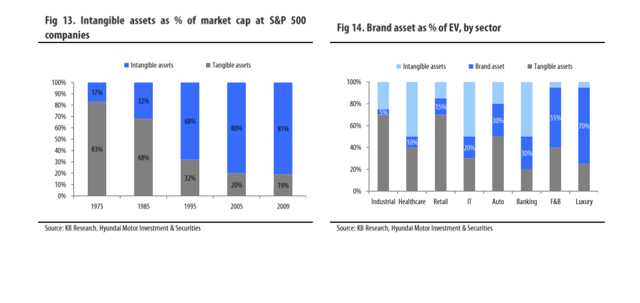 2. Global brand valuation: cosmetics
Luxury/prestige brand valuation: case #1
Shiseido (OTCPK:SSDOY), one of the leading cosmetics companies from Japan, had an estimated brand value of KRW1.8tn as of 2016. Generating sales of KRW9tn and an operating profit of KRW400bn, its sales were bigger than Korea's AmorePacific (OTC:AMPCF) but its operating profit was lower, equaling only 52.8% of AmorePacific's because of low margins. Its operating profit was also more than 30% lower than that of LG Household and Healthcare (OTCPK:LGHHF). Factoring in the capital ratio and employed capital, Shiseido's operating profit generated by non-brand assets is about KRW170bn, which makes the operating profit from brand assets KRW230bn and net profit KRW149bn. Since Interbrand estimates Shiseido's brand value at KRW1.8tn, we assume that Interbrand gave Shiseido a multiplier of 12x for brand value.
According to Interbrand, AmorePacific's brand value is KRW2.4tn, which is about 35% higher than Shiseido's. It is a 41% increase from a year earlier when AmorePacific's brand value was similar to Shiseido's at KRW1.8tn. In our view, this implies that: 1) Korea's luxury and prestige brands had been undervalued vs. global peers; and 2) AmorePacific's key brand lineup such as Sulwhasoo, Hera, and Innisfree, which enjoyed robust growth in 2015-2016 helped boost AmorePacific's brand value.
However, considering AmorePacific's operating profit from brand assets is much higher than those of competitors, we still believe the brand value multipliers applied to Korean cosmetics companies are too low. If we use the same method that was applied to Shiseido, AmorePacific's brand value multiplier is only 6x. If we apply a 20% discount to Shieseido's brand multiplier of 12x for Amorepacific, AmorePacific's brand value would be over KRW3.8tn. This makes AmorePacific a company with the fifth most valuable brand value domestically, regardless of sector (currently it is ranked ninth) and one of the top 100 companies globally, with a brand value similar to Johnnie Walker and Ralph Lauren (RL).
Shiseido's market cap is KRW16tn, trading at a 51.7x P/E on 2017F net profit of KRW301.5bn. The stock is highly valued vs. Korean peers, in our view, and its operating profit is likely to fall again by 8.6% YoY this year even without the disastrous events that hit AmorePacific such as sour Korea-China relations. Currently, AmorePacific's near-term earnings are under pressure due to deteriorating relations between Korea and China. As such, we expect its 2017 operating profit to contract 12.5% YoY. Its current market cap stands at KRW18.9tn, with the stock trading at 32.4x 2017F net profit, a 37.7% discount to Shiseido's. Based on the earnings in 2018 when duty-free stores (DFS) risks are expected to ease, the discount ratio is even higher.
Shiseido's brand value is estimated at KRW1.8tn and its market cap is some KRW16tn, implying a multiple of 8.8x. L'Oreal (LRLCY), a bigger player in the market, has a market cap of KRW130tn, about 10.8x its brand value of KRW12tn. We earlier saw that a similar multiple was given in the case of Kraft-Heinz M&A. As such, the multiples applied to those with strong brand equity tend to exist within a certain range.
On the other hand, AmorePacific's brand value is estimated at KRW2.4tn while its market cap stands at KRW19tn, implying a multiple of less than 8x. Assuming AmorePacific's brand value is valued more fairly at KRW3.8tn, its market cap may rise to KRW22.8-28.5tn in the mid to long term based on a 6.0-7.5x multiple (15-30% discount to Shiseido's).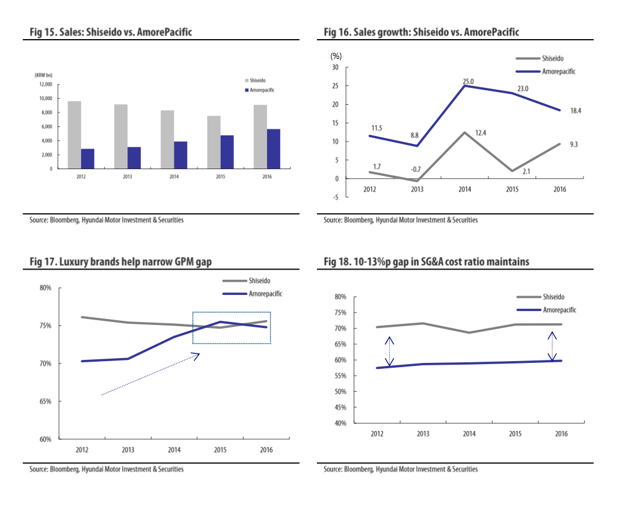 Mass/masstige brand valuation: case #2
In Interbrand's global brand ranking, several cosmetics/household goods companies were included, such as L'Oreal (45th), Shiseido (16th), Pampers (28th), and Johnson & Johnson (73rd). We excluded Pampers and Johnson & Johnson (JNJ) since the former is a sub-brand of P&G (PG) and the latter has an earnings portfolio that depends heavily on medicine/medical equipment/OTC drugs. Also, even though Johnson & Johnson is engaged in the same or a similar business, it is not an ideal company for comparison because as a non-luxury brand, its sales growth pace, added value, and customer loyalty are relatively low compared with luxury/prestige brands, which means different multiples are applied when evaluating its brand value. Indeed, Johnson & Johnson's brand value is only half of L'Oreal's at KRW6.4tn although its 2016 net profit was five times larger at KRW20tn.
Amor P&G was not listed on Interbrand's brand ranking not because its brand value is weak but because it has multiple sub-brands that are each a representative of their relevant categories. Another reason is that it is difficult to evaluate the value of P&G, one of the limitations of Interbrand's brand valuation methodology. Among P&G's sub-brands, Gillette was ranked 24th and Pampers 28th, and combined, the two brands were worth about KRW40tn in brand value. P&G has other well-known brands such as Downy, Braun, Oral-B, Pantene, and Febreze. It also has a luxurious cosmetics brand SK-II. It is difficult to evaluate the brand value of P&G because not all its sub-brands have their brand value evaluated by Interbrand and using a different brand valuation methodology for the other brands would distort the figure. As such, in the case of a company with a diversified business portfolio and a few luxury brands, it would be more reasonable to look at the parent company as a whole and use its valuation method as a base to calculate the fair value of a domestic company with a similar business structure.
At P&G, 60% of sales come from household goods, 11% from men's goods, 18% from cosmetics, and 11% from healthcare products. Generating KRW71.8tn in annual sales on a 20.5% operating margin, the company is undoubtedly a global consumer goods company with 56% of sales coming from overseas markets. It also has a handsome margin worthy of a luxury brand. However, sales have been declining after peaking at KRW96tn in 2012 which some call a "trap of scale." The bigger problem, however, is negative growth in China which we believe stems from failed brand strategies regarding mid- and high-end brands. Aside from earnings size and overseas businesses, it is difficult to justify a high multiple. The stock is trading at 23.3x 2017F earnings.
LGHHF has a diversified business portfolio that includes cosmetics (52% of sales), household goods (26%) and beverages (22%). Its brand portfolio is also diverse, ranging from a luxury cosmetic brand such as Whoo to mass/masstige brands such as Su:m37, Ohui, Belief, The Face Shop, On:The Body, and Perioe. The key differences with P&G could be summarized as following: 1) earnings deterioration is temporary because it is caused by diplomatic issues; 2) cosmetics represent 52% of sales and of these 70% come from luxury brands; 3) its Chinese market share grew by 0.6%p over the past three years (vs. -1.6%p at P&G); and 4) beverages are an additional cash cow with earnings stability and market share growth domestically. The stock is trading at 23.6x 2017F P/E so we do not believe the multiple has fairly priced in the structural gap in fundamentals between the two companies.
LGHHF's presence in the domestic cosmetics market
LGHHF has a diversified business portfolio that includes cosmetics (52% of sales), household goods (26%) and beverages (22%). Compared with global peers which depend more on household goods, LGHHF relies more on cosmetics and 70% of its cosmetics sales are generated by luxury brands. However, its domestic rival Amorepacific also has a strong presence in the luxury/prestige cosmetics segment domestically and has a higher market share in China. Thus, LGHHF was regarded in the market as a company with relatively weak momentum when the market was booming. It tended to regain interest when the market turned sluggish.
We expect the company to report a net profit of KRW690.3bn for 2018, similar to AmorePacific's estimated net profit of KRW689.5bn. However, since 2014 when the cosmetics sector began to enjoy strong premiums, the valuations of the two companies have reversed and a gap was maintained between their market caps. Since 2014, LGHHF has been trading at an average of 20.7% discount to AmorePacific shares. When the sector was at its prime, the discount widened further, to 25-40%. The discount rate at present is about 25% based on 12-month-forward earnings, and since the sector is now in a period of contraction, LGHHF shares still have some upside momentum left in the short term.
In the mid to long term, we need to apply different target multiples to each division and as such, we apply 26.5x (15% premium to global peers) to household goods, 28-35x to cosmetics (15% discount to AmorePacific's mid/long-term target multiple), and 28.9x to beverages (10% discount to domestic peers). In all, LGHHF's fair market cap band is estimated to be KRW18.7-21.7tn. This translates to 27.1-31.4x P/E on 2018F consolidated net profit, which is reasonable compared with the levels seen in 2015-2016.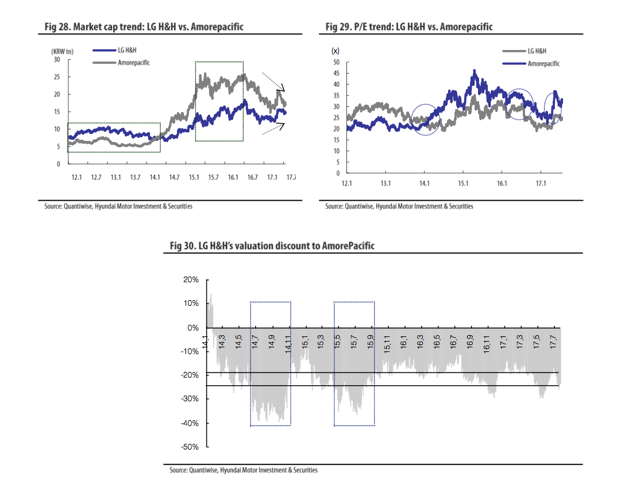 Wait for re-evaluation
The cosmetics sector fundamentals, which began deteriorating in March, are likely to bottom out in 2Q-3Q. Chinese inbound tourists, a key determinant of the two companies' near-term earnings, have been falling as sharply as 60% YoY in April-June after sliding 40% YoY in March. Against this backdrop, we revise down our 2017 operating profit forecasts for AmorePacific by 11.3% and Amore G by 13.6%. However, we adjust down LGHHF's operating profit estimate by only 4.6% considering its diversified earnings portfolio and lower sensitivity toward Chinese tourism. These are also the reasons that LGHHF outperformed other Korean cosmetics names during their recent sharp corrections. At this stage when brand value is not yet recognized into EV and when the sector is in a contraction period, LGHHF looks like a better investment.
Back to basics: the importance of "brand" in fashion
With the quality of clothing item becoming more equalized, brands that touch consumers' emotions and lead them to open their wallets are bound to enjoy higher sales and fatter margins, being able to sell items at full retail prices. As such, brand value has a tremendous influence on the fashion industry. However, in reality brand value is not fully reflected into fashion companies' intangible assets. This means their P/B multiples are undervalued. For example, Handsome's (OTC:HASEF) estimated value is about KRW400bn based on Interbrand's brand valuation methodology but its intangible asset is valued just KRW30bn.
Fashion companies determine selling price by multiplying production cost by markup. Markup typically depends on how valuable a brand is: low-end brands normally have a markup of 2-3 times cost whereas expensive women's apparel brands have markup of 4-6 times cost and luxury brands over 10 times cost. If a brand lacks consumer appeal, it has to compete with price. Long term, this means a squeeze of margins. In all, brand management is a key factor that directly affects fashion companies' profitability.
We are not suggesting that expensive prices are a proof of prestigious brand value. For instance, international fast-fashion brands such as H&M (OTCPK:HMRZF) and Zara have great brand value. In addition to margins, it is important how much market share a brand has. The fashion industry is divided into various segments by apparel, consumer shape, and taste. Since it is difficult to claim a sizable market share with a single brand, fashion companies typically have a diverse set of brands in their portfolios. Each brand has to have its own distinctive brand identity and without this, there is a risk of cannibalization. Again, fashion companies must work hard to foster brand value in order to boost both top and bottom lines. Companies with strong brand power deserve higher valuations.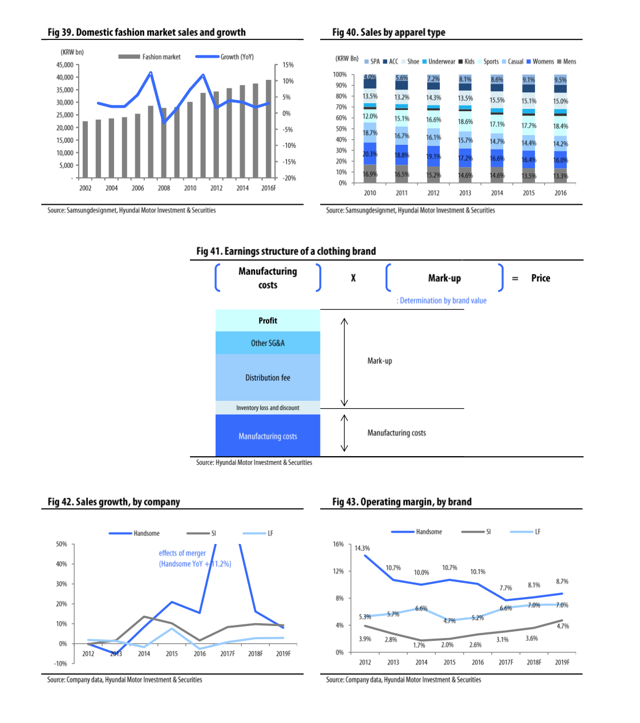 International fashion brands' brand value
According to Interbrand, of the top 100 most valuable brands, 13 are fashion brands. These include Nike (NKE), Louis Vuitton (OTCPK:LVMUY), H&M, Zara, Hermes (OTCPK:HESAF), and Gucci. Nike tops all the others with an estimated brand value of about KRW27tn. Expensive brands do not automatically have high brand value; the ones with sound financials, distinctivity, and strong brand power do. We looked further into Nike and Hermes to compare their brand values with their intangible asset values: Nike's brand value was about 60 times higher than its intangible asset value and Hermes about 130 times. We cannot directly compare these international brands with pure domestic plays but overall, brand value is not fully reflected into asset value.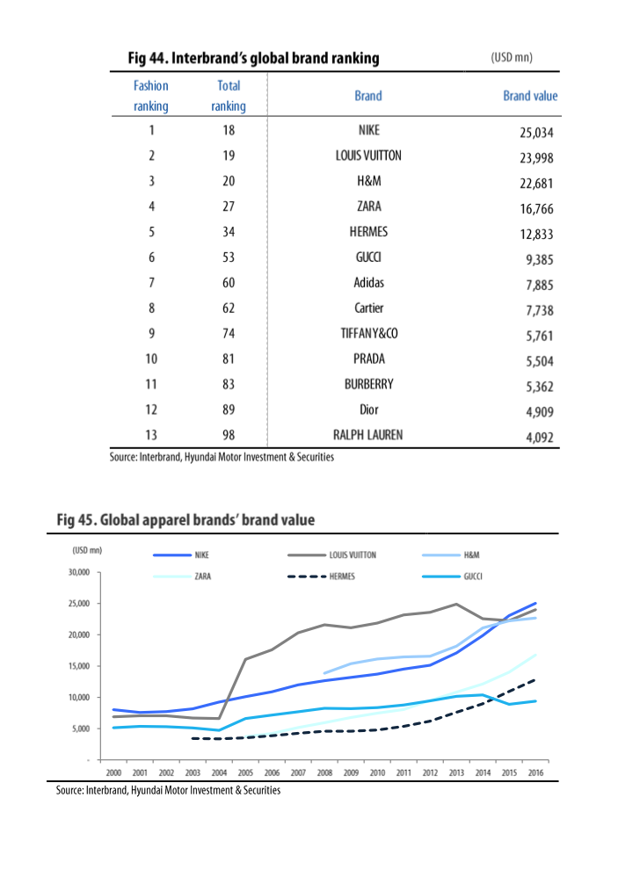 Korean brand valuation: Handsome is Korea's top fashion company
Among Korean domestic fashion companies, Handsome may have the strongest brand power. It has an outstanding brand portfolio comprised of such luxury names as TIME, MINE, and SYSTEM. With a powerful lineup of original brands, Handsome may be the only Korean company that can compete with international brands in the women's contemporary apparel category. Its flagship brand TIME, which boasts the highest sales within the company, has established a clear position in the market on the basis of strong brand equity since its 1993 launch. Handsome generates some 85% of sales from the domestic market and maintains a double-digit operating margin through its luxury original brands. The acquisition of SK Networks' fashion unit (SKF) helped expand its top line this year but it also resulted in margin erosion. SKF's brands used to have their own distinctive characters but they all began losing market share as they failed to keep up with fashion trends. Handsome is good at capturing target consumers through detailed target segmentation.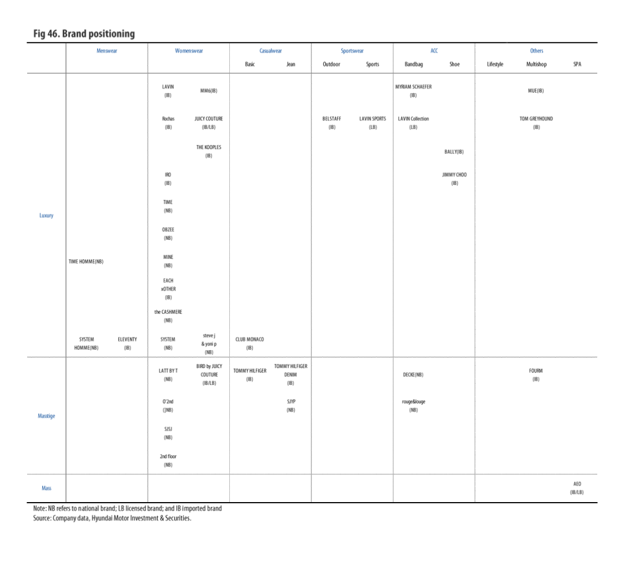 We used Interbrand's brand valuation methodology to assess the value of Handsome's brand portfolio. We calculated how much each brand contributes to NOPLAT and then used the S-curve based on its brand strength score (BSS) to arrive at the discount rate of 8.2%. We assume Handsome's BSS to be 70, which is high, although we find it regrettable that the company is dependent on the domestic market, generating 98% of sales domestically. Handsome has been picking up efforts to expand its presence in the global stage by launching SYSTEM in China and becoming the first Korean brand to open a store in Galeries Lafayette Department Store in France. Factoring this all in, Handsome's brand value is estimated at KRW405bn. However, its intangible assets are valued at KRW32bn (2017F), which is significantly lower than its brand value.
We recommend investors to compare the brand values of the world's leading fashion and cosmetics companies in this report and evaluate them against the Korean brands, which are enjoying stellar growth, driven by Asian consumers, especially China. The Korean players offer investors substantially more upside than any of the other brands presented in this report.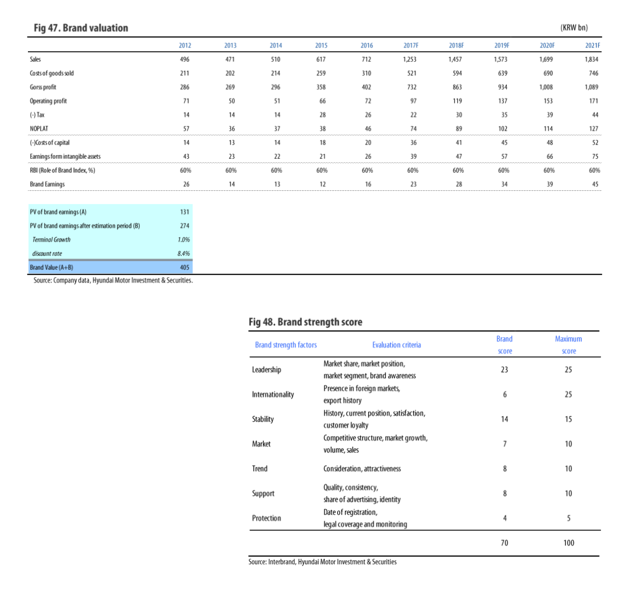 1) Investment highlights
-Despite sharply rallying in May, LG Household and Health Care shares have been outperforming peers in the past two months, sliding just 3.3% while the sector index and AmorePacific pulled back 12.6% and 18.8%, respectively. This mirrors the company's earnings stability relative to peers and expectations for 2Q earnings.
-2Q results, which were in line with expectations, highlighted the firm's stellar earnings stability vs. peers. The attractive valuation is another plus, which becomes more pronounced when the cosmetics market contracts.
-We prefer LGHHF over peers in 2Q-3Q when the cosmetics sector's earnings are likely to hit bottom.
2) Major issues and earnings outlook
-2Q sales came in at KRW1.53tn (-1.5% YoY) and operating profit KRW232.5bn (+3.1% YoY, 15.2% operating margin). Sales were 2.7% higher than our estimate and operating profit 5.2% higher.
-Cosmetics did better than expected with sales of KRW781.2bn (-4.7% YoY) and operating profit of KRW148.7bn (-2.7% YoY).
2A) Sales at the duty-free stores sales were modest (-26% YoY) considering the 60% drop in Chinese inbound visitors.
2B) Luxury brand The History of Whoo saw an 8% sales decline but the sales of other key brands such as Sum37, Belief, and CNP grew 2%, 9%, and 51%, respectively.
-Household goods earnings missed expectations with sales coming in flat at KRW373.2bn (-0.1% YoY) and operating profit at KRW38.7bn (+3.5% YoY).
A) Weak domestic sales and faltering sales of Chinese favorite Yungo weighed on the division.
B) However, the sales growth of other brands such as Organist and On:The Body were maintained at double digits which helped gain additional market share in the segment (+1.2%p YoY to 37.1% as of June).
-Beverage sales grew to KRW375.7bn (+4.3% YoY) and operating profit KRW45.1bn (+28.1% YoY) on cost-cutting effects and market share gain (+.09%p YoY to 30.9%) from carbonated/non-carbonated drinks and newly launched beverages.
3) Share price outlook and valuation
-2Q displayed the earnings stability of the non-cosmetics business and the cosmetics business did better than expected. We believe firm downside support for shares will hold.
-We adjust up our target price to KRW1,120,000, applying different P/E multiples per division to our 12-month-forward EPS.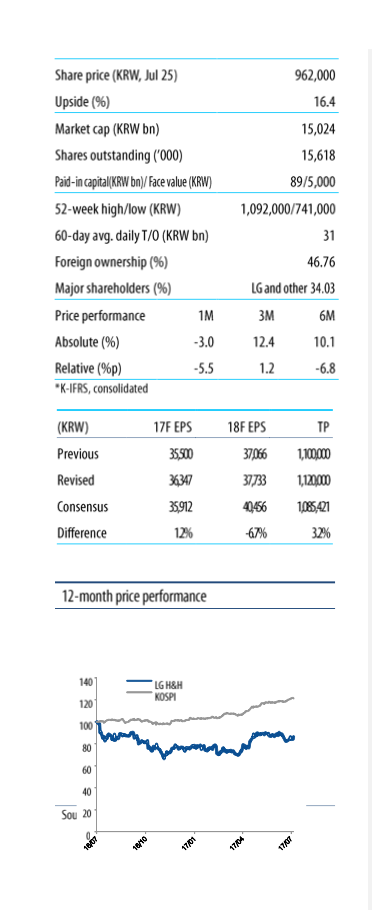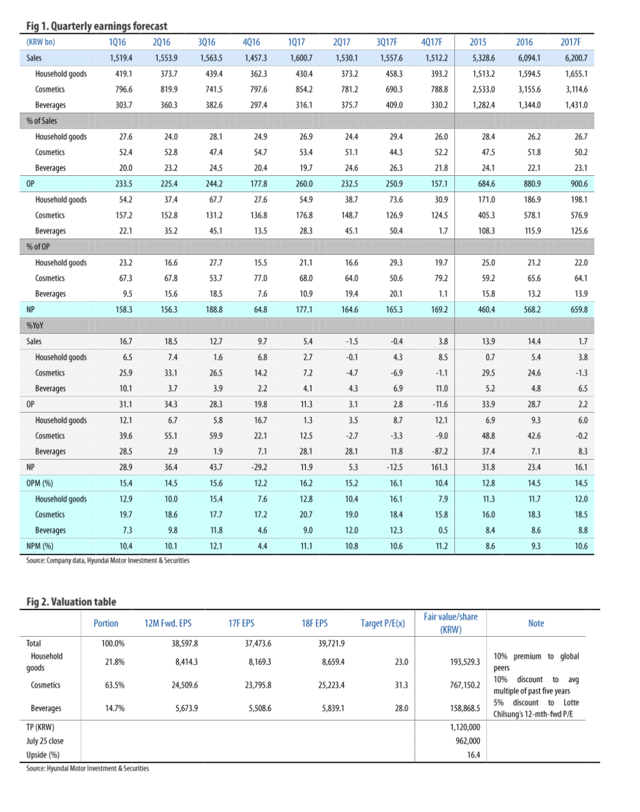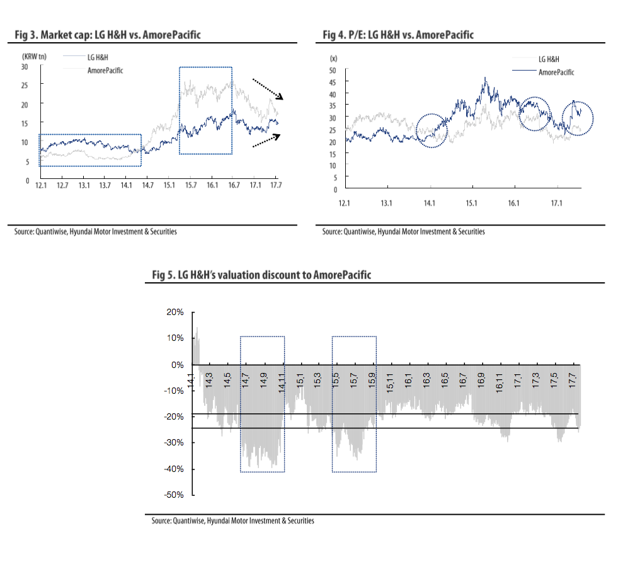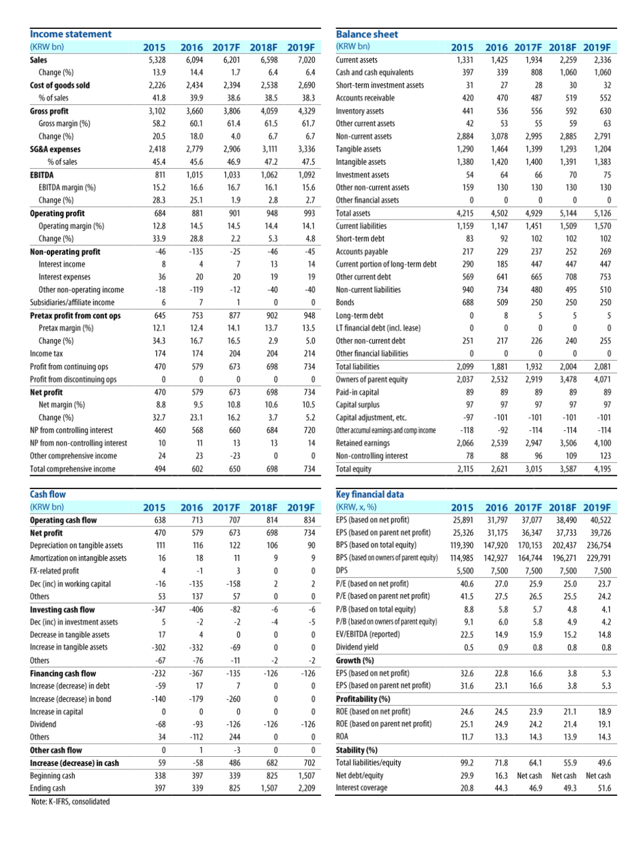 Handsome deserves a premium worthy of its brand name
1) Investment highlights
- Handsome's established brands such as TIME, MIND and SYSTEM are enjoying growth despite sluggish sales at department stores and gaining market share in the women's contemporary apparel segment. The company's top and bottom lines stand out against peers thanks to strong brand power.
- We set our target at KRW45,000, applying 13.5x P/E to one-year-forward EPS.
2) Major issues and earnings outlook
- We forecast 2017 sales to surge 76.1% YoY to KRW1.25tn and operating profit to grow KRW34.1% YoY to KRW96.6bn on a 7.7% operating margin. On a parent basis, sales should grow 11.2% YoY.
- The company's core business margin has narrowed but we do not see it dampening brand value, because: 1) licensed-in brands were partly sold below full retail prices because of channel weakness; 2) newly launched brands, although in the red, are likely to contribute to earnings from next year at the latest if not sooner; and 3) brand portfolio expansion almost always accompanies margin erosion.
- As for SKF, some of its women's contemporary brands achieved remarkable growth in 2014 but sales have since faltered as they failed to establish a brand direction. Based on Handsome's know-how, we believe these brands will differentiate themselves and create meaningful synergy with Handsome in the long term.
3) Share price outlook and valuation
- In fashion, brand equity is one of the most important factors that determine a brand's success but we do not believe its value is deservedly reflected into stock prices. Handsome's brand value is estimated at around KRW405bn but its intangible asset book value is KRW35bn. Given its strong brand power, we expect existing brands and newer brands to find firmer footing in the market this year. Accordingly, we believe Handsome deserves a premium vs. peers.
Disclosure: I/we have no positions in any stocks mentioned, and no plans to initiate any positions within the next 72 hours. I wrote this article myself, and it expresses my own opinions. I am not receiving compensation for it (other than from Seeking Alpha). I have no business relationship with any company whose stock is mentioned in this article.
Editor's Note: This article discusses one or more securities that do not trade on a major U.S. exchange. Please be aware of the risks associated with these stocks.