Earnings Highlights
Snap Inc. (SNAP) posted disappointing second-quarter results as the company missed both the revenue and the earnings consensus. Revenue climbed to $181.67 million for the quarter, a 153% year-over-year growth. However, revenue fell short of analysts' expectations by $5.13 million. EPS stayed in the red with the company posting a $0.16 loss per share as compared to an expected loss of $0.14 per share.
On the operational front, daily active users reached 173 million, translating into a 21% year-over-year increase. The company didn't provide any color on the full-year guidance. The market reacted accordingly, and the stock was down 14% before the recent recovery. The stock is still down 7% since the second-quarter earnings report.
DAUs and ARPU supported revenue growth
Revenue grew 153% Y/Y amid growth in active users and increased average revenue per user. ARPU for the quarter was $1.05 as compared to $0.50 during the same quarter last year. Sequentially, ARPU increased 16%. Snapchat registered double-digit growth, with DAUs increasing 21% over the period. Overall, higher ARPU and increased DAUs contributed towards the revenue growth of the company.
OPEX and hosting kept the earnings in the red
Operating costs were the primary culprit for the net loss; OPEX was $229 million for the quarter, which was 179% higher on a year-over-year basis. Hosting costs also contributed towards negative bottom line. They increased 34.2% to reach $109 million during the second quarter of 2017. On a per-user basis, hosting costs increased 20% during the second quarter as compared to the same quarter last year.
To review, Snapchat witnessed impressive growth on a year-over-year basis. Loss is understandable as the company is in the growth phase. And, it would not be fair to judge Snapchat on earnings basis. Why did the market, then, react negatively to earnings?
Well, there are several red flags
Sequential performance wasn't reassuring.
Revenue grew 21.3% during the quarter in question while sequential revenue growth stood at 84.6% during the second quarter of 2016. To simplify the numbers further, revenue increased by $33 million during the second quarter of 2016, but grew only $32 million during the second quarter of 2017. This is indicative of slowing revenue growth, which is alarming as the company is still in early phase of growth.
Hitting product life cycle maturity earlier than expected can never be good for technology companies, especially the ones in the app business.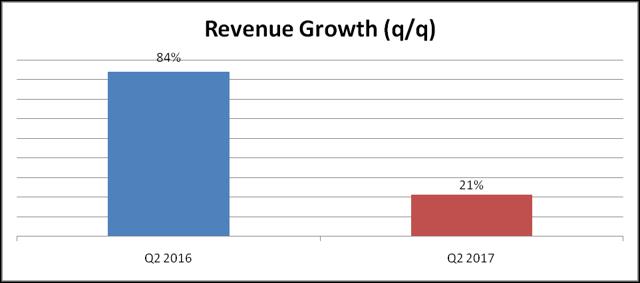 SNAP's SEC Filings and Focus Equity's Calculations
It can be argued that revenue growth can recover once SNAP gets its sales and marketing right. But, the problem is not just with the revenue growth.
Decline in revenue growth relates to slowing growth of active users, not just sales and marketing efforts.
Sequentially, daily active user growth declined from 17.2% in Q2 2016 to 4.2% in Q2 2017.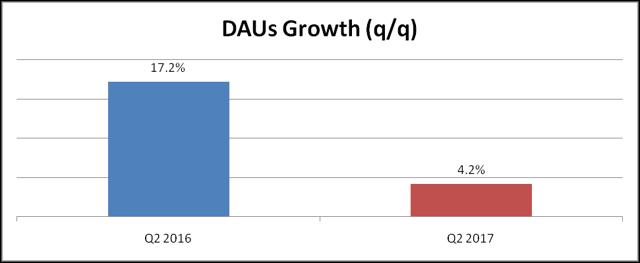 SNAP's SEC Filings and Focus Equity's Calculations
In absolute terms, Snapchat added 21 million daily active users during the first quarter of 2016 while adding only 7 million during the second quarter of 2017.
Decline in revenue growth and active user growth won't impress any advertisers, which can only put further pressure on Snapchat's revenue growth.
The effect of slowing active user growth can be seen in average revenue per user of the company.
ARPU increased 56% during the second quarter of 2016; it only increased 16% during the second quarter of 2017. This clearly points towards the fact that slowdown in active user growth is making the platform less attractive for advertisers. See the ARPU growth comparison below.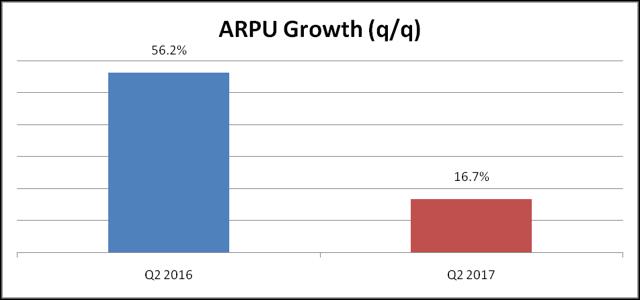 SNAP's SEC Filings and Focus Equity's Calculations
Then, there's Facebook
The challenge for Snapchat is to compete against Facebook's (FB) diverse social offerings including Instagram. Snapchat-like functionality in WhatsApp and Messenger isn't helping Snapchat's case. Declining sequential growth in revenue amid slowing MAUs and ARPU growth indicates that Snapchat is facing stiff competition from Facebook's offerings.
It's worth mentioning that Facebook's apps, including WhatsApp, Messenger and Instagram, were among the top downloaded apps during the first half of 2017; Snapchat lagged behind Instagram consistently during the first half, according (login required) to AppAnnie.
Further, since July 2017, Snapchat's download rank is hovering between the fourth and sixth position as compared to Instagram's download rank, which was between the first and fourth position.

Source: Snapchat rank history, AppAnnie analytics

Source: Instagram rank history, AppAnnie analytics

It can be seen that Instagram's rank is trending upwards while Snapchat's rank is following a downward path lately. The following infographic further clarifies the situation.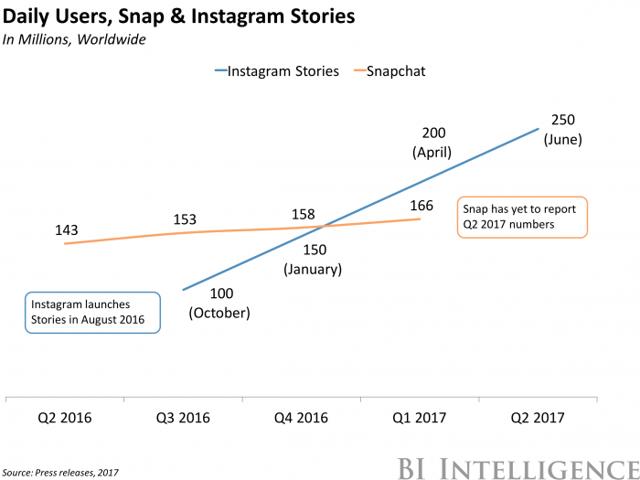 The point is that Facebook is giving Snapchat a really tough competition to deal with. This is reflected in app analytics and key metric trends of Snapchat.
Now, despite declining growth rates, Snapchat deserves its due credit for attracting more than 170 million users. It's only fair to value Snapchat based on its users as metrics like revenue and earnings aren't relevant at this point of time. The updated valuation follows below.
Valuation Update
Snapchat was valued in our previous piece based on active users at that time. Average of daily and monthly active users was used to calculate Snapchat's value. However, this valuation update takes into account the increase in active users alone while splitting DAUs and MAUs based valuation.
Further, Instagram value is used as a proxy for calculating the multiple. A little adjustment is made with respect to Instagram's terminal growth; it's assumed to be 2% as compared to 1% in the previous valuation. You can see the dated valuation here.
Valuation – Active Users

1 (0.6*700) Daily Active Users extrapolated based on the data from this source
The value per DAU and value per MAU in the above table are used to calculate the value of Snapchat. Instagram's DAUs stand at 173 million while MAUs are extrapolated based on q/q growth in daily active users.

Focus Equity Estimates
Valuation sheet reveals that the stock is worth around $13 based on daily active users and $14.9 based on monthly active users.
Note that this valuation is based on Instagram's multiple, which is optimistic for Snapchat. Instagram has a higher growth rate compared to Snapchat. Instagram can also be offered to marketers as an up sell in addition to Facebook's other products. The point is that a multiple based on Instagram's value should be treated as the cap valuation, not the base case, for Snapchat. All assumptions regarding Instagram's valuation were discussed in the previous piece.
Valuation – Average Revenue Per User
We recently came across a valuation piece on Snapchat that tackled the valuation based on average revenue per user using proxied ARPUs from Facebook and Twitter (TWTR).
The author argued that Snapchat is undervalued as it has North American user base, which can result in higher average revenue per user going forward. The author estimated following revenue figures for the analysis.
| | | | |
| --- | --- | --- | --- |
| | Conservative | Base | Aggressive |
| Snapchat Revenue | 913 million | 1322 million | 1731 million |
Note that the author assumed North American ARPU at $9.79, $14.58 and $19.38 for Snapchat while the company managed an ARPU of only $7.79 based on revenue during the trailing twelve months. Anyhow, even if the company manages to post revenue according the table above, the stock isn't cheap at all.
Using Facebook's net margin, following will be the projected net income and respective valuation.

Cost of capital is based on total shareholders' equity, which was around $3.54 billion as of the end of the second-quarter of 2017. Value added is discounted based on 4% growth in perpetual earnings.
Valuation sheet reveals that even the aggressive revenue estimate incorporating Facebook's net margin and 4% perpetual growth isn't enough to justify Snapchat's current valuation. Not to mention, aggressive ARPU is a stretch based on current slowdown in Snapchat's growth.
Final thoughts
Although Snapchat witnessed impressive year-over-year growth, sequential growth was disappointing. Declining revenue growth was caused by a slowdown in active user growth; ARPU growth also decelerated. Facebook's Instagram seems to take the market away from Snapchat. Instagram is growing at a higher rate; app download ranks also paint a favorable picture for Instagram. Moreover, Snapchat isn't trading at a discount. Multiple and ARPU based valuation reveal only minimum upside for the company in some scenarios. Recent sell-off doesn't create a buying opportunity. We believe that the stock will continue to underperform despite being beaten down.
Disclosure: I/we have no positions in any stocks mentioned, and no plans to initiate any positions within the next 72 hours.
I wrote this article myself, and it expresses my own opinions. I am not receiving compensation for it (other than from Seeking Alpha). I have no business relationship with any company whose stock is mentioned in this article.
Additional disclosure: This publication is for informational purpose only and reflects the opinion of Focus Equity's analysts. This opinion doesn't constitute a professional investment advice. Our senior technology analyst compiled this research piece. Focus Equity is a team of analysts that strives to provide investment ideas to the U.S. equity investors.